This article will provide an up-to-date list of the Best Kodi Builds available. Using a Build within Kodi is a great way to get tons of Kodi Add-Ons with just one quick installation. To learn more about Kodi Builds and other Kodi items, CLICK HERE to read What is Kodi?
When installing a Kodi Build it is important to examine thoroughly to make sure it fits your specific preferences. Just because a Build is popular does not mean it will suit your Kodi needs. When using a Build you are able to edit everything from Add-Ons installed, to Skins, to general settings, and so much more. A Kodi Build is a fabulous way for new users to get started and accustomed to the Kodi software.
For more information, find out How To Use a Kodi Build which will explain in detail everything you need to know about Kodi Builds.
This post will stay up to date by using the viewer comments section below. Use the comments section below to provide any Kodi Builds you believe are the best. Please note that TROYPOINT does not tolerate any rude or disrespectful posts and those individuals who choose to go this route will be banned.
Featured Kodi Build – January 2019

The One Nation Kodi Build is small in size but jam-packed with awesome add-ons and content. It works perfectly on just about any streaming device including the Amazon Firestick.
The One Nation Nebula Build is featured in the TROYPOINT Supercharge Guide.
GET YOUR FREE GUIDE
Supercharge Kodi Guide
Downloaded by over 500,000 Kodi users
Kodi doesn't do much without the popular 3rd party addons that provide free movies, TV shows, live channels, sports and more.
Install the best Kodi addons with the click of a button by using my free Supercharge Kodi guide.
GET YOUR FREE GUIDE
Reminder: TROYPOINT suggests resetting Kodi to default settings prior to installing any build. Resetting Kodi is a great way to free up more space and allow for proper installation of the Build.
Upon installation of any build, always allow some time for the add-ons to install and the menus to build. This may take up to 5 minutes. You will see add-on installation messages appear on the bottom of the screen while this is occurring.
New Best Kodi Builds Poll
Tell use what your favorite Kodi build is at the bottom of this page!
List Last Updated: January 18th, 2019
Best Kodi Builds
No Limits Magic

The No Limits Magic Build is currently the most popular Kodi build available. With a simple to use interface and tons of working Kodi Add-ons, it is easy to see why it has become such a prominent build.
Some popular video add-ons within No Limits are AdryanList, AdultHideout, Bennu, BoB Unleashed, Castaway, cCloud TV, Champion Sports, Covenant, DC Sports, Death Streams (SALTS replacement), Duckpool, Elysium, GoodFellas 2.0, Maverick TV, NBA Full Games, Planet MMA, Pro Sport, Pulse Fitness, Quantam, Release HUB, Specto Fork, SportsDevil, UK Turk Playlists, Ultimate Whitecream, VideoDevil, and more.
No Limits Magic is frequently revised with functioning add-ons and features a sleek futuristic look. To learn how to install No Limits Magic on Kodi use the link provided below:
How to Install No Limits Magic on Kodi
Titanium
Titanium is a long-running Kodi build that has held its popularity for many years. The Titanium build is featured on the TROYPOINT Supercharge Guide which shows the best Kodi add-ons and so much more with an easy, quick installation guide.
Titanium features numerous video, live tv, and program add-ons. Some included are Stream Hub, Goodfellas, Maverick TV, Neptune Rising, Placenta, UK Turks Playlists, Not Sure, Mobdina, SportsDevil, Planet MMA, BoB Unleashed, Cartoon Crazy, Gears IPTV, MP3 Streams, and many more.
Within this build is a simple home screen that works well for all Kodi users. Under the Main Menu Settings are plenty of options to edit/update this build to your preference. Titanium uses the Xonfluence skin which is a very popular skin but offers tons of skin options to choose from. Follow link below for Titanium installation guide.
How To Install Titanium on Kodi
Diamond Dust
Diamond Dust is a new Kodi Build from the Diamond Wizard Repo. It is extremely fast and reliable and works on any streaming device you prefer.
Some of the top Kodi add-ons available are pre-installed within this build. These include: Movie Theater Butter, Aspis, Yoda, Mobdro, YouTube, TUBITV, The Magic Dragon, Supremacy, SportsDevil, and many more.
The Movies & TV Shows Section of Diamond Dust works better than most. By selecting either the 1080p or 720p Category and choosing a film, your title will automatically begin to play. There is also an IPTV option with numerous live tv choices for streaming.
With a simple main menu and fast working add-ons, Diamond Dust is sure to be one of the most popular Kodi builds available now and into the future.
Install Diamond Dust Kodi Build
MisFit Mod Lite
The Lite version of the Misfit Mod build is great for Kodi users with little storage including Amazon's Fire Stick. With Misfit Mod Lite, you will be able to stream all of your favorite content with just one quick installation.
Some of the Add-Ons associated with MisFit Mod Lite are Project M, Bennu, Crackle, ESPN 3, GoodFellas, SpinzFlix, The Pyramid, SportsDevil, YouTube, MP3 Streams, and more.
Even though the title insinuates a lite version of a build, don't be mistaken. MisFit Mod Lite is an awesome Kodi build with tons of content that is sure to suit your streaming and viewing needs. One of the best features this build offers is the easy to follow menu. With MisFit Mod Lite, popular Movies, TV Shows, and live events are listed on the home screen. This makes viewing and streaming content super simple and fun. It is easy to see why this build is so popular with Kodi users. Use the following link to install Misfit Mod Lite Build on Kodi:
How to Install MisFit Mod Lite
Cellardoor TV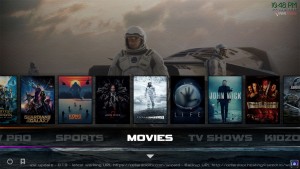 The Cellardoor TV build is a build that has been gaining popularity for quite some time now. A couple of reasons it has become so popular is its size and usability. It works perfectly on nearly every Kodi device and is available in numerous options.
A few Add-ons held within the build are Elysium, Phoenix, BoB Unleashed, Covenant, MetalliQ, Specto, Exodus, ProSport and much more.
One awesome feature offered by this Build is the Mobdro app that is integrated onto the home screen. You can use Mobdro to download and watch live video streams. If you would like to learn how to install Mobdro on a Fire TV/Stick, CLICK HERE.
Many people love Cellardoor's sleek looking interface along with its thousands of streaming options. With everything from a Sports Tab to a Kids Zone, it is easy to see why Cellardoor is one of the Best Kodi Builds around. Use the tutorial below to install CellarDoor TV Build on your Kodi device.
How To Install CellarDoor TV Build on Kodi
Smokin
A new Build that works fabulously on any streaming device is the Smokin Kodi Build. This build features a fast, reliable interface that is easy to use for beginners and novice Kodi users alike.
One of the best features within Smokin is the one-click Movie category that automatically plays your chosen film. This is perfect for those looking to stream something fast and efficiently.
Other Categories within Smokin include TV Shows, Live TV, Music, Sports, Kidz, and more.
Not only does Smokin provide awesome category options but add-ons as well. Some of the more popular are: Supremacy, The Loop, Magic Dragon, SportsDevil, Yoda, and more.
Plutonium
If you are in the market for a speedy, small sized build, look no further than Plutonium. Plutonium features a constantly updated group of add-ons that work extremely well.
Add-ons associated with Plutonium include: Incursion, SportsDevil, Yoda, Maverick TV, I Am Groot, Argon Live, Supremacy, WOW, Copy & Paste?, Arrakis and many more.
Plutonium is great for all ages including Children as it's Nippers Section has tons of Cartoons, Shows, and more.
Because of its size, this build works perfectly on Amazon's Firestick and other small devices. However, it is sure to work great on just about every streaming device available. To learn how to install Plutonium on your preferred device, follow the link shown below:
How To Install Plutonium Kodi Build
Equinox
Equinox Kodi Build is one of the fastest working builds available on this list. It is full of some great content and has worked at a high level for quite some time. Equinox can be installed on nearly any Kodi streaming device.
Some of the best add-ons available in the Equinox build include: BoB Unleashed, Fantastic, Trident, Supremacy, Project M, Covenant, Maverick TV, and more.
One of the best available features Equinox provides is the live television. While there is an option to purchase the Equinox IPTV associated with the build, the Cable area of Equinox seems to work extremely well. If you would like to give Equinox a try, use the link below for complete installation guide:
One Nation
There are tons of awesome builds located within the One Nation Wizard. With both options for Kodi 18 Builds as well as 17.6, there is no shortage of options for whatever version of Kodi you prefer.
Some of the best add-ons within Nebula include: The Magic Dragon, SportsDevil, Supremacy, Exodus Redux, Chapp'ai, Maverick TV, At The Flix, and more.
The Nebula One Nation Kodi Build is featured in the TROYPOINT Supercharge Guide because of its fast streaming speeds and large amount of content.
Nefarious
An extremely fast and versatile build, Nefarious is great for those who want to do more than just watch Movies and TV Shows. With a live television section that actually works, it really is an all-in-one Kodi Build.
Some of the featured add-ons available within Nefarious include: Placenta, Chappa'ai, Wraith, Maverick TV, Tap TV, SubZero, supremacy, Planet MMA, SportsDevil, Selfless, and more.
With a lite version available for smaller devices such as the Firestick, and a Swift version for bigger devices, Nefarious works great on nearly any streaming media device you can think of.
How To Install Nefarious Kodi Build
Nova
Nova is an easy to use Kodi build that works on nearly every streaming device. Installing Nova is extremely quick as the build itself is small in size. With its small size, Nova works perfectly on the Amazon FireStick and more.
Add-Ons that are already pre-loaded within the Nova Build include: BoB Unleashed, Placenta, WolfPack, Trident, Neptune Rising, Ares Fitness, Oculus, YouTube, Project M, Not Sure, Physicality, Elysium, and more.
After installing this build you will notice just how simple it is. With only a few categories to choose from, Nova will always operate smoothly and efficiently. Because of its interface and usability, Nova should continue to be a great choice for all Kodi users. Use the link below to install the Nova Build on Kodi.
How to Install Nova Build on Kodi
Collusion
The Collusion Kodi Build is a terrific build for Kodi users with a Firestick. Because of its small size, it is able to be installed and used on everything from the Amazon Fire Stick to NVIDIA Shield and everything in between.
Collusion features some tremendous pre-installed add-ons including: SportsDevil, Joshua, Maverick TV, Placenta, The Dogs Bollocks, Planet MMA, and more.
Since it is such a small Kodi build, Collusion does not have any unwanted or unneeded Categories and add-ons. With a simple interface and easy to follow menu options, you are sure to find what you are looking for. Follow the link below to learn how to install the Collusion Kodi Build on your preferred device.
Quest Media
From the makers of the Titanium Build comes another awesome all around build. Quest Media is a superb Kodi build that has all the content you'd ever need.
Some of the more prominent add-ons associated with Quest Media include:  Not Sure, Neptune Rising, Now Music, The Players Klub, Gears TV, AdultHideout, Fantastic, Incursion, Limitless IPTV, SportsDevil, and YouTube.
The Quest Media Build is a large sized build therefore it may not work on the Amazon Firestick and Fire TV 4k devices. However, if you use a NVidia Shield or a 2nd Generation Fire TV, then Quest is a great choice for your Kodi arsenal.
Install Quest Media Build on Kodi
JayHawk Media
JayHawk Media Wizard offers numerous awesome builds that are great for all Kodi users. The most popular is the Hawks Master Build and it is sure to have all your needs.
With a complete list of working add-ons, you will not have any shortage of streams for viewing. These include Phoenix, Maverick TV, GoodFellas, Yes Movie, Specto, HD Box, Happy, Sports Devil, Project M, and many more.
As stated above, the JayHawk Media Wizard has a few different options for Kodi Builds and all are fantastic. If you do not find what you are looking for in the Hawks Master Build, try a different one and see if it works for you!
Install JayHawk Media Kodi Build
Outkasts
The Outkasts Build is a build larger in size that is full of great content. With numerous add-ons for Movies, TV Shows, IPTV, and more, Outkasts is sure to be a favorite among all Kodi users.
Of all the add-ons installed with the Outkasts build, here are a few of the most popular: The Pyramid, Maverick TV, YouTube, Neptune Rising, WolfPack, StreamHub, Rising Tides, Covenant, BoB Unleashed, UK Turk Playlists, Project M, & many more.
As stated above, this build is fairly large in size. Because of its numerous categories to choose from, there is no shortage of content. If you would like to install Outkasts onto your Kodi device, use the tutorial link shown below:
How To Install Outkasts Build on Kodi
Duff X
The Duff X build was created with Xbox One users in mind. The build was specifically designed to function on Xbox therefore it is the best choice for anyone with Kodi on Xbox One.
Because this build was meant for the Xbox, all addons pre-installed on Duff work perfectly on this device. These addons include: Covenant, Placenta, Yoda, Maverick TV, Genesis Reborn, Incursion, YouTube, Supremacy, and more.
Just because this build was meant to be used on the Xbox One does not mean it won't function on other Kodi devices as well. However if you have been searching for a build that actually works on Xbox, look no further than Duff X. To learn how to install Duff X on Xbox or other device, follow the link below:
Install Duff X Kodi Build for Xbox One
BK Links
BK Links is a full-sized Kodi Build with all your viewing needs. Because of its size, it may not work on small devices but works great on larger Kodi boxes such as the 2nd Generation Fire TV or NVIDIA SHIELD.
A few pre-installed add-ons with BK Links include: Neptune Rising, Dothraki, Nemesis, Maverick TV, Death Streams, Placenta, Planet MMA, Supremacy, The Dogs Bollocks, Verdict, Wolf Pack, and more.
BK Links has great options for 4K viewing, Sports, Kids, and everything in between. Click the link below to learn how to install the BK Links Build on your Kodi device.
How To Install BK Links Kodi Build

 Protect Yourself While Streaming & Downloading
Kodi users should always use a VPN to protect their identity and secure their devices while streaming free movies, TV shows, sports, and live channels.
Your Internet Service Provider, government, and hackers may log what you are accessing online if you aren't connecting through a VPN.
I use IPVanish on all of my streaming devices and I suggest that you do the same.
Get up to 60% off IPVanish VPN with the special link below.

IPVanish provides a 7-day money-back guarantee.

Don't miss out, expires soon.

Click Here for Exclusive IPVanish Discount
January Poll
Help us determine the best Kodi Builds that appear on this page by participating in the poll below.  You must vote to see results.
Best Builds for Kodi 18
Streamline
If using Kodi 18, you can't go wrong with the Streamline Kodi Build. This is a lightweight, yet powerful build with awesome add-ons.
The interface is smooth and easy to follow, and there are plenty of sources to choose from when viewing content. Often times, these are provided in 1080p HD.
Streamline boasts some of the most popular add-ons within the build, including: SportsDevil, Magic Dragon, Exodus Redux, YouTube, At The Flix, Maverick TV and more.
Being just under 220 MB in size means Streamline will work on your favorite device including the Firestick.
How To Install Streamline Kodi 18 Build
Red Wizard
From the One Alliance Repository comes a speedy, efficient build for your Kodi 18 device.
Red Wizard features an array of excellent add-ons to pull from with no shortage of content. Here are a few of the best add-ons associated with Red Wizard: Yoda, SportsDevil, Magic Dragon, At The Flix, Rising Tides, Gaia, and more.
With real-debrid integration and a few other nifty tools to go with it, Red Wizard has everything needed for a complete streaming experience.
Use link below to Install Red Wizard Kodi Build for 18 Leia.
How To Install Red Wizard Kodi 18 Build