What is a VPN or Virtual Private Network?
This is a frequently asked question that we here at TROYPOINT receive on a regular basis.
The following guide will help you understand what a VPN is, how a VPN works, and why you should be using one.
What is a VPN?
A VPN allows you to access the Internet privately and securely.
The most popular VPN among cord-cutters is IPVanish VPN and they store zero log files so none of your Internet activity is available for scrutiny.
IPVanish is the Best VPN for Streaming and works fabulously on any device you prefer.
This service is also touted as the Best Gaming VPN if you are an avid gamer.
In technical terms, a VPN will encrypt your connection so that anything transmitted from your Firestick, Fire TV, Android Box, computer, etc. is unreadable.
BE CAREFUL...
Your online activity is actively tracked by your Internet Service Provider, app/addon devs, and government through your identifying IP address.
Stream anonymously by using IPVanish VPN.
IPVanish will encrypt your connection to the Internet and mask your IP address so you will remain anonymous.
EXCLUSIVE DISCOUNT – SAVE 63% ON IPVANISH
IPVanish backs their service with a 30-day money back guarantee.
IPVanish allows you to use your account on unlimited Internet-connected devices
Your traffic is then routed through a VPN server and your external IP address is changed so that you become 100% anonymous.
Most people don't understand that their Internet Service Provider (ISP) assigns an external IP address to their account.
You can think of an IP address as a unique phone number for your Internet connection.
All of your Internet activity ties directly back to YOU through your IP address.
207.46.13.160 
Your real IP Address (above) will be masked with a different anonymous number once you activate a VPN.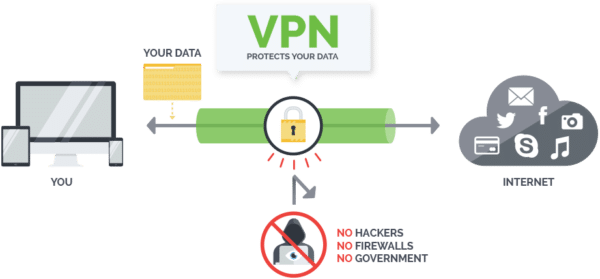 By using a VPN, your Internet Service Provider, App/add-on developers, government, hackers, and others will no longer be able to monitor and log what you are streaming or downloading.
VPNs not only protect us when streaming or downloading through free apps or add-ons.
For years, companies have taken advantage of VPNs as a way for their employees to work remotely without exposing their information to the open internet.
If you use public Wi-Fi networks, travel, or tend to work away from the office, the use of a VPN is crucial.
Most high-level companies use VPNs to protect their data and information and you should as well.
A Virtual Private Network has become more popular today, but not solely for its original purpose of preventing others from unauthorized access.
VPNs give access to all content on the web while hiding your activity from your Internet Service Provider (ISP), app/addon developers, government, and potential hackers.
Plus, using a VPN will enable you to alter your "geo-location" and access apps, websites, and other content that is not available in your country or region.
How Does a VPN Work?
Before discussing how a VPN works, it is necessary to realize why not having a VPN can ruin your privacy.
If you're stuck at the airport waiting for your flight, at a local coffee shop, or a library, chances are that you'll be connecting using the public Wi-Fi to save on your data plan.
When accessing hot-spots, you allow all your data to pass through an unencrypted network (data that is not converted to a form of "secret code" to prevent unauthorized access).
Everything that you're doing from entering passwords to interacting on social media becomes vulnerable to prying by hackers who can get in between these data transmissions.
This is a threat called a man-in-the-middle (MitM) attack, which is very common these days.
The attacker alters your communication with the website or app in order to either pry on your activity or impersonate you to obtain private information.
You are also exposed to malware distribution, Wi-Fi snooping and sniffling, and connections to rogue hotspots by cybercriminals.
That's why experts warn of the risks involved in connecting to unsecured networks and logging credentials to websites, sending personal communications and images, typing in passwords, and sharing other confidential information.
By not using a VPN, you are compromising your Wi-Fi network, becoming vulnerable to DDoS and web application attacks.
But with a VPN, you're completely reducing these risks.
First, your internet connection is encrypted on your device. All searches and activity on your computer, tablet, mobile device, etc., are done through the VPN where it is encrypted and hidden from any onlookers.
Next, your IP address changes once connected to the VPN server. The VPN will mask your IP address to websites you visit which makes it impossible to know the "geo-location" of your computer or device.
Finally, once you've accessed the Internet anonymously and securely, VPNs will tunnel your information through a separate network, securing your data and hiding it completely.
This provides encrypted online traffic, prevents bandwidth throttling, allows online anonymity, and unblocks geo-restrictions.
For more information on geo-restrictions, refer to our article below.
Smart DNS vs VPN – What's the Better Option to Protect Your Privacy
Why Should I Use A VPN?
Using a VPN is the best way to ensure your privacy online no matter the device you are using.
Listed below are 10 various reasons why using a VPN can be of use to just about anyone.
1. Hide Your IP Address
One great aspect that a VPN provides is to hide your computer's IP address.
This means that the site of your computer or device can be manipulated so that your location is incorrect or unknown.
It can move your IP address to a designated location of your choice, which allows for complete freedom from any restrictions that your current location may provide.
Many find this valuable when they are trying to access content that is restricted to where they are located.
So if you're on a business trip in the United Arab Emirates but it has restricted access to certain websites, you can connect to a VPN server in Canada to pretend that you're surfing in Toronto, for example, even though you're in Abu Dhabi.
2. Online Anonymity
While using an incognito browser to surf the web seems completely safe, this is actually not the case.
The last thing that you'd want to share is any information related to your passwords, bank savings, credit card numbers, and any personal data with your IP address is easily traced.
A VPN will make your original IP address vanish in the prying eyes of the public.
And remember, even if your connection gets intercepted, it will be very hard to trace your activities and data since you are protected by the VPN server you are connected to.
3. Use Streaming Services
For those interested in using Kodi, APKs, IPTV, Torrents, or other free media streaming services, many of these are now blocked in various countries.
With a VPN in place, you will be able to use such apps and services freely by changing your computer's IP address.
Some paid streaming services are now starting to block those who are using VPNs. A solution that works with many providers is connecting from a different server until you establish a successful connection.
4. Prevent Throttling
Most ISPs control your bandwidth speed. This means any streaming devices you may be using could take longer to load which means more buffering and less enjoyment.
With a VPN in place, your activity is hidden from the ISP so your bandwidth will not be throttled down while streaming.
5. Block Ads
VPNs provide a few extra benefits as well to go along with the added security. Some VPN services can block unwanted ads, trackers, and even targeted ads.
With the proper network, you will be able to browse freely without being sold on previous search items.
6. Prevent ISPs from Keeping Logs
Many service providers will not keep logs or data on your user and browser history.
Without this type of information, it is nearly impossible for somebody to recover exactly what you have been doing on the internet.
When searching for a provider, be sure to research which ones do keep logs and which ones do not.
7. Access Torrents
Torrenting is one of the most used purposes of a VPN. With a VPN running on your torrent device, your traffic will appear to be coming from a different location, keeping you anonymous.
However, not all VPN services allow torrenting so you should find one that is specifically designed for such activity.
If you are new to torrenting, TROYPOINT has created a list of Best Torrent Sites and Best Torrent Search Engines to get you started.
See Also: Best VPN For Torrenting
8. Use Public Wi-Fi Securely
Do you have a habit of using Wi-Fi at the airport or in cafes? Think about the other users connected to the same network that are ready to lurk into your system.
The last thing you'd want to do is to compromise all your private information on social media or online banking for instance.
A concealed IP address through a VPN server is what you need so that you can still use public Wi-Fi securely.
IPVanish VPN allows subscribers to use their service on an unlimited number of devices so you are always protected.
IPVanish Now Compatible with Unlimited Devices
9. Secure VoIP Calls
Voice-over-IP or VoIP calls have become popular due to their low costs, accessibility flexible network layout and improved audio quality over the years.
The most common type is a software-based VOIP service such as Skype, WhatsApp, Google Hangouts and Zoom.
You can secure your voice calls with a VPN, which guarantees you the utmost privacy.
10. Prevent Google Tracking
Google's free services log your searches, movement, and online activities. If you want to prevent it from tracking you, hide your IP address by using a VPN.
Other Uses Of A VPN
Along with using a VPN for your personal computer, you can also install one on your many other applications.
Doing this will block all unknown parties from accessing what you are streaming or downloading.
Listed below are step-by-step guides on how to set up a VPN with the most popular electronic devices available.
IPVanish provides easy to install applications for nearly every device available including the Amazon Firestick and more.
VPN Installation Guides
IMPORTANT:  Many people think that you must install something onto your router to use a VPN, this is not true.  It is possible to install a VPN on your router and you will find the tutorial below for that.
When you install a VPN onto your router, all network traffic is protected by the VPN.
By doing this, you don't need to run a VPN application on each device.
Are VPNs Legal?
There are a few countries that have deemed VPNs to be illegal.  Most TROYPOINT visitors originate from the United States, Canada, and the United Kingdom.
As of this writing, a VPN is legal in each of these three countries.
Some notable countries where a VPN is considered illegal include China, Russia, Belarus, Oman, United Arab Emirates, Turkey, and Iraq.
Latest Legal News in the Streaming World
The articles listed below cover some of the latest legal issFues in the world of streaming.
These serve as yet another reminder to always connect to your VPN while streaming or accessing 3rd party applications.
YTS Torrent Site Handing Over User Data to Authorities
United States Lawmakers are looking into criminalizing streaming copyrighted works
NordVPN Hacked! – Finding the Best VPN Alternative
Should I Use Free Or Paid VPN?
There are many different VPN service providers available today. When selecting which service is best for you, there will be two options. Free versions and paid versions.
Most paid versions require a monthly fee for their service. While both do work well, there are several drawbacks to using a free VPN provider.
When examining the free VPN services available, always remember that these providers are making money somewhere.
Whether it is through selling your data or installing malware on your device, these free VPNs are profiting from your use of their service.
Oftentimes, these services only allow for one connection and may require registration.
This is the case for ProtonVPN which is one of the most popular Free Services.
The free option obviously has the distinct advantage of not having an initial or monthly cost associated with the service.
But when you are in the market for a Virtual Private Network, make sure you know exactly what you are getting.
Most free versions will have slower speeds and connections than a paid service would. Another problem people run into with a free VPN service is the ads and pop-ups that may be associated with it.
The reason this occurs is that when you use a free service provider, they might sell your data to ad companies to pay for their overhead costs.
In summary, almost all free VPN services:
Have limited VPN Protocols
Don't offer stable connections
Can only offer slow speeds
Disconnects your network regularly
Provides no customer support
Have very few servers available
Lacks compatibility with some electronic devices
While this may seem like a reasonable route to take, you will definitely be getting what you pay for.
With a paid service, connection speed, customer service, and your privacy will all be of better value. I've thoroughly discussed the downside of using a free VPN service in the article below:
Why You Can't Trust A Free VPN
What Should I Look For In a VPN?
Given all these valuable reasons why you need a VPN, the next question is how to choose a reliable VPN service provider. Below are some of the criteria on what you should look for in a VPN.
Reliable connection
Compatible apps for various operating systems
Offers faster speed
Thousands of servers in global locations
No traffic logs
Unlimited peer-to-peer traffic
Unlimited server switching
Many simultaneous connections
24/7 customer support
Money-back guarantee
Transparent privacy policy
Has a lot of recommendations from independent reviewers
The most important features to consider with any VPN are download speed and ease of use.
When a VPN connection is established, the download speed will be decreased for two reasons.
First, the processing power required to run a VPN application in the background of your device will decrease download speeds.
Second, when a VPN connection is made, traffic is being sent through a secure server which also decreases speed.
Another important feature is how friendly the user interface is on the device that you are using.
It is important to find a service that provides applications for a range of different devices such as Windows, iOS, Linux, Android, Apple, Fire TV/Stick, etc.
You want to be able to use the VPN on every device you own that connects to the Internet.
The recommended VPN outlined below serves up blazing fast download speeds along with a friendly user interface on all of its applications.  You can also use the service on up to ten different devices simultaneously.
Which VPN Service Should I Use?
Over the past few years I have tried many VPN Services and recently found what I feel is the most trusted and reliable. The service I use and recommend is a provider called IPVanish.
With IPVanish, you can use unlimited devices simultaneously on just one account. IPVanish does NOT store data logs, another plus for those who do not want their browser history's withheld.
EXCLUSIVE DISCOUNT - GET IPVANISH FOR $3.99/MO

Use IPVanish on unlimited devices & when away from home.

IPVanish backs their service with a no-risk 30-day money back guarantee.  

Click Here for IPVanish VPN Discount
IPVanish provides a 30-day money-back guarantee if you aren't satisfied so you have nothing to lose.
Other Questions About VPNs 
1. Does a VPN Cause a Decrease in Internet Connection?
Connecting to a VPN naturally decreases the speed of the internet connection because of the encryption process of your internet data that is implemented by a VPN.
Also, the VPN application is routing your Internet traffic through a VPN server.
When choosing a VPN, it's important to find one that delivers fast speeds. We tested the top VPN providers and IPVanish VPN stood head and shoulders above its competitors in terms of speed.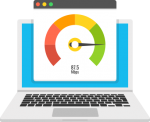 I have also prepared a comprehensive guide on How To Improve VPN Speed complete with a video tutorial.
IPVanish has recently announced a major upgrade in VPN Speed with updated Servers.
IPVanish Boasts Major Speed Upgrade
2. How Many Devices can a VPN Support?
This depends on your VPN service provider. While you may think you've saved money using a free VPN service, this would only provide you a very limited number of connections.
IPVanish VPN allows use on Unlimited Devices per account!
3. How Safe is Using a VPN?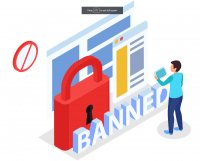 This depends on the kind of VPN service that you have subscribed to. It should offer anonymous torrenting, at least 256-bit AES encryption and won't record traffic logs.
In addition, it should have future-proofed privacy and IP-masking on many server locations worldwide.
4. How Many Connection Types Should a VPN use?
Multiple connection types must be offered by your VPN service provider to provide better security association, various types of authentication and faster access speeds.
5. Why should a VPN Service Provider Need to Have Many Servers?
If a VPN service provider has only a few servers available, this would result in overcrowding and could drastically reduce speeds.
If you happen to live in a location far away from the few servers being offered, it could also result in the same issue.
A global presence of servers should be available for more options. This is especially useful in areas like Ukraine, Russia, other parts of the world.
6. Is YouTube Blocked or Restricted because of a User's Location?
Depending on your location, YouTube can be blocked (such as in China) or have some videos disallowed for streaming when it displays the message, "This video is not available in your country.".
You can unblock YouTube with a VPN and alter your geo-location. This is the best way to avert any restrictions you encounter including other blocked sites.
I've written an article on how to unblock YouTube including configuring it on a Firestick or Fire TV.
7. Why Do you Need a VPN when Torrenting?
A VPN masks your IP address and protects your identity when downloading torrents. It prevents you from publicly broadcasting your IP address so you will remain anonymous.
8. How can you Bypass Restrictions on the Amazon App Store?
Some of the apps that you would want to download are restricted by the Amazon App Store since they are unverified.
However, you can side-load them into your device without using the official app-distribution method with the help of a VPN.
9. Is a VPN Expensive?
Some VPN service providers offer cheap rates but come with poor service quality, limited simultaneous connections, slow speeds, and some activity logging.
Choose a quality VPN such as IPVanish that offers unlimited simultaneous connections on multiple devices, unlimited server switching, anonymous torrenting, zero traffic logs, and unlimited bandwidth for a very affordable price.
Unbiased VPN Reviews
Frequently Asked Questions
What is a VPN and why do I need it?
A virtual private network (VPN) is a service that allows you to privately and securely browse the internet. Yes to remain anonymous online you need a VPN on all your devices that access the internet.
Is a VPN legal?
Yes. A VPN is 100% legal to install and use in most countries including the U.S. However, in some countries VPNs are not legal to use.
How does a VPN work?
A VPN works by routing your device's internet connection through a private server instead of your internet service provider (ISP). This will mask your IP Address to any websites you visit.
What devices can a VPN be installed on?
A VPN is available for installation on almost every electronic device you can think of. This includes PCs, iPhones, Android phones, Amazon Fire TV devices, and many other popular electronic devices.
How much does a VPN cost?
While some VPN services are free, most quality VPN services charge less than $5 per month.
Can you be tracked if you use a VPN?
A VPN encrypts your IP Address from your Internet Service Provider (ISP) making your online activity anonymous.
Should I use a VPN at home?
Yes. If you are accessing the internet at your home we recommend using a VPN for your online privacy.
Should I use a VPN on my phone?
Using a VPN on your phone is not necessary, but recommend if you want to hide your internet activity.
This page includes affiliate links where TROYPOINT may receive a commission at no extra cost to you. Many times, you will receive a discount due to the special arrangements made for our visitors. I will never promote something that I personally don't use or recommend. Purchasing through my links directly supports TROYPOINT which keeps the content and tools coming. Thank you!