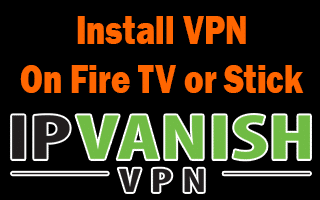 This step-by-step tutorial will show you how to install VPN on Fire TV or Fire TV Stick.  This tutorial will not work on the 1st Generation Fire TV Stick but will work with all other models (2nd Generation Fire TV, 2nd Generation Fire TV Stick, Fire TV 3).
Unfortunately, the 1st Generation Fire TV Stick does not come with a powerful enough processor to effectively run any type of VPN application.
You will know if you have a 2nd Generation FireStick by looking on the outside of the stick, if the Model Number is LY73PR, it is a 2nd Generation device.
You will find both a video tutorial and screenshot below on how to install a VPN on the Fire TV or Fire TV Stick.  The video will cover installation instructions along with settings that may be customized within the application.
Use coupon code SAVE20NOW and get 20% off any IPVanish plan.  This will expire soon so don't delay.
Click Here To Use Your IPVanish Discount
How To Install VPN On Fire TV or Fire TV Stick Tutorial
Step 1 – Register for an account at IPVanish by clicking HERE.
Step 2 – Hover over the search icon on your Fire TV or Fire TV Stick and type in "Ipvanish"
Step 3 – Click the IPVanish VPN option that appears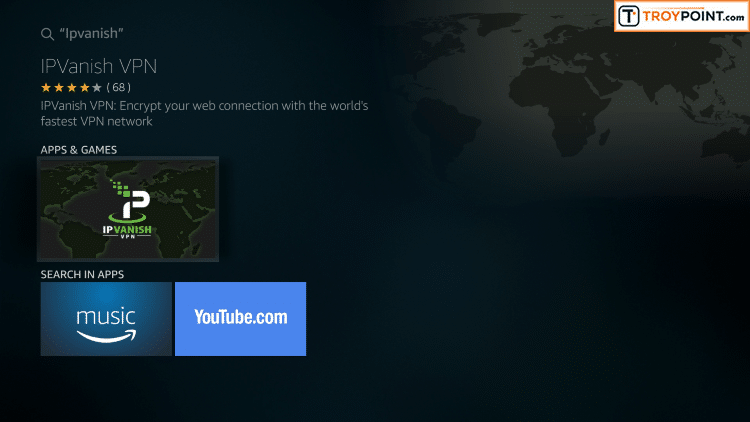 Step 4 – Click the download button.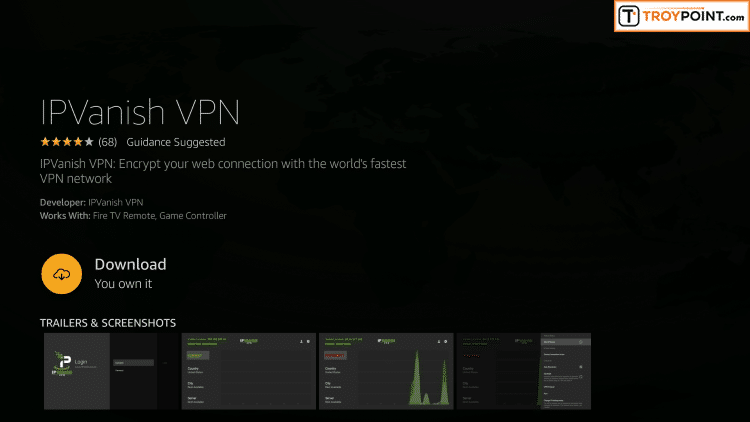 Step 5 – Click Open to launch IPVanish VPN application.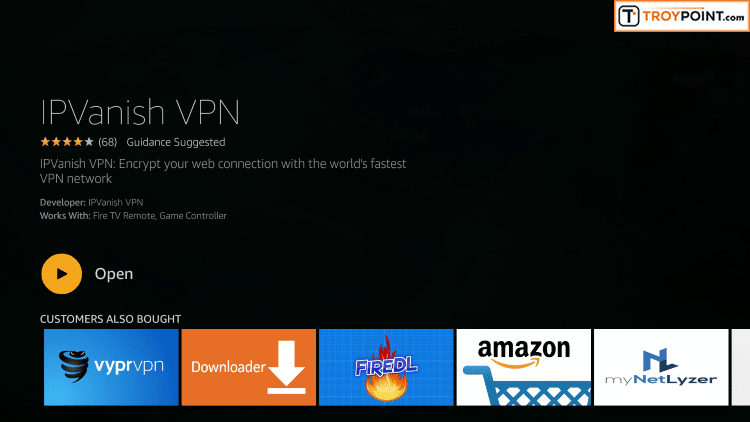 Step 6 – Input your IPVanish username and password and then click Login
Step 7 – Click CONNECT button
Step 8 – If you receive a VPN connection request such as this, click OK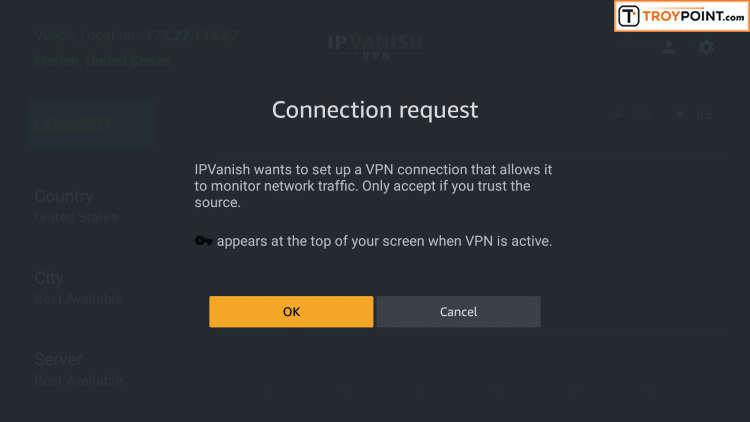 Step 9 – Click Disconnect button to stop service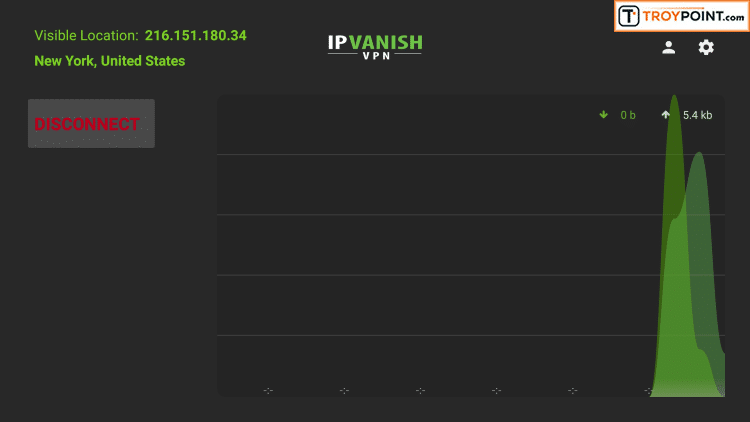 If you would like to double check your external IP address within a different application, open Downloader again and use the browser function and navigate to http://www.whatismyip.com.
Use coupon code SAVE20NOW and get 20% off any IPVanish plan.  This will expire soon so don't delay.
Click Here To Use Your IPVanish Discount
Don't miss the bonus video below which shows you how to optimize your download speed with The Fire TV/Stick and IPVanish VPN.
Bonus Video – Improve IPVanish VPN Speed On Fire TV Or Firestick
 Install speed test application on Fire TV by using the link above
Perform speed test without VPN connected for comparison purposes
Connect VPN by using default settings which is usually set at Best Available
Perform speed test again to determine VPN speeds with default settings
Log into your IPVanish online account and access Server List tab
Find a server close to your location and with a high capacity rate
Go back to VPN application on Fire TV and connect to server from Step 6
Launch speed test again to measure new download speeds
Repeat process until you find fastest speed for your Fire TV or Firestick
Internet Speed Test For Fire TV or Fire TV Stick
If you notice that when you connect to the VPN service and your IP address or location does not change, more than likely, you are using a first generation Fire TV Stick and this process will not work for you.
Why would you want to setup a VPN on your Fire TV or FireStick?  So that your nosy Internet service provider, government, and other groups can't see what you are streaming or downloading on your devices.  A VPN service will encrypt your link to the Internet and create an anonymous connection through a private IP address, which will hide your activity.
You may also experience increased streaming speeds because many Internet service providers impose throttling methods for programs such as Kodi and Android apps such as Terrarium TV, Mobdro, Showbox, etc.   A VPN will eliminate ISP throttling and allow you to connect at the full speed that your service should allow.
Another reason to use a VPN on your Fire TV or Fire TV Stick is to have the option of accessing sites or streams that are only available to people in certain geographical regions.  The VPN service referenced below will give you the option of connecting through hundreds of servers that are located in different areas of the world.
Unfortunately, some Internet service providers are cracking down on those who use Kodi Media Center, Modbdro, Showbox, Terrarium TV, Popcorn Time, etc, to access video streams that are readily available on the Internet.  The reason why they want to do this is because many of the Internet companies also serve as cable companies as well, which means less money for them.  They may threaten to shut down your Internet connection if they don't like what you are accessing through your Fire TV, FireStick, or any Internet connected device.
A VPN service will protect you against prying eyes and make your connection to the Internet anonymous.
Due to a faster processor, the Fire TV will provide better download speeds when using a VPN than the Fire TV Stick.  If you are going to be using a VPN in conjunction with your Fire TV or FireStick, it is suggested that you purchase a Fire TV due to better download speeds.
VPN Service Providers
I have used a half dozen VPN services over the past seven years and I finally came across one that works very well with the Fire TV or FireStick.  One of the most important features to look at when comparing VPN services is download speed.  No matter which VPN service that you choose, you will notice a drop in your download speed due to the fact that your traffic is routed through a separate server.   The VPN provider that I recommend below provides the best download speeds when compared to their competitors and they do not keep any traffic logs of what you download or stream.
The VPN service provider that I recommend is IPVanish.  I provide both a video and screenshot tutorial below on how to setup a VPN on the Fire TV or Stick with this service.
IPVanish VPN has recently come out with a new application for the Fire TV and Fire TV Stick that works excellent with a remote control.  The new user interface makes it simple to use a VPN on your Fire TV device.
IPVanish does not keep track of any traffic logs so if they were ever requested to provide your streaming history, it doesn't exist.
Not only do I use a VPN on my connected devices within my home, I also use it when I am travelling.  You should NEVER connect to a public WIFI hot-spot without protection through a VPN service.
IPVanish will allow you to use their VPN service on five devices at the same time with one account.  This is great for those of us who use a VPN service on our computer, phone, and Fire TV or Stick.
IPVanish also provides applications that can be used on Windows, Mac, Linux, Android, and iOS.  The mobile applications for both Android and iOS are outstanding.  Due to their large ecosystem of supported operating systems, you can use your account on your different devices.
If you ever travel and connect to public wifi hotspots, you should ALWAYS connect to the access point through a VPN service.  You can use your same IPVanish account on your other devices which is a great benefit.
I strongly suggest that you view the video below or use the screenshot tutorial as it will help you install a great VPN application onto your Fire TV or Fire TV Stick.
Use coupon code SAVE20NOW and get 20% off any IPVanish plan.  This will expire soon so don't delay.
Click Here To Use Your IPVanish Discount
Note:  IPVanish provides a 7-day money back guarantee if you aren't happy with their service.  You may use one IPVanish account on up to five devices at the same time.
General Fire TV/Stick VPN Troubleshooting Tips
Most of you will never need these, but just in case we have you covered.
Uninstall the IPVanish VPN App on the Fire TV or Fire TV Stick by going into Settings / Applications / Manage Applications / IPVanish and then click uninstall.  After you have removed the VPN, reinstall with the guide above.
Restart both your Fire TV/Stick and router by unplugging from power, let sit for a minute and then plug back in.
If your download speed seems slow or you are experiencing buffering, choose a different server, close to where you are located within the VPN application.  Keep in mind that there are multiple servers available for each location and you can try each of them to see which provides better results.
If you are having problems logging into IPVanish VPN, double check that there are no spaces within the email address that you use as your login.  Sometimes a space is automatically added following the @ symbol.
If you forgot or lost your IPVanish password, you can reset it by clicking the "Forgot Password" link by clicking HERE.
If you need help with something, send IPVanish an email at support@ipvanish.com and include TROYPOINT in the subject line for a quicker reply.
Read my post on why I chose IPVanish as my exclusive VPN provider for the Fire TV and Fire TV Stick by clicking the link below.
Best VPN for Fire TV & Fire TV Stick
Please follow and like us: