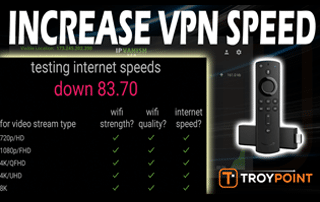 This page includes affiliate links where TROYPOINT may receive a commission at no extra cost to you. Many times, you will receive a discount due to the special arrangements made for our visitors. I will never promote something that I personally don't use or recommend. Purchasing through my links directly supports TROYPOINT which keeps the content and tools coming. Thank you!
This tutorial will show you How to Improve VPN Speed on Firestick, Fire TV, and Android TV Boxes.
There are a few tips that can be used to ensure we are getting maximum download speeds when our VPN is active.

Prior to diving into the tutorial, it is important for you to know how a VPN functions so you understand some of the remedies outlined below.
When we connect to the Internet through a VPN, we are first establishing a secure connection to the provider's server.
When this happens, our Internet connection is assigned a new IP address, and data is encrypted. By doing this, it decreases our Internet connection naturally.
Running a VPN on any device requires processing power which could also diminish download speed as well.
With that being said, you will usually see better speeds on high powered devices such as the NVIDIA Shield as compared to an Amazon Firestick.
This is because the NVIDIA Shield has higher processing power which results in better download speeds when a VPN is active.
Most cord cutters use a VPN so that their Internet Service Provider, government, app/addon developers, and hackers can't log what they are accessing online.  A VPN encrypts your connection to the Internet and masks your IP address so you become anonymous.
If you are wondering whether or not your speed is sufficient for streaming High Definition files, the following guide will provide you with all the answers to the question: What is a Good Internet Speed?
Don't get too hung up on your download speed when your VPN is active.
As you will see in the image below, it doesn't take much speed to stream 1080p content.  See the video below for a better explanation.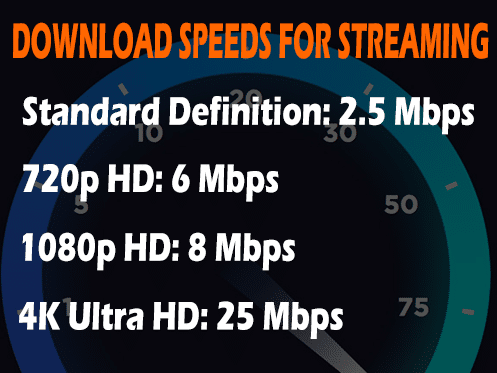 In the following guides, I am using a Fire TV Stick 4K and IPVanish VPN as these are the most popular products on the market today.
But, the same process can be used for any Internet-connected device or VPN service.
How To Increase VPN Speed On Firestick, Fire TV, & Android TV Boxes
Video Tutorial
In this video, I am using a Fire TV Stick 4K and IPVanish VPN as these are the most popular products on the market today.  But, the same process can be used for any Internet connected device or VPN service.
IPVanish VPN Discount – Most Popular VPN Among Cord Cutters
Asus AC3100 Router – Troy's Favorite Router
Screenshot Guide
Note: The following screenshot guide is a summarized process.  The video above goes into much more detail and will be more beneficial.  
Most VPN services come with a choice of multiple protocols that may be accessed through the settings menu of the application.  The choices are usually UDP or TCP.
I have found that you will likely see a VPN speed increase by using UDP.  This is found within the settings of your VPN application.
We tested the various protocols in our VPN Protocol Guide to find out which protocol is truly the fastest on popular devices.
Some Internet connections require TCP so if your VPN won't connect, try switching to TCP.
1. Launch IPVanish and click the Settings option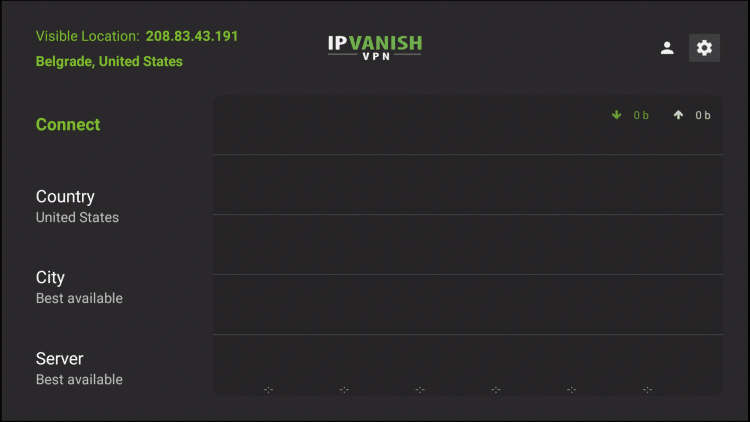 2. Scroll down to select Protocol
3. Choose OpenVPN (UDP) if it is not already selected
With UDP selected, we can now test our Internet Speed and adjust the server settings to find the fastest choice.
Connect To VPN Server Close To Your Location
It only makes sense that connecting to a VPN server closer to your location will provide faster download speeds since there is less distance for the data to travel.
Most VPN applications come with an auto-connect button that attempts to connect to the fastest server.  I have found that this approach does not work well for most VPN services.
I suggest manually connecting to a server within your VPN connection panel that is close to where you are currently located.
Each location will also provide multiple servers to choose from and it is a good idea to perform a speed test on each until you find one that you are satisfied with.
NOTE: In the steps below, I will use a free Internet Speed Test application called Analiti Speed Test WiFi Analyzer. This can be installed using our tutorial below.
How to Install Analiti Speed Test on Firestick/Fire TV
1. Return to IPVanish App home-screen and click Connect
2. Wait for connection to establish
3. Go back to your device home-screen and lanch Analiti
4. Analiti immediately begins analyzing your internet speed. Wait for the test to finish and review your results
5. Return to IPVanish and try changing the Server to a location nearest you
6. Try selecting a different Server to connect to
7. Connect to your new Server
8. Close the IPVanish app and launch Analiti to see your results
That's it!
I suggest trying numerous servers and locations to find the option that provides you with the highest download speed.
If you need a VPN provider with blazing fast speeds, I suggest IPVanish.  As you can see in the video above, the service provides excellent download speeds which is why it is one of the most popular services on the market today.
SAVE UP TO $40 WITH THIS TIME-SENSITIVE DEAL

Use IPVanish on unlimited devices & when away from home.

IPVanish backs their service with a 30-day money back guarantee.

Click Here To Get Your IPVanish Discount
Other Ways to Improve VPN Speed
1. Restart Your Device
The first remedy I always suggest for anything computer-related is to restart your device.
It's amazing how this solves so many problems with computers and media streaming devices.
2. Upgrade to Ethernet Connection
Oftentimes your home wireless connection can become unreliable due to distance from the router, low bandwidth, and other reasons.
I suggest looking into a Firestick Ethernet Adapter, which will likely improve your download speeds.
3. Restart Your Wireless Router & Modem
Another solution is to restart your wireless router and Internet modem.
When doing this, I suggest unplugging both devices from the power outlet, let them sit for ten minutes, and then plug back in.
You usually want to first plug your modem back in and once that has started, plug your wireless router back in.
If you find the steps listed above do not improve your speed when connected to a VPN, your Internet speed may not be strong enough.
Most Internet providers offer speed upgrades and this is usually a minimal increase to your monthly price but well worth it.