This tutorial will show you how to improve VPN speed on any device.
There are many reasons why your VPN speed may be suffering.  This tutorial will examine multiple problems that you can look for.  Prior to diving into the tutorial, it is important for you to know how a VPN functions so you understand some of the remedies outlined below.
When we connect to the Internet through a VPN, we are first establishing a secure connection to the provider's server.  This is our Internet connection is assigned a new IP address and data is encrypted.    By doing this, it decreases our Internet connection naturally.
Also, running a VPN on your device requires processing power which could also diminish your download speed as well.  With that being said, you will usually see much better speeds on an Amazon Fire TV than you would on an Amazon Fire TV Stick when connected to a VPN.  The Fire TV has a much better processor than the Firestick which results in better download speeds.  Also, if you want to install a VPN on a router, you will need a high-quality router that provides plenty of processing power to run the VPN.
How To Improve VPN Speed Steps
1  Check Internet Speed With VPN Disconnected & Connected
Before you start troubleshooting any possible VPN speed problems, it is important to first set a benchmark so we have something to compare.  You should first perform a download speed test on your device with the VPN disconnected.  Then, connect to your VPN and initiate another speed test.  What is the difference in your download speed?  Keep in mind that we will always have some sort of VPN speed decrease due to the factors that I mentioned above.  Also, most experts assert that you can stream HD quality media with speeds of 7-10 Mbps just fine.  If you see a huge decrease after performing this comparison, proceed to the steps below.
Note:  If testing your Internet download speed on a computer, I suggest using the Website Speedtest.net.  I have also developed a tutorial on how to test download speed on Fire TV or Fire TV Stick.  Android TV Box users should be able to install the Speedtest.net application through the Google Play Store.
2  Restart Your Device
The first remedy I always suggest for anything computer-related is to restart your device.  It amazes me at how this solves so many problems with computers and media streaming devices.
3  Restart Your Wireless Router & Modem
Another solution is to restart your wireless router and Internet modem.  When doing this, I suggest unplugging both devices from the power outlet, let them sit for one minute and then plug back in.  You usually want to first plug your modem back in and once that has started, plug your wireless router back in.
4  Change VPN Internet Protocol
Most VPN services come with a protocol that can be changed in the settings panel of the application.  The choice will be either UDP or TCP.  From my experiences, you will gain a VPN speed increase by using UDP.  Try switching this option within the settings of your VPN app and perform another speed test.
5  Connect To VPN Server Close To Your Location
It only makes sense that connecting to a VPN server closer to your location will provide faster download speeds since there is less distance for the data to travel.  Most VPN applications come with an auto-connect button that attempts to connect to the fastest server.  I have found that this approach does not work well for most VPN services.
I suggest manually connecting to a server within your VPN connection panel that is close to where you are currently located.  Each location will also provide multiple servers to choose from and it is a good idea to perform a speed test on each until you find one that you are satisfied with.
If using IPVanish VPN, you will find a trick that I discovered in the video tutorial below.  In this guide, I connect to a server closest to my location and one with high capacity.
How To Increase VPN Speed On IPVanish Video Tutorial
If you need a VPN provider with blazing fast speeds, I suggest IPVanish.  As you can see in the video above, the service provides excellent download speeds which is why it is one of the most popular services on the market today.
EXCLUSIVE TROYPOINT DISCOUNT - Save 60% on IPVanish VPN

IPVanish provides a 7-day money-back guarantee so you have nothing to lose.

This discount expires soon.


Click Here To Get Your IPVanish Discount
IPVanish provides a 7-day money-back guarantee if you aren't satisfied so you have nothing to lose.
New – You can now use one IPVanish VPN account on up to 10 devices at the same time!
TROYPOINT TIP: If you're trying to install unverified apps into your Firestick or Fire TV from the Amazon App Store, you can only complete it by side-loading or installing anything into your device without using the official app-distribution method. I recommend using a VPN to install such apps. Click this link to learn how to install a VPN for Firestick, Fire TV, Fire TV Cube.
Protect Yourself With A VPN When Using This Technology
Most cord-cutters use a VPN to hide their Internet activity while streaming movies, TV shows, and live channels.

If you aren't using a VPN when accessing free or low-cost media, your Internet Service Provider, government, hackers, and app developers can log everything that you do online through your visible IP Address.

Your current IP Address is 174.101.183.236

The most popular VPN among cord-cutters is IPVanish due to their blazing fast speeds and zero log policy.

Its important to use a VPN that is fast since we are streaming large HD files.  Its also crucial to find one that keeps no logs of what their subscribers access while online.

Setting up IPVanish VPN on your streaming device is simple!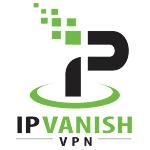 Step 1 Register for an IPVanish VPN account by clicking the link below.

This exclusive link provides you with a hefty discount, only available to TROYPOINT visitors like you.


 Register for IPVanish Account & Save 60%


Step 2 – Hover over the search icon on your Firestick, Fire TV, or Fire TV Cube and type in "Ipvanish"

You may also find the IPVanish App in the Google Play Store for those of you who are using Android TV Boxes, phones, and tablets.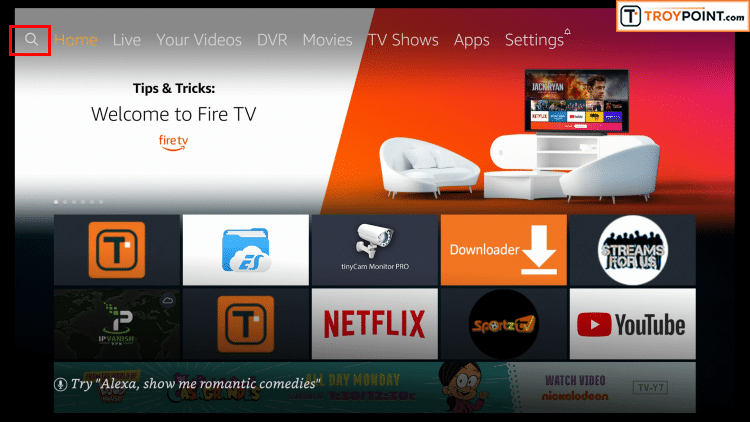 Step 3 – Click the IPVanish VPN option that appears.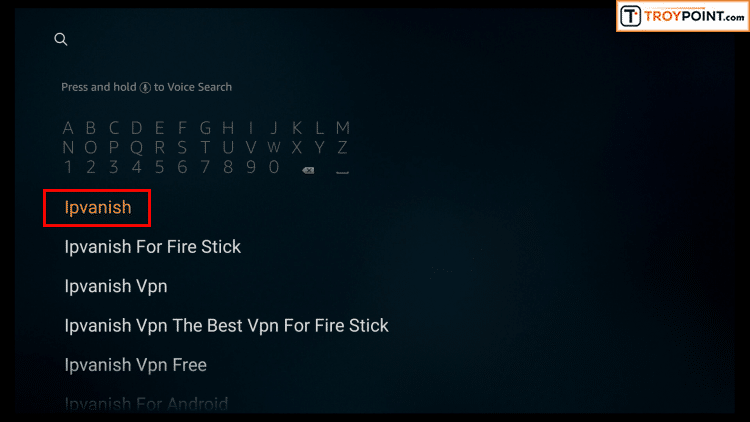 Step 4 – Click the IPVanish icon under Apps & Games.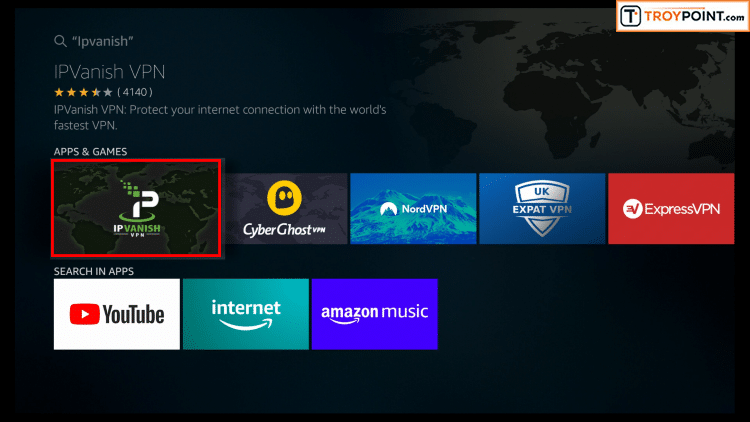 Step 5 – Click Download.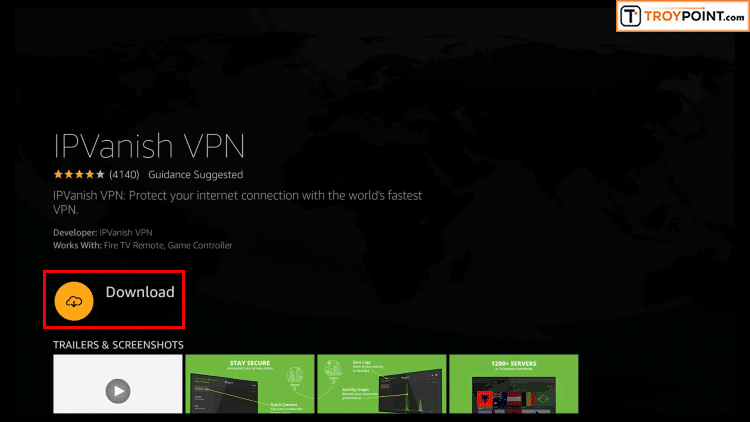 Step 6 – Click Open.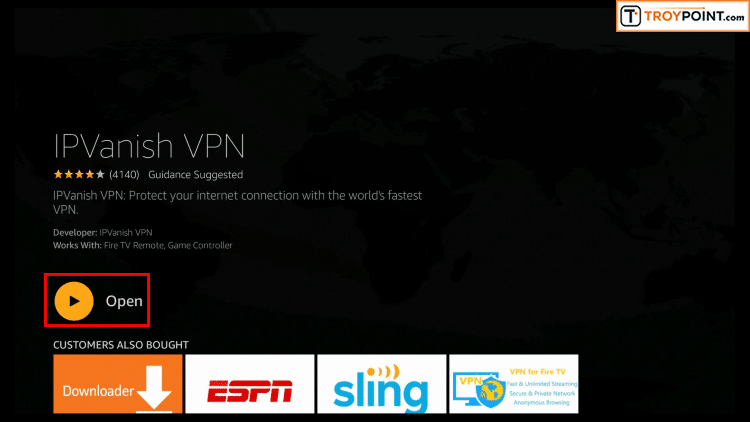 Step 7 – Enter  your username and password to login.  Your username is the email that you used to register for IPVanish service with and your password is automatically generated and emailed to you.




Step 8 – Click Connect button.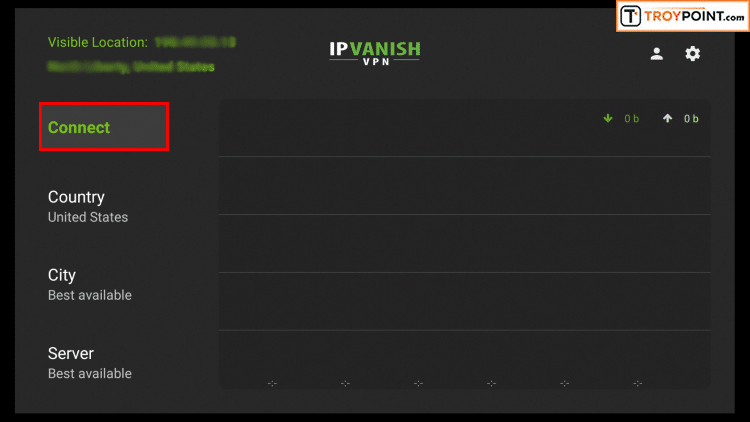 Step 9 – Click OK for Connection request if it appears.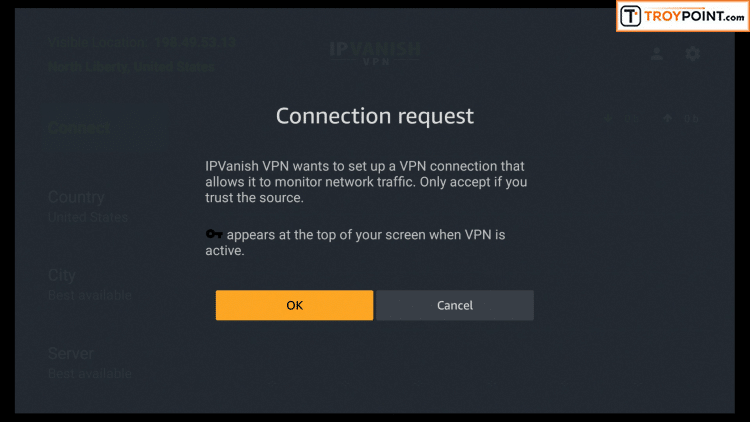 Step 10 – You will notice that your IP Address changes along with location of connection.  You are now operating anonymously through your device.

Click the Home Button on your remote and the VPN will remain running in the background.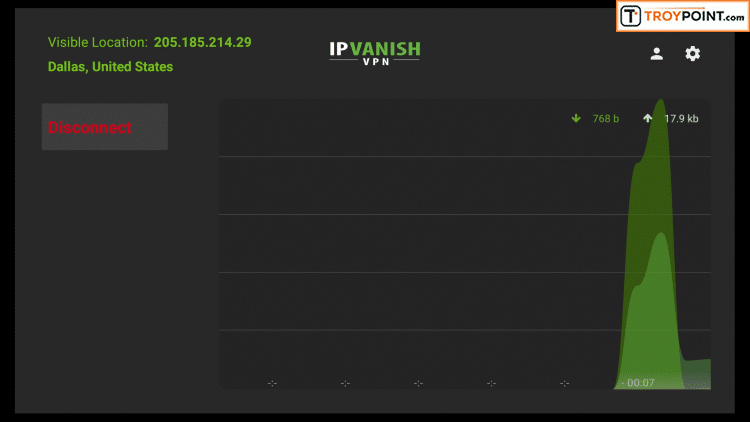 Congratulations!  You are now protected by a VPN which means everything that you stream or access through your Firestick or Android TV Box is hidden from the rest of the world.

If you ever need to stop the VPN service, simply re-launch the application and click the DISCONNECT button.