The Best Firestick Apps in 2019 may be found below.  This resource will be updated on a regular basis and we encourage readers to bookmark this page and check back frequently. These apps also work on the Fire TV and Fire TV Cube.
The Amazon Fire TV, FireStick, and Fire TV Cube are amazing streaming devices that have become a must-have for tech junkies and amateurs alike. Because of its versatility and compatibility, thousands of apps are available for download and most are 100% free.
This article will provide you with a detailed list of the Best Firestick Apps. These apps are used for streaming and viewing content without the need for any cable cords or service providers.
Below, you will find a list of the most popular FireStick and Fire TV apps.  Some of these require installing directly from the Amazon App store and some must be side-loaded.  If the app requires side-loading, you will find an accompanying link that will provide a detailed tutorial.
Some of these files are also restricted by the Amazon App Store when they are identified as unverified apps. In this case, installing a VPN for Firestick, Fire TV, Fire TV Cube can fix the issue.
If you are looking for a step-by-step guide that will show you how to get all the best apps on your device, CLICK HERE or link below to learn How To Jailbreak A Firestick. By doing so, you will be able to stream free Movies, TV Shows, Live Television, and more.
TROYPOINT Tip: 
You should always use a
VPN
to protect your identity and security when streaming free movies and TV shows with apps such as this.
Legal Copyright Disclaimer: This technology shall only be used to stream movies or TV shows that fall under the public domain.  TROYPOINT does not endorse or promote illegal activity tied to streaming or downloading copyrighted works. The end-user shall be solely responsible for media accessed through any service or app referenced on this Website.  Referenced applications/addons are not hosted by TROYPOINT and this guide is for educational purposes only.  
Best Firestick App with Installation Guide – September 2019
Best Firestick Apps
Streaming Apps (Movies & TV Shows)
UnlockMyTv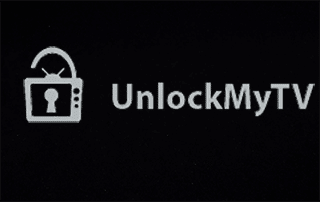 UnlockMyTv is an upgraded clone of the popular Cinema HD that works great. It features the same design and settings as Cinema HD, but with NO ADS and plenty of high-quality sources.
With real-debrid and trakt.tv integrations, UnlockMyTv has the ability to make your streaming experience the best possible. Links are served up in high quality and often times available in 1080p HD. UnlockMyTv has become known as the best Cinema APK alternative and is only getting better.
Use the link below to Install UnlockMyTv:
How To Install UnlockMyTv on Firestick/Fire TV
CatMouse APK
The CatMouse APK is new to the streaming scene but is sure to be a favorite among cord-cutters. This is a Terrarium TV clone that features tons of links and NO ADS.
CatMouse has the same interface and features as Terrarium but with updated content for your viewing experience. Real-Debrid and Trakt are available which will help you get the most out of this app.
If you were a fan of Terrarium, you will be sure to enjoy CatMouse. Give it a try today and let us know what you think!
Use the link below to Install CatMouse APK:
How To Install CatMouse APK on Firestick/Fire TV
Kodi
Kodi is an open source media center software that is available for download on nearly every device. It works perfectly on the Fire TV and FireStick and is completely free. With Kodi, you will be able to install numerous apps or add-ons that hold content for viewing. To learn more about the Kodi Software, read the following article that explains What is Kodi?
Because Kodi is not supported within the Amazon App Store, it must be side-loaded onto your Fire TV device. Once downloaded, the opportunities with this software are endless. The real power of Kodi comes from the thousands of Add-Ons that store millions of movies, TV shows, music, and more.
Be sure to check out the Best Kodi Addons which is a popular resource among TROYPOINT visitors and subscribers.
How To Install Kodi on Fire TV/Stick
Cinema APK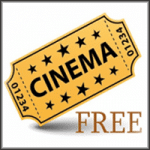 Cinema is a new APK that hosts movies and TV shows for streaming and download. It features an easy-to-use layout and has content both new and old.
With plenty of sources and streams to choose from, you should have no problem watching your favorite flicks. There is even an auto-play button at the top of each selected choice which automatically selects an option to play. With many of the APK powerhouses going away, Cinema is one of if not the best streaming app available today.
Use the link below to Install Cinema APK:
How To Install Cinema APK on Firestick/Fire TV
Bee TV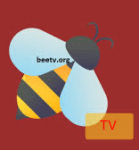 Another new app that works fantastically on Amazon devices is Bee TV. This app holds thousands of movies and TV shows and serves them up in high definition including 1080p HD.
Bee has Real-Debrid and Trakt.tv integration along with the ability to use an external video player. For those who wish to do so, MX Player works fabulously on Bee TV.
This app made the list because of its awesome interface and plentiful amount of content. Give it a try today!
Morph TV
If you were a user of the popular streaming app Morpheus, you will love Morph TV.
Morph is a clone of Morpheus, which is no longer receiving updates. This Movie and TV Show APK provides a simple user interface with only 4 Categories to choose from.
Morph provides high quality links that can easily be downloaded if you are looking to do so. If you choose to download content via Morph, I highly suggest using a VPN.
Unlike other apps on this list, Morph currently does not host any advertisements making your streaming experience hassle free.
Install Morph TV on Firestick/Fire TV
FreeFlix HQ
FreeFlix HQ is a downloadable entertainment app that provides thousands of movies and TV shows all for free. This application has a similar interface to Terrarium TV with different video categories to choose from. FreeFlix offers both a free version and a paid version. To eliminate ads, you must use PayPal and update FreeFlix to the paid version.
Those who prefer a 1080p movie or TV series with an option for subtitles can enjoy these shows for unlimited viewing. Anime lovers are in for a treat together with World Wrestling Entertainment (WWE) fans because of their daily updates.
In addition, users won't miss an episode of their favorite reality shows, sitcoms and TV series thanks to the app's TV Calendar & Schedule feature. Aside from FireStick, it is compatible with any D-Pad remote control and XBOX ONE.
One of the coolest features provided by FreeFlix HQ is the ability to download movies from the app. This means you can now store your favorite flicks and watch them while you're offline. While using FreeFlix, a live TV link with live channels from around the world is also available. FreeFlix is an all-in-one Fire TV app that is sure to suit all your streaming needs.
To learn how to install it on your Fire Stick or TV, use the link below:
How to Install FreeFlix HQ on Fire TV Stick
CyberFlix TV
CyberFlix TV is a fork or clone of Terrarium TV. Terrarium was a long-standing APK with thousands of movies and TV shows in high definition including 1080p and even 4K.
Currently, CyberFlix has taken over for Terrarium and features the same layout, design, and content. It is continually updated and has awesome sources. Often times, these are available as GoogleVideo streams and can be watched or even downloaded.
Install CyberFlix TV on Firestick/Fire TV & Android Box
Titanium TV
Following the news of Terrarium TV snapping out of business, many app developers have launched better alternatives to rival the once popular go-to entertainment app. Titanium TV is the closest we can get to Terrarium TV.
With a long list of films and TV shows, it can rival other apps when it comes to giving users the full HD experience. Titanium TV works on FireStick, Fire TV, Fire TV Cube and Android TV Boxes. In addition, Real-Debrid (the popular unrestricted downloader) can be integrated easily for best quality streaming.
In my earlier post, I've mentioned that you can use MX Player as your video player. You can check it out below:
How to Install Titanium TV on Firestick/Fire TV & Android TV Box
MediaBoxHD
What makes MediaBox HD a great app is its large collection of movies and TV shows that is regularly updated with the best quality streams. Formerly known as The Movie DB, this app supports Chromecast, Roku, Smart TV, Wi-Fi sharing and Fire TV. Another feature that makes it a great choice is it lets users post requests for movies and TV shows complete with subtitles. For those on-the-go viewers, they can use their FireStick anywhere and activate the Offline Watching function of MediaBox HD app.
Since this app is not available on Google Play Store or App Store, you would have to download it directly from the Media Box HD website and perform a simple installation process, which I have outlined on the link below:
How to Install MediaBox HD on Firestick/Fire TV & Android TV Box
Live Lounge
While it is listed as a Movie & TV Show app, Live Lounge is actually an all-in-one streaming APK. Live Lounge features categories for Movies, TV Shows, AND Live TV. Along with a soothing fireplace option to boot.
Content is easy to find and search for and is streamed in HD quality. While it does not offer the ability to integrate services such as real-debrid or trakt, it still works great without.
If you are looking for a one-stop-shop for all your streaming needs, Live Lounge is it.
How To Install Live Lounge APK on Firestick & Fire TV
TVZion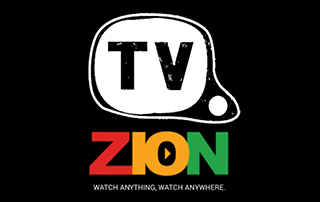 TVZion is a great addition to the growing FireStick and Fire TV-related apps. It boasts of customizable lists of movie and TV series according to release date, genre, resolution, file size and bitrate. It can also be integrated with Real-Debrid, Premiumize and Trakt.tv so users can still access their settings, saved collection and history.
Instant streaming is defined anew by the app through its one-click play function. Users can rely on this app to search for the best streaming link available. Plus, with its remote-friendly features, the app allows users to switch between TV series and movies through the menu.
Finally, the ZionClub membership provides ad-free streaming, high stream quality for 15 GB movies, more link sources for old TV show episodes, link filtering options and exact resolution reporting for improved viewing on playback. Monthly subscription depends on the number of devices.
How to Install TVZion on Firestick/Fire TV & Android TV Box
TeaTV

High-quality movies and TV shows are what TeaTV is all about. The app works on Windows, Android and macOS devices and caters to users' streaming and downloading needs at no cost. However, it is mostly popular on Android devices, which most reviewers admit has outdone Terrarium TV's catalog.
The app had to content with a number of bugs before but the developers have already implemented the necessary troubleshooting steps to fix the issues. Downloading the app is best done on the FireStick through the Downloader or ES File Explorer Apps.
How to Install TeaTV on Firestick/Fire TV & Android TV Box
OneBox HD
One of the best apps for FireStick recently is OneBox HD, which has become a favorite among movie buffs. After introducing its filter functionality, feedback on the app has become favorable since users can quickly narrow down their interests according to genre, trending shows and resolution just to name a few.
In addition, downloading files is now made easier thanks to the updates on the software. Users can watch offline and still get the same viewing experience.
How To Install OneBox HD on Firestick, Fire TV, and Android TV Box
Crackle
Originally known as Grouper, Crackle has become one of the most popular streaming media after the company was bought by Sony in 2006. The free app is supported by ads and regularly shows updated quality programming straight from the FireStick. Aside from Sony Pictures-produced blockbusters and its subsidiaries, original Sony TV programs from drama to miniseries are also available.
The downside, however, is that the app is only available in 21 countries and in three languages (English, Spanish and Portuguese). If you're not located in any of the countries it is currently serving, you will want to use IPVanish to change your geo-location.
In addition, the number of ads may ruin your viewing experience so a Kodi add-on can reduce these for you.
Stremio
There are plenty of reasons why users love to use Stremio. First, the developers regularly post updates, tutorials and other documentation on their official blog. Second, it makes it easy for users to organize their favorite films, TV shows and online videos by saving them in a personal library. Finally, the app has interesting recommendation features that matches a user's interests and recently viewed programs and films.
You can start installing Stremio by following my tutorial here:
How to Install & Setup Stremio
Crunchyroll
Kids and those young-at-heart can never have enough of Crunchyroll's huge collection of Anime shows that are ad-free and in HD quality. These are all licensed and are sure to cater to any Anime fan's delight.
With almost 30,000 episodes of classic as well as the latest Anime programs (including the latest TV broadcast from Japan), this app won't fall short of anybody's hunger for all things Anime.
VRV
If Crunchyroll is for Anime fanatics, then VRV is for every animation geek! This app streams content from Crunchyroll, Mondo, NickSplat, Shudder, Cartoon Hangover and many more. Streaming shows from these channels will make your viewing habits the best experience.
However, unlike Crunchyroll, VRV has a lot of ads to feature so users may use ad blocking apps to control their viewing experience.
Live Television Apps
Streams For Us
Streams For Us IPTV is a ground-breaking IPTV Service that features over 8,500 channels for as little as $7/month. These channels span across the world and are available in HD quality for your streaming enjoyment.
Unlike other IPTV services, Streams For US features an updated VOD Section with Movies and TV Shows. Along with a DVR Catchup option for popular channels.
With an upgraded XCIPTV App, the Streams For US interface is different from any other IPTV Service available. Use the link below to install Streams For Us on your Fire TV Device.
The Players Klub
The Players Klub is an IPTV Service (Internet Protocol Television) that can be installed through Kodi or as an APK. Players Klub offers over 1000 channels for the small fee of $8/month.
One major plus to using the Players Klub is the ability to access nearly every sporting event on the planet. Players Klub provides free viewing of MLB TV, NFL Red Zone, NBA League Pass, NHL Center Ice and much more. The Players Klub has some SD and HD options available for streaming.
Click the link below to learn how to install The Players Klub on Fire TV/Stick, or Fire TV Cube.
How To Install The Players Klub
Sportz TV IPTV
If you are searching for a premium IPTV Service then look no further than Sportz TV.
This popular live television app hosts over 8000 Channels available in both High Definition and Standard Definition quality.
One feature that sets Sportz TV apart from other IPTV providers is the added VOD Section with tons of movies for streaming. You will also have access to a dedicated support system in case there is ever any issues.
Sportz TV currently costs $14.95/month and can easily be installed on any Fire TV or Fire TV Stick.
Sportz TV IPTV Installation Guide
Area 51 IPTV
Another IPTV Service that has gained popularity recently is Area 51. Area 51 features over 1,000 HD Channels and is even cheaper than the Players Klub, at only $7/month.
This includes live events such as News, Sports, Pay Per View, and more. All available in high definition quality for an awesome streaming experience.
Area 51 is available for installation as a stand-alone APK or can even be installed within Kodi if you would prefer.
Click the link below for Area 51 Installation Guide.
How To Install Area 51 on Fire Stick
Mobdro
If you don't want to shell out $20 per month for SET TV IPTV, you can first try Mobdro.  This is a free streaming application that provides hundreds of live tv channels from around the world.
The latest Mobdro update even allows the user to record to the hard drive on the streaming box that is being used.
Unfortunately, many channels aren't available in HD quality but Mobdro is a great alternative for those who want free live channels.
How To Install Mobdro on Fire TV/FireStick
TVTap
TVTap is a Mobdro alternative that works just good if not better than the highly popular APK.
Unlike some live tv apps with interfaces that are distorted or nonfunctional, TVTap looks and works perfectly with the Firestick and Fire TV.
Some of the more popular Channels available include ESPN, A&E, CNN, USA, CNBC, FOX, Discovery, and more. While many of the options are provided in HD, some are only in Standard Definition quality.
Install TVTap on Firestick/Fire TV
Pluto TV
Another great addition to live TV streaming is Pluto TV that offers 1,115 channels (as of this writing) with everything from poker tour to car races and science documentaries to Gordon Ramsay. There's definitely something for every member of the family. And best of all, subscription is free.
The app has improved a lot in terms of its curated content, channel lineup and resolution quality since it was launched in 2014. And with Viacom's acquisition of the app in March 2019, the app continues to add more active users, making it the leading free TV streaming app in the United States.
While Pluto TV remains popular among Android phone users, it is also recommended for FireStick and Fire TV. The same HD quality is achieved on these devices while playing movies and TV shows is pretty straightforward – select the film, choose the stream and start playing.
Sling TV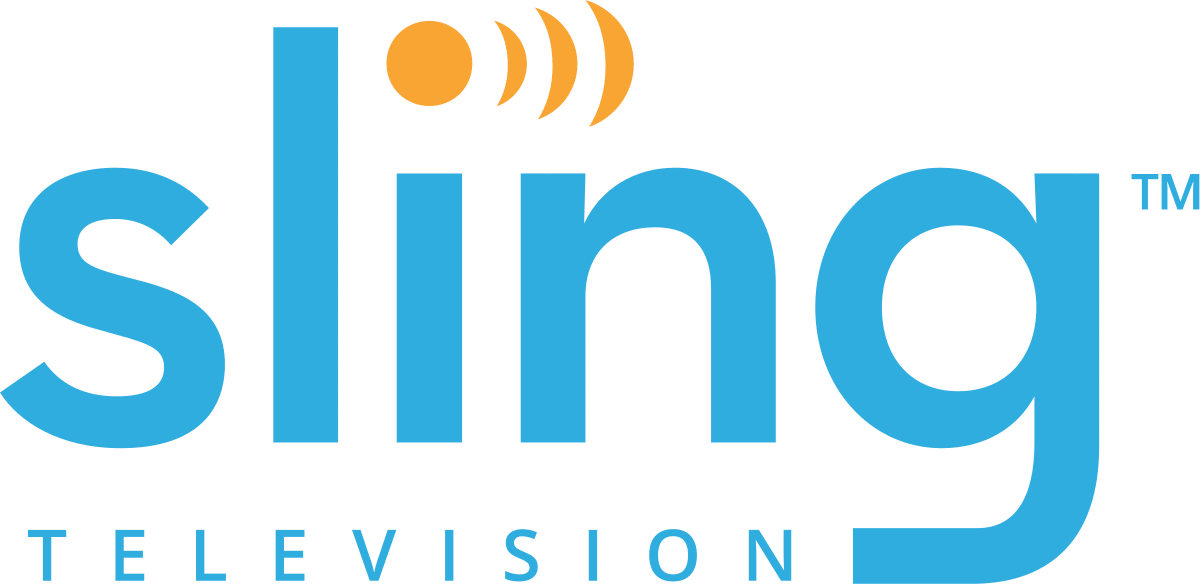 While some live TV streaming apps offer limited sports channels along with its catalog of cable TV programs, Sling TV has a lot to offer to sports fans. There's ESPN, Tennis Channel, Fox Sports and NFL Network (depending on select markets).
In 2018, the app increased its subscription rates. This hasn't discouraged its active subscribers, however, since they were given more on-demand programming, more content to watch and even better add-on channels for a minimal monthly fee.
Although there's plenty of things to rave about the app, improving the interface and its customization feature will definitely put it ahead over its competitors.
Live NetTV
With more than 800 live channels catering to news junkies, sports aficionados, culinary fans and movie buffs, what's not to like about Live Net TV? And with multiple language support, there's definitely a lot of entertainment options for everyone given that it streams homegrown channels from Germany, India, France, Nepal, Australia, Philippines, Thailand and Bangladesh.
What makes it even better is the apps simple interface that makes navigation less complicated. Plus, installation is a lot easier. Check out our detailed instructions by clicking the link below.
How To Install Live NetTV on Firestick, Fire TV, and Android TV Box
BBC News
For breaking news and top stories in the UK and around the globe, BBC News is a great addition to your news-related apps. With 24/7 news feeds and regular segments such as in-depth analyses, exclusive features, and expert opinions, this app is a must-have if you want fresh news delivered to your FireStick.
Since its complete overhaul in 2015, the app has become more user-friendly and consistently makes it to the top list of the best news apps.
In addition, users can enjoy watching their favorite BBC shows ad-free.
Fite
This app caters to a more specific audience – MMA, wrestling, boxing, kickboxing, Muay Thai and traditional martial arts fans! A total of 10,000 hours of free videos is also available.
Fite has exclusive interviews with athletes and fighters, an updated calendar for upcoming events and pay-per-view offers for special events.
Stadium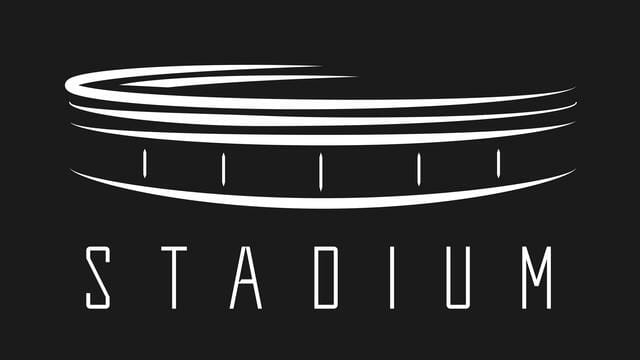 Sports fan need no other app to cater to their demand for on-demand sports content when they have Stadium installed in their FireStick or Fire TV. Aside from the 24/7 live sports feeds, viewers can also enjoy streaming collegiate sports games, archived sports matches and many more sports events.
NFL fans are treated with a daily live recap of the latest games plus interviews with athletes and coaches and insider news. To keep the sports fever up, their daily one-hour show, "The Rally", presents news and expert analysis on the latest sports events.
Watch ESPN
When one of the leading sports channels offers a reliable free app, expect nothing but hours and hours of pure sports action. Watch ESPN offers live streaming feeds from ESPN channels featuring NBA games, golf tournaments, Grand Slam tennis events and European football.
The app delivers the sports channel's full experience though ESPN's stable programs such as SportsCenter, SportsNation and Baseball Tonight.
Protect Yourself With A VPN When Using This Technology
Most cord-cutters use a VPN to hide their Internet activity while streaming movies, TV shows, and live channels.
If you aren't using a VPN when accessing free or low-cost media, your Internet Service Provider, government, hackers, and app developers can log everything that you do online.
The most popular VPN among cord-cutters is
IPVanish
due to their blazing fast speeds and zero log policy.
Its important to use a VPN that is fast since we are streaming large HD files.  Its also crucial to find one that keeps no logs of what their subscribers access while online.
Setting up IPVanish VPN on your streaming device is simple!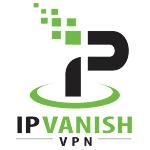 Step 1
 Register for an IPVanish VPN account by clicking the link below.
This exclusive link provides you with a hefty discount, only available to TROYPOINT visitors like you.
 Register for IPVanish Account & Save 60%
Step 2
 – Hover over the search icon on your Firestick, Fire TV, or Fire TV Cube and type in "Ipvanish"
You may also find the IPVanish App in the Google Play Store for those of you who are using Android TV Boxes, phones, and tablets.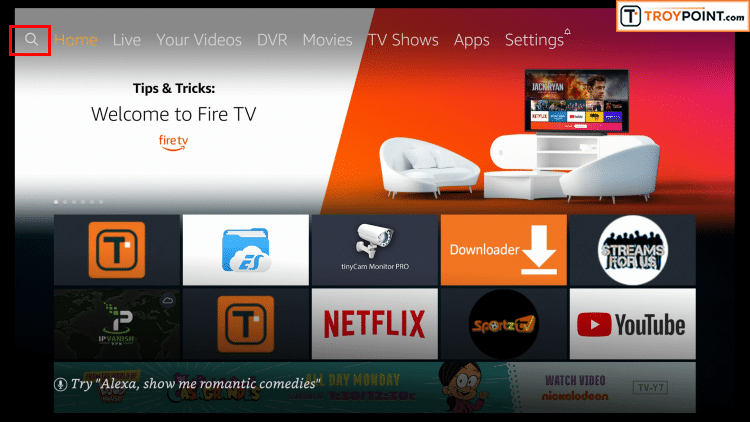 Step 3
 – Click the IPVanish VPN option that appears.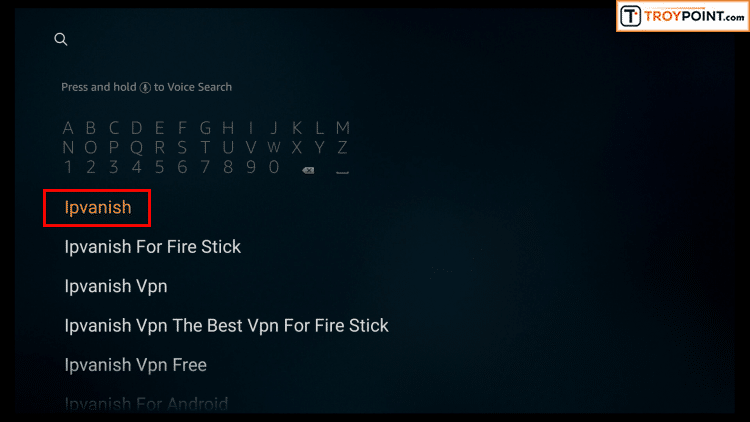 Step 4
– Click the IPVanish icon under Apps & Games.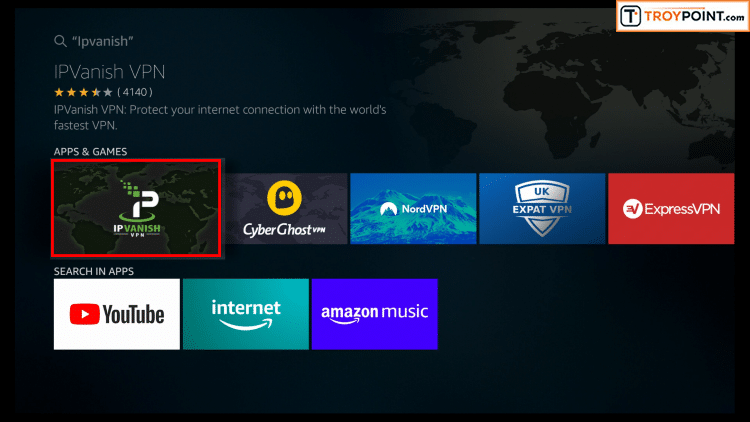 Step 5
– Click Download.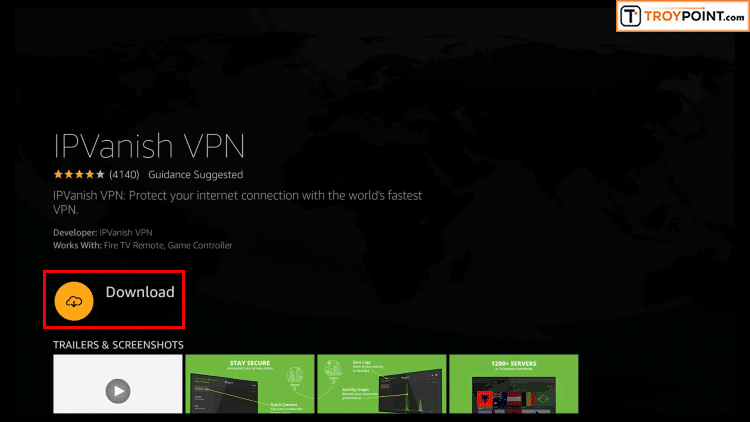 Step 6
– Click Open.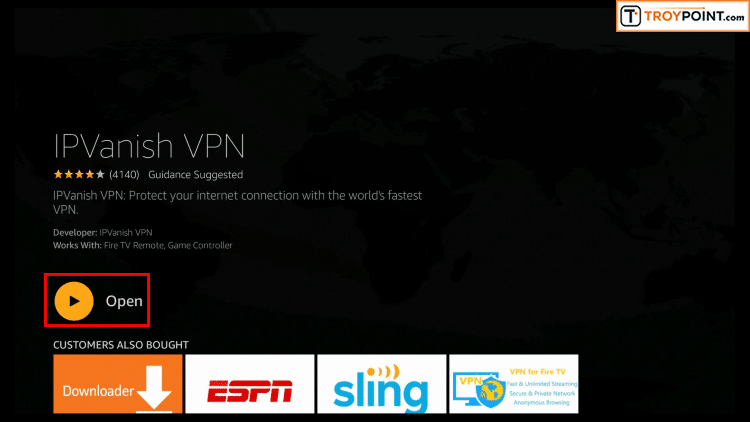 Step 7
– Enter  your username and password to login.  Your username is the email that you used to register for
IPVanish service
with and your password is automatically generated and emailed to you.
Step 8
– Click Connect button.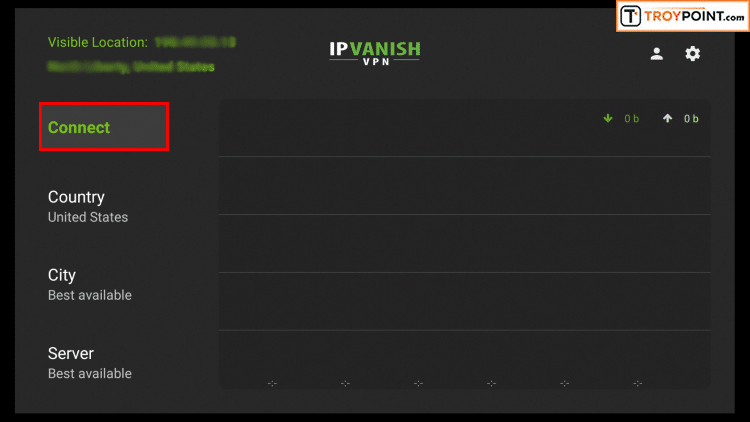 Step 9
– Click OK for Connection request if it appears.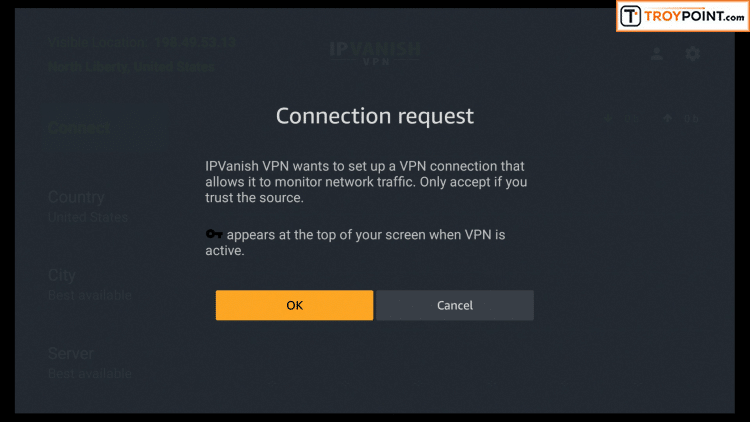 Step 10
– You will notice that your IP Address changes along with location of connection.  You are now operating anonymously through your device.
Click the Home Button on your remote and the VPN will remain running in the background.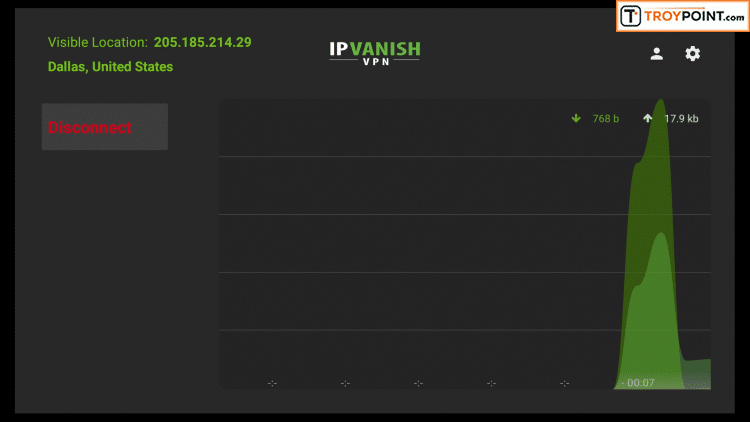 Congratulations!  You are now protected by a VPN which means everything that you stream or access through your Firestick or Android TV Box is hidden from the rest of the world.
If you ever need to stop the VPN service, simply re-launch the application and click the DISCONNECT button.
Music, Audio and Radio Streaming Apps
Twitch

When Amazon decided to get into the live streaming video platform, it was set to conquer the industry by acquiring Twitch. Twitch is a free platform for video gaming fans who are part of a global community of live streamers. What sets Twitch apart is the chat section for every stream that allows users to post to their live commentary.
Aside from being an eSports tournament platform, many users are also using the app as a venue for video game tutorials, personal online gaming streams, gameplay demos and launching their gaming-related talk shows and commentaries.
If you want more features, become a member of Twitch Prime to receive free games and in-game bonuses as well as access to movies and TV shows from Amazon Prime Video. Plus, it's ad-free.
Spotify
Gain access to a lot of music and podcasts with Spotify. This Swedish-based audio streaming platform is a must-have for music lovers who want to transform their Fire TV into the ultimate sound machine. Once installed, synchronize your mobile device to your Fire TV and let the music take control.
You can create your own library, follow others' playlist and search for new albums and releases and upcoming concerts. In fact, many indie artists have shot to fame because they've been discovered by fans through Spotify.
For Spotify Premium members, they can enjoy ad-free streaming, high-quality music at 320 Kbps and download up to 10,000 songs for offline listening.
TuneIn
TuneIn (formerly RadioTime) is another great platform for music streaming on Fire TV that is available for free. But it isn't limited to songs only. Users can also listen to news delivered by CNN, CNBC, MSNBC and Fox, play-by-play coverage of NBA, NFL, MLB and NHL games, and podcasts on business, health and politics.
It's a far cry from when it started as a radio station directory. Today, it provides access to more than 100,000 radio stations globally and millions of on-demand radio shows.
Improving its features has been a regular staple on TuneIn. In 2014, it started its free streaming of collegiate football games followed by internet radio shows year after. In 2016, users started downloading podcasts for offline listening. Last year, it was integrated by Waze as a built-tin audio player to give drivers an easy-listening commute.
Gaming Apps
Happy Chick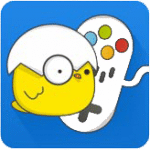 Happy Chick is a game emulator that works on tons of devices including the Amazon Firestick. Emulator options include PSP, NES, PS, and many more.
One of the best features of Happy Chick is the ability to use your Android device as a virtual remote by syncing it to your Firestick device. However, gaming remotes also work with Happy Chick making it an all inclusive app.
Happy Chick can be installed on other devices such as iPhone, iPad, and more. However, it works best on the Amazon Firestick.
Happy Chick Installation Tutorial
RetroArch
Another popular game emulator that can be installed on your Firestick/Fire TV is RetroArch. This app features thousands of retro games from favorites such as Mario Bros to Zelda and everything in between.
Emulators available include Sega, GameBoy, Atari, Nintentdo, Playstation, and more. TROYPOINT has created a complete video tutorial for setting up and playing games on your Firestick which you can find below.
Play Thousands of Retro Games on Firestick with RetroArch
Other Apps
Downloader
Downloader is a file downloading application used to side-load apps onto your Fire TV device. Because many apps are not available within the Amazon App Store, Downloader is needed to install them. Apps like Kodi, Terrarium TV, and others must use Downloader for installation.
Using Downloader is as easy as installing the application and entering in the url of the website you want to load/download. With this application installed, a Fire TV or Fire TV Stick turns into a powerful streaming machine. If you want to unlock the full capabilities of your Fire TV device, this is a must-have app.
You can download and install this application for free through the Amazon App store by searching for "Downloader".
MX Player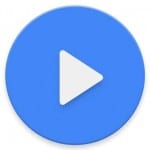 MX Player is an external video player that can easily be installed on numerous devices including the Amazon FireStick and Fire TV. Many streaming apps have the ability to use MX Player as their video player and this is highly recommended.
By installing and using MX Player, it can increase your streaming experience dramatically. Many find that using MX Player with your preferred app is a great way to reduce or eliminate buffering. It can be installed within Cinema APK, CyberFlix, and more.
How To Install and Use MX Player on Firestick/Fire TV
YouTube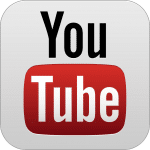 YouTube is a video streaming tool that is quite possibly the most popular available today. Recently, Amazon removed YouTube from it's App Store due to an ongoing feud between the two. Fortunately for us, it is easy to install YouTube to a Fire TV or Fire TV Stick via side-loading with the Downloader app. Although it is not the official YouTube, this YouTube app works just as good.
While there is more than one way to install the YouTube app onto a Fire TV device, using the Downloader tool is the easiest and most efficient. We have created a tutorial on How To Install YouTube on your Fire TV, Fire TV Stick, and Fire TV Cube. Click the link below for installation guide.
How To Install YouTube on Fire TV, Fire TV Stick, & Fire TV Cube
IPVanish
Whenever using applications such as Kodi and Terrarium TV onto a Fire TV or FireStick, it is always recommended to use a VPN or Virtual Private Network.  A VPN will provide you with an anonymous connection to the Internet so your Internet Service Provider, the government, and other third parties can't track or log what you are streaming, downloading, or browsing.
TROYPOINT has tested and tried numerous VPN's and IPVanish is still the best VPN for FireStick, Fire TV, & Fire TV Cube, hands down.
Using IPVanish is as easy as downloading the application directly to your Fire TV Device. Unlike many other VPN Services, IPVanish is available on Amazon's App Store, making it extremely simple to install. With IPVanish, your data logs will not be stored, you will have the fastest download and streaming speeds available, and there is a 7-day money back guarantee.  You can also use one IPVanish account on up to five devices simultaneously. To learn how to install a VPN on your Fire TV or Stick use the link below:
How to Install VPN for Firestick, Fire TV, & Fire TV Cube
FileLinked
Similar to Downloader, FileLinked is an app used for installing applications onto a FireStick or Fire TV. FileLinked is what used to be DroidAdmins and was once available for download via the Amazon App Store but now must be side-loaded to your device.
Using FileLinked is a great way to install numerous apps at once. This application uses special codes that must be entered into the app to install one or more of your favorites at once. Like many of the applications on this list, we will use Downloader to install FileLinked.
Click the link below to learn how to install FileLinked on FireStick & Fire TV.
FileLinked Firestick Installation Guide
ES File Explorer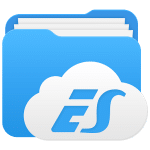 Another application that can be used to install or side-load apps is ES File Explorer.
ES File Explorer is the most popular file manager for Android Devices available today. Installing ES File Explorer on your FireStick is a great way to add, delete, and manage your device's apps and more.
Not only can you install apps with this software, but users can clean up space within their device and much more.
Use the following link to install ES File Explorer on Fire TV/Stick.
Browser
Just like Downloader, using a Browser is a great way to side-load applications to your Fire TV device. There are many options when it comes to installing a Browser including Chrome, Firefox, Silk, and more. Not only can browsers be used as a side-loading application, but they work perfectly for surfing the web on a Fire TV or Fire Stick.
If you're using the Browser for web surfing, it is probably to your advantage to purchase a wireless keyboard for typing. There are a few options for wireless keyboards available, but my personal favorite is the Rii i8+ BT Mini Wireless Bluetooth Backlight Touchpad Keyboard with Mouse. This keyboard is featured as one of the best Replacement Remotes for Fire TV/Stick on the TROYPOINT Website. Click the link below to learn how to install a browser on Fire TV/Fire TV Stick.
How To Install Browser on Fire TV/Stick & Fire TV Cube
Google Play (Alternative)
As many of us know, the Google Play store hosts hundreds of amazing applications. Most are used for everything from gaming to streaming to browsing and beyond. Unfortunately, the Google Play app cannot be installed on the FireStick, Fire TV, or Fire TV Cube. We can, however, install an alternative that is just as good as Google Play. Most importantly, by installing this alternative, called Aptoide, you will not have to root your device.
The Aptoide application was created specifically for streaming devices like the Fire TV & Fire TV Stick. As a result, the Fire TV/Fire TV Stick remotes work perfectly with Aptoide, unlike other side-loaded apps. Aptoide offers nearly every app Google Play does and is fairly simple to install. To learn how to do so on your Fire TV, Fire TV Stick, or Fire TV Cube, use the link below.
Install Google Play on Fire TV Alternative
Airscreen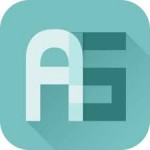 For those who wish to use their Firestick/Fire TV for reasons other than streaming, Airscreen is perfect.
Airscreen lets iOS users cast their device to the firestick simply by using the screen mirroring tool on their iPhone or iPad.
Not only does this app work with iOS devices but for Android, PC, and more as well. Airscreen users can cast content straight from their phone or tablet to their TV with the touch of a button.
Airscreen is available in the Amazon App Store.
How To Cast to Firestick/Fire TV from Your iPhone or iPad
Mouse Toggle
Many of the apps on this list require a side-loading for installation. This is because these applications were not created to be used on a FireStick or Fire TV. However, with the device's side-loading abilities, thousands of apps work great on the Fire TV and Fire Stick.
However, not all features of the apps work perfectly. Some require a mouse for proper navigation, and this is not part of the original Fire TV remote. Luckily, there is an APK we can install called Mouse Toggle that allows users a mouse function with their provided remote.
Use the link below to install Mouse Toggle on Fire TV/Stick
How To Install Mouse Toggle on Firestick or Fire TV
Aptoide TV
When using your Fire TV, there's a big chance that you won't find Google Play Store on it. Likewise, Amazon Prime Video is almost impossible to search on Google devices. That's why Aptoide TV is the best app that can provide you with options on what apps to install from its 80,000 options regardless if they come from Google or Amazon. Best of all, it is designed to give users a better experience when optimizing the App Store for large screen devices.
In 2018, its Aptoide TV's developers improved the app's navigation, added categories such as new apps, best streaming apps and best free games, and added the functionality of uploading apps from one's mobile phone onto a smart TV.
Install Google Play Alternative
Plex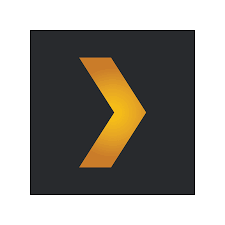 Streaming your own media to a larger screen may sound easy. But the question is, which app is best for this? Plex is a user-friendly app that features remote access and sharing. You can use the app to play any video file such as WMV, AVI, MOV or MKV or play music in MP3, M4A, ALAC or FLAC format. If PLEX also recognizes the music, the lyrics will be displayed as it plays.
And with its enhanced remote access, streaming content from any source is made easier by synchronizing your multiple media libraries from your different devices. Plex takes charge of about tracking the local files you have.
You can get Plex for free, which covers basic features such as media organization, casting and support for varied media formats. For a monthly fee or a lifetime subscription package, you can have additional features such as recording over-the-air shows from Fox, CBS and NBC.
Haystack TV
Haystack TV has come a long way since its launch in 2014. It is pre-loaded on most TVs sold in the country and is endorsed by Sony and Vizio to attract buyers. In 2018, it raised $2 million in funding from investors to beef up its local news coverage supplied by more than 200 publishers and partners.
The app specializes in personalized news feeds that it aggregates in one app. It acquires local and international news from CNN, MSNBC and BBC, sports updates, celebrity news from TMZ, tech news from CNBC plus late night shows by Jimmy Kimmel and others.
VLC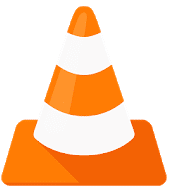 VLC is the go-to app when it comes to playing content through a third-party player for years already. Appreciated by users for its simplicity but highly reliable features, the app plays most types of codecs and runs on all platforms from Windows to Unix.
This free and open source multimedia player also plays on different streaming protocols without flashing ads or in-app purchase requirements. This means viewers enjoy uninterrupted entertainment using the app.
Have we covered all of the best apps for FireStick, Fire TV, and Fire TV Cube in this article?
If you have other apps installed on your Fire TV device you love, let us know! Use the Comments Section below to tell us your favorite Fire TV/Stick applications and what you like about them.

 CAUTION - YOUR STREAMING ACTIVITY IS BEING LOGGED
TROYPOINT does not verify the legality or security of any applications or services covered on this Website.
Your Internet Service provider, government, app developers, and hackers can log your online activity through your visible IP Address.
The good news is that a quality VPN will prevent this from happening.
A VPN will encrypt your connection to the Internet and mask your IP address so you will remain 100% anonymous while online.
Troy recommends and uses IPVanish VPN due to their blazing fast speeds and zero-log policy.
EXCLUSIVE TROYPOINT DISCOUNT - Save 60% on IPVanish VPN

This discount expires soon.

Click Here for IPVanish VPN @ 60% Off