This page includes affiliate links where TROYPOINT may receive a commission at no extra cost to you. Many times, you will receive a discount due to the special arrangements made for our visitors. I will never promote something that I personally don't use or recommend. Purchasing through my links directly supports TROYPOINT which keeps the content and tools coming. Thank you!
This article will provide you with a complete Philo TV Review and how to install the app on Firestick/Fire TV, Android, NVIDIA Shield, Roku, iPhone, and more.
We also provide registration instructions using a Windows PC, which you can find below.

Philo TV is a Live TV streaming service similar to fuboTV that hosts live entertainment, sports, and news channels.
Philo can be installed on any device including the Amazon Firestick, Fire TV, Fire TV Cube, NVIDIA Shield, and more.
For these reasons and more, we have included Philo TV within our list of Best Firestick Apps.
For those unfamiliar with Live TV services or IPTV, these streaming services offer live TV channels at a set time delivered over the internet.
To stream Live TV, you need a high-speed and stable internet connection, streaming device, and a subscription to a streaming service.
Viewers can watch the latest news, sports, sitcoms, and other entertainment channels on an affordable subscription-based service without the hassle of cable.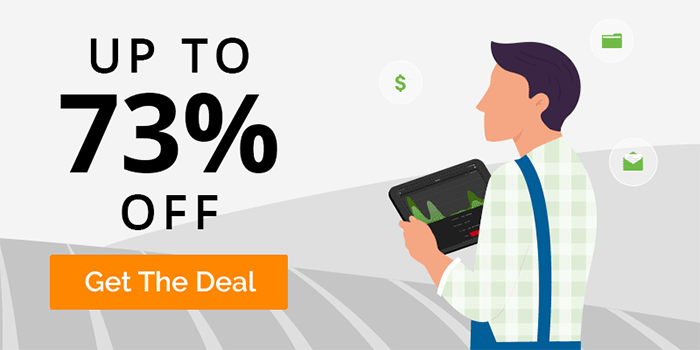 Since Philo does not offer local options, you may want to install a digital antenna for over-the-air local networks such as FOX, CBS, ABC, NBC, and PBS.
This provides you with the flexibility and full entertainment experience that other types of service providers cannot offer.
For more information on Live TV (IPTV), best streaming services, devices, and more, I highly recommend viewing our IPTV Guide below.
CLICK HERE TO GET YOUR FREE GUIDE
TROYPOINT Ultimate IPTV Setup Guide
Get thousands of live TV channels, sports, ppv, and more.
Get IPTV registration links for most popular services

Learn how to register for IPTV without being scammed

Install IPTV applications

Use IPTV safely & securely

Configure feature-rich IPTV Player

How to get IPTV support
CLICK HERE TO GET YOUR FREE GUIDE
What is Philo TV?
If you want a cord-cutting experience that's on the cheaper side, then Philo is a good option.
Formerly known as Tivli, this San Francisco startup was launched in 2009 at Harvard University and after nine years, already reached an estimated 50,000-subscribers.
While it has not released an updated number of total subscribers since then, its CEO announced that their active customers grew 11 percent month-over-month in 2019 – not bad for a company that maintains only 65 employees.
In April 2019, it announced that it was inking partnerships with advertising companies to expand its ad program. It also continues to work on expanding its channel offerings.
Philo is compatible with most streaming devices such as the Firestick/Fire TV, which is a popular option for cord-cutters.
Overall, Philo is a great choice for cord-cutters who want to watch sports, movies, news, and children's programming at a very competitive monthly fee.
We have also included Philo TV within our Best Live TV Streaming Services list.
Philo Highlights
1 package plan

58 channels

$20/month subscription, no contract
7-day free trial available

3 devices allowed for simultaneous streaming

Cloud DVR recording for 30 hours worth of content

Compatible with all popular streaming devices

Stereo audio

Estimated 30-second live delay

Less than 5 seconds in channel switching time
Philo TV Screenshots
How to Register for Philo TV
Prior to using the Philo TV service, you will need to register for an account. They are currently offering a 7-day free trial for new users.
Use the link below for a Free 7-Day Trial:
Follow the quick steps below to sign up for a Philo TV account.
1. Register for a Philo TV Account if you haven't done so already
2. Once on the Philo website, enter in an email under "Start your subscription." Then select Get Started.
3. Next, enter the required payment information. Then click Subscribe.
4. This screen will then appear letting you know that Philo sent a link to your email. However, you can enter a code instead.
5. Enter the code you received from your email and click the arrow.
That's it! You have successfully registered for a Philo TV account.
Important Note: You will receive a confirmation email after registering with your account information. I suggest saving this information, as you will need this when logging in.
See our guides below for how to install the Philo app on Firestick/Fire TV, Roku, and iPhone.
How to Install Philo TV on Firestick/Fire TV
One of the best parts about Philo TV is that it's available for installation on Firestick/Fire TV devices.
Follow the short guide below for how to install the Philo TV app on Firestick.
1. On the home screen of your Firestick/Fire TV, hover over the search icon on the left side of the menu.
2. Type in "Philo" and click the first option that populates.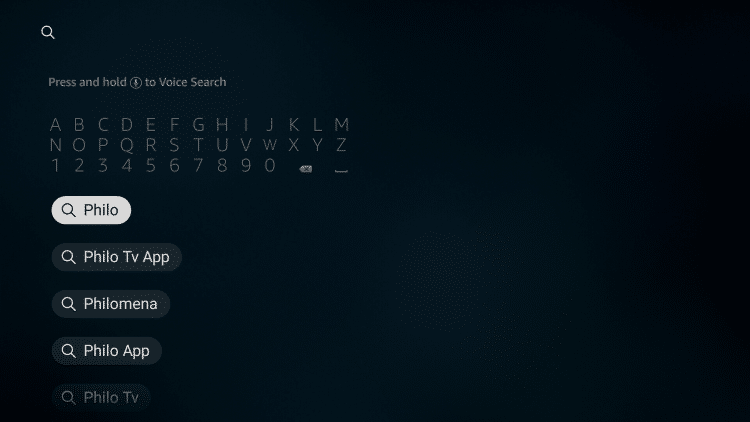 3. Click the Philo TV app under Apps & Games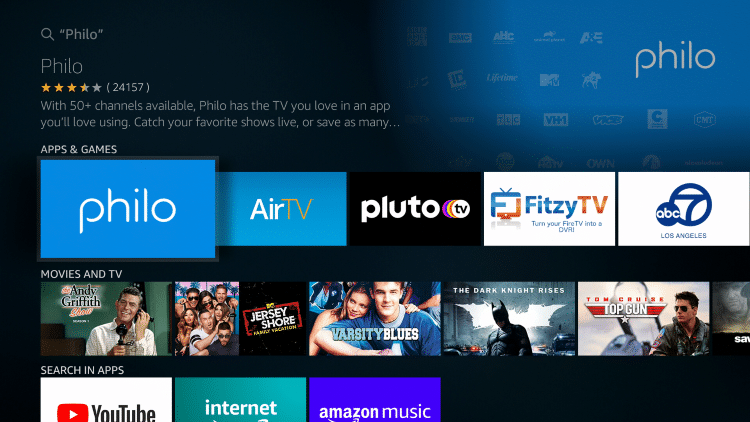 4. Click Get
5. Wait for the Philo TV app to install
6. Click Open if you prefer, but for this example, I suggest holding down the home button on your remote.
7. When this menu appears click Apps
8. Hover over the Philo TV app and select Move
9. Place the Philo TV app wherever you prefer and click the OK button.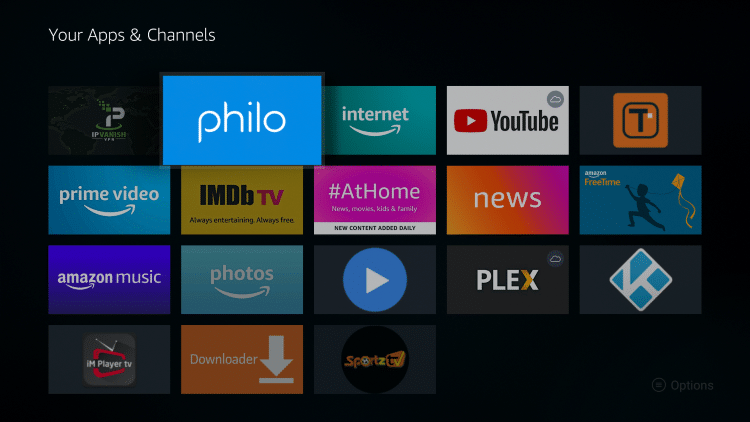 10. Launch Philo TV
11. That's it! When launching Philo TV you can either Sign in or choose Start free trial
How to Install Philo TV on Roku
Philo TV is also available to install on Roku devices as well. Follow this quick guide below to install on any Roku device.
1. On the home screen of your Roku device, scroll down and click Search.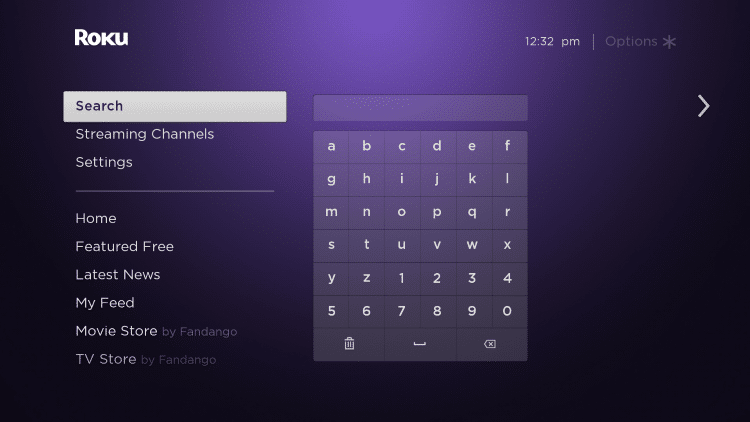 2. Enter in "philo" within the search bar
3. Scroll to the right and select Philo 
4. Click Add channel
5. Wait for Philo to be added to your channels.
6. Click OK
7. Return back to the home screen on your Roku device and locate the Philo app
8. Click the star icon (*) on your remote and select Move channel
9. Move the Philo app wherever you prefer on your Roku channels list
10. Launch the Philo app
11. That's it! When launching Philo TV on your Roku device you can either Sign in, Sign up, or Sign up with RokuPay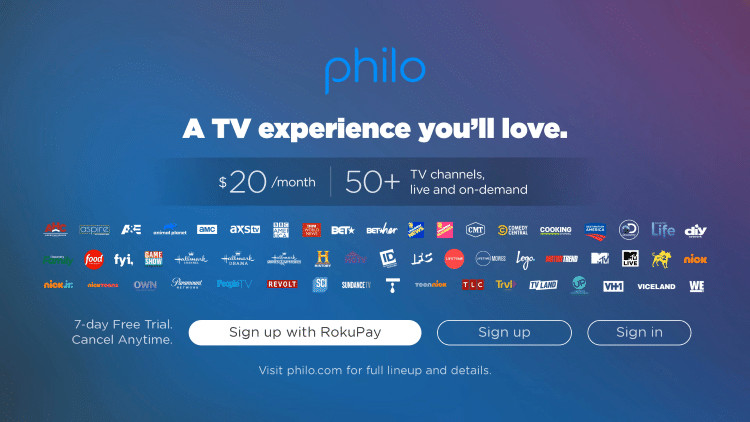 How to Install Philo TV on iPhone
1. Open the Apple App Store and select Search on the bottom menu
2. Enter "Philo tv" within the search bar
3. Locate the Philo app and select GET
4. Click Install
5. Wait a few seconds for the Philo app to install
6. Click Open to launch the Philo app
7. Philo TV will launch
8. That's it! You have successfully installed Philo on your iPhone.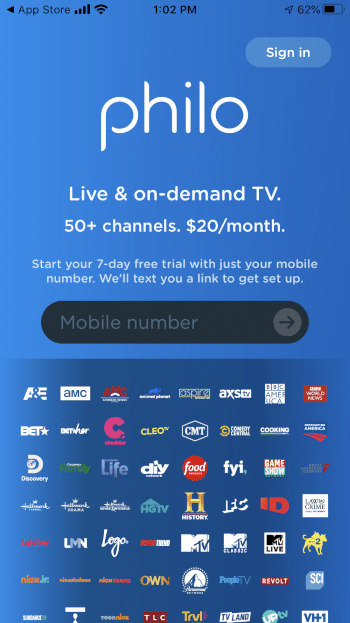 Philo TV Review
Philo prides itself as one of the most affordable Live TV streaming services available today.
With 58 channels for only $20 a month, it's a good bargain for cord-cutters who are not too picky with their entertainment selections.
Channel Lineup
As a less expensive Live TV choice compared to other providers, channel offerings within Philo are minimal.
Some of the popular selections include AMC, TLC, Discovery, Comedy Central, A&E, History, VH1, Lifetime, and Food Network. News channels are also very few with only BBC America and BBC World News.
No location restrictions are applied but the downside is you don't get any local channels compared to YouTube TV and other providers.
For most cord-cutters, this can be frustrating because they already have few channels to select from.
Philo is also not geared towards sports fans compared to Hulu + Live TV or fuboTV, so don't expect ESPN or Fox Sports on your subscription.
Pricing Packages and Inclusions
Compared to other IPTV services, Philo only offers a single monthly plan at $20. It used to also offer a separate $16-a-month plan before the company decided to retain only the $20 package.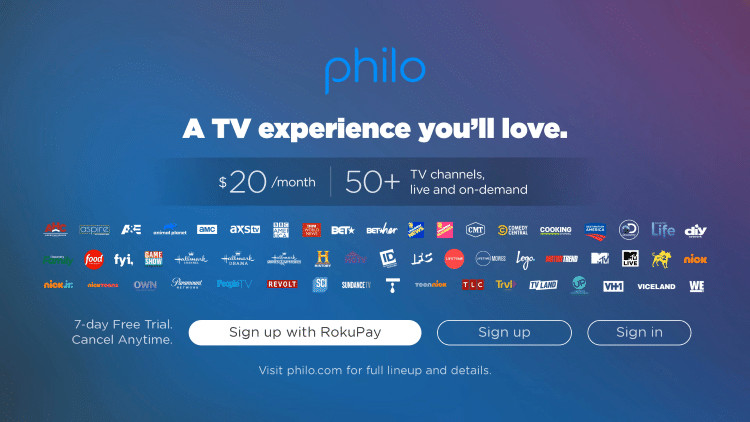 Signing up for the 7-day free trial is also unique. Subscribers simply have to enter their phone number to sign in.
Interestingly, it won't ask for any password during registration.  Users have to wait for an SMS text that contains a code that will be used to access the free trial service.
If they're not satisfied, subscribers can cancel any time without any obligations.
User Interface
There's no complicated user interface within Philo. I was able to navigate on all menu items (Home, Live, Guide, Saved).
It presents interesting choices on the Home section but since I have experienced using other IPTV services with more channels, I've felt that there's nothing really new with these options at all.
In addition, there are no customized recommendations on what programs can suit subscribers' preferences. It's something that's a drawback for a Live TV service.
One interesting feature that I can commend Philo for is its option to have users mark their favorite channels with the heart icon, which is something that some IPTV services do not offer.
On the downside, there are hardly any dates listed on the schedule within the Guide.
Streaming and Picture Quality
Philo requires at least 13 Mbps to support HD streaming needs. In my case, the 200 Mbps internet connection was enough to assess whether there will be lags when streaming on a reliable network.
I find the streaming and picture quality acceptable for cord-cutting purposes. Its 720p resolution for most programs is already worth the monthly price.
In addition, since Philo supports up to three multiple streams on different devices, maintaining at least 13 Mbps is necessary.
Any connection slower than that may limit multiple streaming and result in constant buffering.
For more information on Internet speed and what you need to know for streaming purposes, I suggest viewing our guide below.
What is Good Internet Speed? Everything You Need to Know
Cloud DVR Functionality
Although users can only record for a total of 30 hours of programming, Philo doesn't delete your recordings unlike other services such as YouTube TV that doesn't have a cap on the number of hours but erases content after nine months.
I tried using this feature and was impressed by it. Recording TV shows that were previously aired over two weeks ago was a breeze.
I also didn't encounter any issues when replaying shows that have been aired in the last 72 hours.
Other Issues
No parental controls are available on Philo. The company hasn't also considered this in its future plans.
In addition, it doesn't provide the option of streaming during traveling whereas Hulu + Live TV and YouTube TV are already offering such convenience.
Bottomline – Philo TV Review
Similar to other cheap IPTV service alternatives, with Philo, you only get what you pay for.
This means limited channels, no add-on options, lower DVD recording hours, no parental controls, and no sports and local programming.
However, for cord-cutters who only want a mix of lifestyle and entertainment channels for less than half the price of more popular IPTV services, then Philo can be a top choice.
3 out of 5 Stars

Philo TV Review FAQ
What is Philo TV?
Philo TV is a streaming service available for installation on streaming devices such as the Amazon Firestick to watch Live TV.
Is Philo TV legal?
Yes. Philo TV is a verified service and is 100% legal to use.
Does Philo TV stream Live TV?
Yes. Philo TV streams Live TV channels across many different categories.
What devices can Philo TV be installed on?
Philo TV is available for installation on tons of devices including the Amazon Firestick which is the most popular streaming device available. Users can also download on Android and more.
What channels does Philo TV have?
Philo TV offers numerous channels to choose from for live viewing. These include News, Shows, Movies, Sports, Tech, Kids, Music, and more.