Philo Review – Channels, Pricing, Free Trial, and Much More
This guide will provide you with a complete Philo Review along with channels, pricing, and how to install the app on streaming devices.
Philo is a popular Legal IPTV Service that provides over 60 channels for $20/month. There is also a 7-Day Free Trial available for new users.
This live tv service offers live entertainment, news, family, kids, and other channels at an affordable monthly rate.
Philo is also a great option for those looking to Stream Local Channels Without Cable.
The company explains the service on its official website:
"Live and on-demand TV. 60+ Channels. $20/month. Unlimited DVR. No contract."
Philo is available for installation on any device including the Amazon Firestick, Fire TV, Fire TV Cube, Roku, and more.
If using an Android device like the MECOOL Box, NVIDIA Shield, Chromecast with Google TV, and other Android TV Boxes, you can find Philo within the Google Play Store.
For those unfamiliar with Live TV services or IPTV, these streaming services offer live TV channels at a set time delivered over the internet.
To stream Live TV, you need a stable internet connection, a streaming device such as an Amazon Firestick or Roku, and a subscription to a streaming service.
Viewers can watch the latest news, sports, sitcoms, and other entertainment channels on an affordable subscription-based service without the hassle of cable.
TROYPOINT TIP: If you are looking for the best Live TV options, we suggest an inexpensive IPTV Service.
Philo Review
If you want a simple, but quality live tv service that's on the cheaper side, then Philo is a good option.
This San Francisco startup was launched in 2009 at Harvard University and after nine years, already reached an estimated 50,000-subscribers.
While it has not released an updated number of total subscribers since then, its CEO announced that its active customers grew 11 percent month-over-month in 2019.
In April 2019, it announced that it was inking partnerships with advertising companies to expand its ad program. It also continues to work on expanding its channel offerings.
Philo is compatible with most streaming devices such as the Firestick/Fire TV, which is a popular option for cord-cutters.
YOU'RE BEING TRACKED...
Your online activity is tracked by your government, Internet Service Provider, app/addon/IPTV devs and all websites through your identifying IP address
Stream anonymously by using Surfshark VPN
Your Current Identifying IP Address:
SAVE 82% ON SURFSHARK VPN + 2 FREE MONTHS
Surfshark backs their service with a 30-day money back guarantee
Use your account on unlimited devices & share with family members
HURRY! SALE ENDS SOON
Claim Surfshark VPN Discount
Overall, Philo is a great choice for cord-cutters who want to watch sports, movies, news, and children's programming at a very competitive monthly fee.
We have included Philo within our popular lists of Best Firestick Apps and Best IPTV Services.
Philo Review – Channels
As seen in the image below, Philo currently provides over 60 channels for $20/month. They are also offering a 7-Day Free Trial for new users.
Below is the complete channel list:
NOTE: These channels and add-on packages are subject to change.
Entertainment
A&E
AMC
American Heroes Channel
aspireTV
AXS TV
BET
BET Her
CLEO TV
CMT
Comedy Central
Crime + Investigation
Destination America
Discovery Channel
Discovery Life
FYI
Game Show Network
getTV
Great American Country
Hallmark Channel
Hallmark Drama
Hallmark Movies & Mysteries
HGTV
IFC
INSP
Law&Crime
Lifetime
LMN
Logo
Motor Trend
MTV
MTV Classic
MTV Live
MTV2
Oprah Winfrey Network
Paramount Network
PeopleTV
REVOLT
Sundance TV
Tastemade
TLC
Travel Channel
TV Land
TV One
UPtv
VH1
Vice
WE tv
News
BBC America
BBC World News
Cheddar
Newsy
Educational
Animal Planet
Cooking Channel
DIY Network
Food Network
History
Investigation Discovery
Science Channel
Kids
Discovery Family
Nick Jr.
Nickelodeon
Nicktoons
TeenNick
Refer to the Philo Website for a complete channel list and more information.
In addition to the 60+ channels, Philo also offers additional add-ons for those wanting exclusive access to Epix and Starz content.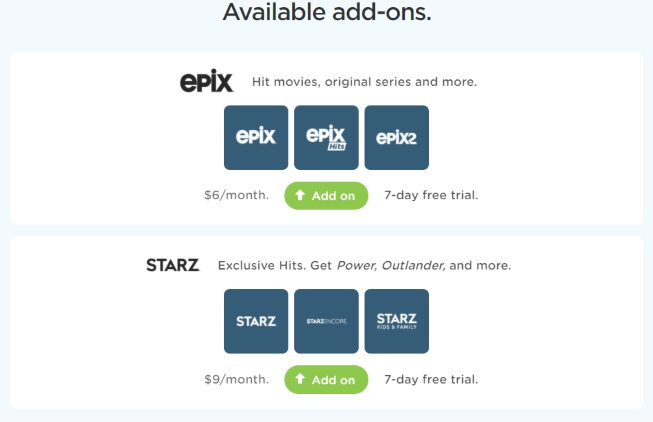 The Epix add-on is an extra $6/month and this includes Epix, Epix hits, and Epix2 offerings.
The Starz add-on costs $9/month and features Starz, Starz Encore, and Starz Kids & Family offerings.
You'll notice that the majority of these channels and add-on packages are catered to those wanting entertainment, family, news, kids, and educational categories.
If you are a sports fan looking for options to Watch the NFL Online or channels such as ESPN, Fox Sports, or College sports networks, we suggest a service like fuboTV.
And just like Philo, fuboTV is also offering a 7-Day Free Trial. See our detailed review below for more information on fuboTV.
You can install an OTA antenna should your live TV provider offer no over-the-air TV networks such as ABC, CBS, FOX, NBC, and PBS.
There are also solid free apps for local channels such as VUit or Locast.
Philo Review – Pricing
Philo prides itself as one of the most affordable Live TV streaming services available today.
With over 60 channels for only $20 a month, it's a good bargain for cord-cutters who are not too picky with their entertainment selections.
Having only one $20/month subscription plan available is a plus.
As mentioned above, there are two add-on packages available for an additional $6/month or $9/month depending on your selection.
Signing up for the 7-day free trial is also unique. Subscribers simply have to enter their phone number or email to sign up.
If you're not satisfied with the service for whatever reason, subscribers can cancel at any time without any obligations.
Philo Review – Highlights
1 package plan

Over 60 channels

$20/month subscription, no contract

3 devices allowed for simultaneous streaming

Cloud DVR recording for 30 hours worth of content

Compatible with all popular streaming devices

Stereo audio

Estimated 30-second live delay

Less than 5 seconds in channel switching time
Philo Screenshots
Philo Review – How to Register
Prior to using the Philo service, you will need to register for an account. They are currently offering a 7-day free trial for new users.
Use the link below for a Free 7-Day Trial:
Follow the quick steps below to sign up for a Philo account.
1. Register for a Philo Account if you haven't done so already.
2. Once on the Philo website, enter in an email under "Start your subscription." Then select Get Started.
3. Next, enter the required payment information. Then click Subscribe.
4. This screen will then appear letting you know that Philo sent a link to your email. However, you can enter a code instead.
5. Enter the code you received from your email and click the arrow.
That's it! You have successfully registered for a Philo account.
Important Note: Keep in mind if you don't cancel your subscription before 7 days you will be billed for this service.
You will receive a confirmation email after registering with your account information. I suggest saving this information, as you will need this when logging in.
See our guides below for how to install the Philo app on Firestick/Fire TV, Android, and Roku, and iPhone.
How to Install Philo on Firestick/Fire TV
One of the best parts about Philo is that it's available for installation on Firestick/Fire TV devices.
In this example, we are using an Amazon Fire TV Stick 4K. But this same process works on all Fire TV devices.
1. On the home screen of your Firestick/Fire TV, hover over the search icon on the left side of the menu.
2. Type in "Philo" and click the first option that populates.
3. Click the Philo TV app under Apps & Games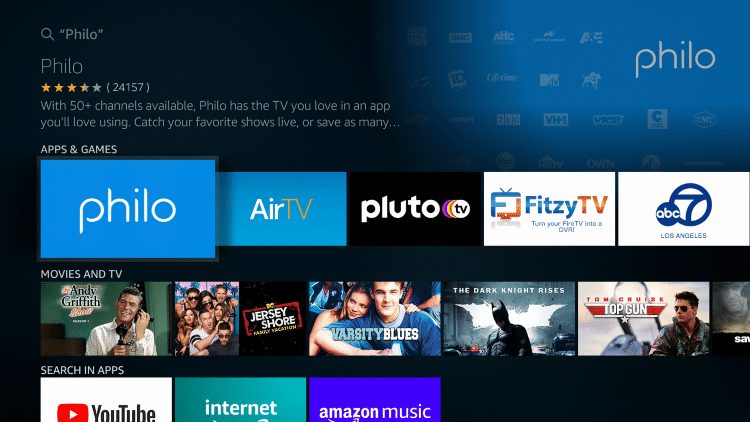 4. Click Get
5. Wait for the Philo TV app to install
6. Click Open if you prefer, but for this example, I suggest holding down the home button on your remote.
7. When this menu appears click Apps
8. Hover over the Philo TV app and select Move
9. Place the Philo TV app wherever you prefer and click the OK button.
10. Launch Philo TV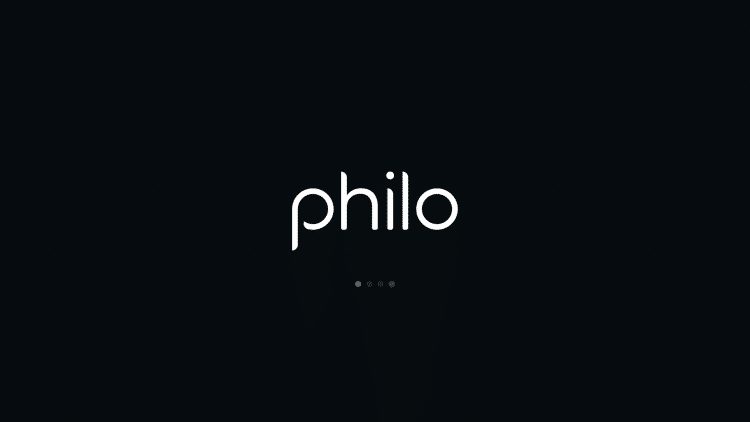 11. That's it! When launching Philo TV you can either Sign in or choose Start free trial
How to Install Philo on Android
Philo is available as an application to install on Android TV devices. In the example below, we are installing on an NVIDIA Shield.
However, this same process works on all Android devices including stock Android TV Boxes. Follow this quick guide below to install it on any Android device.
1. On the home screen of your Android device, locate and select the Google Play Store.
2. Click the search icon on the top right.
3. Enter "philo" in the search bar and click Search.
4. Click Philo.
5. Click Install.
6. You can open the app if you prefer, but we suggest returning back to the home screen of your Android device.
7. Click the plus icon (+) to add apps to your Favorites.
8. Select Philo.
9. Hold down the OK button and click Move.
10. Place this app wherever you prefer within your list.
11. That's it! You have successfully installed Philo on your Android TV device.
Philo Review – How to Install on Roku
Philo is also available to install on Roku devices as well. Follow this quick guide below to install on any Roku device.
1. On the home screen of your Roku device, scroll down and click Search.
2. Enter in "philo" within the search bar
3. Scroll to the right and select Philo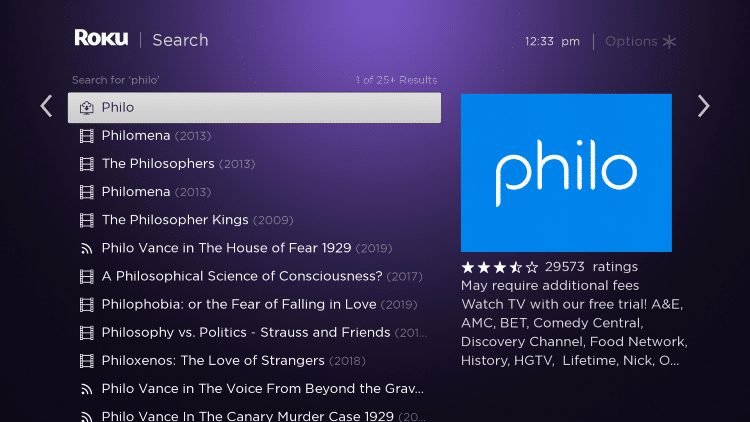 4. Click Add channel
5. Wait for Philo to be added to your channels.
6. Click OK
7. Return back to the home screen on your Roku device and locate the Philo app
8. Click the star icon (*) on your remote and select Move channel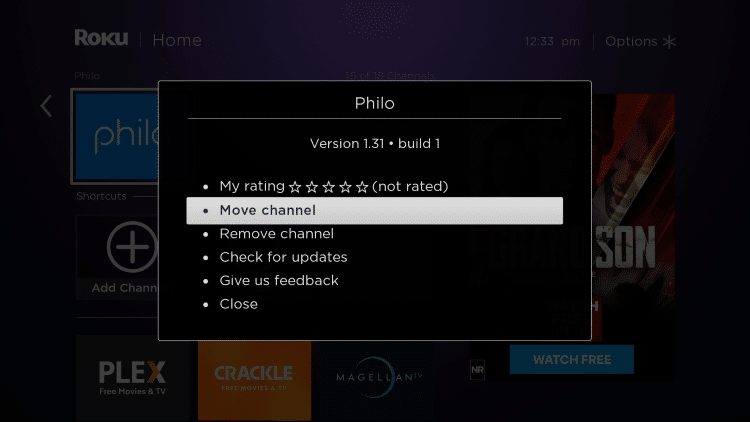 9. Move the Philo app wherever you prefer on your Roku channels list
10. Launch the Philo app
11. That's it! When launching Philo TV on your Roku device you can either Sign in, Sign up, or Sign up with RokuPay
Note: We have included Philo within our list of Best Roku Channels.
How to Install Philo on iPhone
1. Open the Apple App Store and select Search on the bottom menu
2. Enter "Philo tv" within the search bar
3. Locate the Philo app and select GET
4. Click Install
5. Wait a few seconds for the Philo app to install
6. Click Open to launch the Philo app
7. Philo TV will launch
8. That's it! You have successfully installed Philo on your iPhone.
Philo Review – Features & Details
This section of our Philo Review touches on the interface, user experience, streaming quality, DVR, and more.
User Interface
There's no complicated user interface within Philo. I was able to navigate on all menu items (Home, Live, Guide, Saved).
It presents interesting choices on the Home section but since I have experienced using other IPTV services with more channels, I've felt that there's nothing really new with these options at all.
In addition, there are no customized recommendations on what programs can suit subscribers' preferences. It's something that's a drawback for a Live TV service.
One interesting feature that I can commend Philo for is its option to have users mark their favorite channels with the heart icon, which is something that some IPTV services do not offer.
On the downside, there are hardly any dates listed on the schedule within the Guide.
Streaming and Picture Quality
Philo requires at least 13 Mbps to support HD streaming needs.
In my case, the 200 Mbps internet connection was enough to assess whether there will be lags when streaming on a reliable network.
I find the streaming and picture quality acceptable for cord-cutting purposes. Its 720p resolution for most programs is already worth the monthly price.
In addition, since Philo supports up to three multiple streams on different devices, maintaining at least 13 Mbps is necessary.
Any connection slower than that may limit multiple streaming and result in constant buffering.
For more information on Internet speed and what you need to know for streaming purposes, I suggest viewing our guide below.
What is Good Internet Speed? Everything You Need to Know
Cloud DVR Functionality
Although users can only record for a total of 30 hours of programming, Philo doesn't delete your recordings unlike other services such as YouTube TV that doesn't have a cap on the number of hours but erases content after nine months.
I tried using this feature and was impressed by it. Recording TV shows that were previously aired over two weeks ago was a breeze.
I also didn't encounter any issues when replaying shows that have been aired in the last 72 hours.
Philo Review – Bottom Line
Similar to other inexpensive IPTV services, with Philo, you only get what you pay for.
This means limited channels, no add-on options, lower DVD recording hours, no parental controls, and no sports and local programming.
However, for cord-cutters who only want a mix of lifestyle and entertainment channels for less than half the price of more popular IPTV services, then Philo can be a top choice.
For more local programming options I suggest viewing our list of Best Free IPTV Apps.
For our final review score, TROYPOINT gives the Live TV service a rating of 4/5 stars.
4 out of 5 Stars
Philo Review FAQ
What is Philo?
Philo is a live TV streaming service available for installation on streaming devices such as the Amazon Firestick, Android, Roku, and more to watch Live TV.
What channels does Philo have?
Philo offers numerous channels to choose from for live viewing. The popular channels include AMC, A&E, Discovery, Hallmark, HGTV, Paramount Network, History Channel, Nickelodeon, and many more.
How much does Philo cost?
Philo costs $20 per month and comes with over 60 live channels. There are also additional add-on packages available.
What devices can Philo be installed on?
Philo is available for installation on tons of devices including the Amazon Firestick which is the most popular streaming device available. Users can also download on Android and more.
Is Philo Legal?
Yes. Philo is a verified service and 100% legal to use.
This page includes affiliate links where TROYPOINT may receive a commission at no extra cost to you. Many times, you will receive a discount due to the special arrangements made for our visitors. I will never promote something that I personally don't use or recommend. Purchasing through my links directly supports TROYPOINT which keeps the content and tools coming. Thank you! Learn more on my Affiliate Disclaimer page.