This article will provide you with a complete Hulu Live TV Review.
Hulu Live TV is a Legal IPTV Service that hosts news, sports, and entertainment channels.
It can be installed on any device including the Amazon Firestick, Fire TV, Fire TV Cube, Roku, iOS and Android phones, and more.
For those unfamiliar with IPTV, these streaming services offer live TV channels at a set time delivered over the internet.
Viewers can watch the latest news, sports events, sitcoms, and other entertainment shows on an affordable subscription-based service.
To stream Live TV, you need a high-speed and stable internet connection, a streaming device such as smart TV or Amazon Firestick, and a subscription to a streaming service.
The Amazon Firestick is the most popular streaming device due to its low price point and jailbreaking abilities.
You can also install a digital antenna should your live TV streaming service provider offer no over-the-air TV networks such as ABC, CBS, FOX, NBC and PBS.
BE CAREFUL...
Your online activity is actively tracked by your Internet Service Provider, app/addon devs, and government through your identifying IP address.
Stream anonymously by using IPVanish VPN.
IPVanish will encrypt your connection to the Internet and mask your IP address so you will remain anonymous.
EXCLUSIVE DISCOUNT – SAVE 63% ON IPVANISH
IPVanish backs their service with a 30-day money back guarantee.
IPVanish allows you to use your account on unlimited Internet-connected devices
This provides you with the flexibility and full entertainment experience that other types of service providers cannot offer.
Best OTA Indoor & Outdoor Antennas
If you want reliable, high-quality television with no buffering, TROYPOINT suggests purchasing a paid IPTV Service.
These services provide hundreds if not thousands of live HD TV Channels for a small monthly fee.
What is Hulu?
Hulu's popularity began as a Movie & TV Show streaming service and alternative to Netflix. However, it has morphed into something much more. This service now offers Live TV along with your favorite Hulu programming.
Hulu Live TV provides one of the most affordable live TV streaming packages today.
Viewers can enjoy more than 60 channels consisting of original shows as well as other live TV programs such as sports, news, and entertainment if they subscribe to the Hulu + Live TV plan.
Hulu is compatible with most popular devices such as the Amazon Firestick, which is perfect for cord-cutters. It's a preferred choice by many entertainment fans and streamers who want the best entertainment experience for a reasonable price.
Use the link below to get your free trial subscription:
Hulu Live TV Review – Highlights
30-day free for basic subscription (or 7-day free trial for the Hulu + Live TV plan)
3 package plans with add-on options
60+ channels depending on the subscriber's area
6 local channels
Only 30-second live delay
Less than 4 seconds in channel switching time
50 hours of cloud DVR storage (with option to upgrade to 200 hours)
Streaming capability when traveling
2 devices allowed for simultaneous streaming
Parental controls
Allows credentials to be used for other apps
Hulu Live TV Review
Hulu is one of the most popular IPTV services available today. In Q1 of 2019, the company claimed that it already has 28 million U.S. subscribers. It added 3.8 million new subscribers, outpacing Netflix's 1.74 net additions by more than half in the same period.
Channel Lineup
Hulu takes pride in its Hulu Streaming Library, which contains TV shows, movies, original programs, kid's entertainment and premium channels.
Its current lineup of exclusive TV shows include Killing Eve, Adventure Time and I am the Night plus past favorites such as King of the Hill, Prison Break, ER and Futurama. It also offers exclusive movies that include comedy, documentary, action and drama flicks.
Original programming includes award-winning shows such as The Handmaid's Tale plus popular comedy series, miniseries, animation, docs-series, anthologies, and book adaptations.
Hulu also continues to expand its offerings. Recently, they signed a contract with Lionsgate that grants them exclusive TV rights to stream the film production company's movies in 2020 and 2021.
The following month, it also acquired exclusive streaming rights to all movies by film distribution company Bleecker Street.
Its network lineup includes news channels such as ABC News, Bloomberg, CNBC and Fox News. Viewers can also watch their favorite shows on ABC, AMC, BBC America, CBS, Bravo, Comedy Central, Food Network, HGTV, Telemundo and VH1, to name a few.
Kids, on the other hand, can enjoy 24/7 programming on Cartoon Network, Nickelodeon, Universal Kids and Disney+ (depending on the bundle plan).
CLICK HERE for Hulu's complete channel lineup.
Pricing Packages and Inclusions
Hulu lowered its monthly basic plan from $7.99 to $5.99/month in February 2019, which partly explains why its subscriber base surged in Q1.
Some analysts also attribute it to the addition of Disney+ in its lineup, as well as the hike in Netflix's monthly fees.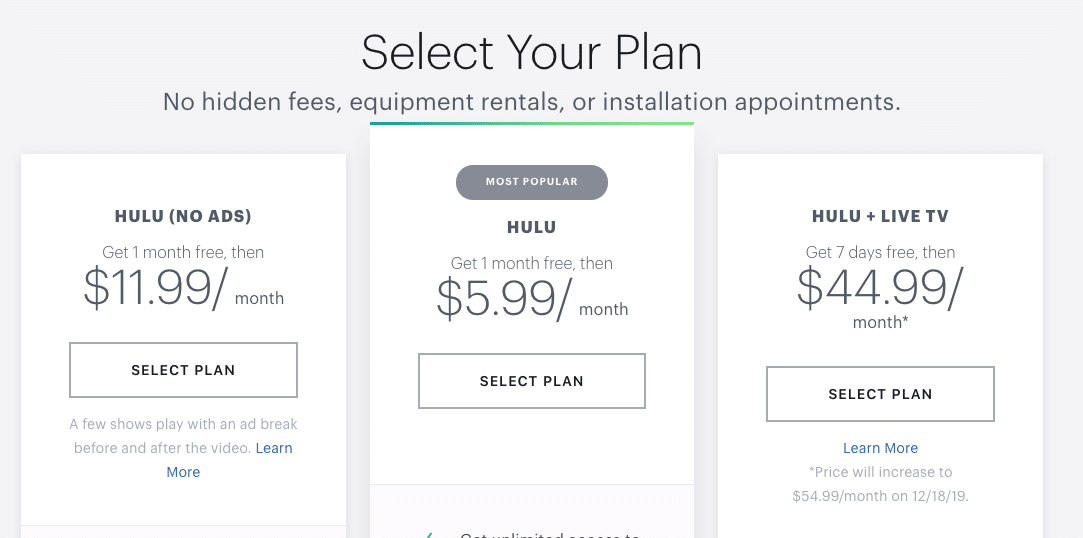 The ad-suppported Hulu plan contains exclusive series, movies, Hulu originals, kid shows and other entertainment programs. The first month comes free for new subscribers.
For viewers who do not want ads, the Hulu (No Ads) plan is offered at only $11.99 a month, with the first month's fee also waived for new subscribers. Viewers can download from thousands of titles that they can watch offline too.
Finally, the Hulu + Live TV plan is now at $54.99 per month (since Hulu hiked the price from $44.99 in the middle of December 2019). Viewers can enjoy more than 60 channels of live and on-demand programming plus unlimited access to Hulu's streaming library.
They can also record live TV with 50 hours of cloud DVR storage to boot.
Free trials for this plan are available for new and returning subscribers too.
There's also a bundle for sports and Disney fans. The Hulu, Disney+, and ESPN+ plan lets viewers access their favorite shows from these channels for only $12.99 a month.
Take note that content from these three streaming services can only be viewed on their respective apps and are limited only to subscribers in the U.S. In addition, there is no free trial available for this bundle.
Subscribers can switch plans or cancel their subscription anytime on any plan too.
For such monthly cost, Hulu offers one of the most affordable plans in the market today. However, it can rack up when subscribers decide to have add-ons.
For example, to access HBO, a $14.99 monthly add-on fee is required. There's a separate price for Cinemax ($9.99), SHOWTIME ($10.99) and STARZ ($8.99).
Those subscribed to the Hulu + Live TV plan can enjoy the Enhanced Cloud DVR feature (up to 200 total recording hours) and unlimited screens for $9.99 each.
Spanish language streaming and on-demand content from Spanish networks are also available through the Español add-on for $4.99 a month.
If these additional networks and features don't mean so much to you, you can choose to stick to the standard Hulu plan for less than $6 a month.
User Interface
The user interface has been updated in October 2019 to make menus easier to read, improve accessibility to each feature, and keep navigation more user-friendly. I used to complain about the text's visibility on the interface but now, the changes have greatly improved the design.
The live TV grid guide is a feature that I enjoy the most. It categorizes shows based on sports, news, movies and kids plus the recent shows and channels that I've watched.
As a heavy channel surfer, it's a feature that appeals to me a lot. It also lets users plan their recording up to 14 days ahead so they won't miss their programs.
Plus, there's the picture-in-picture mode so users can continue watching a streaming show while scrolling through other content on the menu.
In terms of the Hulu app on mobile, there was nothing to complain about. It was easy navigating through the features, browsing shows, and even accessing the My Stuff section that allowed me to manage my DVR storage without a hassle.
Streaming and Picture Quality
It's only recently that Hulu has started offering shows in 4K streaming but only on the Firestick, Chromecast Ultra, Apple TV (5th generation or later), and some select devices. However, as of this writing, the shows are also limited to Hulu Originals only.
I find this really necessary if you want to optimize your viewing experience. It's a good deal for a very affordable monthly subscription fee. And if you're watching live TV, the best resolution and cloud DVR recordings you can get is 720p/60fps HD even on a Firestick.
As long as you maintain a stable bandwidth, you're sure to get a decent picture and streaming quality with Hulu. I found no issues with this when testing the service for weeks now.
Cloud DVR Functionality
Exclusive to Hulu + Live TV subscribers, the cloud DVR recording functionality allows up to 50 hours of storage capacity.
The quality of the recording, in my opinion, is pretty decent, and I found no bugs during multiple tests. The downside? Users have to upgrade to the Enhanced Cloud DVR add-on to fast forward through the ads.
On the other hand, paying an additional $9.99 for this feature comes with 200 hours of storage too so there'll be more shows to record.
Parental Controls
I tried creating a Kids Profile to restrict access to some content and it worked perfectly fine. Hulu's parental control is an easy-to-use feature that keeps kids safe from watching adult-related content on the streaming service.
Other Issues
The ad-supported plan may be very cheap but this can be frustrating to most subscribers who switched to cord-cutting in the first place. Ads are a big source of revenue for Hulu, which retains between 30 percent and 50 percent of ad revenues that it distributes.
The Hulu (No Ads) plan does not really mean that all programs are ad-free too. As explained in their website, some shows still contain ads due to streaming rights rules.
Thus, fans of Grey's Anatomy, Marvel's Agents of S.H.I.E.L.D. and How to Get Away With Murder have to contend with short ad breaks before and after each episode. Still, there are no ads in the middle of the shows.
If you're not using compatible devices to stream Hulu, you can use the classic Hulu app to access the streaming library from Apple TV (2nd and 3rd generation only), select LG TVs, Roku models, Samsung, VIZIO and Sony TVs, and TiVo. The downside, however, is that you won't have access to live TV and some add-ons offered.
Hulu Live TV Review – Bottomline
Based on my experience with Hulu, I'd say that the service is good enough to cut the cord.
The Hulu + Live TV plan is reasonably priced and can match other streaming services' features. What I would want to see in the coming year is a huge improvement in the number of 4K content not limited only to its original programs.
It would also be great to increase the cloud DVR storage since YouTube TV already offers an unlimited space to its subscribers.
Overall, Hulu is great for those looking to enjoy VOD. While the Live TV option also works great, it may be more expensive than most want to pay.
For cheaper IPTV alternatives, use the complete TROYPOINT IPTV Page below:
Hulu Live TV Review FAQ
What is Hulu Live TV?
Hulu Live TV is a streaming service available for installation on streaming devices such as the Amazon Firestick to watch Live TV.
Is Hulu Live TV Legal?
Yes. Hulu Live TV is a verified service and is 100% legal to use.
Does Hulu Live TV stream Live TV?
Yes. Hulu Live TV streams Live TV channels across many different categories.
What devices can Hulu Live TV be installed on?
Hulu Live TV is available for installation on tons of devices including the Amazon Firestick which is the most popular streaming device available. Users can also download on Android and more.
What channels does Hulu Live TV have?
Hulu Live TV offers numerous channels to choose from for live viewing. These include News, Shows, Movies, Sports, Tech, Kids, Music, and more.
This page includes affiliate links where TROYPOINT may receive a commission at no extra cost to you. Many times, you will receive a discount due to the special arrangements made for our visitors. I will never promote something that I personally don't use or recommend. Purchasing through my links directly supports TROYPOINT which keeps the content and tools coming. Thank you!