This page includes affiliate links where TROYPOINT may receive a commission at no extra cost to you. Many times, you will receive a discount due to the special arrangements made for our visitors. I will never promote something that I personally don't use or recommend. Purchasing through my links directly supports TROYPOINT which keeps the content and tools coming. Thank you!
An electronic program guide or EPG is an interactive screen guide found on set-top boxes, mobile apps, and websites.
It is best known as a "TV Guide" that cord-cutters and streamers use for live television.

In addition, IPTV subscribers often use an EPG when surfing or browsing through their various channel options.
This article will provide you with a comprehensive look at what an EPG is and how it helps cord-cutters maximize their entertainment experience using the Amazon Firestick, Fire TV, Fire TV Cube, or other devices.
EPG and IPTV
For those unsure of to what an IPTV is, it's as a cable television service offered on the internet but for a fraction of the price.
This means you can watch cable television channels on your preferred streaming device wherever you are.
Most IPTV services provide hundreds to thousands of channels in addition to the professional sports season passes for football, baseball, basketball, hockey, and more.
Some also offer full access to pay-per-view sporting events.
Each IPTV comes with an EPG that users can refer to when searching for their favorite programs.
If you want to learn more about IPTV, check out the guide below.
While many of these free services work well, they are not always reliable. Oftentimes, streams are only available in SD (Standard Definition) and typically have buffering issues.
If you want reliable, high-quality television with no buffering, TROYPOINT suggests purchasing a paid IPTV Service.
These services provide hundreds if not thousands of live HD TV Channels for a small monthly fee.
What is an EPG?
Also known as an interactive program guide (IPG) or electronic service guide (ESG), an EPG allows users to discover and choose programs from a list complete with details such as show times, titles, network, genre, description, preview, and other details.
Technology has transformed cable TV's printed guide into an interactive feature that keeps them glued to their devices for more programming information.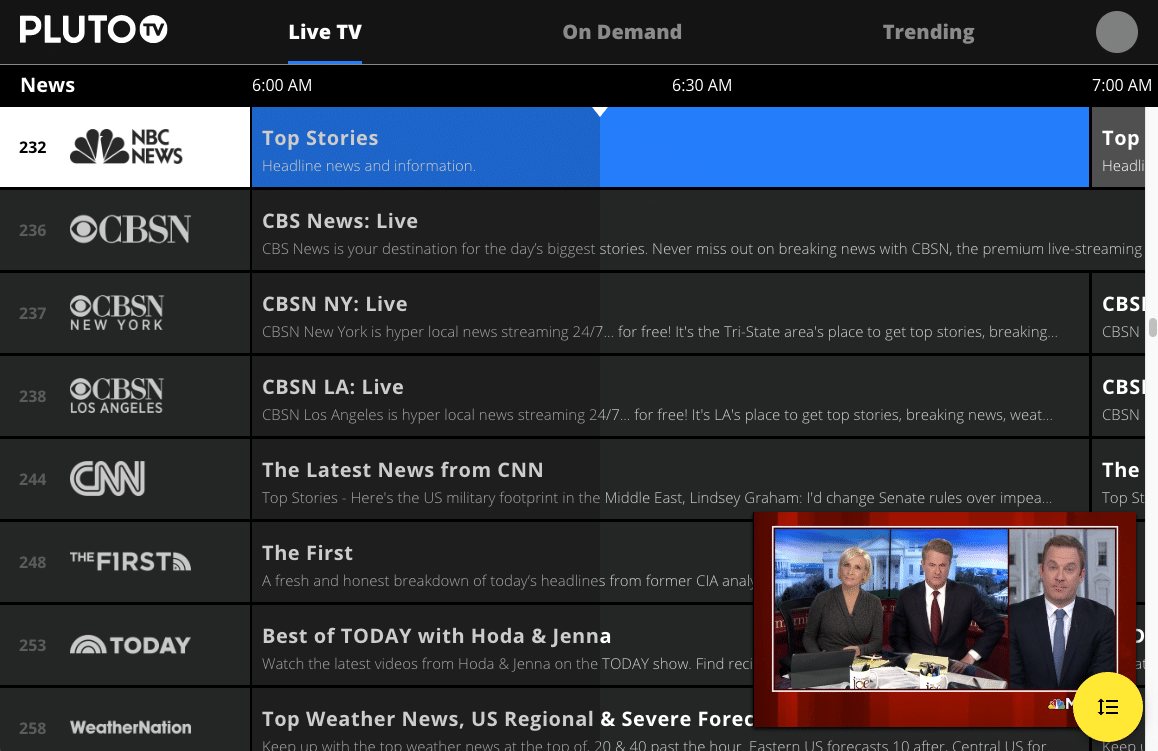 Not all EPGs appear the same though. Some only list programs that are currently playing on screen while others provide schedules of upcoming programs.
Others, however, offer more details so viewers can access more information on which shows to watch.
What are the basic features of an EPG?
Today's EPGs share the following features:
Interactive graphical user interface or GUI usually in grids

List of different channels and their corresponding programs with airing schedules

Categorized channels according to genre

Search capabilities

Customization tools
Some service providers also feature parental controls, DVR recording capabilities, per-per-view options, and more.
Radio stations also publish their EPG to attract more listeners who are tuning in to their broadcasts over IPTV or directly from sites.  
EPG's are available on most popular IPTV Players including TiviMate, Perfect Player, and more.
How has EPG evolved?
Media company United Video Satellite Group launched the first EPG in North America through the cable channel, The Electronic Program Guide, in 1981, which paved the way for The EPG Channel two years after.
Through this, cable TV subscribers from the United States and Canada had the opportunity to view channel program schedules up to 1.15 hours in advance before their broadcast by tuning in to The EPG Channel. It would be later renamed as Prevue Guide and then TV Guide Network or TV Guide Channel a few decades later.
Cable subscribers also benefited from the SuperGuide system in the 90s when it became a part of the Uniden 4800 receiver, which was made commercially available at that time. Program information of up to two weeks was available for access. If a program of their interest was currently playing, a simple press of the button would redirect them to their favorite channel.
Fast forward today, program schedules are not only limited to blended text over video but has also become more interactive with trailers, clips and recommendations based on their previous searches thanks to artificial intelligence (AI). IPTVs and cable TV services wouldn't be complete without an EPG.
The challenge for EPG, however, is its applicability for services that follow a binge release method such as Netflix. This varies from the traditional weekly releases local channels and programs send out daily and weekly.
How does an EPG work?
An EPG consists of two main parts: the data being fed and the software that runs it. Data is continuously sent to the EPG which keeps it up to date.
For those using set-top boxes, all data is stored in the DRAM or its "memory" so upcoming programming will be displayed. However, the memory available is often quite limited so set-top boxes these days have expanded RAM to allow both processing and storing functions to work properly.
But what makes a good EPG?
First, there must be enough RAM, CPU cycles and computing power so that data management is readily available. Second, there should be lower latency which is noticeable to the viewer. 
Third, it should allow for easier browsing, searching and selecting programs so that viewers can get a highly optimized viewing experience. Finally, it should display relevant information from program title to description.
What are the different types of EPG?
There are three types of EPGs:
Single Channel – only a specific channel's programs are available in the EPG

Multiple Channels – more than one channel is shown in the EPG

Interactive EPG – consists of multiple channel EPG with navigation and other features such as DVR recording, search and parental control capabilities
Non-interactive EPGs limited to single and multiple channels have been eclipsed by their interactive counterpart because of the convenience it provides to viewers.
What are the advantages and disadvantages of an EPG?
Other than being able to view on-screen listings of available channels' current and upcoming television programs, an EPG makes it easier for users to sort and select their preferred shows with the touch of a button. Today's paid IPTV services also come with DVR recording features. This makes it more convenient for busy cord-cutters who don't want to miss their favorite TV show.
The downside to an EPG, however, is that not all of them are created the same. Thus, when using one IPTV service and switching to another, you may not find the same features and viewer friendly GUI. Furthermore, some EPGs do not reflect accurate information and cannot update details for last-minute program changes made by a channel.
What is the future of EPG?
IPTV services as well as cable TV operators will continue to design more interactive and user-friendly EPGs to adapt to consumers' evolving needs.
For instance, customer-driven features such as trailers and previews have been added based on the results of consumer market research. In the future, we expect more EPGs that are highly customizable and with more sophisticated AI-powered features.