This guide will show you How to Install IPTV Smarters on Firestick, Android, and iOS devices.
IPTV Smarters is one of the Best IPTV Players available that works on just about every device imaginable.
One of the main reasons this app has gained so much popularity is due to the fact that it is compatible with iOS and Android Mobile devices. That means you can stream live television wherever you are!
This works similar to other IPTV players such as TiviMate or iMPlayer.
The tutorial below will show you how to install IPTV Smarters on multiple devices.
The first one will show you how to install this app on an Amazon Firestick 4K. To do so, we must side-load this application due to the fact that it isn't available inside the Amazon App Store.
This is often referred to as "jailbreaking" the device. See below for more information.
The second method will provide installation and setup instructions for IPTV Smarters on an iPhone XS. Users can install this via the Apple App Store:
IPTV Smarters – Apple App Store
Your IPTV service will provide you with the proper login credentials which usually consist of an M3U URL.  If you need an IPTV service, check out the link below.
Free TROYPOINT Rapid App Installer

Install the Best Streaming Apps in Minutes
The free TROYOINT app includes over 50 of the best streaming apps including the one(s) you're about to install on this page.
NOTE: All applications in our Rapid App Installer have been scanned by VirusTotal and are completely virus-free.
Use the steps below to install IPTV Smarters on your preferred Streaming Device.
Install IPTV Smarters on Firestick/Fire TV
1. Install the Downloader app from your respective App Store (Amazon App Store or Google Play) and turn on Apps from Unknown sources in the settings of your streaming device.
If you haven't done this yet please refer to the following screenshot tutorial that demonstrates this simple process.
How to Install Downloader & Enable Unknown Sources
2. Launch Downloader.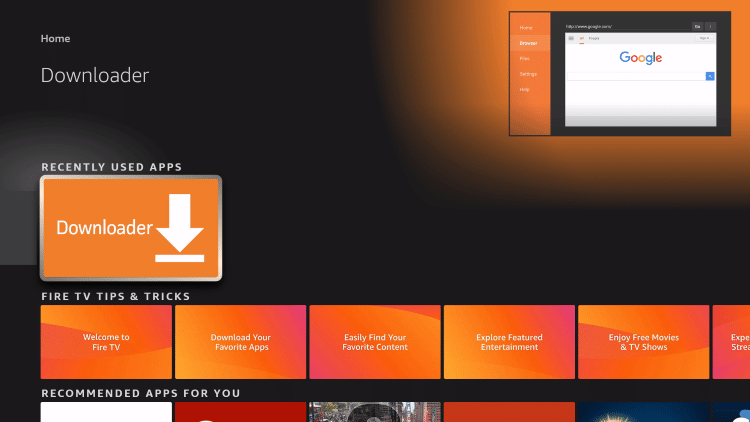 3. Click Allow.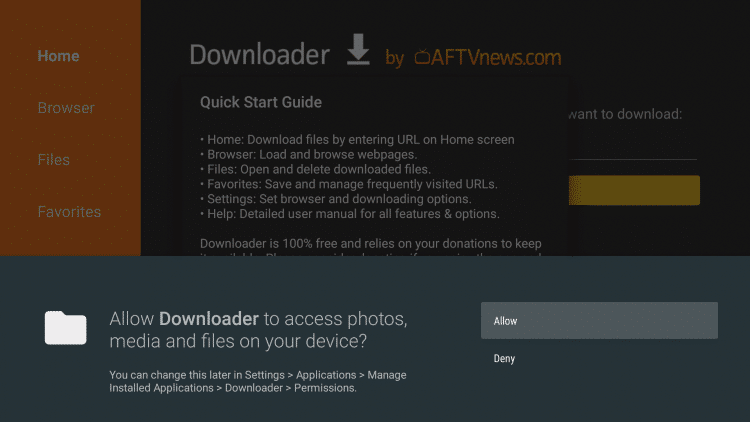 4. Click OK.
5. Place your cursor in the URL box and click the OK button on your remote to open the keyboard.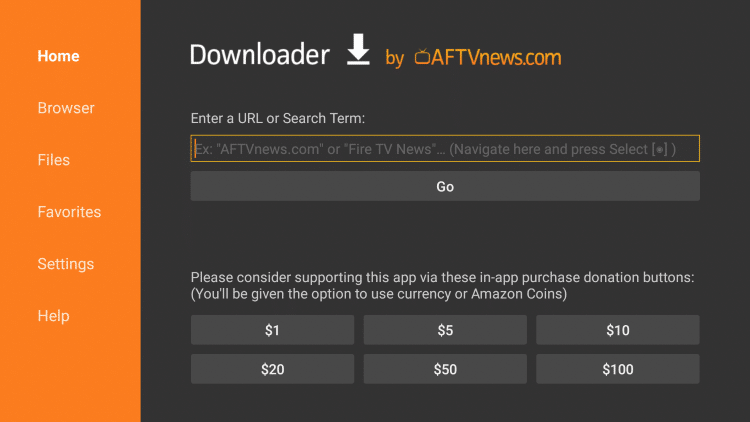 6. Type the following URL exactly as shown here: https://troypoint.com/smarters and click Go.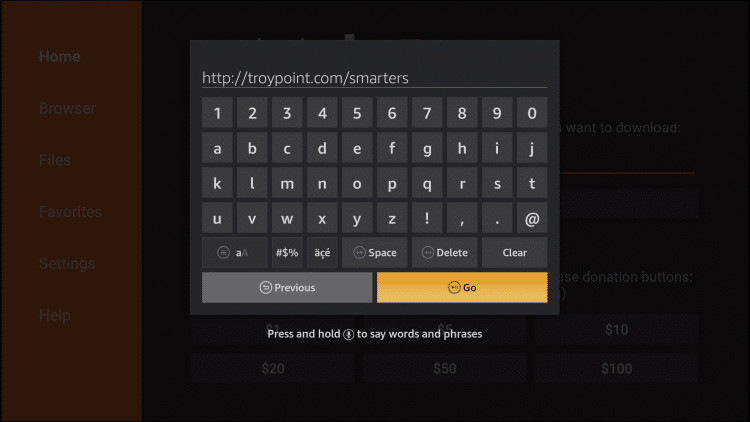 7. Wait for file to download.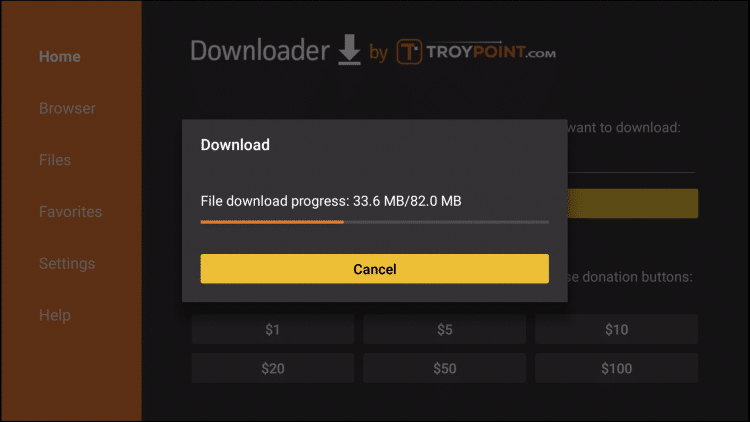 8. Click Install.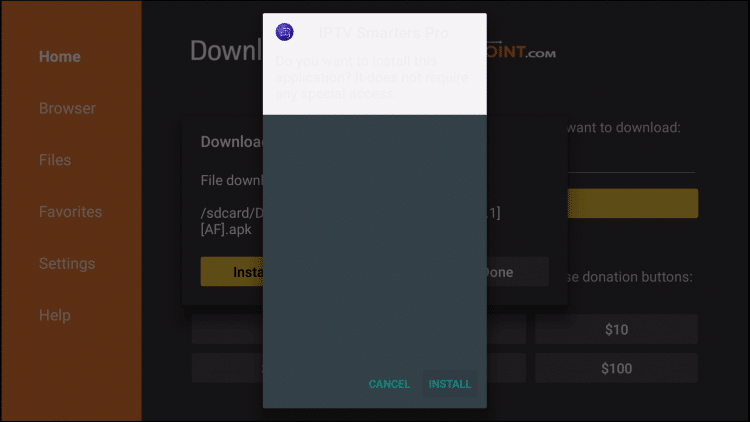 9. Click Done.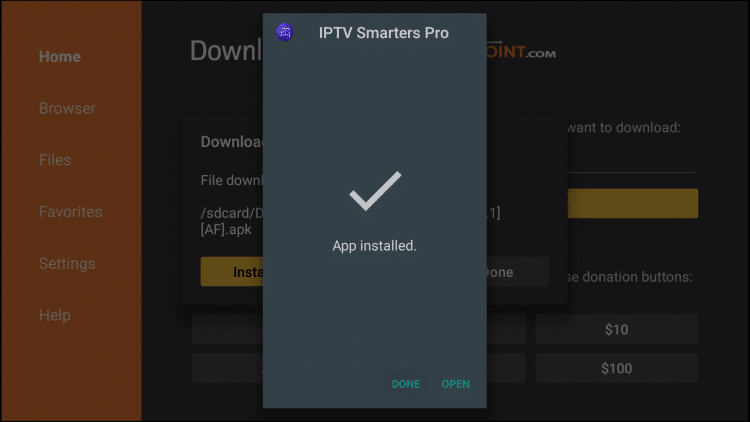 10. This will take you back to Downloader. Click Delete.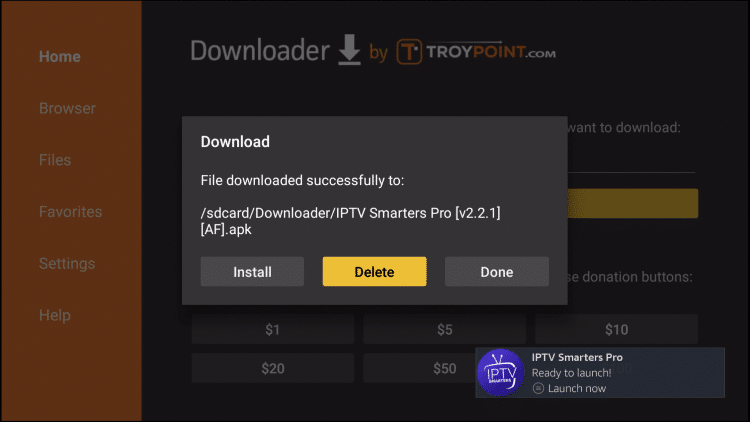 11. Click Delete again.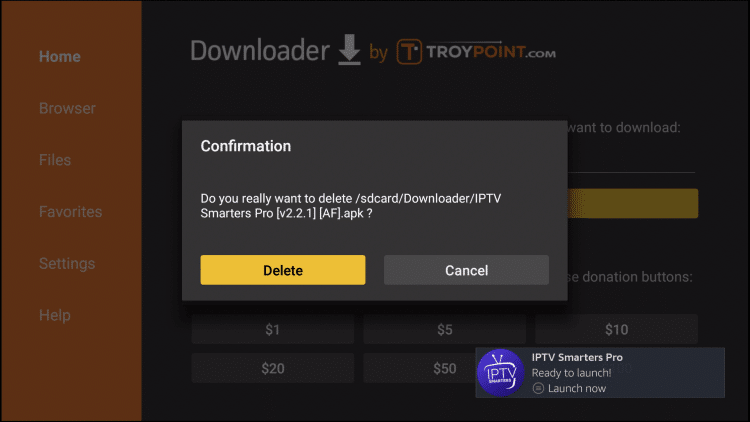 12. Return to device home-screen and under "Your Apps & Channels" click See All.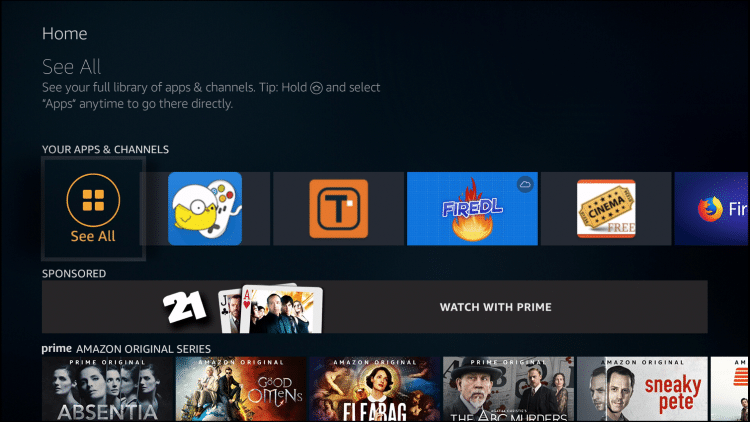 13. Scroll down to hover over IPTV Smarters.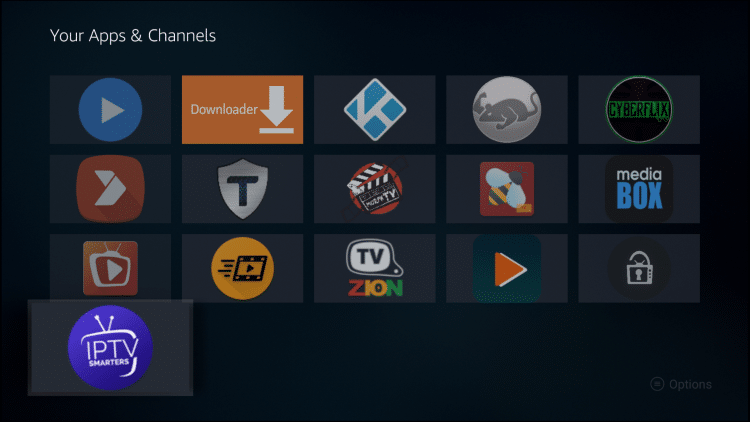 14. Click the Menu button on the remote (3 horizontal lines), then click Move to Front.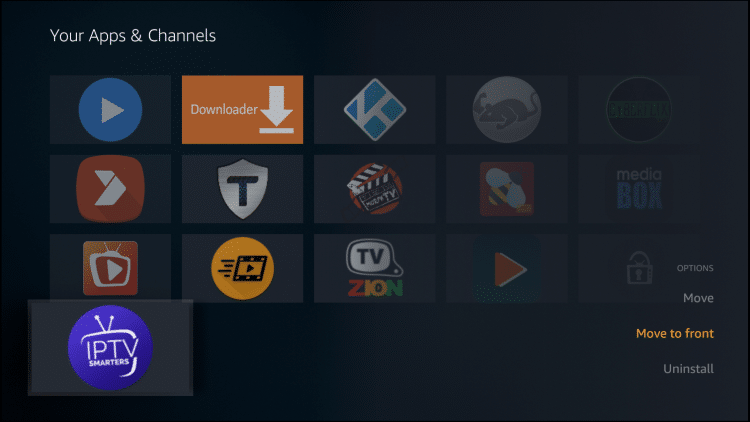 App installation is now complete!
ATTENTION!
Your identifying IP address is exposed which ties directly back to you through your Internet Service Provider.
Your Identifying IP Address is 2601:643:8b00:d330:586a:8d6e:2f5d:c7ce
IPVanish VPN will mask your IP address and encrypt your connection so you will become anonymous while online.
You can use IPVanish on unlimited devices so you are protected everywhere.
SAVE UP TO 74% WITH THIS TIME-SENSITIVE DEAL
30-Day Money-Back Guarantee
IPTV Smarters Setup
After opening,  you will see the "Terms of Use" agreement.
Click Accept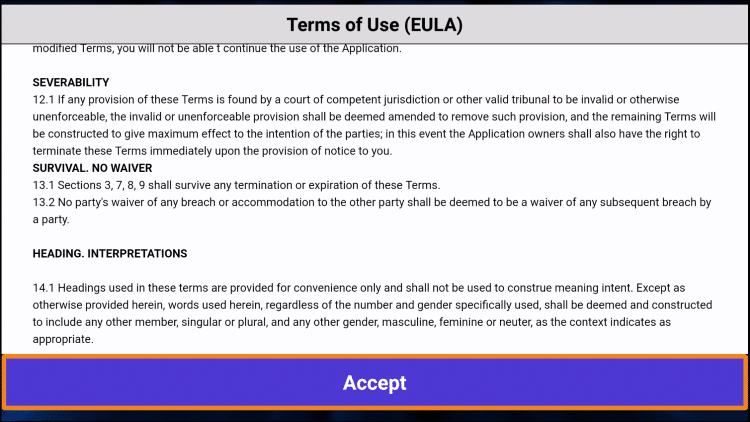 Click Add New User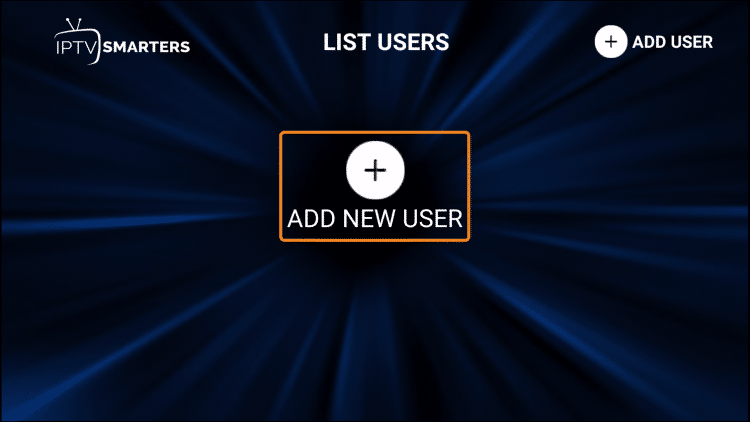 Choose login with Xtream Codes API
OR
If your IPTV Provider does not have an Xtream Code, you can use an M3U URL and choose to Load Your Playlist or File URL
Most M3U URLs require that you input your service username and password.  You will usually see where these go inside the URL as they are indicated by "username=xxxx" & password=xxxx".  You will input your username and password where the x's are located.
Here is an example of an M3U URL.  This is not a real M3U URL but this is how the structure typically looks.
http://liveiptvservice.org:86/get.php?username=xxxx&password=xxxx&type=m3u_plus&output=ts
Because these M3U URLs are so long to type, we recommend using an API or Xtream Code if applicable.
Enter account information and click Add User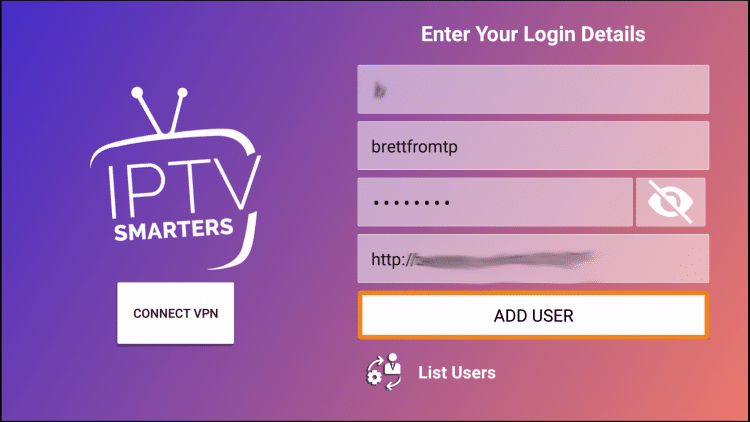 Wait for User added successfully message to appear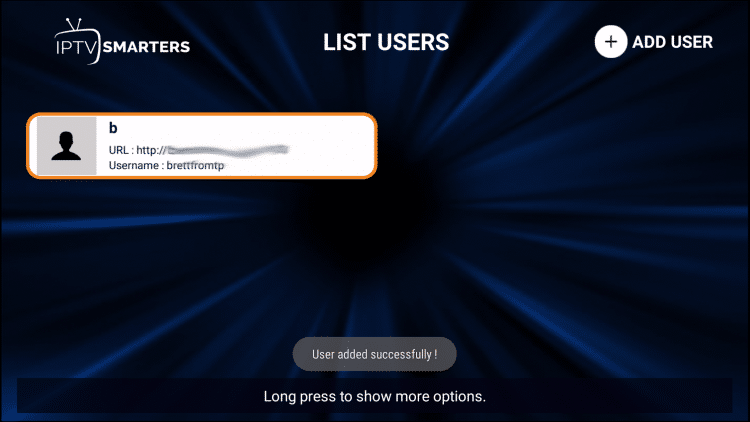 Click your Profile and enjoy!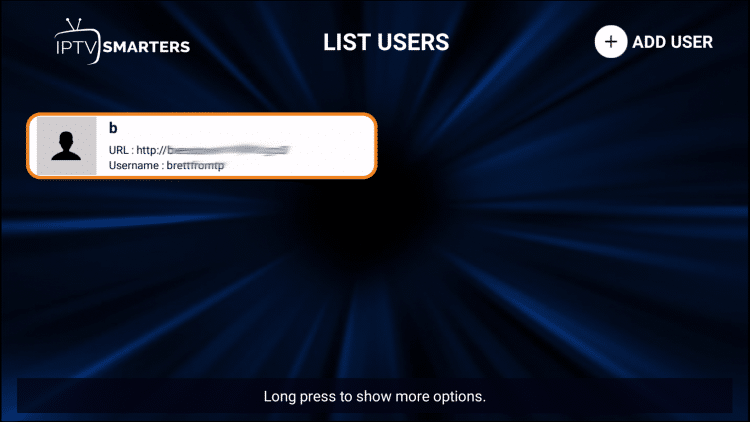 While most will use this app on their preferred streaming devices such as a Firestick or Android TV Box, there is also an iOS app that users can install directly from the Apple App Store.
Follow the instructions below to install and use IPTV Smarters on iPhone or iPad:
Install IPTV Smarters on iPhone/iPad
1. Within the Apple App Store, search for and Install the IPTV Smarters App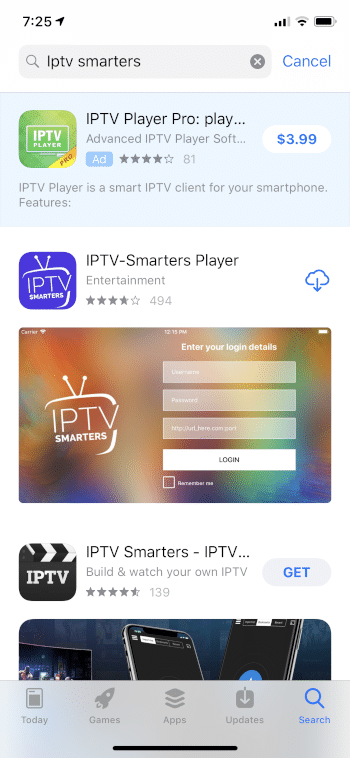 2. Return to the home screen to find the IPTV Smarters app installed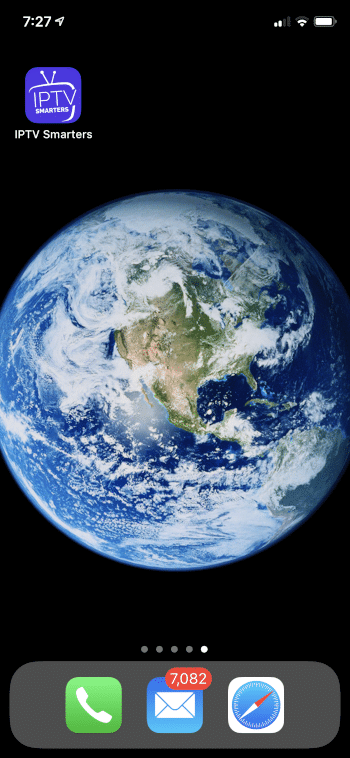 3. Launch the app and click Accept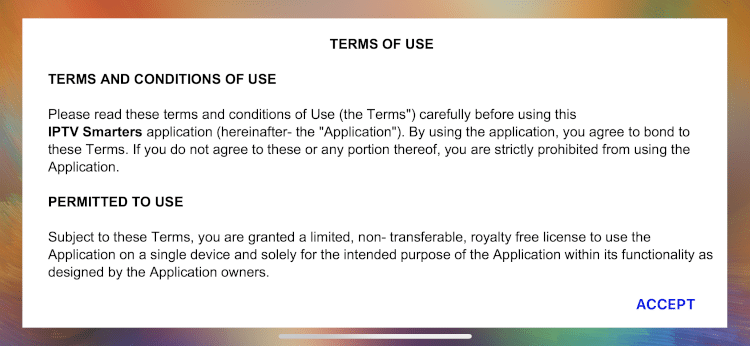 4. Enter your login credentials and click Add User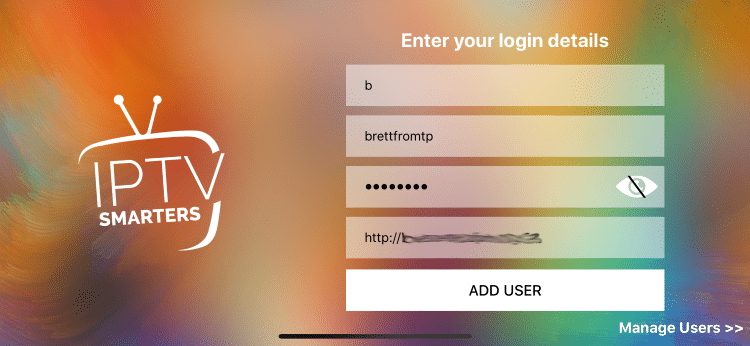 5. Wait for Channels to download
Once finished your IPTV Service is available for use. Enjoy!
IPTV Smarters Features & Description
One of the best features that IPTV Smarters provides is the opportunity to download and use more than one "Playlist" or IPTV Service. TROYPOINT always recommends having a backup IPTV Service in case your favorite provider is not working.
This is a great way to ensure your live streaming is always available and manage your favorite channels across multiple platforms: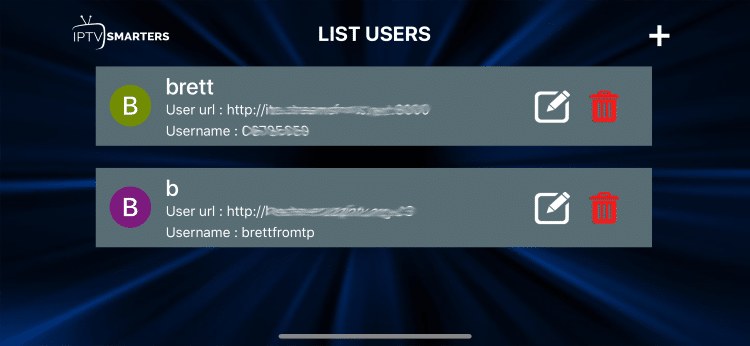 Many prefer to use an EPG or Electronic Program Guide within IPTV Smarters. You can install this using your IPTV Service's EPG M3U URL.
To do so, select Install EPG from the app main menu: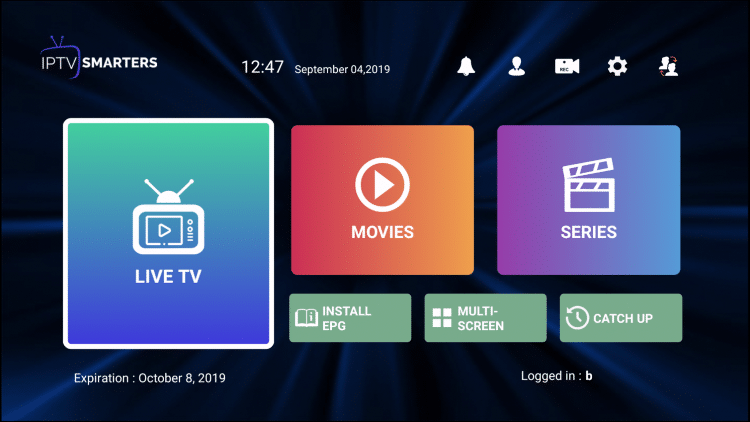 Click the box for the EPG source link and enter your EPG M3U URL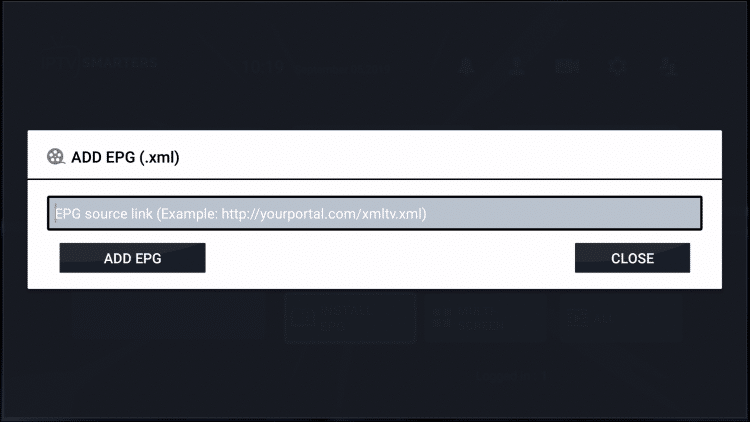 When finished, click Add EPG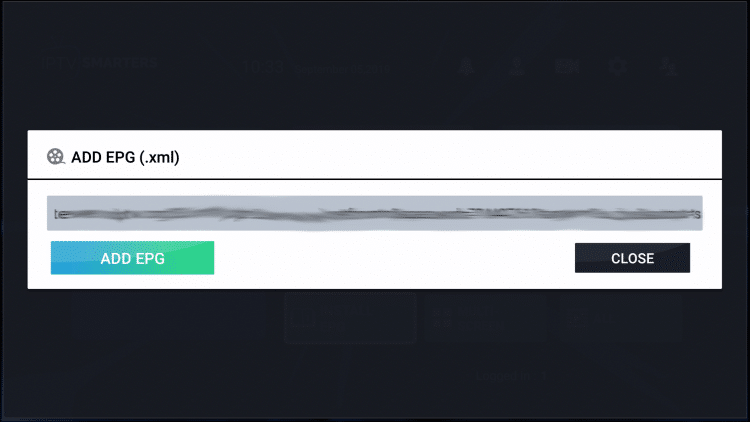 Program Guide will now install. Enjoy!
Using the EPG is the best way to view all Channels and Programs available within IPTV Smarters.
For those who wish to record within the app, there is a way to do so. Use the guide below that will show you how to record IPTV on your preferred device:
Note: Recording will likely require a USB Drive for storage purposes. You should make sure that it's properly formatted as FAT32.
How to Format USB Drive to FAT32
IPTV Smarters also offers the ability to use an external video player for streaming. We have found MX Player works great within this app and many others.
Prior to integrating this within IPTV Smarters, we must install it via side-load.
How To Install MX Player on Firestick, Fire TV, Android
Once installed, we can authorize use within settings:
Click Player Selection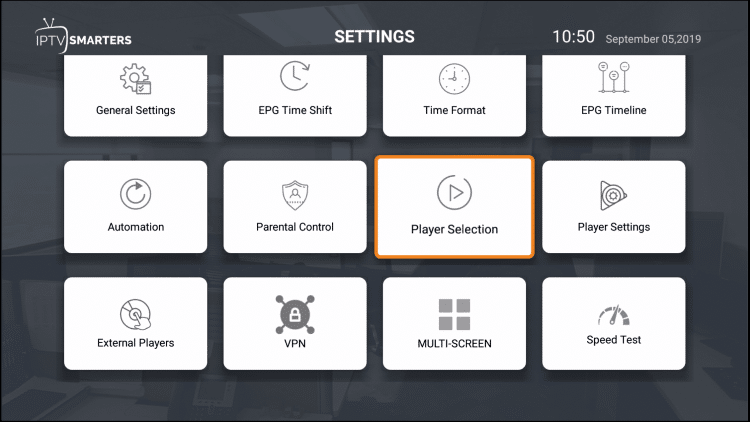 Click Add Player
Choose MX Player
Click Add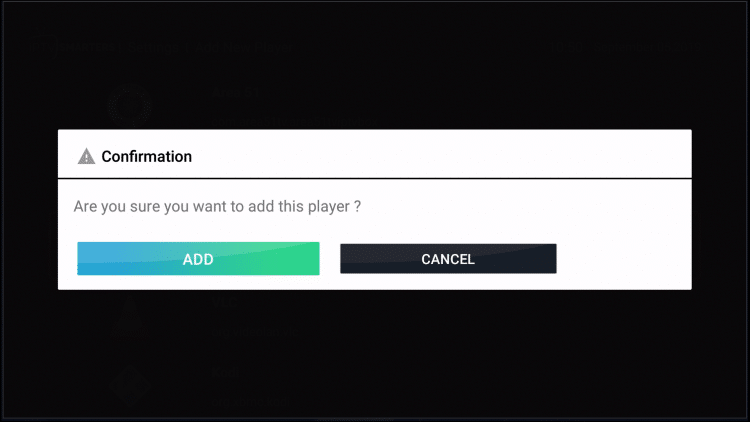 Change Player to MX for any Category you prefer
Click Back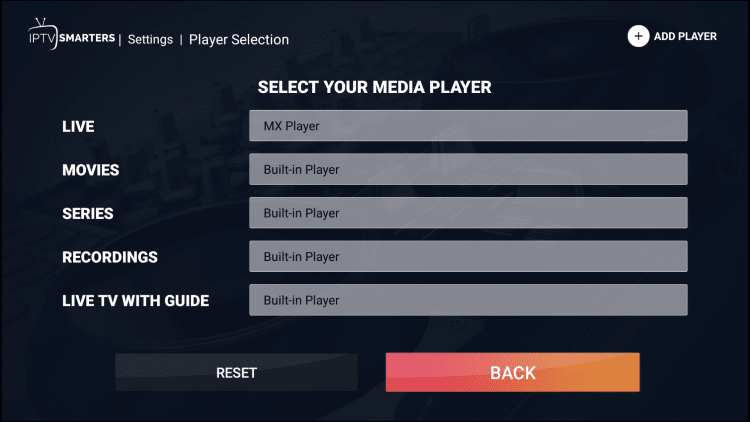 That's it! Your app is now set up for use.
For more IPTV-related tutorials check out our guides below.
If you have a live tv service, give IPTV Smarters a try today!
IPTV Smarters FAQ
What is IPTV Smarters?
IPTV Smarters is a popular IPTV player that pairs with any IPTV service for an improved streaming experience.
Is IPTV Smarters legal?
Yes. This app is 100% legal to install and use. It is available in the Apple App Store.
Is IPTV Smarters safe?
Yes this app is safe to install and use on any Fire TV or Android device.
What devices can IPTV Smarters be installed on?
This app is available for installation on any device that runs the Android operating system. This includes the Amazon Firestick, Fire TV, and any Android device.
What does IPTV stand for?
IPTV stands for Internet Protocol Television.
This page includes affiliate links where TROYPOINT may receive a commission at no extra cost to you. Many times, you will receive a discount due to the special arrangements made for our visitors. I will never promote something that I personally don't use or recommend. Purchasing through my links directly supports TROYPOINT which keeps the content and tools coming. Thank you!
Register as a TROYPOINT Insider and discuss this article with thousands of other cord-cutters.