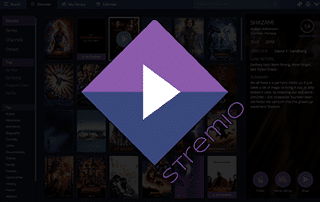 This tutorial will show you How to Install and Setup Stremio on a Firestick, Fire TV, Android TV Box, phone, or tablet.
Stremio is a free media center application that works very similarly to Kodi and Plex.
This app is receiving praise from the streaming community and rightfully so because it works very well.
Just like Kodi, we can install 3rd party addons that allow for free streaming of on-demand movies, TV shows, live TV, and much more.
For these reasons and more, we have included Stremio within our Best APKs list.
While there are many similarities, this streaming application is different than Kodi in one major area.
Most of the addons available through Stremio rely on BitTorrent protocol which is a file-sharing technology that displays the IP address of its users.
Legal Copyright Disclaimer: TROYPOINT is a tech website that publishes tutorials, news, and reviews. We do not verify if apps, services, or websites hold the proper licensing for media that they deliver. We do not own, operate, or re-sell any streaming site, service, app, or addon. Each person shall be solely responsible for media accessed and we assume that all visitors are complying with the copyright laws set forth within their jurisdiction. Referenced applications, addons, services, and streaming sites are not hosted or administered by TROYPOINT.
Stremio & BitTorrent Technology
As of now, the best addons available within Stremio are based on BitTorrent technology.
This is completely different than streaming from apps such as Cinema HD or the most popular Kodi Addons.
When streaming a media file through BitTorrent, we are also sharing the same file with others which means our IP Address is being publicly broadcast.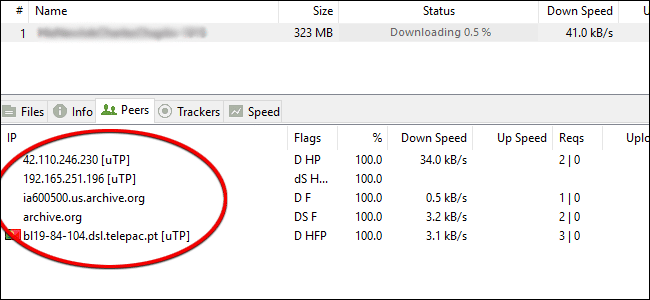 If a person streams media that is copyright protected through BitTorrent without a VPN, trouble usually follows.
You may receive a threatening letter from your ISP or from a watchdog group that the Motion Picture Association hires to monitor the popular BitTorrent trackers.
Even though I'm streaming public domain movies and TV shows, I still protect myself with a VPN as I don't want my IP address floating around these trackers.
When streaming media files through BitTorrent your IP Address is made public.  If you access copyrighted media through this technology without using a VPN this could lead to ISP termination or legal problems.  You have been warned.
The following steps will show you how to install Stremio APK on the Amazon Fire TV Stick Lite.
These same steps also work for those using the Firestick 4K, 3rd Gen Fire TV Stick, Fire TVs, Fire TV Cube, and any Fire TV device.
This process also applies to those using Android devices such as the NVIDIA SHIELD, MECOOL Boxes, Chromecast, Android TV Boxes, phones, tablets, and any Streaming Device.
Free TROYPOINT Rapid App Installer

Install the Best Streaming Apps in Minutes
The free TROYOINT app includes over 50 of the best streaming apps including the one(s) you're about to install on this page.
NOTE: All applications in our Rapid App Installer have been scanned by VirusTotal and are completely virus-free.
Install Stremio on Firestick/Android TV
To install Stremio on your device, follow the guide below. This app can also be found within various Filelinked Codes.
1. Install the Downloader app from your respective App Store (Amazon App Store or Google Play) and enable Unknown Sources within settings of your streaming device.
If you haven't done this yet please refer to the following screenshot tutorial for step-by-step instructions.
Install Downloader & Enable Unknown Sources
2. Launch Downloader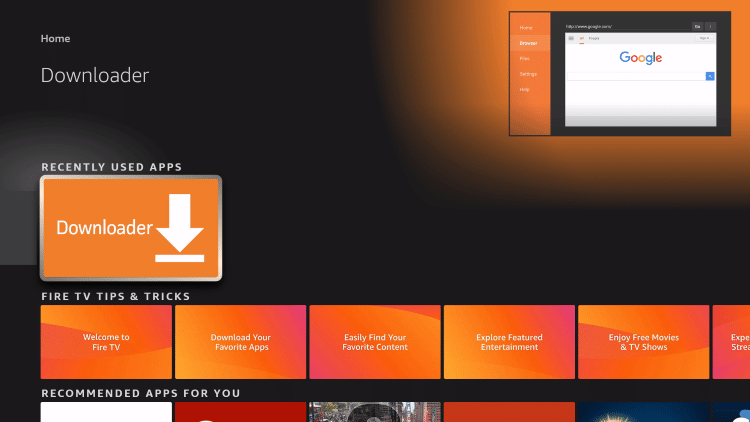 3. If prompted, click Allow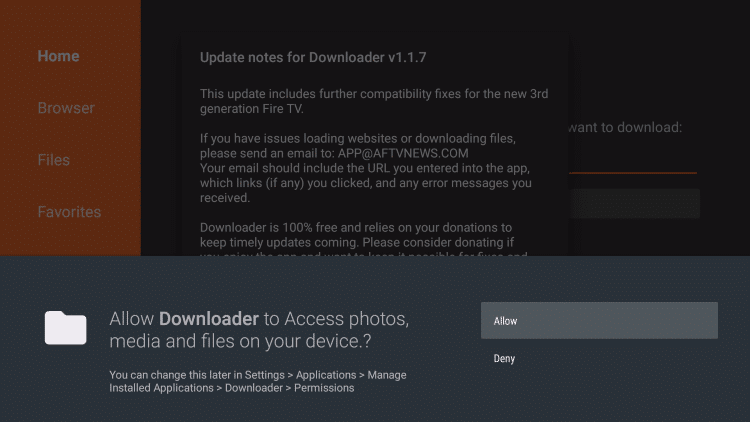 4.  Click OK for developer notes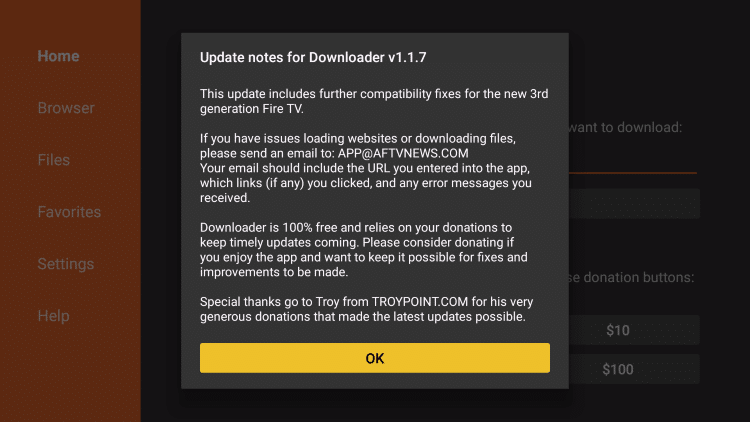 5. Select the Browser tab within the left menu.
6. Click the Search box and type the following URL exactly as it is listed here – stremio.com/downloads and click Go
Note: The referenced link is the official URL of this app/addon. TROYPOINT does not own or operate any streaming website, service, app, or addon, and has no affiliation with any developers.
7. Scroll down and click the most recent APK version under "Stremio for Android."
Important Note: If using an Android TV device or Chromecast with Google TV, you must first install the Downloader Browser Plugin.
You can do this by typing in "http://browser.aftvnews.com" within the URL box, or viewing that section in our Downloader Tutorial.
8. Wait for Download to complete
9. When prompted, Click Install
10. Click Done
11. This will return you to Downloader, Click Delete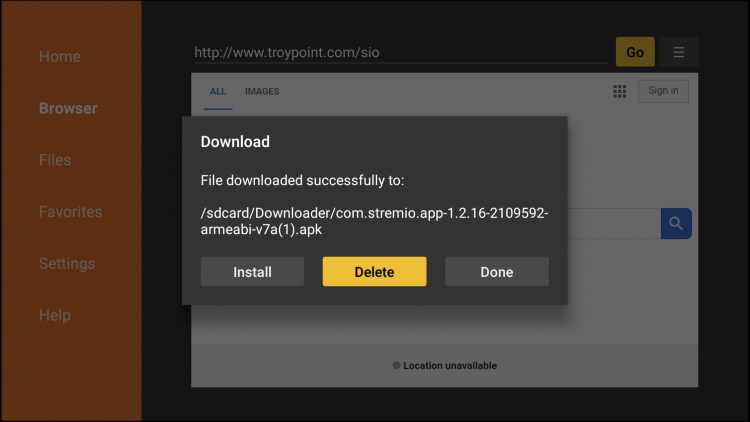 12. Click Delete Again
Installation is complete! You can access Stremio within Your Apps from the device home screen.
ATTENTION!
Your identifying IP address is exposed which ties directly back to you through your Internet Service Provider.
Your Identifying IP Address is 2603:6010:6601:f300:714a:d8d3:ead2:e462
IPVanish VPN will mask your IP address and encrypt your connection so you will become anonymous while online.
You can use IPVanish on unlimited devices so you are protected everywhere.
SAVE UP TO 74% WITH THIS TIME-SENSITIVE DEAL
30-Day Money-Back Guarantee
Stremio Setup
With the Stremio app installed we must now set up the app for use. The guide below will show two ways to use the Stremio app.
In the first method, we will install a torrent add-on for streaming Movies and TV Shows.
The second method will show the same torrent add-on but this time we will integrate Real-Debrid into the addon for and an extra layer of security.
However, before using the app we must first connect to a VPN to ensure safe streaming.
Even though I am streaming a free public domain movie in this example, I still don't want my IP address floating around the BitTorrent trackers and my VPN takes care of this problem.
Installing IPVanish VPN is Simple
If you are using an Amazon Firestick or any Fire TV device, you can follow our VPN on Firestick/Fire TV tutorial.
Install the IPVanish VPN app by searching Amazon or Google Play App Store on your streaming device.
Open the app and enter your IPVanish VPN Username and Password.  This will be emailed to you after registering for their service.
Click the Connect button.
You will now see that your IP address has been changed.  You are now anonymous.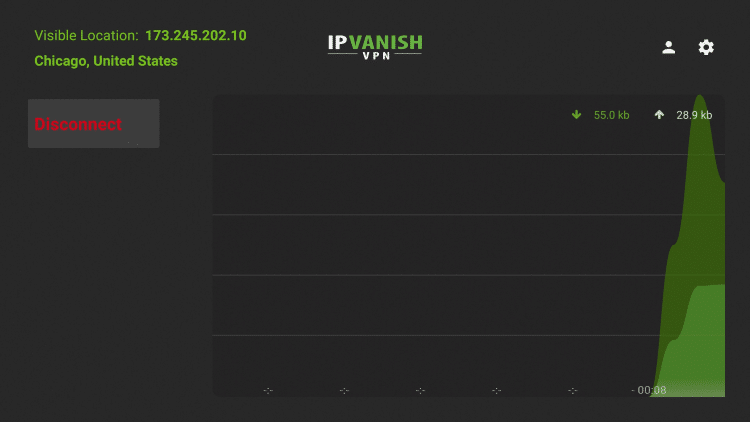 Once a connection has been made on your streaming device, click your home button.  The VPN will remain running in the background.
Open Stremio and click Not now
Select Settings (3 horizontal lines) in the upper left-hand corner
Click the search icon in the top right
Enter in "torrentio" and click Next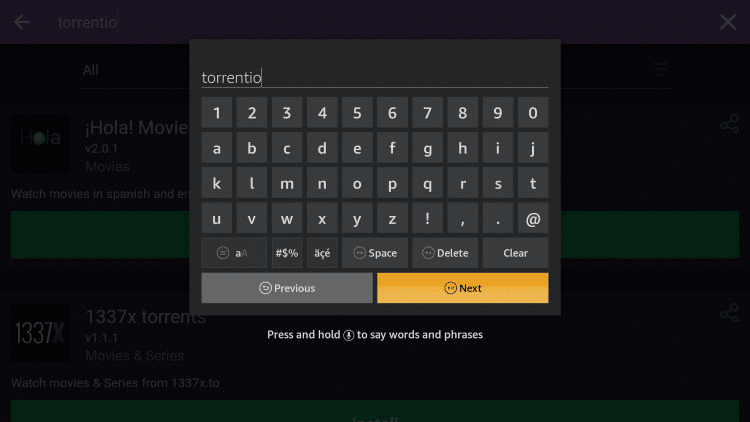 The Torrentio addon will appear. Click Install 
When prompted, click Install again
Return back to the Stremio home screen and search for a Movie or TV Show
Now we will test to see if the addon installation worked by finding a movie to play.
In this instance, we chose Night of the Living Dead which is considered one of the Best Public Domain Movies by TROYPOINT.
We can now see the torrent streams available from the Torrentio addon
You will see a blue icon of a person in each available link.  This indicates how many people are currently sharing the media file and the higher number usually means better playback.
You will also notice which Torrent Website each of the links is served from.
If you are a Real-Debrid user, we can integrate an account within the Torrentio addon which will provide an extra layer of security due to the fact that the Torrents will be downloaded through the Real-Debrid servers.
Follow the guide below to set up Real-Debrid within Torrentio.
IMPORTANT NOTE: Prior to integrating Real-Debrid, you must make sure your VPN is turned OFF to ensure authorization.
After your VPN is disabled, open the home screen of your device and choose settings.
1. From the settings of your device, select Applications
2. Click Manage Installed Applications
3. Find and select Stremio
4. Click Clear Data
5. Click Clear data again
6. Next, we must enable Real-Debrid for use within Torrentio. To do so, we must be log into Real-Debrid and generate an API code by visiting real-debrid.com/apitoken
This can be done on any Browser you choose. However, you will want to make sure the device you are using has the ability to copy the code.
7. Paste the code into Notepad or other note application
8. Return to your streaming device and launch your Browser application. Type in the following website and click Go: https://torrentio.strem.fun/
9. After the site has loaded, click the arrow next to Sorting.
10. Choose how you would like to sort the video files.  We like sorting by Seeders as this will show links at the top that are currently being shared by a larger number of people.
11. Under (Experimental) RealDebrid API Key.   Take your time when entering this code.  One wrong character and this will not work. enter your key from previous steps and click Next.
12. Click Install
13. This will prompt Stremio to open. Click Not Now.
14. Choose Log In
15. Click Guest Login
16. You will then be prompted to install Torrentio. Click Install
17. Click install again
After the addon has been installed, we can now return the device home screen and connect to our VPN to ensure privacy.
That's it! We can now check available links using the same movie as before. As you can see, there are numerous RD (real-debrid) links provided for streaming.
Ensure Your VPN is Active with VPNSafetyDot
Another useful application I recommend installing in conjunction with Stremio, is the VPNSafetyDot app.
VPNSafetyDot is a slick tool that enables an icon to appear in the upper right-hand corner of your screen when you are connected to a VPN.
With this app installed, users will always know when their connection is safe via VPN. You will also have the option to change icon transparency and more.
This is especially important when using applications that use torrent streams like Stremio or Syncler.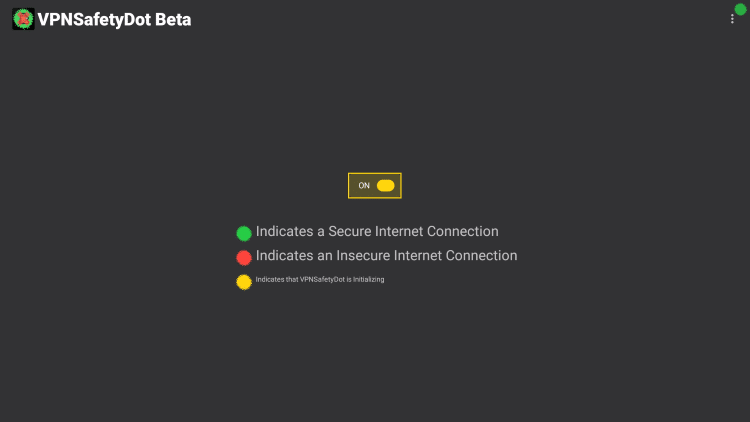 This is a great tool in granting peace of mind whenever streaming on your device. For more information on VPNSafetyDot, refer to our guide below.
VPNSafetyDot – VPN Kill Switch Alternative 
For more torrenting options, check out the TROYPOINT Best Torrent Sites Page which is updated weekly for your streaming needs.
Integrate MX Player on Stremio
1. Install MX Player on your streaming device using URL: troypoint.com/mx in Downloader or follow the guide below:
How to Download OpenSubtitles in MX Player
2. Within Stremio choose a Movie or TV Show. For this example, we chose Night of the Living Dead
3. Choose a stream
4. When your Movie starts to play, hover over and select the icon seen in the image below
5. Wait a few seconds for MX Player to load
6. This message may appear due to switching media players. Choose whichever option you prefer
7. That's it! You are now able to use MX Player within Stremio.
Note: The same process works for other external players such as VLC Media Player.
How to Add Media to Library
Stremio gives users the capability to add Movies and TV Shows to their Library. Follow our quick guide below on how to add content to your Library.
1. Within Stremio search for a Movie or TV Show.
2. Within the content overview screen, hover over and select the add to library icon in the upper right
3. An "Added to Library" message will appear.
4. To access the media within your library, return back to the Stremio home screen and select My Library.
5. Click Movies
6. That's it! You have successfully added content to your Library within Stremio
7. To remove content from your Library, click on the content you want to remove and select "Remove from Library"
8. You will then notice a "Removed from Library" message appear.
Stremio Add-Ons & Details
Stremio features dozens of addons for installation from their addon repository. This includes tons of different streaming options including:
Spanish Channels
Audio Books
Anime
Recipes
History
Sports
Trailers
Netflix
Podcasts
Twitch
Live TV
and more
Note: If you experience buffering when using Stremio I recommend viewing our guide below.
How to Stop Buffering on Firestick/Fire TV
For 100% legal and verified free streaming options, we suggest our list of free movie/TV show apps below.
Stremio APK FAQ
What is Stremio?
Stremio is a free media center application that works very similar to Kodi and Plex.
Is Stremio legal?
Yes. Stremio is 100% legal to install and use. However, some content provided may be illegal. To ensure you are not illegally streaming, make sure to only watch Movies and TV Shows in the public domain.
What devices can Stremio be installed on
Stremio is available for installation on tons of devices including the Amazon Firestick which is the most popular streaming device available. Users can also download on Android and more.
This page includes affiliate links where TROYPOINT may receive a commission at no extra cost to you. Many times, you will receive a discount due to the special arrangements made for our visitors. I will never promote something that I personally don't use or recommend. Purchasing through my links directly supports TROYPOINT which keeps the content and tools coming. Thank you!
Register as a TROYPOINT Insider and discuss this article with thousands of other cord-cutters.