This article will provide you with a continually updated list of the Best Kodi Skins.
Kodi is an Open Source Media platform with tons of Settings for user preference. By choosing a Skin within Kodi, you will have a sleek looking interface that is pleasing to the eye.
Upon opening Kodi you will notice the default look the application has. This is the interface or "Skin" Kodi provides.
However, what many Kodi users don't know is that we can change or edit this screen.
There are numerous options when it comes to a Kodi Skin and choosing the best one is based completely on personal preference.
The following guide will help you make your Skin selection a little easier with an up-to-date list of the Best Kodi Skins.
After Kodi has been installed on your preferred device, a default Skin is already set up within the app.
This default Kodi skin is the Estuary Skin and is the most popular. However, with a few clicks, we can easily change this to something different.
To change your Kodi skin, follow the steps below:
Step 1. Open Kodi.
Step 2. Click the Settings  

icon.
Step 3. Click Interface Settings.
Step 4. Select Skin > Skin.
Step 5. Click Get more….
Step 6. Choose your preferred Kodi skin.
Step 7. When prompted, click Yes if you would like to keep changes.
Get my free guide on how to Supercharge Kodi.  You will learn how to install the best working Kodi add-ons with the click of a button through my favorite build.  
Get all of the best add-ons with one click!    
Click Here To Get Your Free Kodi Supercharge Guide
Remember, by installing a repository, you will have the freedom to choose different streaming add-ons for your enjoyment.
TROYPOINT's list of the Best Kodi Add-ons can be found here: Best Kodi Add-On Page.
The steps listed above show how to change a Skin within the Estuary platform. However, these may be different if another Skin is in use. To find Interface Settings in other Skins, use the Systems Tab and navigate to Interface Settings.
The following list below will show you the Best Kodi Skins available today.
TIP: If you're trying to install unverified apps into your Firestick or Fire TV from the Amazon App Store, you can only complete it by side-loading or installing anything into your device without using the official app-distribution method. I recommend using a VPN to install such apps. Click this link to learn how to install a VPN for Firestick, Fire TV, Fire TV Cube.
Free TROYPOINT Supercharge Kodi Guide

Install the Best Kodi Addons in Seconds
The free TROYPOINT Supercharge Guide teaches you how to install over 60 of the best addons with a few clicks.
Used by over 1 million cord cutters.
Best Kodi Skins
Confluence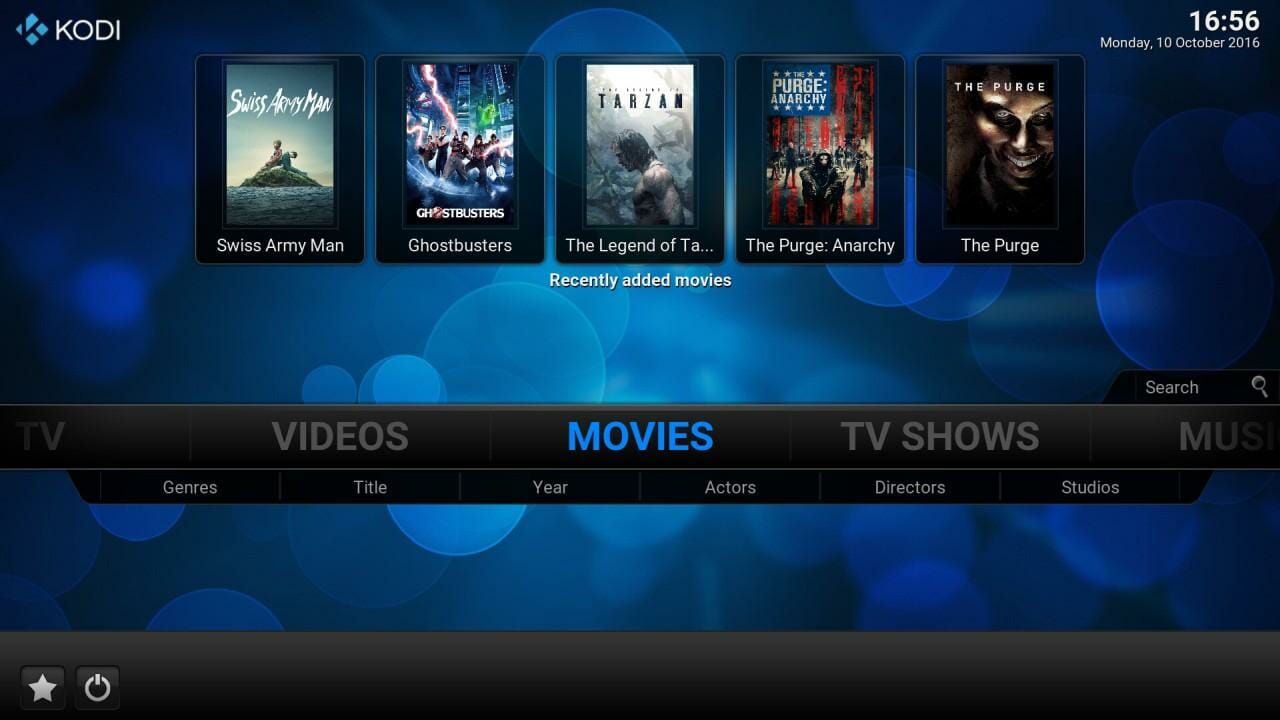 The Confluence Skin features an easy-to-use menu bar that is great for those browsing categories. It is used in tons of Kodi Builds including the Xanax Build which is one of the most popular available today.
Aeon Nox
The Aeon Nox Skin is another extremely popular Kodi skin because of it's simplicity and futuristic feel.
This skin has been used in plenty of Kodi Builds including the ever popular No Limits Magic Build. If installing the Aeon Nox Skin, make sure to allow enough time for sub-menu items to build as this skin is larger in size.
(fuse) neue
With the fuse skin installed on your Kodi device, you will notice one key difference.
The menu of this skin is shown at the top of the screen and only features four categories. These include Videos, Music, Add-Ons, and Settings. A great skin for first time Kodi users.
Chroma
Chroma is a Kodi Skin that was designed specifically for those using the application on an Ultra HD Television Set.
With high definition images and fonts, it works great on new 4K TV's and more. For those not using Kodi on an HD television I don't recommend the Chroma skin.
Amber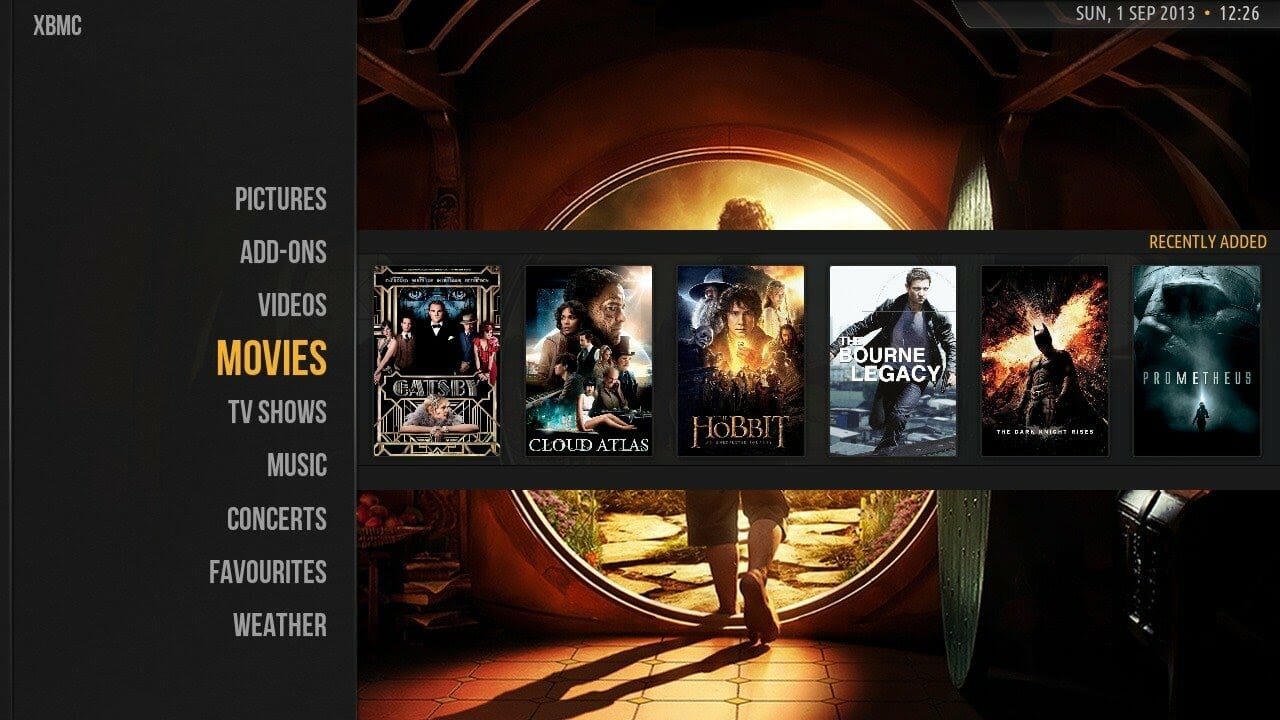 The Amber Skin is great for those who want to customize their home screen.
With Amber, you can change the main menu to show any pictures you want by simply uploading them to your device. Users can also edit the Settings tabs to show horizontally or vertically, along with many other awesome features.
Mimic
Mimic is a clean-looking Skin that looks similar to the original Estuary Skin.
You are able to change the Skin's fonts, background and much more. Because it is so light in size, Mimic works great on all streaming devices, especially the Amazon Fire TV and Firestick which are the most popular media players available.
Estouchy
The Estouchy Kodi Skin was built for those running the software on a touchscreen device.
The look of the Skin is a replica of Estuary, however, it functions in a different manner. If you are using Kodi on an iPhone or iPad or other mobile device, Estouchy is the skin for you.
For a step-by-step tutorial on how to install Kodi on an iPhone/iPad, click the link below:
Install Kodi on iPhone or iPad without Jailbreak
Black Glass Nova
Black Glass Nova is another High Definition Skin similar to Chroma. However, it will work great on all TVs and devices.
This skin has tons of options that will make your Kodi experience a great one. Users can hide movies they have seen, upload personal photos, and much more.
Adonic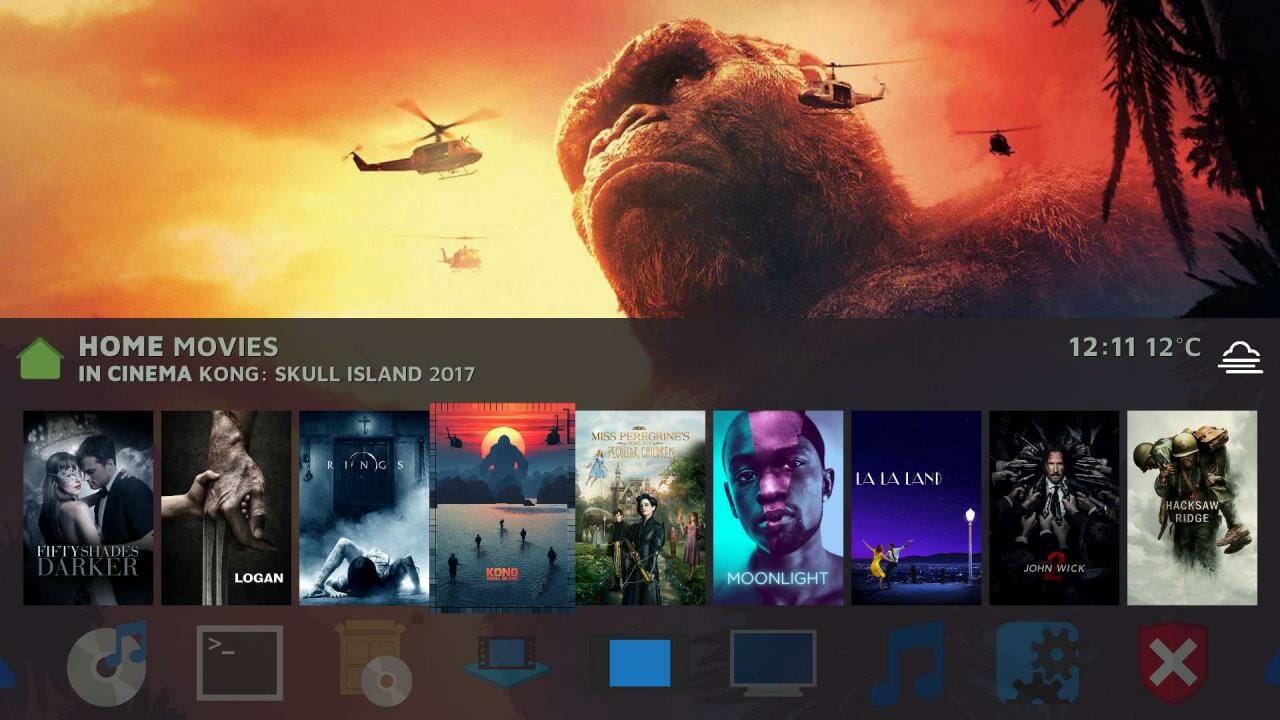 If you are a movie and TV show buff then the Adonic Skin is the perfect choice for you.
When hovering over a title, you will be provided with details including year, rating, duration, cast, and more. It also has a unique look different than other Skins with emblems for each category instead of text.
Pellucid
Simplicity is the best way to describe the Pellucid Kodi Skin. An extremely clean interface with a high-quality background make Pellucid one of the best choices as a skin.
Categories are listed in the middle of the screen with small settings logos on the bottom which make for an extremely efficient layout.
Bello 7
This newest version of Bello Kodi skin is a good example of minimalism and functionality.
Users like the purple interface and the organized add-ons that make it easy to search for movies, music, images and other content. The oversized red cursor and menu icons are also a treat for those who prefer emphasized visuals.
Users can also filter content easily by typing in words related to title and description or they can look into categories such as Most Popular, Latest Movies and Box Office Films among others.
BOX
Many Kodi users prefer the system's skin to be less complicated, more organized and customizable.
This is exactly what BOX offers, which is a combination of older versions of Kodi skins. Its main menu is categorized according to movies, TV shows and music – with the extra space on the screen to give a crisp, sharp look.
Customization is also an important feature of this Kodi skin. For example, you can enable visualization, play video on background, hide touch controls and modifying the theme color on the background.
The TV shows, music and movies sections also have different displays. Music content can be sorted according to playlists, sources, files and add-ons.
For TV shows, these are arranged according to genre, actors, studios, titles, release date and tags. Movies can be sorted according to titles and posters.
Transparency!
If you wan to create your Kodi experience into an online art gallery of sorts, then Transparency! is a must-have.
There's no need to configure any code to use the coolest features that it has offer — all you need to do is just select what fan art best suits you.
It's also a lot easier to navigate Kodi with this skin. The main menu is located on the left part of the screen and there's plenty of customization that you can do such as adding a game menu button that will take you to your favorite games with a single click.
Quartz
Quartz is a must-have for your Kodi skin library. It's another fan-art based Kodi skin design that is highly customizable, which is highly inspired by the Apple TV interface.
With that being said, you can enjoy the ease of navigating on an Apple TV interface plus you get loads of fan art for a much-needed dose of creative fix.
Rapier
Clean, no-nonsense design best describes Rapier. The neat and elegant interface features customer home items, clear icons, splash screen, audio DSP support, games support and touch support.
Although the entire look and feel lean towards a classic interface, it also shares similar features found in other skins. For example, when  navigating on the interface, additional information is displayed every time a user hovers on an icon.
Users also observe that this skin is updated more regularly compared to others.
fTV
One of the longest active skins on Kodi is fTV by hitcher. Many users enjoy this skin because it's replicated based on Fire TV and Firestick. You get the exact look from these devices' interface.
If you're using a Firestick or Fire TV then fTV is the perfect companion. The simple controls allow users to switch access from photos to TV shows instantly.
fTV is available on Kodi's official add-on repository.
NOTE: This Kodi skin does not support navigation using a mouse.
Revolve
Revolve is one of the most creative skins to date. That's because it features a disc that rotates together with each element namely, Favorites, Videos, Music, Pictures, Programs, Weather, Files and Settings.
Users can still customize the look and feel of the skin though. This means they can modify the main menu, animation and background.
This is a fun skin that will give your Kodi a fresh interface.
Eminence
For someone who's going for simple yet very functional features, Eminence is a light download that is specifically designed to accommodate many add-ons.
Those who stream movies and TV shows prefer the practicality of the design since it does not have the fancy icons that distract users. The text of movie synopses and related information are easily recognizable, making every selection much easier.
In addition, all menu items fit in the screen that make the vertical menu more convenient for users.
Aeon Tajo
Aeon Tajo is a must-have for your Kodi skin library. It's not just another boring Kodi skin design. It plays music that is surprisingly very pleasing to the ears.
In addition, its graphics and organization are very sophisticated, making navigation very easy and a delight to many.
Enjoy loads of fresh visualization and the relaxing music with this Kodi skin.
Xperience1080
Xperience1080's best feature is its user-friendly interface that reflect neat and organized visualization. This provides smoother experience when using Kodi.
What's even better is that the design eliminates all the fancy graphics and layout that new skins have. All you get is a straightforward interface.
When you want to switch to a new Kodi skin because you're getting bored with your existing one, Xperience1080 is a great alternative.
NOTE: This Kodi skin does not support navigation using a mouse.
Aura
With Aura, you get cool features combined with functionality. That's because the skin is highly customizable but it preserves the minimalist look that users of this skin are very delighted with.
For example, you can add more items to show in a widget or adjust the view to landscape from portrait. And yes, it has an incredible episode list of your favorite TV shows complete with a short summary of each.
Aura has a clean-cut look that is perfect for customization when
Other Interface Options
With your preferred Skin now in place, there are a few other visual settings you can change within the software. If you would like to edit the background, font, and more, this can easily be done within Interface Settings.
A few options include changing themes, colors, and zoom. By editing these, you can cater the background of your Kodi platform to look exactly how you want. I suggest playing around with these options until you are happy with how the Kodi screen looks.
If you are looking for an easy way to setup Kodi, you can also install a Kodi Build. With a build, Kodi's best add-ons are pre-installed along with Skin Settings and more so you can quickly begin streaming.
For a list of the Best Kodi Builds, click the link below:
If you have a favorite Kodi Skin that is not featured in this list, let us know using the Comment Section below!
This page includes affiliate links where TROYPOINT may receive a commission at no extra cost to you. Many times, you will receive a discount due to the special arrangements made for our visitors. I will never promote something that I personally don't use or recommend. Purchasing through my links directly supports TROYPOINT which keeps the content and tools coming. Thank you!
Register as a TROYPOINT Insider and discuss this article with thousands of other cord-cutters.