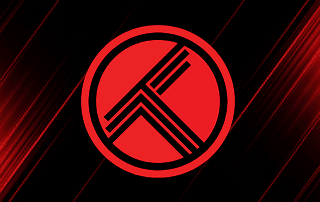 The following tutorial will provide you with step-by-step instructions to set up and use Trakt on Kodi and streaming apps.
Trakt.tv is a media tracking service that helps users sync their TV Shows and movies across numerous platforms and devices.
By integrating Trakt into your favorite streaming apps, managing your content will be a breeze!
One of the best features Trakt provides is its ability to function across multiple platforms, which include:
Netflix
Kodi
CyberFlix
Stremio and more!
If you use more than one of the above services to stream content, Trakt will automatically sync what you're watching so you don't have to repeat the process. This is called scrobbling and is a great way to make sure you stay up-to-date on all of your favorite shows and movies.
Because they are two of the most popular streaming sources, this tutorial will show you how to set up Trakt on Kodi and CyberFlix TV. However, it can also be set up on any the above-aforementioned applications and more.
Before installing Trakt into these streaming apps, we must register for a user account. Trakt is a free service and you can sign up by CLICKING HERE or the link below:
Upon signing up, you will be provided with options to personalize your account. By selecting your favorite genres, TV Shows, and more, Trakt is able to create an awesome platform that is specifically catered for your viewing tendencies.
You may also follow the step-by-step guide below:
How To Register for a Trakt Account
Step 1
Go to https://trakt.tv.
Step 2
Click the JOIN TRAKT FOR FREE button.
Step 3
Type in your email, username and password in each field.
Step 4
Click JOIN TRAKT.
Step 5
After reviewing the terms and privacy, tick the box beside the I agree to the Terms of Use and Privacy Policy.
Step 6
Personalize your profile by typing in your preferred display name and location. Select your time display, gender and birthdate.
Step 7
Click NEXT STEP.
Step 8
Select your favorite genres then click NEXT STEP.
Step 9
Add TV and movies to your profile.
You can mark them by clicking the following buttons:
Mark items as watched
Add to your list of all the TV shows and movies you've watched.
Collect items you own digitally or on disc
Organize your TV shows and movies in your collection.
Watchlist items you want to watch
Save items that you want to watch at a later time. Once it is watched, the item is removed automatically from the list.
Find where to watch online
Search titles from over 300 online streaming services.
Rate items on a scale of 1 to 10
Add your personal rating to TV shows or movies that you have watched.
Step 10
Click NEXT STEP.
Step 11
Share your activities automatically by clicking any of social media buttons presented then click NEXT STEP.
Step 12
You may also opt to receive push notifications when users follow or mention you or comment on your Trakt account.
Step 13
Click CONTINUE TO DASHBOARD.
Step 14
Your account is now ready to use.

With registration complete, we can now incorporate Trakt to our favorite streaming services. Use the step by step guides below to setup Trakt on Kodi & CyberFlix TV.
TROYPOINT Tip: 
You should always use a
VPN
to protect your identity and security when streaming free movies and TV shows with apps such as this.
Legal Copyright Disclaimer: This technology shall only be used to stream movies or TV shows that fall under the public domain.  TROYPOINT does not endorse or promote illegal activity tied to streaming or downloading copyrighted works. The end-user shall be solely responsible for media accessed through any service or app referenced on this Website.  Referenced applications/addons are not hosted by TROYPOINT and this guide is for educational purposes only.  
How To Set Up Trakt on Kodi
Note: Not all Kodi add-ons have the ability to use Trakt technology. I suggest checking add-ons prior to installation to see if they are compatible with Trakt. For a complete list of the Best Kodi add-ons, follow the link provided below:
TROYPOINT's Best Kodi Add-Ons Page
Step 1
Open Kodi and select your favorite add-on (In the following instance I have chosen Exodus Redux, however, the process will be similar for nearly all add-ons capable of using Trakt).
Step 2
From the main menu of the add-on, scroll down and select Tools.
Step 3
Click SETTINGS: Accounts.
Step 4
Scroll down to Trakt and click Authorization….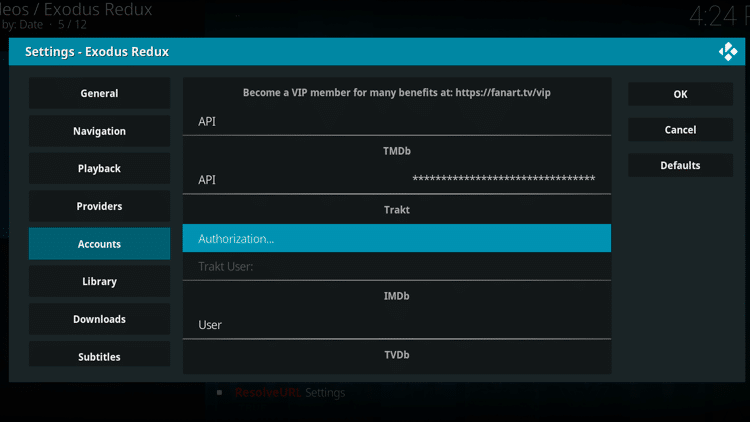 Step 5
Kodi will then provide you with a Trakt authorization code. Copy or write this code down.
Step 6
Go to trakt.tv/activate and enter in the code provided in the previous step and click the CONTINUE button.
Step 7
When asked if you would like to allow the add-on to use your account, click YES.
Step 8
A message will appear that confirms your device is now connected.
You can also opt to follow this alternative process for all your add-ons and builds within Kodi:
NOTE: If you are looking for a simple way to install the best add-ons and repositories quickly and efficiently, I suggest using a Kodi Build. Click the link below for a list of the Best Kodi Builds.
How to Sync Your Trakt Account with all Add-Ons
Step 1
On the Kodi main menu, click Add-ons.
Step 2
Click the Add-on Browser icon (open box icon)
.
Step 3
Select Install from repository.
Step 4
Select Kodi Add-on repository.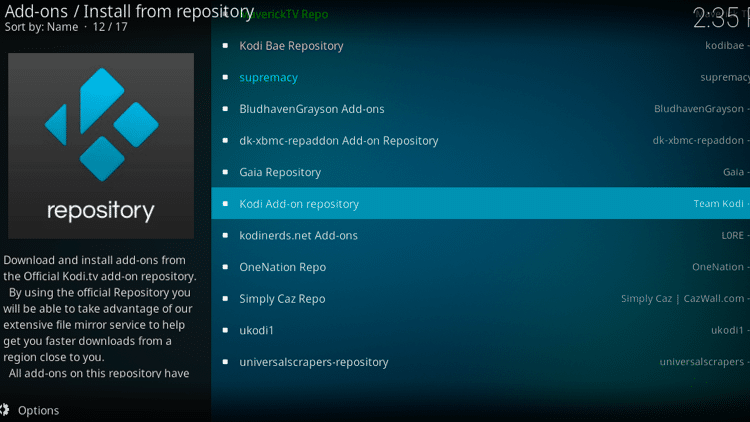 Step 5
Double-click on the Program add-ons folder.
Step 6
Scroll down on the list of program add-ons and select Trakt.
Step 7
Click the Install button.
Step 8
Select the most recent version.
Step 9
You will be notified of the additional add-ons that will be installed. Click OK.
Step 10
Wait for the installation process to be completed.
Step 11
Once the installation is finished, a verification pop-up window will appear. It will ask you to visit https://trakt.tv/activate or scan the QR code. Choose your preferred option.
NOTE: Take note of the code that is presented.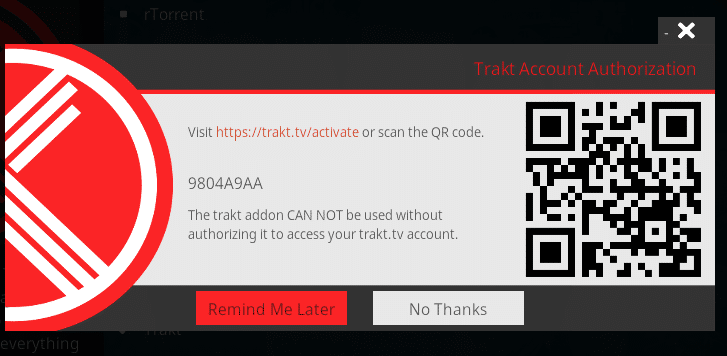 Step 12
If you choose to access https://trakt.tv/activate, enter the code displayed on your device.
NOTE: If Trakt won't accept your code because it has already expired, go back to Kodi and repeat the process and click the Configure button instead. This will present a new code.
Step 13
Click the CONTINUE button.
Step 14
When asked if you want to allow Trakt for Kodi to use your account, click the YES button. This will sync the Trakt add-on with the Trakt website.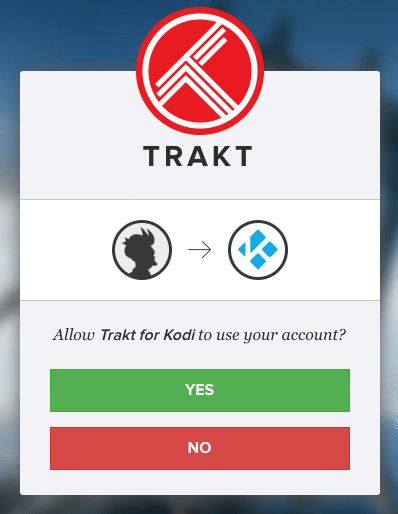 Step 15
A message will appear that confirms your device is now connected.
Step 16
Repeat the process on your other devices installed with Kodi to sync your Trakt account.
How To Use Trakt
After integrating Trakt within your favorite add-on, you're now ready to use the software. There are a few ways to operate Trakt and doing so is completely based on personal preference. Since we have already implemented Trakt into a Kodi add-on, you can easily access and manage content via Kodi.
To do so within Kodi, simply use your preferred add-on to search for movies or TV shows. Once you have your selection, right-click, press C, or long hold to open item settings. Then select Trakt Manager as shown in the image below:
This will then open a few options via Trakt. Choose what you would like to do with this specific content and it will automatically be added to your Collection or Watchlist.
While this is an efficient way to use Trakt within the same software you will be viewing it, there is another option. By simply heading to the trakt.tv website and logging into your account, you can find and manage content with ease.
The Trakt website is full of options to search for and add titles to your Collection. It even features categories such as Trending, Popular, and more to help you locate movies & TV shows you've never watched before. With a show added to your collection, you're informed when the next episode airs, how many episodes are left, and so much more.
Using Trakt is easy, convenient, and fun. By managing through both the website and Kodi add-ons, you will have a more complete, enjoyable streaming experience.
How to Find Your Trakt Movie and TV Show Collections
Step 1
Launch your add-on. In this example, Exodus Redux is used.
Step 2
Select Tools.
Step 3
Select My Movies.
Step 4
Select Collection.
Step 5
You will find all the movies or TV shows that you have added. Click on a file to start watching.
How to Create a Home Menu Item for Your Trakt Collection
You can create a shortcut to your Trakt.tv collections by adding it to the Kodi main menu so you can easily access your movies and TV shows.
NOTE: Make sure that your Kodi skin allows the modification of the main menu items. In this example, I'm using Estuary Mod skin. You can find the best Kodi skins available by clicking the link below:
Best Kodi Skins in 2019 for an Awesome Kodi Experience
Step 1
Click the Settings icon

.
Step 2
Click the Skin icon.
Step 3
On the Home menu section, click Customize main menu.
Step 4
Click the "+" icon
to add a new menu item.
Step 5
Click Set label.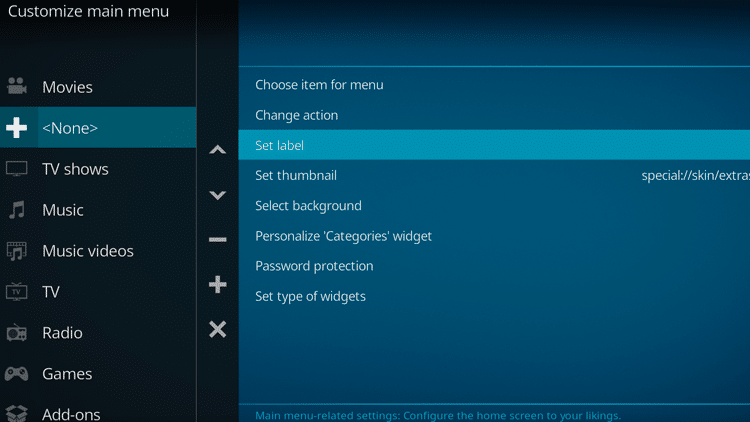 Step 6
Enter a title to your new menu item. In this example, I've typed in "All Trakt.tv Collections".
Step 7
Click OK.
Step 8
Click Choose item for menu.
Step 9
Locate the folder where you saved your collection. In this example, I've navigated through Video Add-On > Exodus Redux > My Movies > Collection.
Step 10
Click Create menu item to here. Your collection will then be linked.
Step 11
If you want to move your main menu item up or down, click the Up and Down arrow icons
.
You may disable a menu item by clicking the "-" icon
or delete it by clicking the X icon
.
How To Set Up Trakt in CyberFlix TV
While Kodi may be the #1 source for streaming content on various devices, CyberFlix TV is quickly matching its popularity. CyberFlix is a movie and TV APK and a fork of the ever popular Terrarium TV which is now discontinued.
With CyberFlix TV, you will not have to install 3rd party add-ons and can easily navigate through thousands of titles. Trakt works perfectly on this application and setting it up is a breeze. Follow the steps below to setup Trakt in CyberFlix:
1. Open CyberFlix and Click Settings Toggle in upper left hand corner
2. Scroll down and Select Settings
3. Click Login to Trakt.tv
4. Write down or remember provided Code:
5. Go to trakt.tv/activate  to enter provided code and click Continue
6. Click Yes
7. Integration is complete! Message will prompt on your streaming device and Browser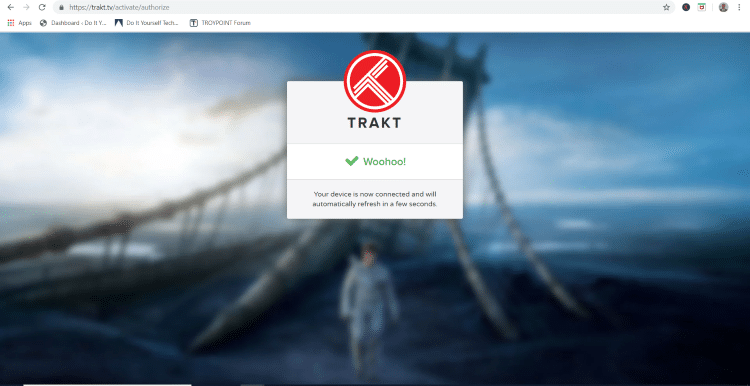 Users can now add favorites to Trakt and sync content across all devices!
Trakt.tv Features and Description
After initially registering and logging into your Trakt account, you will see the easy to use interface it provides. With options to see your watch history and future episodes, you will know exactly where you stand with all your favorite Shows and Movies.
One of the best features Trakt offers is its Upcoming schedule that is specifically designed with your content in mind. By using this constantly updated calendar, you can see your episode's airtime and never miss one again!
For on-the-go streamers, you will find that Trakt does not offer a mobile application for use. However, the Trakt website functions perfectly on any mobile device so you won't miss out when you are away from home! If you travel frequently and would like a way to watch stream your favorite content, check out the link below that shows How To Install Kodi on an iPhone or iPad:
If you are looking for more from your Trakt service, there is also a VIP membership available for purchase. These two plans will cost you either $2.50 or $5 per month and will provide you with numerous options not available to free consumers.
Some of the more popular VIP features include: No Advertisements, Calendar Notifications, Advanced Filtering, Alexa Integration, and much more. To see the complete list of features the VIP membership can provide, follow the link below:
For more tech and streaming tutorials be sure to sign up for the TROYPOINT Advisor with updates weekly. This Advisor provides all the best cord-cutting tips to get the most out of your favorite streaming devices and more. CLICK HERE or link below for TROYOPINT Advisor Subscription:
Warning! Protect Yourself With A VPN
Most cord-cutters use a VPN and rightfully so.

The free streaming applications, addons, and paid IPTV services that you use are usually hosted on insecure servers.

Without a VPN, your IP Address is being logged.

Your IP Address points back to your location and identity which compromises both your privacy and security.

Your current IP Address is 54.198.191.27 – When you use a VPN, your real IP address will be converted into an anonymous new one.

A VPN will provide you with an anonymous connection to the Internet.

This will prevent your Internet Service Provider, app/addon developers, government agencies, and any 3rd party from logging what you're accessing online.

The most popular VPN among cord-cutters is IPVanish due to their blazing fast speeds and zero log policy.

Its important to use a VPN that is fast since we are streaming large HD files.  Its also crucial to find one that keeps no logs of what their subscribers access while online.

Setting up IPVanish VPN on your streaming device is simple!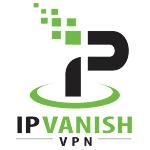 Step 1 Register for an IPVanish VPN account by clicking the link below.

This exclusive link provides you with a hefty discount, only available to TROYPOINT visitors like you.


 Register for IPVanish Account & Save 73%


Step 2 – Hover over the search icon on your Firestick, Fire TV, or Fire TV Cube and type in "Ipvanish"

You may also find the IPVanish App in the Google Play Store for those of you who are using Android TV Boxes, phones, and tablets.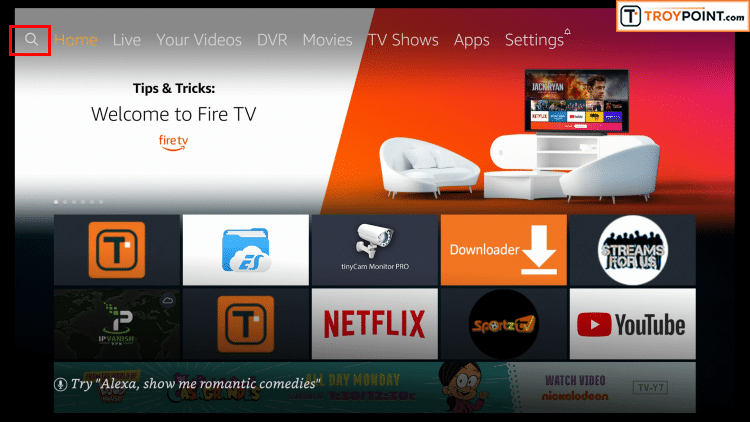 Step 3 – Click the IPVanish VPN option that appears.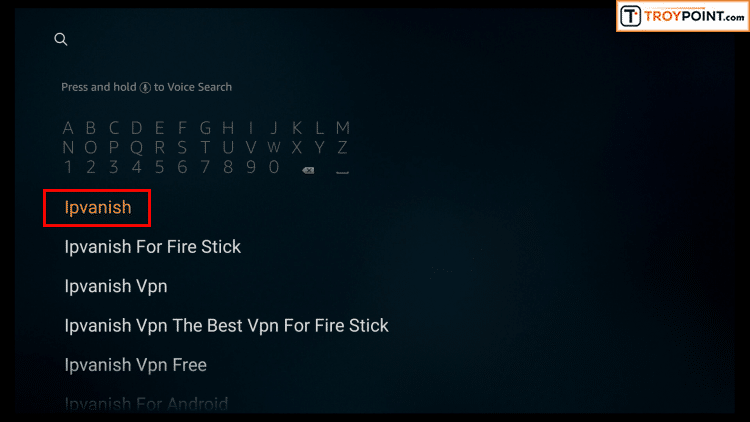 Step 4 – Click the IPVanish icon under Apps & Games.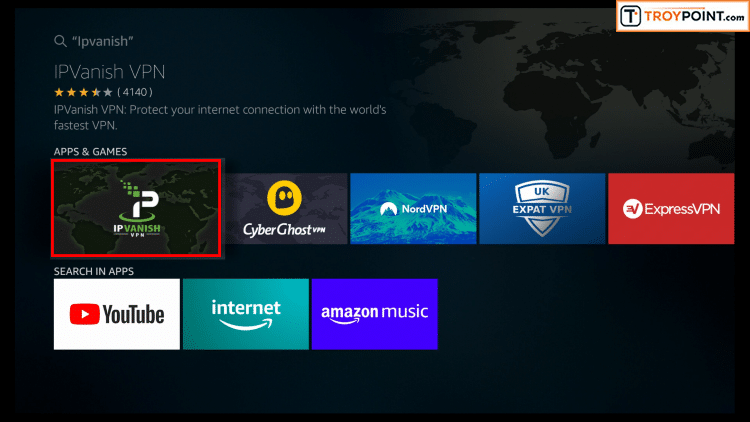 Step 5 – Click Download.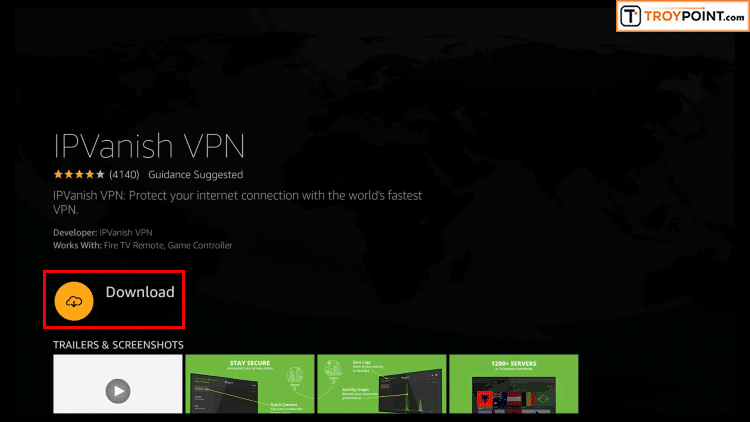 Step 6 – Click Open.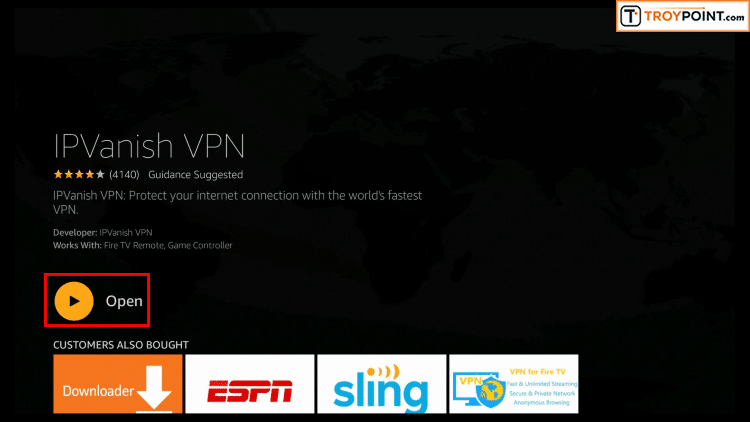 Step 7 – Enter  your username and password to login.  Your username is the email that you used to register for IPVanish service with and your password is automatically generated and emailed to you.




Step 8 – Click Connect button.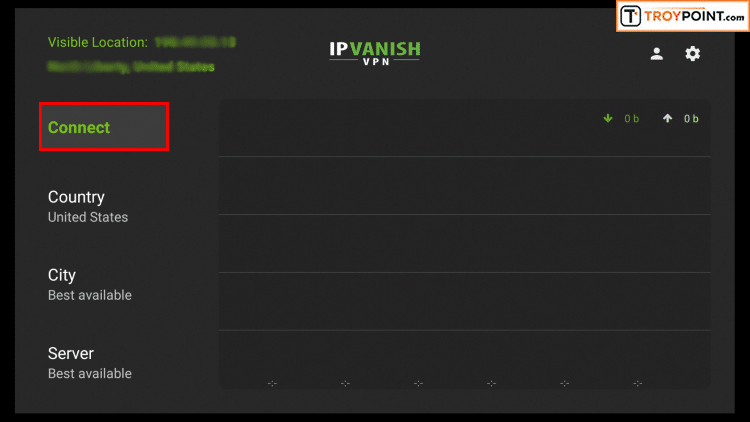 Step 9 – Click OK for Connection request if it appears.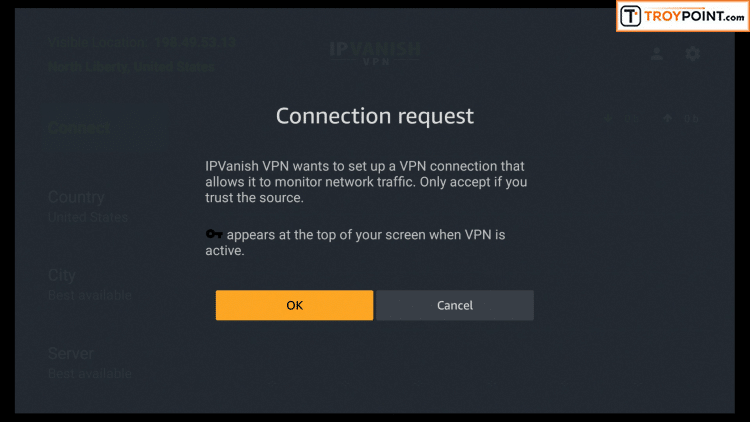 Step 10 – You will notice that your IP Address changes along with location of connection.  You are now operating anonymously through your device.

Click the Home Button on your remote and the VPN will remain running in the background.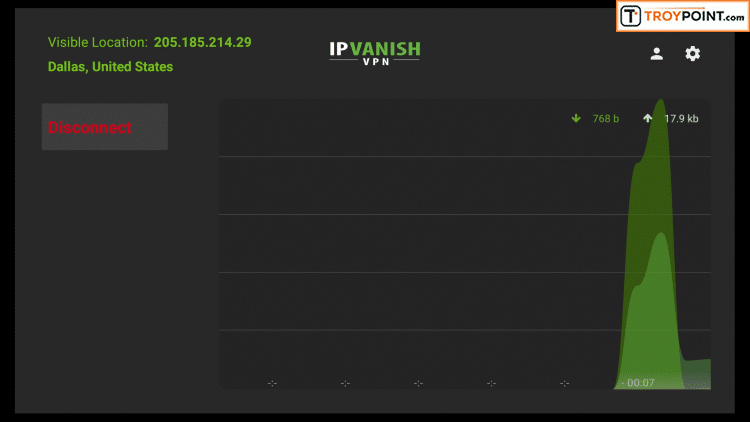 Congratulations!  You are now protected by a VPN which means everything that you stream or access through your Firestick or Android TV Box is hidden from the rest of the world.

If you ever need to stop the VPN service, simply re-launch the application and click the DISCONNECT button.