The following guide provides a list of the Best Unlinked Codes for Firestick/Fire TV and Android users.
Unlinked is one of the latest FileLinked clones to hit the streaming community.
With FileLinked Not Working, many are now looking for an easy way to install apps via codes on their devices.
FileLinked was one of the Best Firestick Apps used by millions of cord-cutters who "jailbreak" their streaming devices.
NOTE: There are now more FileLinked clones available including FileSynced and AppLinked. Check them out!
Millions of cord-cutters used various FileLinked codes in the past to access and install their favorite Streaming APKs, device cleaners, utilities, and much more.
With Unlinked installed, users will be able to sideload tons of applications not available within the Amazon App Store or Google Play Store.
Some of the more notable apps you can install via Unlinked codes include Cinema APK, Aptoide, Kodi, MX Player, Stremio, and much more.
It's important to note that the Unlinked app itself does not host or provide any downloadable apps or services.
Therefore, you need Unlinked codes to download and install the popular Streaming Apps and tools.
Note: In order to access the codes below, you must first install the Unlinked APK on your Streaming Device.
This can be done using our written Unlinked tutorial or through our Free Rapid App Installer to install Unlinked in seconds.
Free TROYPOINT Rapid App Installer

Install the Best Streaming Apps in Minutes
The free TROYOINT app includes over 50 of the best streaming apps including the one(s) you're about to install on this page.
Prior to diving into the best Unlinked codes, it's important to discuss the safety of using Unlinked and scan the official app.
Legal Copyright Disclaimer: TROYPOINT is a tech website that publishes tutorials, news, and reviews. We do not verify if apps, services, or websites hold the proper licensing for media that they deliver. We do not own, operate, or re-sell any streaming site, service, app, or addon. Each person shall be solely responsible for media accessed and we assume that all visitors are complying with the copyright laws set forth within their jurisdiction. Referenced applications, addons, services, and streaming sites are not hosted or administered by TROYPOINT.
Is Unlinked Safe?
To determine the safety of Unlinked and its codes, we scanned the official Unlinked APK for viruses/malware.
This scan was done using VirusTotal, and below you will find a screenshot of the scan results.
VirusTotal did not find any suspicious files or malware within the Unlinked APK file.
However, this does not mean we shouldn't protect ourselves when installing and using unverified apps from Unlinked.
The best way to do this is with a VPN that will secure your identity and anonymity when using Unlinked or other applications.
How to Install Best VPN on Firestick & Android
Best Unlinked Codes
I recommend bookmarking this page to keep you up to date on the Best Unlinked Codes available. This page is updated Weekly for your reference.
The following list was last updated on Tue, Jan, 18, 2022
Similar to Free Movie Streaming Sites and Torrent Sites, these Unlinked codes are often changing and sometimes going offline.
As of the writing of this article, all Unlinked codes listed below are currently working and available for use.
The codes below are ranked based on the following criteria:
Number of Apps
Categories
Quality of Apps
Overall Popularity
Security Warning: NEVER provide your email address for anything offered within Unlinked or any stores that you access!
1. Code: 12341234
The Unlinked code 12341234 tops our list of best codes due to the hundreds of quality apps in this library.
Some of the notable apps include Cinema HD, IPTV Smarters, Wolf Launcher, Kodi, Syncler, Stremio, Ocean Streamz, Strix, APKTime, and just about any other 3rd party app you can think of.
Number of Apps: Over 100
Categories: Movies, TV shows, live TV, utilities, app stores
2. Code: EB2E4A4C
The Unlinked code EB2E4A4C is another great library due to the number of apps already available in this store.
Some of the notable apps include Aptoide TV, Tubi, BeeTV, Cinema APK, FilmPlus, Flixoid, Nova TV, SD Maid, and more.
Number of Apps: Over 70
Categories: Movies, TV shows, live TV, utilities, app stores
3. Code: 67664537
This Unlinked library is called "Stream It All" and contains some quality applications. They also have a quality FileSynced store.
The popular apps within this library include TeaTV, Cinema APK, Dofusports, MediaBox, Rokkr, Smart YouTube TV, and more.
Number of Apps: Over 200
Categories: Live TV, movies, TV series
4. Code: superapps (Pin: 911911)
This Unlinked library called "Superapps" also impressed us when scrolling through the entire list of apps.
Some of the notable apps within this library consist of Cinema HD, Rokkr, APKTime, Viva TV, Strix, TVTap, and more.
Number of Apps: Over 50
Categories: TV shows, movies, live TV, anime, app stores
5. Code: 7cd6a4f1 (Pin: 911911)
After plugging in the "7cd6a4f1" code, we found some quality VOD and live TV apps in this library.
These apps included Tubi, BeeTV, Cinema HD, FilmRise, HD Streamz, TVMob, and more.
Number of Apps: 8
Categories: Movies, TV series, live TV
6. Code: 90D311FE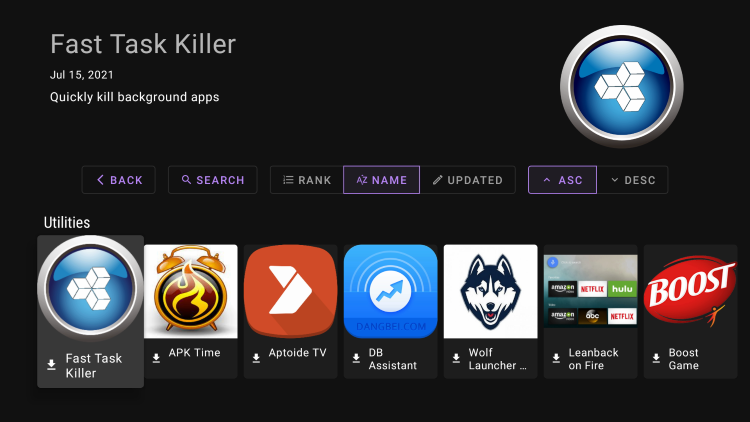 This Unlinked library is catered to those using custom launchers, utilities, and cleaner apps on their streaming devices.
This library only contains 8 apps as of this writing, but they include Wolf Launcher, Aptoide, Fast Task Killer, APKTime, Leanback Launcher, and a few others.
Number of Apps: Over 40
Categories: Customer launchers, utilities, app stores
7. Code: 710AB04D
The Unlinked library 710AB04D holds a variety of applications.
These include Cinema HD, Strix, BeeTV, Smart YouTube TV, Puffin TV, Media Lounge, Swift Streamz, UK Turks, Crunchyroll, and more.
Number of Apps: Over 150
Categories: TV series, movies, live TV, utilities, web browsers
WARNING! YOU'RE BEING TRACKED
Your online activity is actively tracked by your Internet Service Provider, app/addon devs, and government through your identifying IP address.
Stream anonymously by using IPVanish VPN.
IPVanish will encrypt your connection to the Internet and mask your IP address so you will remain 100% anonymous.
SAVE UP TO 65% WITH THIS LAST CHANCE DISCOUNT
IPVanish backs their service with a 30-day money back guarantee.
IPVanish allows you to use your account on unlimited Internet-connected devices
Honorable Mention Unlinked Codes
Although these Unlinked codes didn't make our top list, we still wanted to include a few more quality libraries.
51829986
streamtechnow
90D311FE
firestick
99999999 (Pin: 88888)
0B96CC65
F398174F
Overall, we will continue to update this list as more Unlinked codes become available!
If you want to create your own code, you can now register on Unlinked's official website. Click "Register" on the top menu to get started.
After signing up you will receive an email from the developers with further instructions.
For other popular alternatives to FileLinked, be sure to check out the following resources:
For more information on Unlinked and how codes work, you can visit their official website below.
Best Unlinked Codes FAQ
What are the best Unlinked codes?
The best Unlinked codes are 44444444, 55555555, 56001333, superapps, 9135f6a0, and many others we include in this list.
Are Unlinked codes legal?
Yes, Unlinked codes are legal if installing apps and accessing movies and TV shows within the public domain. TROYPOINT does not endorse or promote illegal activity tied to streaming or downloading copyrighted works.
Do you need a VPN for Unlinked codes?
TROYPOINT recommends using a VPN when using various Unlinked codes. This will hide your streaming activities and keep you anonymous online.
What happens if you get caught using unverified apps from Unlinked stores?
If you are caught using apps from Unlinked stores to watch copyrighted content, you may face legal issues. TROYPOINT recommends only viewing content that falls within the public domain.
What devices can Unlinked be installed on?
Unlinked is available for installation on any Android-powered device. This includes the Amazon Firestick, Fire TV, NVIDIA Shield, Chromecast, Android TV Boxes, tablets, phones, and more.
This page includes affiliate links where TROYPOINT may receive a commission at no extra cost to you. Many times, you will receive a discount due to the special arrangements made for our visitors. I will never promote something that I personally don't use or recommend. Purchasing through my links directly supports TROYPOINT which keeps the content and tools coming. Thank you!
Register as a TROYPOINT Insider and discuss this article with thousands of other cord-cutters.