This article will provide you with a fuboTV Review and how to install the app on Firestick/Fire TV, Android, NVIDIA Shield, Roku, iPhone, and more.
We also provide registration instructions using a Windows PC, which you can find below.
Fubo is a verified and Legal IPTV Service that hosts sports, entertainment, and local channels.
It can be installed on any device including the Amazon Firestick, Fire TV, Fire TV Cube, NVIDIA Shield, and more.
For these reasons and more, we have included fuboTV within our list of Best Firestick Apps.
IMPORTANT NOTE: fuboTV has now been updated to include ESPN, ABC, Disney Channel, and more. Read the Channel List below for complete details.
This now makes fuboTV an excellent choice for Streaming Local Channels Without Cable.
For those unfamiliar with Live TV services or IPTV, these streaming services offer live TV channels at a set time delivered over the internet.
To stream Live TV, you need a high-speed and stable internet connection, streaming devices such as smart TV or Amazon Firestick, and a subscription to a streaming service.
WARNING!
Your online activity is actively tracked by your Internet Service Provider, app/addon devs, and government through your identifying IP address.
Stream anonymously by using IPVanish VPN.
IPVanish will encrypt your connection to the Internet and mask your IP address so you will remain 100% anonymous.
SAVE 65% FOR LIMITED TIME
IPVanish backs their service with a 30-day money back guarantee.
IPVanish allows you to use your account on unlimited Internet-connected devices
Viewers can watch the latest news, sports events, sitcoms, and other entertainment channels on an affordable subscription-based service without the hassle of cable.
You can also install a digital antenna should your live TV provider offer no over-the-air TV networks such as ABC, CBS, FOX, NBC, and PBS.
This provides you with the flexibility and full entertainment experience that other types of service providers cannot offer.
For more information on Live TV (IPTV), best streaming services, devices, and more, I highly recommend viewing our IPTV Guide below.
What is fuboTV?
fuboTV brands itself as the "perfect mix of sports and entertainment" and has become a favorite IPTV Service among both sports and entertainment fans.
Its Standard plan already comes with a lineup of channels, with an additional option of upgrading your package for more sports and entertainment choices.
Users can also try fubo's service with their 7-Day Free Trial before purchasing.
Fubo Free Trial – Everything You Need to Know
fuboTV is compatible with most popular devices such as the Firestick/Fire TV, which is perfect for cord-cutters. Overall, fuboTV is a fabulous choice for sports fans and streamers of all kinds.
We have also included fuboTV within our Best Live TV Streaming Services list.
fuboTV Review – Highlights
7-Day Free Trial available – Click Here to start Free Trial

3 main package plans with add-on options

100+ channels

depending on the subscriber's area and plan

Local channels available

30 hours of cloud DVR

3 connections allowed for simultaneous streaming

Compatible with all popular streaming devices

Stereo audio

Only 20-second live delay

Less than 4 seconds in channel switching time

Streaming capability during traveling
fuboTV Screenshots
fuboTV Review – Channels
As stated above, fuboTV brands itself as a live TV that offers some of the best sports programs for cord-cutters.
This is especially true for watching college football, baseball, soccer, college basketball, hockey, and more.
For the Standard plan, subscribers get over 100 channels and more than 130 events in 4K.
Depending on one's location, these sports channels include:
fubo Sports Channels
FS1
NBCSN
NFL Network
bein Sports
ESPN
ESPN2
ESPNNews
ESPNU
ACCN
Big Ten Network
CBS Sports Network
Eleven Sports
ESPN Deportes
Fox Deportes
Fox Soccer Plus
FS2
fubo Cycling
fubo Sports Network
game
Ginx Sports
GolTV
InsightTV
MavTV
MLB Network
MLB Strike Zone
NBA TV
Universo
NFL Redzone
NHL Network
Outdoor Channel
Outsidetv
Pac 12 Network
SECN
Sportsman Channel
Stadium
Tennis Channel
Fight Network
Golf Channel
TUDN
TVG
TyC Sports
There are also other non-sports programs that viewers can enjoy from categories such as lifestyle, family, documentary, news, travel, history, and movies. Some of the more popular channels include:
fubo Entertainment Channels
A&E
AMC
E
HGTV
FX
Univision
neckelodeon
TLC
AHC
Animal Planet
BBC America
BET
bravo
CMT
CNBC
Comedy Central
Cooking Channel
Destination America
Discovery
Disney Channel
DIY Network
Food Network
Foxlife
Freeform
Fuse
FXM
FXX
FYI
Game Show Network
GETV
Great American Country
Hallmark Channel
History
IFC
Lifetime
MTV
National Geographic
OWN
Paramount
PeopleTV
SCI
Smithsonian
SYFY
Tastemade
Travel Channel
TVLand
USA
VHI1
fubo News Channels
Fox News
MSNBC
ABC News Live
Accuweather
CBSN
Cheddar
CNBC World
Fox Business
Local Now
NBC News Now
Newxmax TV
Newsy
The Weather Channel
Due to its vast lineup of sports channels, this makes fuboTV a popular choice for Watching the NBA or Watching the NFL Online.
There's also the homegrown Fubo Sports Network (which is also available for free on LG's Channel Plus app or on over-the-top content provider Xumo).
The most recent upgrade to fubo includes the addition of Disney-owned channels including ESPN, ABC, Disney Channel, FX, Nat Geo, and more.
While there are no restrictions on national sports broadcasting, there are still limitations while watching sports events that are not restricted to local networks.
Sports leagues are also able to decide which games can be shown depending on local channels.
fuboTV continues to add more features in an effort to capture more subscribers.
In the middle of 2019, fuboTV inked a partnership with sports betting firm FanDuel, which makes the former the first live TV streaming service that features sports betting data embedded on its live broadcasts of events.
Pricing Packages and Inclusions
fuboTV offers three main pricing plans. Each offers a different set of channel lists, Cloud DVR, and more.
The fubo Standard Plan is priced at $59.99 per month with 115 channels, 30 hours of cloud DVR recording, and ability to watch simultaneously on two devices (a feature called Family Share).
The Family Plan is available for $74.99/month and includes SHOWTIME and its subsidiary channels. This also includes 500 hours of Cloud DVR Storage.
Finally, the Elite Plan is offered at a $84.99 per month and comes with 183 channels, access to more programs from fubo Extra (with 36 more entertainment channels), SHOWTIME and Sports Plus.
fubo Extra can also be purchased as an add-on for other plans at $5.99 per month.
Other add-ons include Adventure Plus, NBA League Plus, and fubo Cycling that come with different prices per month.
Futbol fans can subscribe to the Futbol Quarterly package for $19.99 per month (from $34.98) where they can watch 33 channels, record 500 hours on cloud DVR, and watch simultaneously on two screens. This is billed only every three months.
fuboTV Review – How to Register
Prior to using the fuboTV service, you will need to register for an account. Luckily they are currently offering a 7-day free trial for new users.
Use the link below for a Free 7-Day Trial:
Follow the quick steps below to sign up for a fuboTV account.
1. Register for a fuboTV account if you haven't done so already – CLICK HERE to sign up.
2. Once on the fuboTV website, select Start Your Free Trial.
3. Next, choose your plan. For this example, we chose the basic Family plan on the left. Click Start free trial.
4. You are then directed to the Add-Ons page. Feel free to include any add-ons, but we just moved on by clicking Continue to Last Step.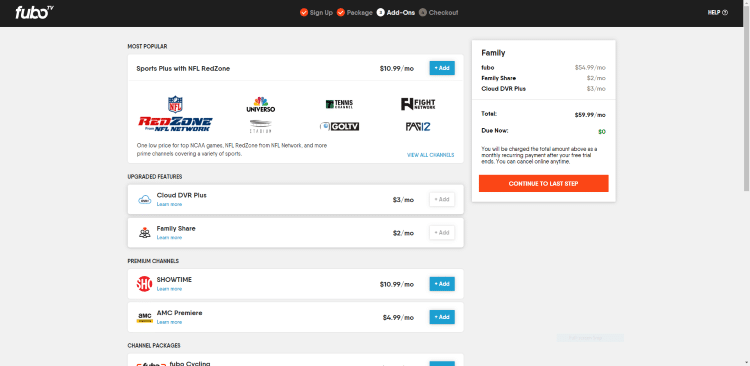 5. Next, you are directed to the checkout page.
6. Fill out the required billing information. Then select Start Watching Fubotv.
That's it! You have successfully registered for a fuboTV account.
Important Note: You will receive a confirmation email after registering with your account information. I suggest saving this information, as you will need this when logging in.
See our guides below for how to install the fuboTV app on Firestick/Fire TV, Roku, and iPhone.
How to Install fuboTV on Firestick/Fire TV
One of the best parts about fuboTV is that it's available for installation on Firestick/Fire TV devices. Follow the short guide below for how to install the fuboTV app on Firestick.
1. On the home screen of your Firestick/Fire TV, hover over the search icon on the left side of the menu.
2. Type in "Fubo" and click the first option that populates.
3. Click the fuboTV app under Apps & Games
4. Click Get
5. Wait for the fuboTV app to install
6. Click Open if you prefer, but for this example, I suggest holding down the home button on your remote.
7. When this menu appears click Apps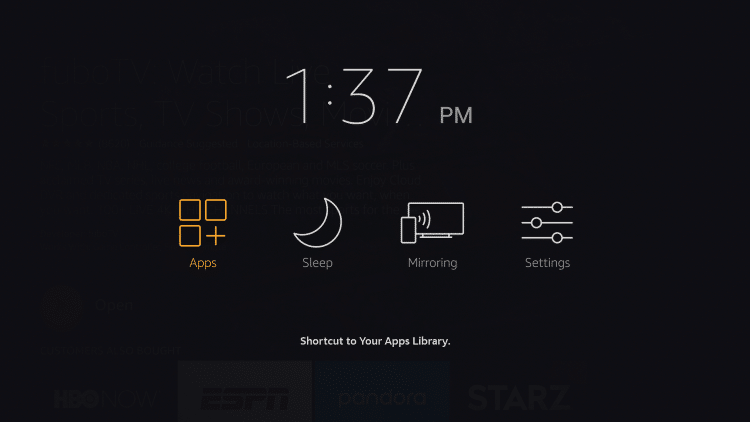 8. Hover over the fuboTV app and select Move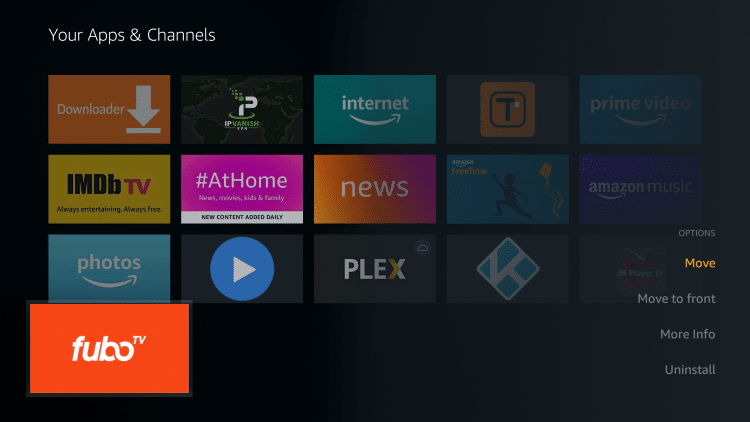 9. Place the fuboTV app wherever you prefer and click the OK button.
10. Launch fuboTV
11. That's it! When launching fuboTV you can either Sign In or select "Don't Have an Account?"
How to Install fuboTV on Roku
fuboTV is also available to install on Roku devices as well. Follow this quick guide below to install on any Roku device.
1. On the home screen of your Roku device, scroll down and click Search.
2. Enter in "fubo" within the search bar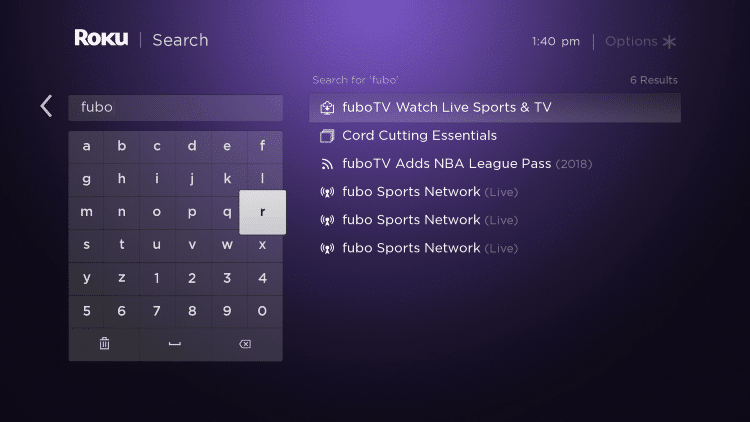 3. Scroll to the right and select fuboTV
4. Click Add channel
5. Wait for fuboTV to be added to your channels.
6. Click OK
7. Return back to the home screen on your Roku device and locate the fuboTV app
8. Click the star icon (*) on your remote and select Move channel
9. Move the fuboTV app wherever you prefer on your Roku channels list
10. Launch the fuboTV app
11. That's it! When launching fuboTV on your Roku device you can either Sign In or select "Don't Have an Account?"
fuboTV Review – How to Install on iPhone
1. Open the Apple App Store and select Search on the bottom menu
2. Enter "fubotv" within the search bar
3. Locate the fuboTV app and select GET
4. Click Install
5. Wait a few seconds for the fuboTV app to install
6. Click Open to launch the fuboTV app
7. fuboTV will launch
8. Click Allow Location Access
9. Click Allow While Using App
10. That's it! You have successfully installed fuboTV on your iPhone.
fuboTV Review
fuboTV is one of the most popular IPTV services available today. It started as a soccer streaming service in 2015, hence the name.
From strictly sports-themed programming to its now expanded channel lineup, fuboTV has become one of the leading IPTV service providers in the United States.
In the third quarter of 2018, the company announced that more than 250,000 subscribers have already signed up for their services, watching more than 3 billion minutes of content.
NOTE: TROYPOINT's fuboTV subscription was personally purchased for the purpose of this review and was therefore not sponsored by the service provider. The views expressed in this post reflect the author's objective opinion.
Web User Interface
Unknown to many, fuboTV is also available on the web. I am very impressed with the organized UI of the web version where it categorizes options into sports, shows, movies, guides, and recordings. I've tried navigating on the system and I found no issues with it.
Another favorite of mine is its Lookback feature, which allows users to watch previously streamed sports shows from the last 72 hours.
Entertainment options are also grouped according to movies and shows. The downside, however, is that it took me longer to search for on-demand content from the results it had suggested.
The Guide section is perfect for planning the shows that I want to watch in the next five days. Because of the cloud DVR recording feature, I can also set my fuboTV to record and store it in my DVR library.
Mobile User Interface
Aside from the web, fuboTV is also available on mobile (both Android and iOS). For testing, I downloaded the app on both Android and iOS devices, and there was no hassle at all.
Like the web version, channels are categorized according to sports, shows, and movies with also the Guide section.
So far, I haven't encountered any bugs when accessing fuboTV on mobile even if I'm at a different location.
fuboTV Review – Streaming and Picture Quality
For a 4K entertainment experience, I tried watching various programs on different channels with my reliable 200 Mbps internet connection (although fuboTV only requires at least 25 Mbps to work).
As expected, the streaming session didn't have any lag and the picture quality remained clear, crisp, and very sharp.
The downside to this is that it doesn't allow recording on 4K.
For mobile and web streaming, I highly recommend having at least 10 Mbps connection if you want to watch in 1080p resolution.
Cloud DVR Functionality
A great advantage of choosing fuboTV's services is its cloud DVR recording capability. With my Standard plan, I was able to record a sports broadcast, which fuboTV recorded in its entirety.
If you're scrimping on the limited 30-hour space, you may find yourself deleting previously recorded content to create more storage.
On the other hand, I can access my recordings on the web via the Recordings sections. Searching is filtered based on the title, team name, league, channel but not date, which may be frustrating to some.
If you want unlimited DVR recording, I suggest checking YouTube TV instead.
Other Issues
Another limitation of fuboTV is its lack of parental controls. This means that parents have to contend with monitoring their children's use of the service every now and then.
Several users have also complained about the long commercials in most programs, which I've also noticed.
The only solution to this is to record it using the DVR so you can fast-forward when the ads start to come in.
Finally, the platform is only limited to users in the U.S., Canada, and Spain due to licensing restrictions and network agreements.
This can be frustrating for business travelers who want to access their favorite sports shows on the web or mobile when they're out of the country.
fuboTV Review – Bottomline
fuboTV offers a unique lineup of sports and entertainment channels. Sports fans are able to watch on 4K with live streaming having very low latency compared to other service providers.
However, cord-cutters may find alternatives to fuboTV that offer many of the same channels at a cheaper monthly price.
4 out of 5 Stars

fuboTV Review FAQ
What is fuboTV?
fuboTV is a streaming service available for installation on streaming devices such as the Amazon Firestick to watch Live TV.
Is fuboTV Legal?
Yes. fuboTV is a verified service and is 100% legal to use.
Does fuboTV Stream Live TV?
Yes. fuboTV streams Live TV channels across many different categories.
What devices can fuboTV be installed on?
fuboTV is available for installation on tons of devices including the Amazon Firestick which is the most popular streaming device available. Users can also download on Android, Roku, iPhone, and more.
What Channels does fuboTV have?
fuboTV offers numerous channels to choose from for live viewing. These include News, Shows, Movies, Sports, Tech, Kids, Music, and more.
This page includes affiliate links where TROYPOINT may receive a commission at no extra cost to you. Many times, you will receive a discount due to the special arrangements made for our visitors. I will never promote something that I personally don't use or recommend. Purchasing through my links directly supports TROYPOINT which keeps the content and tools coming. Thank you!
Register as a TROYPOINT Insider and discuss this article with thousands of other cord-cutters.