The following step-by-step guide will show you How To Install Pluto TV on Firestick, Fire TV, , PC, Mac and Android Device.
Pluto TV is a popular free live TV application that's available in both the Amazon App Store and the Google Play Store.
While this app does contain a decent content library of free movies and TV shows, it should be noted that there are a ton of ads within this application.
NOTE: Although Pluto TV is a great free application for Movies and TV Shows, its channels can be loaded with too many ads. TROYPOINT recommends other APKs that provide more recent releases and other popular media. Check out the link below.
Or, for ad-free Live Television, we suggest checking out an IPTV Service:
This article is organized into the following sections:
Pluto TV Firestick/Fire TV Installation Guide
Signing Up for an Account on Pluto TV
Pluto TV Android Device Installation Guide
Pluto TV Kodi Add-on Installation Guide
Using Pluto TV on a Desktop or PC
Pluto TV Features & Details
Frequently Asked Questions about Pluto TV
Use the steps below to install Pluto TV APK on your preferred streaming device.
Pluto TV APK Firestick/Fire TV Installation Guide
Step 1
On the Home screen hover over the Search icon
Step 2
Enter "Pluto TV" then scroll down and click on Pluto Tv when the search result appears.
Step 3
Click on the Pluto TV app once it appears on your screen.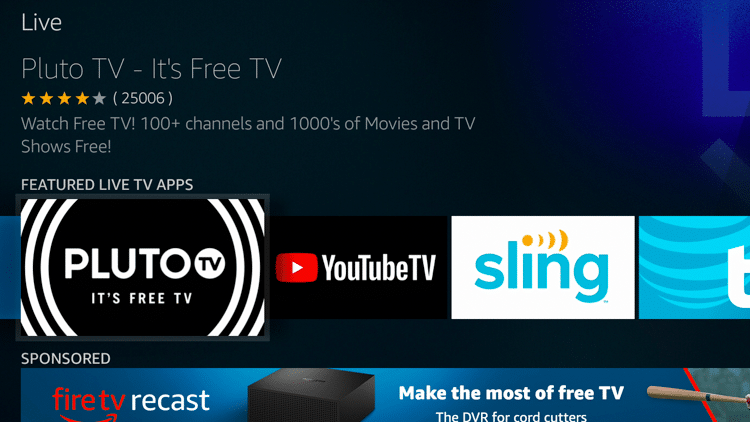 Step 4
Click Download.
Step 5
Wait for the application to download. Then click Open.
Step 6
Wait for Pluto TV to finish launching.
That's it! Pluto TV is now successfully installed.
Signing Up for an Account on Pluto TV
Prior to watching any media on this app, you will want to sign up for a Pluto TV account. Follow the short guide below on how to sign up for an account.
Step 1
Go to https://plutotvreview.com/pluto-tv-registration/.
Step 2
Enter your details on each required field.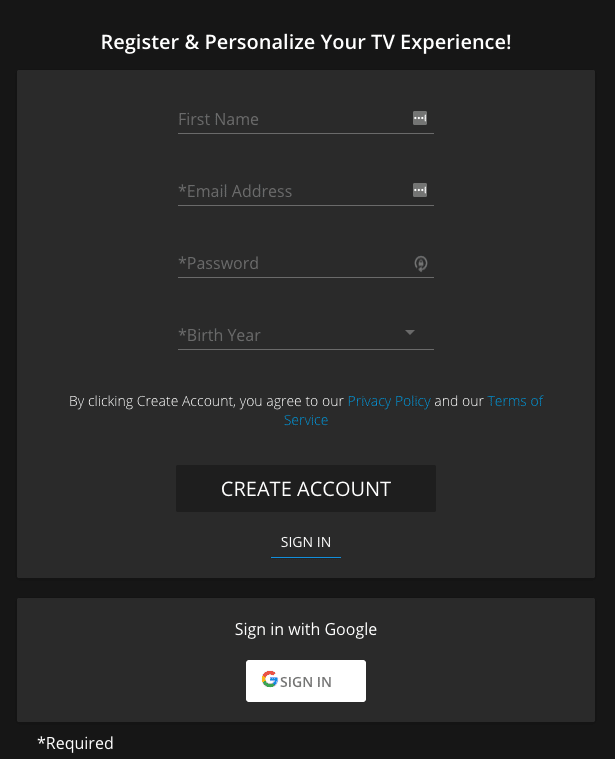 Step 3
Click CREATE ACCOUNT.
Pluto TV Android Device Installation Guide
Installing Pluto TV on an Android device is quick and easy!
Step 1
Launch Google Play.
Step 2
On the Search field, type in "pluto tv".
Step 3
Click Install.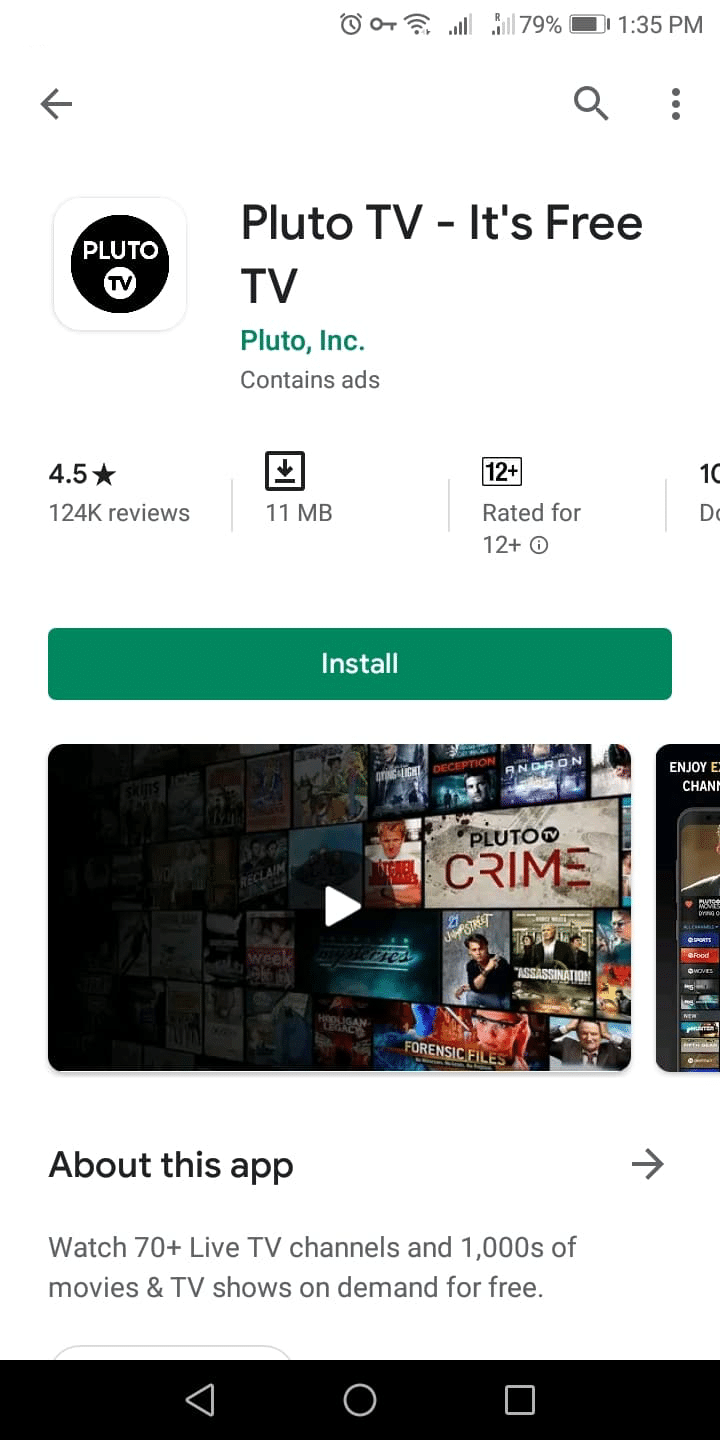 Step 4
Wait for the download to be completed.
Step 5
Once successfully installed, click Open.
Step 6
Wait for the app to complete launching.
Step 7
Select the channels that you want to watch.
Pluto TV Kodi Add-on Installation Guide
There is also a Kodi add-on available for those who prefer using Kodi instead of an APK. Follow the screenshot tutorial below to learn how to install.
Step 1
Launch Kodi and click Add-ons.
Step 2
Click Video add-ons.
Step 3
Click Download.
Step 4
Click Video add-ons.
Step 5
Click Pluto.TV.
Step 6
Click Install.
Step 7
Click OK.
Step 8
Wait for the installation to be completed.
Step 9
Once completed, a check mark will be displayed beside Pluto.TV.
Step 10
Go back to Video add-ons and click the Pluto TV icon.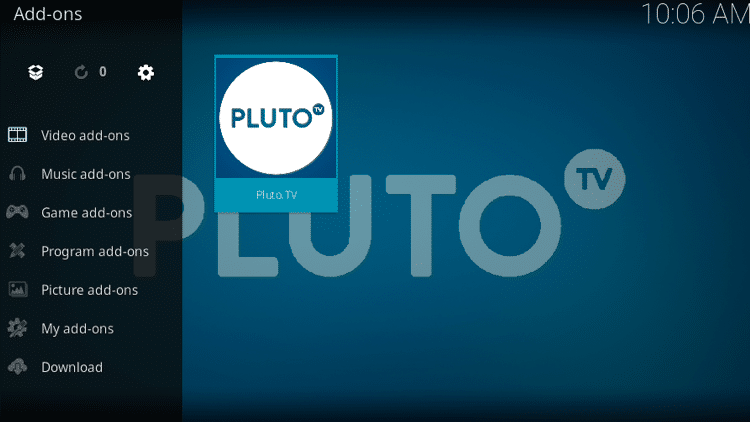 Step 11
Click Sign-In when you already have a Pluto TV account or Guest if you do not want to create an account yet.
That's it! Pluto TV is now successfully installed on Kodi.
Using Pluto TV on Desktop
You may also watch content on Pluto TV using a Mac or PC. In this example, I've used a Mac device.
Step 1
Go to https://pluto.tv/download.
Step 2
Click DOWNLOAD PLUTO TV.
Step 3
Click Save.
Step 4
Open PlutoTVSetup.dmg.
Step 5
Drag the PlutoTV icon to the Applications icon.
Step 6
Open PlutoTV.
Step 7
Click Open.
Step 8
Click Accept and Continue.
Step 9
Start watching your favorite shows.
Pluto TV APK Features & Details
With more than 200 channels of various genres, Pluto TV is a great free live TV streaming service for cord-cutters. ViacomCBS, its parent company, features original programming such as Comedy Central, Nickelodeon, VH1 and MTV.
It's a great option for those who want genre-specific content too such as Chassy (all about car racing), Military, Voyager Documentaries, Eye Candy and slow tv (which features marathon coverage of everyday events such as cab rides in Norway).
Some of the On Demand programs include James Bond 007 movies, popular movies, new movies of the month, recently added series, and "last chance to watch" movies.
Check Pluto TV's complete channel lineup for live TV, On Demand and Trending programming.
In terms of device compatibility, Pluto TV can be played on It can be installed on any device including the Amazon Firestick and other Amazon devices as well as Channel Master, Roku Player, Android and iOS devices, PC and Mac. It is also available as a Chrome Web app.
Check all compatible devices for Pluto TV.
While there's no homepage that welcomes users upon accessing, the overall interface is very user friendly and can be navigated easily with each channel arranged at the bottom of the program currently streaming. The mobile app is also easy to use and works perfectly as the web interface. As long as there's a stable internet connection, you're guaranteed a 24/7 entertainment experience.
When you're streaming a TV show or movie, a line appears below the title and description to indicate how long the show has been streaming.
Users should be aware, however, that there are many ads shown that play when streaming. While this may not be bothersome, it gets frustrating when the same ads are shown regularly (imagine going through an insurance commercial more than 20 times while watching a movie).
Then again, it's what keeps this free live tv service operating so users may have to accept the frequent advertisements.
Overall, Pluto TV is a solid free live tv service that can is great for live TV and more.
TROYPOINT TIP: Because of Pluto TV's content limitations and ads, there are plenty of other free APKs that we recommend instead. Check out our TROYPOINT Rapid App Installer where you can install the best apps with the click of a button.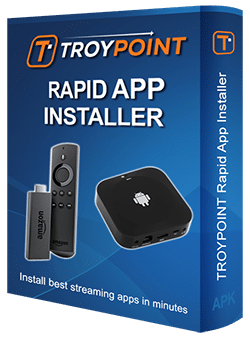 Click Here for Rapid App Installer
If you are located in a country other than the United States, this doesn't mean that you can't enjoy Pluto TV anymore. To fix this, you need to hide your IP address by using a virtual private network (VPN).
Frequently Asked Questions
What is Pluto TV?
Pluto TV is a streaming service available for installation on streaming devices such as the Amazon Firestick to watch Live TV.
Is Pluto TV legal?
Yes. Pluto TV is a verified service and is 100% legal to use.
Does Pluto TV stream Live TV?
Yes. Pluto TV streams Live TV channels across many different categories.
What devices can Pluto TV be installed on?
Pluto TV is available for installation on tons of devices including the Amazon Firestick which is the most popular streaming device available. Users can also download on Android and more.
What channels does Pluto TV have?
Pluto TV offers numerous channels to choose from for live viewing. These include News, Shows, Movies, Sports, Tech, Kids, Music, and more.