How to Fix Kodi No Stream Available Error
The following tutorial will show you How to Fix Kodi No Stream Available Error in a few minutes or less.
The Kodi no stream available error is a problem that most cord-cutters will eventually face.
This is one of the most common questions we encounter daily on this website.
There are many reasons why this error will appear and I will cover solutions for the most common causes in this post.
How To Fix Kodi No Stream Available Error
Kodi Addon Not Working
One of the biggest reasons why Kodi users get this error is because they are using an addon that no longer works or hasn't been updated.
If a Kodi addon has been dropped by its developer, this means that it will no longer be updated unless someone takes it over.
Legal Disclaimer: TROYPOINT does not develop, operate, host, distribute, or administer any streaming application, add-on, website, or service. Furthermore, we cannot determine the legality of any streaming platform reviewed on this website. TROYPOINT specializes in educational tech reviews, tutorials, and news which is protected by the First Amendment of the United States Constitution. The end-user is solely responsible for media accessed and TROYPOINT assumes that all visitors are abiding by copyright laws set forth within their jurisdiction. Users should only stream works not protected by copyright when using unverified streaming solutions.
If it isn't updated, the sources that typically load when searching for a movie or TV show won't work properly.
I suggest using our Best Kodi Addons page and trying a different addon than the one that is giving you this error.
Oftentimes, simply installing and using a new add-on can fix tons of Kodi problems.
It is also a good idea to install more than one Kodi addon that specializes in the type of media you are looking to consume.  If one addon doesn't work, try another.
To determine whether a Kodi addon is working, I would suggest testing a different movie or TV show than the one that you are trying to play.
Most Kodi addons contain a "Popular", "Trending", "Oscar Winners", or "Featured" category.
Dig into one of those categories and find a title that has been available on DVD or Blu-ray for a few months and try playing that.
If it works and there are plenty of sources to choose from, more than likely the addon is fine and it just doesn't have what you are looking for.
For those who prefer to install numerous addons in one, we suggest a Kodi Build that has features tons of addons and tools in one install.
Kodi Sources Not Available
Another reason you may get the "no stream available" error in Kodi is that the title you are searching for simply isn't available.
This most frequently occurs when trying to find an older movie or tv show that isn't very popular.
Even though Kodi displays available sources, they may have been recently removed from the Internet.
YOU'RE BEING TRACKED...
Your online activity is tracked by your government, Internet Service Provider, app/addon/IPTV devs and all websites through your identifying IP address
Stream anonymously by using Surfshark VPN
Your Current Identifying IP Address (digital fingerprint):
SAVE 86% ON SURFSHARK VPN + 3 FREE MONTHS
Surfshark backs their service with a 30-day money back guarantee
Use your account on unlimited devices & share with family members
HURRY! SALE ENDS SOON
Claim Surfshark VPN Discount
We suggest trying multiple source options or using a real-debrid account to find the best possible streaming links.
Clear Kodi Cache & Providers
Another way to keep your Kodi running smoothly is to clear the cache and providers within your selected add-on.
This will remove any unnecessary clutter that may be slowing your add-on and device down.
By clearing the Cache and Providers, you will refresh the system which can boost your streaming experience.
In the instance below, I will clear the cache and providers within the Exodus add-on.
However, these steps will also work on just about any add-on you prefer.
1. Within Exodus main menu, scroll down and Click Tools
2. Click EXODUS REDUX: Clear providers…
3. Click Yes
4. You will then receive a Process Complete message
5. Scroll down and Click EXODUS REDUX: Clear cache…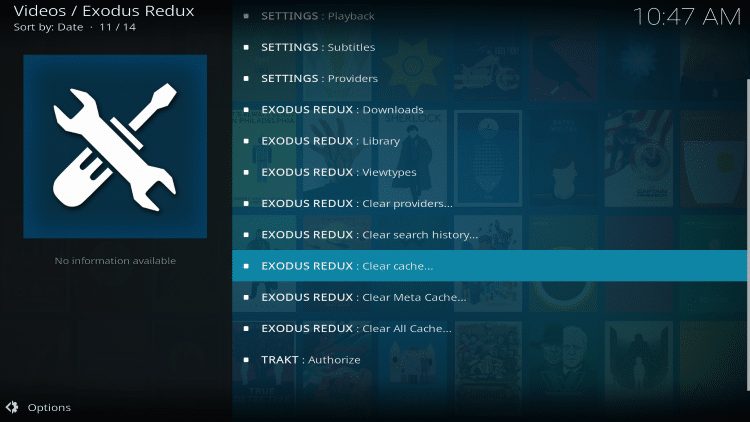 6. Click Yes
That's it!
Network Problems
If it appears that the above recommendations don't help and you are still receiving the No Stream Available error on everything, more than likely there is something wrong with your network.
The network problem could be either internal or external.
Internal Network Problems
When I refer to internal, this means that there is something possibly wrong with the network within your home.  Good news is that this is usually simple to fix.
The first task that I always suggest to people having network or Internet problems is to restart their router.
Simply unplug your router from the power, let it sit for a minute, and them plug it back in.  Do the same thing with your cable or dls modem as well if the router reset doesn't help.
If resetting the router or modem doesn't help, you should test your Internet download speed on your streaming device.
To do this, open a browser on your Firestick, Fire TV, or Android TV Box and go to https://troypoint.com/st.  This is a speed test that you can run in your browser.  You may also use the tutorial that I am linking to below.
How to Test Download Speed on Firestick or Fire TV
If you determine that your download speed is extremely slow, you should try moving your streaming box closer to the wireless router to gain a better signal.
If your Kodi box has a network adapter and you have a nearby connection, try using that instead of connecting through WiFi.
Unfortunately, some of you who live in rural areas must deal with slow Internet speeds and there isn't much you can do.
Change Providers Timeout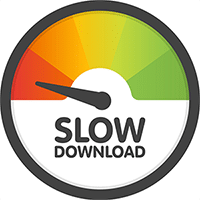 If you can't upgrade your Internet download speed, there is an adjustment that you can make in most Kodi addons under the tools or settings button.
This is also a good idea for those of you who have fast Internet plans but your streaming device isn't downloading/streaming fast enough.
Again, it is important to run a speed test as mentioned before on your device to see if that is the culprit.
If you have a slow Internet connection, we want to extend the amount of time that the Kodi addon(s) will scrape the Internet for the movie or TV show that you would like to view.
In this example, I am using the Exodus Kodi add-on as an example.
1. Click tools
2. Click Settings:General
3. Click Providers Timeout and drag slider to position you would like (60 seconds is maximum in Exodus)
4. Click OK
External Network Problems
Your Internet Service Provider (ISP) may also be blocking access to these various Kodi streams as well.
The only way around this is by installing a VPN on your device which will encrypt your connection to the Internet, making it impossible for your ISP to log or track what you are streaming.
A VPN will prevent your Internet Service Provider from censoring what you are accessing on the Internet.
A VPN also protects you from hackers and other organizations from accessing your online activity.
TROYPOINT VPN Installation Guides
I personally use IPVanish VPN due to its blazing-fast download speeds and zero log policy.
They also provide VPN applications specifically designed for Fire TV/Stick and Android TV Boxes.  You can use one account on up to 10 devices simultaneously and they provide apps for Windows, Mac, Linux, iOS, Android, Chromebook, and more.
In addition, some of the apps that you would want to install into your Firestick, Fire TV or Fire TV Cube are restricted by the Amazon App Store since they are unverified.
However, you can side-load without using the official app-distribution method with the help of a VPN for Firestick, Fire TV, Fire TV Cube.
Streaming Alternatives
All cord-cutters should have more than one streaming application at their disposal.
As I mentioned earlier, it is a good idea to try multiple addons within Kodi if one isn't providing the results you are looking for.
That same idea holds true for finding a completely different streaming app to use rather than just Kodi.
Best APKs for Movies & TV Shows
Many people now use these as their primary streaming apps and keep Kodi installed as a backup when things fail.
The main point here is to understand that you can install other applications onto your device(s), not just Kodi.
And, many of them will work better in some cases depending on what you would like to stream.
You will find everything that you need for your streaming pleasure in one area.
This will eliminate the tedious process of researching the best apps and how to install them.
Frequently Asked Questions
How do I fix Kodi No Stream Available Error?
There are numerous methods within this guide to help eliminate the Kodi No Stream Available error.
Why can't I load streams on Kodi?
You may be using an outdated Kodi addon, viewing a title without links, or have network problems.
How do I get streams on Kodi?
The best way to find streaming links on Kodi is by installing a Kodi addon or Kodi build.
Can I get Kodi streams on a Firestick?
Yes. You can find Kodi streams on any device such as a Firestick, Fire TV, Android TV Box, and more.
This page includes affiliate links where TROYPOINT may receive a commission at no extra cost to you. Many times, visitors will receive a discount due to the special arrangements made for our fans. I will never promote something that I personally don't use or recommend. Purchasing through my links directly supports TROYPOINT which keeps the content and tools coming. Thank you! Learn more on my Affiliate Disclaimer page.