The Kodi no stream available error is a problem that all cord cutters will eventually face.  This is one of the most common questions addressed daily throughout the comments on this Website, "Kodi keeps saying no stream available".
There are many reasons why this error will appear and I will cover solutions for the most common causes in this post.
If you have any solutions that have worked for you, we would love to hear about them in the comments section below.
How To Fix Kodi No Stream Available Error
Kodi Addon Not Working
One of the biggest reasons why Kodi users get this error is because they are using an addon that no longer works or hasn't been updated.
If a Kodi addon has been dropped by its developer, this means that it will no longer be updated unless someone takes it over.
If it isn't updated, the sources that typically load when searching for a movie or TV show won't work properly.
The same applies to the Covenant no stream available error as well. Covenant was a popular Kodi Addon that no longer receives the regular updates that it once did.
I suggest using our Best Kodi Addons page and try a different addon than the one that is giving you this error.
Often times, simply installing and using a new add-on can fix tons of Kodi problems.
The reason you may find some of the older addons on the Best Kodi Addons page is because many of them still work great for those who use the Real-Debrid service.
It is also a good idea to install more than one Kodi addon that specializes in the type of media you are looking to consume.  If one addon doesn't work, try another.
To determine whether a Kodi addon is working, I would suggest testing a different movie or TV show than the one that you are tying to play.
Most Kodi addons contain a "Popular", "Trending", "Oscar Winners", or "Featured" category.
Dig into one of those categories and find a title that has been available on DVD or Blu-ray for a few months and try playing that.
If it works and there are plenty of sources to choose from, more than likely the addon is fine and it just doesn't have what you are looking for.
Kodi Sources Not Available
Another reason you may get the "no stream available" error in Kodi is because the title you are searching for simply isn't available.
This most frequently occurs when trying to find an older movie or tv show that isn't very popular.
Even though Kodi displays available sources, they may have been recently removed from the Internet.
The same scenario holds true for TV episodes that recently aired or movies that are still in theaters.
Again, some of these titles are so new that there aren't any functioning links available to pull from.
I personally never mess with trying to play movies that are still in theaters as the quality is usually horrible.
Most of the time, these are cams which means that someone recorded the movie with their phone while sitting in the theater.
I would rather watch grass grow than watch a cam version of a movie!
Also, you will notice that you receive this error quite frequently when trying to watch daily news shows or soap operas.
Since these air on a daily basis, it is hard to find an outlet that has all of these available due to the work it requires uploading them to the Internet.
Clear Kodi Cache & Providers
Another way to keep your Kodi running smoothly is to clear the cache and providers within your selected add-on. This will remove any unnecessary clutter that may be slowing your add-on and device down.
By clearing the Cache and Providers, you will refresh the system which can boost your streaming experience.
In the instance below, I will clear the cache and providers within the Exodus add-on. However, these steps will also work on just about any add-on you prefer.
1. Within Exodus main menu, scroll down and Click Tools
2. Click EXODUS REDUX: Clear providers…
3. Click Yes
4. You will then receive a Process Complete message
5. Scroll down and Click EXODUS REDUX: Clear cache…
6. Click Yes
That's it!
Network Problems
If it appears that the above recommendations don't help and you are still receiving the No Stream Available error on everything, more than likely there is something wrong with your network.
The network problem could be either internal or external.
Internal Network Problems
When I refer to internal, this means that there is something possibly wrong with the network within your home.  Good news is that this is usually simple to fix.
The first task that I always suggest to people having network or Internet problems is to restart their router.
Simply unplug your router from the power, let it sit for a minute, and them plug it back in.  Do the same thing with your cable or dls modem as well if the router reset doesn't help.
If resetting the router or modem doesn't help, you should test your Internet download speed on your streaming device.
To do this, open a browser on your Firestick, Fire TV, or Android TV Box and go to https://troypoint.com/st.  This is a speed test that you can run in your browser.  You may also use the tutorial that I am linking to below.
How to Test Download Speed on Firestick or Fire TV
If you determine that your download speed is extremely slow, you should try moving your streaming box closer to the wireless router to gain a better signal.
If your Kodi box has a network adapter and you have a nearby connection, try using that instead of connecting through WiFi.
Unfortunately, some of you who live in rural areas must deal with slow Internet speeds and there isn't much you can do.
Change Providers Timeout
If you can't upgrade your Internet download speed, there is an adjustment that you can make in most Kodi addons under the tools or settings button.
This is also a good idea for those of you who have fast Internet plans but your streaming device isn't downloading/streaming fast enough.
Again, it is important to run a speed test as mentioned before on your device to see if that is the culprit.
If you have a slow Internet connection, we want to extend the amount of time that the Kodi addon(s) will scrape the Internet for the movie or TV show that you would like to view.
In this example, I am using the Exodus Kodi add-on as an example.
1. Click tools
2. Click Settings:General
3. Click Providers Timeout and drag slider to position you would like (60 seconds is maximum in Exodus)
4. Click OK
External Network Problems
Your Internet Service Provider (ISP) may also be blocking access to these various Kodi streams as well.
The only way around this is by installing a VPN on your device which will encrypt your connection to the Internet, making it impossible for your ISP to log or track what you are streaming.
A VPN will prevent your Internet Service Provider from censoring what you are accessing on the Internet.
A VPN also protects you from hackers and other organizations from accessing your online activity.
My ISP blocks one of my favorite IPTV services.  If my VPN is not activated on my device, the service won't work and I receive the "no stream available" error.  Once my VPN is activated, IPTV works perfectly fine.
TROYPOINT VPN Installation Guides
I personally use IPVanish VPN due to its blazing fast download speeds and zero log policy.
They also provide VPN applications specifically designed for Fire TV/Stick and Android TV Boxes.  You can use one account on up to 10 devices simultaneously and they provide apps for Windows, Mac, Linux, iOS, Android, Chromebook, and more.
In addition, some of the apps that you would want to install into your Firestick, Fire TV or Fire TV Cube are restricted by the Amazon App Store since they are unverified.
However, you can side-load without using the official app-distribution method with the help of a VPN for Firestick, Fire TV, Fire TV Cube.
Streaming Alternatives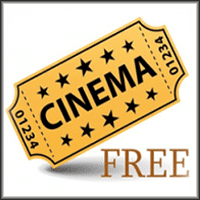 All cord cutters should have more than one streaming application at their disposal.
As I mentioned earlier, it is a good idea to try multiple addons within Kodi if one isn't providing the results you are looking for.
That same idea holds true for finding a completely different streaming app to use rather than just Kodi.
As of this article, Cinema is the most popular streaming app available. This is a separate application that can coexist on the same streaming device with Kodi.
Many people now use these as their primary streaming apps and keep Kodi installed as a backup when things fail.
The main point here is to understand that you can install other applications onto your device(s), not just Kodi.  And, many of them will work better in some cases depending on what you would like to stream.
If you would like to install the best streaming apps and tools in a matter of minutes, be sure to get my free TROYPOINT Rapid App Installer.
You will find everything that you need for your streaming pleasure in one area.  This will eliminate the tedious process of researching the best apps and how to install them.
You can get the TROYPOINT Rapid App Installer by clicking the graphic/link below.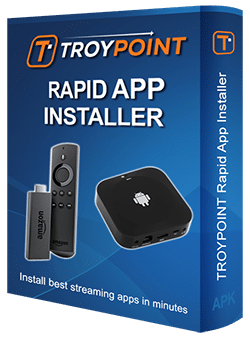 Don't Get Clipped!
Most cord-cutters use IPVanish VPN and rightfully so.

The free streaming applications, addons, and paid IPTV services are usually hosted on insecure servers.

These shady outfits log everything that you access through their app or service.

Without IPVanish, your IP Address is being logged along with everything that you access through it.

Your IP Address points back to your location and identity which compromises both your privacy and security.

Your current identifying IP Address is 67.82.161.242

When you use IPVanish VPN, your IP address is masked and converted into an anonymous one.

IPVanish VPN will provide you with an anonymous connection to the Internet.

This will prevent your Internet Service Provider, app/addon developers, government agencies, and other 3rd parties from logging what you're accessing online.

Setting up IPVanish VPN on your streaming device is simple!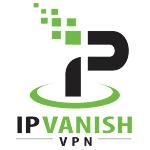 Step 1 Register for an IPVanish VPN account by clicking the link below.

This special link provides you with a large discount.


Register for IPVanish Account & Save 74% (EXPIRES SOON)


Step 2 – From the home screen hover over Find.

If you're using an Android TV Box, you can also find the IPVanish application in Google Play Store.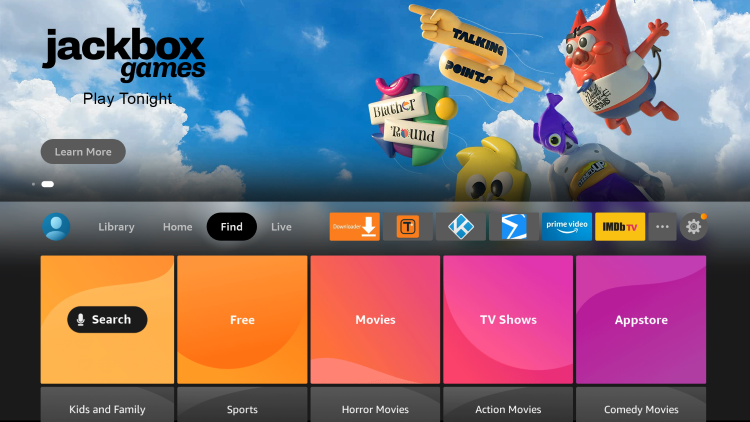 Step 3 – Scroll down and click Search.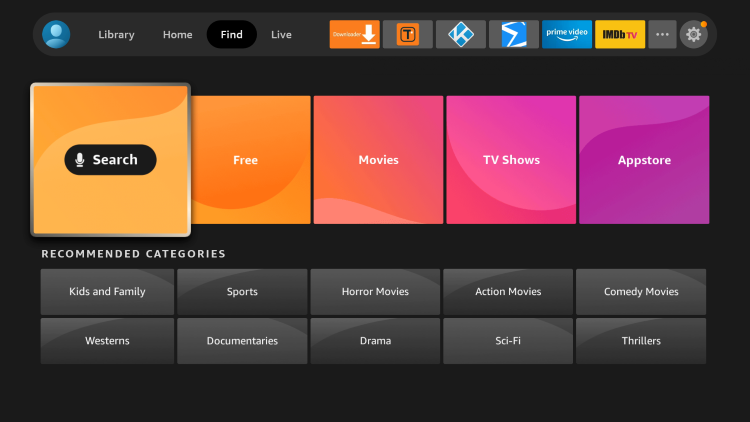 Step 4 – Type in "Ipvanish" and click the first option.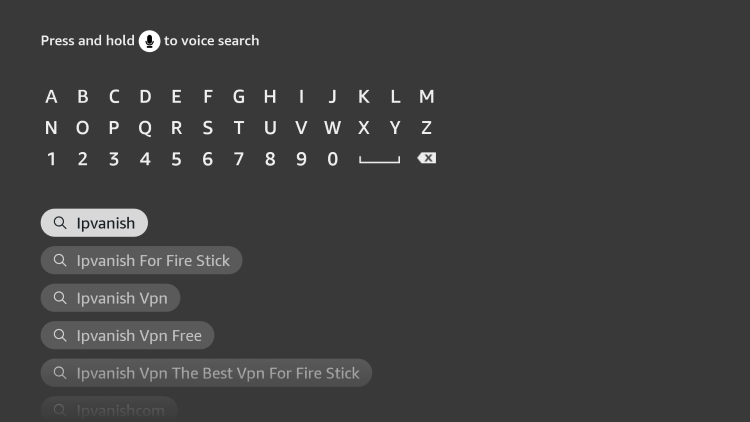 Step 5 – Click the IPVanish VPN app.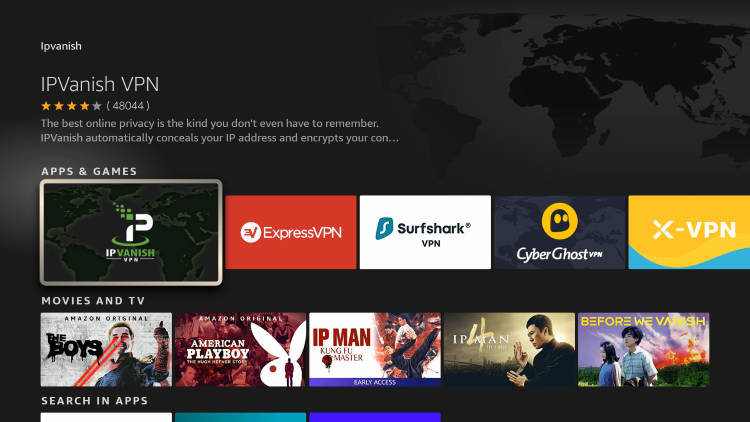 Step 6 – Click Download.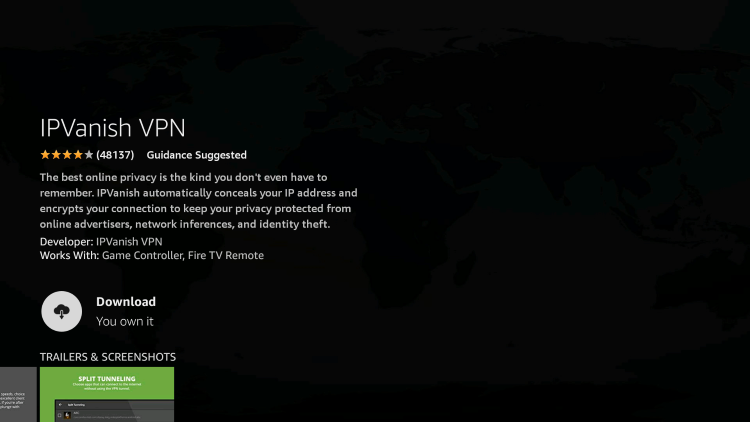 Step 7 – Once the IPVanish app installs, click Open.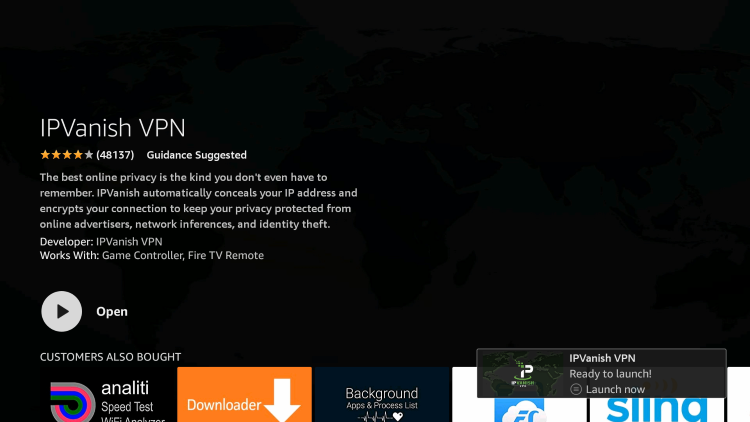 Step 8 – Enter your IPVanish account information and click Log In.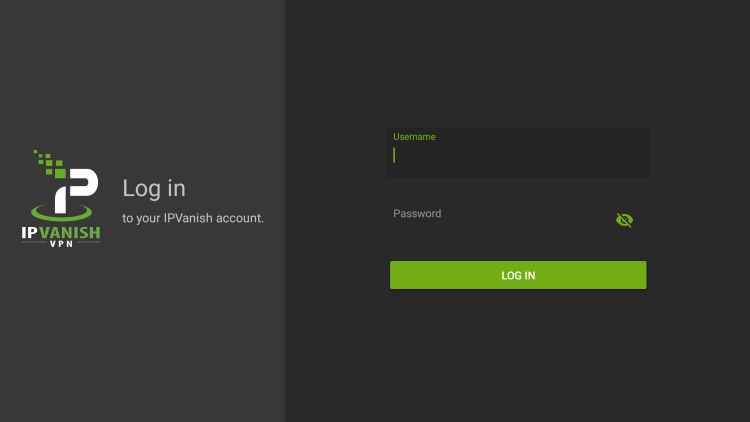 Step 9 – Click Connect.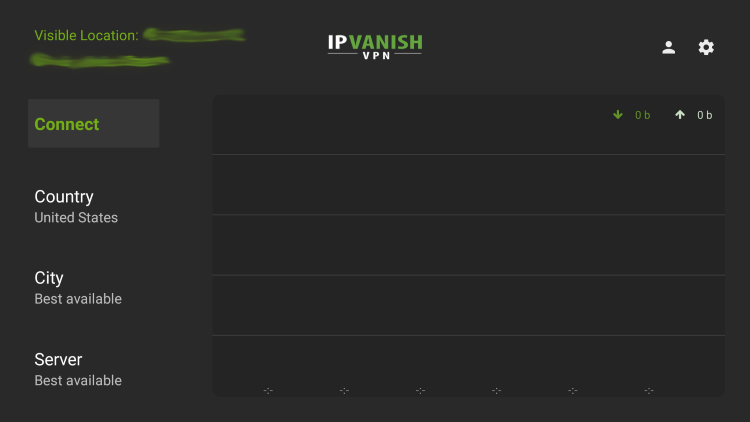 Step 10 – Click OK.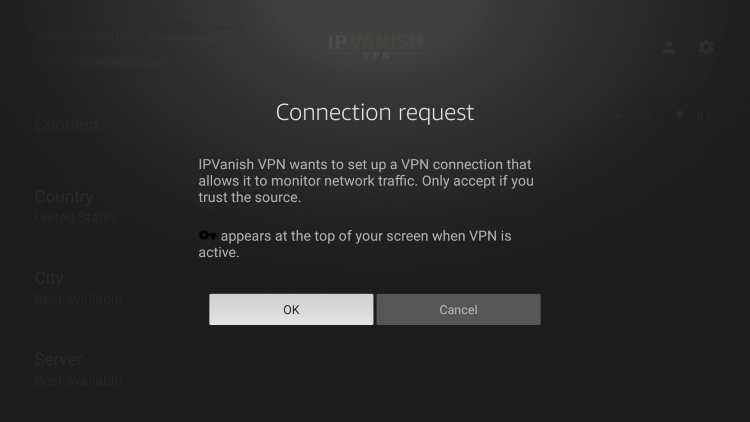 Step 11 – That's it! You have installed IPVanish VPN on your Firestick/Fire TV.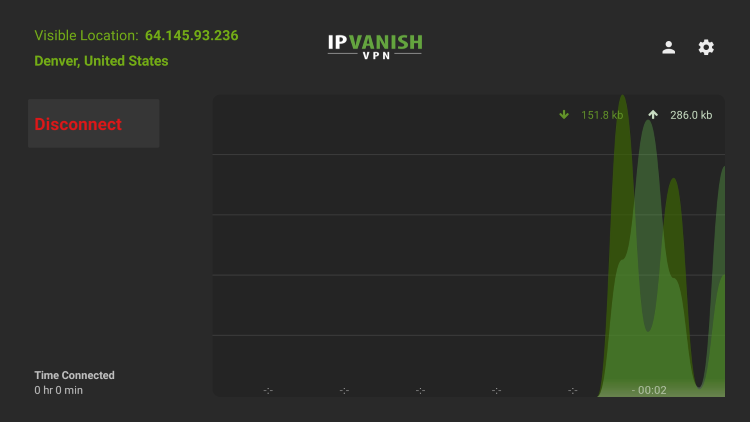 Now, click the home button on your remote and the VPN will continue running in the background.

Congratulations! You are now protected by a VPN which means everything that you stream or access through your Firestick or Android TV Box is hidden from the rest of the world.

If you ever need to stop the VPN service, simply re-launch the application and click the DISCONNECT button.