Premiumize on Kodi – Is it Better than Real-Debrid?
The following guide details Premiumize on Kodi and Streaming Apps with Installation and set-up guides.
Many of us use Kodi or other media apps to stream VOD Content such as Movies and TV Shows.
If you are an avid Kodi user, you have likely heard of these premium services that provide high quality links on your preferred device.
This incudes streaming devices such as the Amazon Firestick, Fire TV, and Android TV Box.
Premiumize is a link resolver that scrapes the highest quality links including HD content in 1080p & 4K.
Many are familiar with the popular real-debrid resolver that works in the same fashion as Premiumize.
In the guide below, we provide all the details and features that one can expect to get with a Premiumize account.
We also compare Premiumize vs real-debrid and show installation and setup instructions for Premiumize in Kodi and various Streaming Apps.
What is Premiumize?
While most cord-cutter have heard of real-debrid, not everyone is familiar with Premiumize.
Premiumize works in the same fashion as real-debrid or Alldebrid to provide users with high-quality links when streaming with various apps and addons.
It is considered a "premium resolver" that scrapes the internet for links that play buffer free on your media device.
These links are typically hosted on various torrent sites and file lockers and then processed to your app or addon.
If you have used Kodi or other platforms to stream content, you have likely encountered buffering at some point.
This is because these "free" links are slow and usually hosted on servers that are flooded by users which means more lag when you stream.
Fortunately, a resolver such as Premiumize eliminates these low-quality links leaving you with the best source options.
Premiumize is a paid service that costs less than $75/year, however, many find it is well worth the price for uninterrupted streaming.
Premiumize Features & Details
There are some notable features that come with a Premiumize account to help you get the most out of your viewing experience.
This includes Cloud Storage, Remote Downloading Capabilities, RSS Feed automation, and more.
YOU'RE BEING TRACKED...
Your online activity is tracked by your government, Internet Service Provider, app/addon/IPTV devs and all websites through your identifying IP address
Stream anonymously by using Surfshark VPN
Your Current Identifying IP Address:
SAVE 82% ON SURFSHARK VPN + 2 FREE MONTHS
Surfshark backs their service with a 30-day money back guarantee
Use your account on unlimited devices & share with family members
HURRY! SALE ENDS SOON
Claim Surfshark VPN Discount
Cloud Storage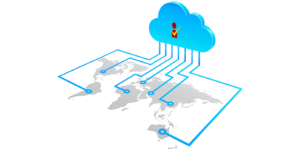 Premiumize members will have access to the cloud storage that is available with this service.
Every member will get 1000 GB of storage which is a massive amount and likely more than you will ever need for storing your personal files and more.
With servers in over a dozen countries, access to your media is fast and seamless and includes virus/malware protection.
Remote Downloader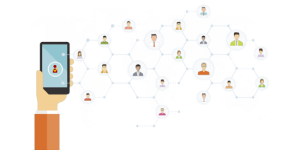 With Premiumize Download Manager you can download content and stream at the same time.
This means your content is always buffer free as downloads will no longer clog up your internet connection.
Your stored content includes automatic subtitles, quality optimization, and more.
RSS Feed Automation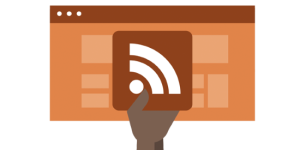 This feature will monitor any RSS Feed of your choice and automatically add items to your cloud.
If links are unavailable, Premiumize has an auto-complete feature that will search for them in alternative locations.
After items are finished, you can easily access them in the cloud via your preferred Browser or Android Application.
Pricing
Premiumize is a paid service that users can purchase on a monthly, quarterly, or annual subscription.
Shown below are the current prices for Premiumize which can be purchased with a Credit Card or via Cryptocurrency.
These prices are listed in euro which is similar to the American dollar. Shown below are the current conversion rates for the US Dollar.
1 Month – $10.96/month US
3 Months – $9.14/month US
12 Months – $6.31/month US
Premiumize subscribers receive the following features with their purchase:
1 TB Cloud Storage
Privacy Protected Transfer Jobs
Optimized Sources
Multiple Device Support
Premiumize vs Real-Debrid
Because real-debrid is the more popular option, we decided to compare Premiumize vs Real-Debrid to see the differences and similarities of the two.
Ultimately, the two services perform in the same manner and provide the same high-quality streaming links for your preferred device.
Because real-debrid is more well-known, you are likely to have more apps and addons that are compatible with this service.
Real-Debrid is also cheaper, costing roughly $5/month or about $35 US if you purchase the service bi-annually.
We tested both real-debrid and Premiumize in the popular Crew Kodi Addon to see if there was a difference in link options.
Both provided a large number of links with high-quality options including 1080p and 4K streams.
Pictured below is a screenshot of the links provided with just Premiumize integrated.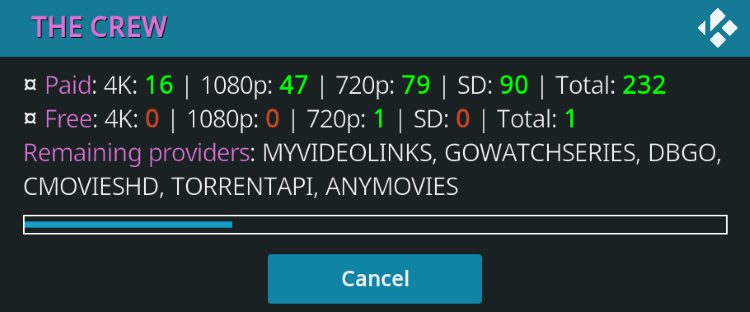 Here is an image of the links provided with just real-debrid integrated.
As you can see, real-debrid provided only one more link in 720p.
All of these links played buffer-free which means that in terms of quality, Premiumize and Real-Debrid are generally the same.
One major feature that Premiumize offers is a "built-in VPN" that is not provided by real-debrid.
However, we always suggest using a paid VPN Service for ultimate security that will ensure your safety and anonymity online.
Best VPN for Firestick/Android TV
How to Sign up for Premiumize
The step-by-step guide below will show you how to sign up for Premiumize.
1. Visit premiumize.me (the official Premiumize website) and click Sign up Now.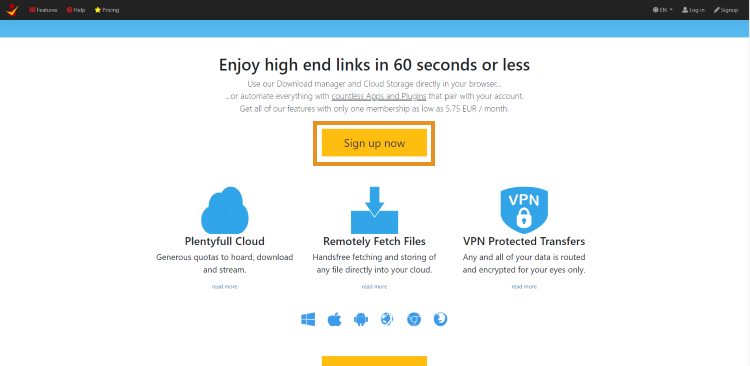 2. Select Register.
3. Enter your email address and password and select Register again.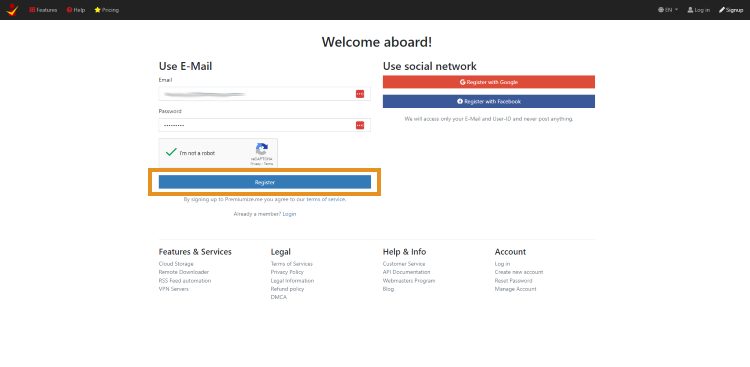 4. You will then encounter the following message.
5. Find the email from Premiumize and select Activate Account.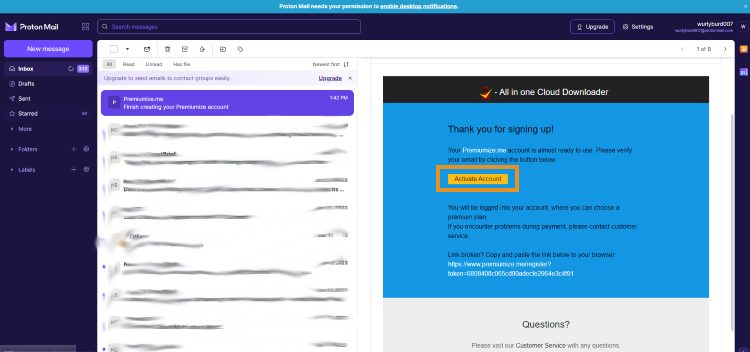 6. Choose your preferred Premiumize plan and select Continue to Payment.
7. Provide your payment details.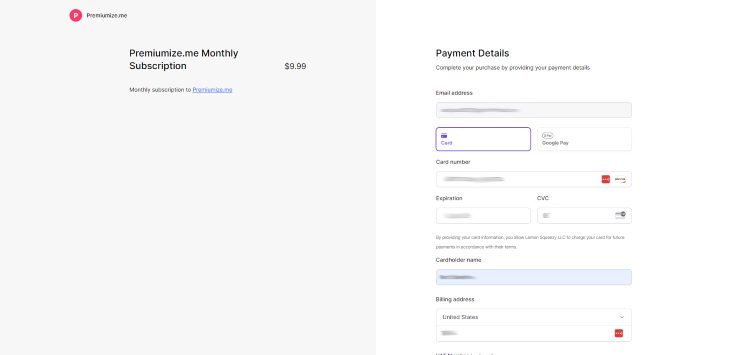 8. Registration is now complete! For more info, use the provided Quickstart Guide.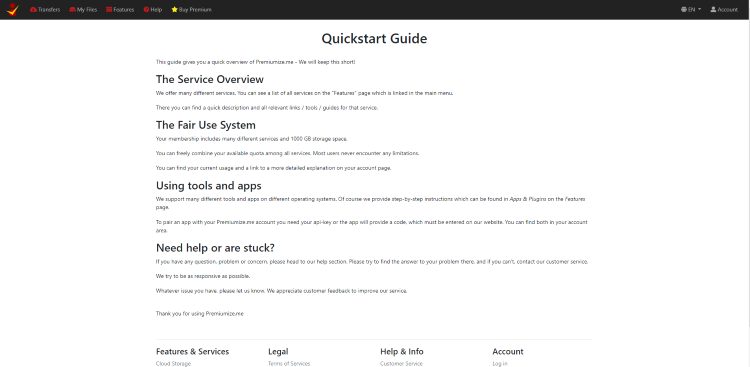 After registering for Premiumize, we can now integrate the service within various Apps & Addons for HD streaming links.
How to Integrate Premiumize in Kodi
In order to find streaming links with Premiumize, we must integrate the service into a Kodi Addon or Build.
Not all addons have this capability, however, most of those listed in our Best Kodi Addons guide do.
In the example below we will use The Crew Kodi Addon which is one of the most popular addons available today.
These instructions will also work for any Kodi Addon that has Premiumize capabilities.
1. Install The Crew Kodi Addon or other addon of your choice and launch it for use. Click Tools.
2. Choose ResolveURL.
3. Hover over Universal Resolvers 2 and under Premiumize.me, select (Re)Authorise My Account.
4. You are then presented with an authorization code. Make note of this code.
5. Visit premiumize.me/device and enter the code you are provided with. Click Submit.
6. Click Allow.
7. You will then see Device authorization accepted message.
8. Return to The Crew and you will encounter Premiumize Resolver Authorised message.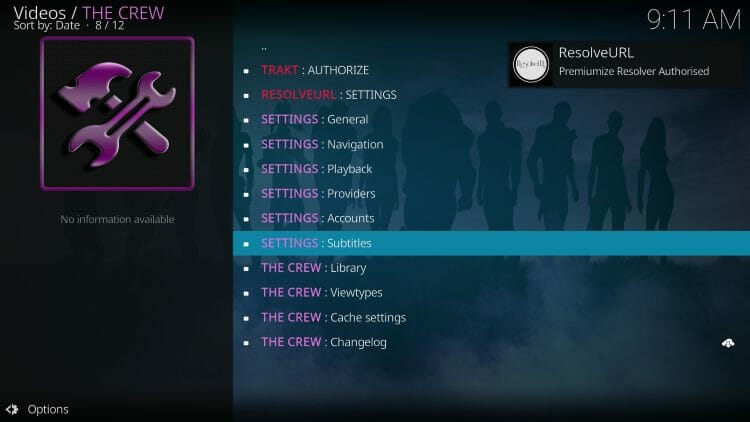 Integration of Premiumize on Kodi is now complete!
Those who use various Streaming Apps can also integrate Premiumize within
How to Integrate Premiumize in Streaming Apps
If you prefer to use a media app or APK for streaming content, you can also integrate Premiumize within these apps.
In the guide below, we will authorize Premiumize for use in Cinema HD which is one of the Most Popular APKs available today.
These instructions will also work for any other app you prefer that has Premiumize capabilities.
1. Launch Cinema and click the Menu option in the left-hand corner.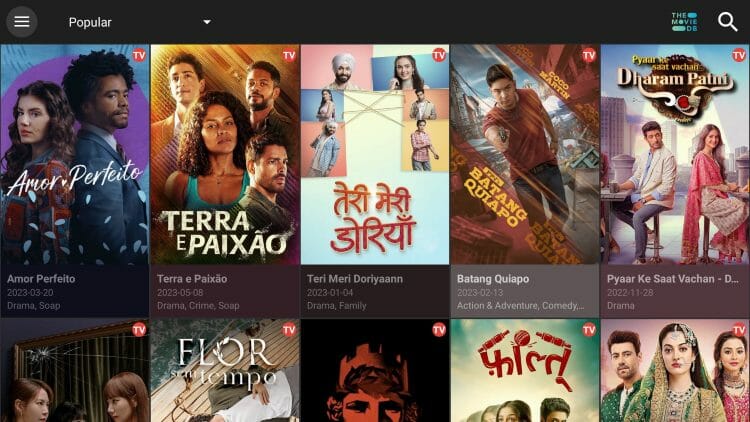 2. Click Settings.
3. Choose Login to Premiumize.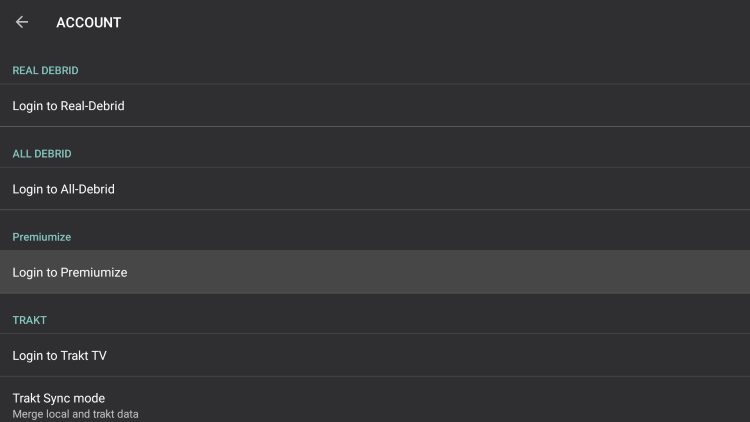 4. You are then prompted to provide an API Key.
5. Visit premiumize.me/account and select Show API Key. Enter this into Cinema APK.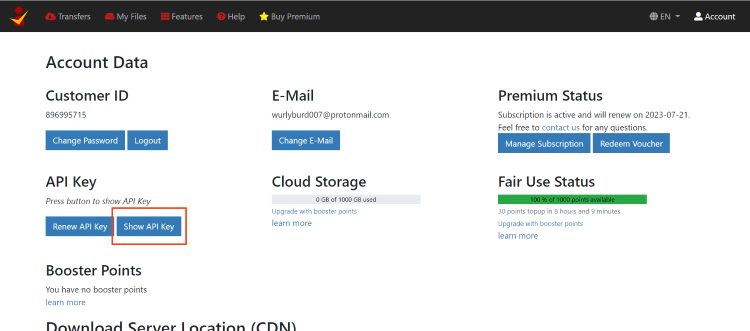 6. You will then see Premiumize authorized.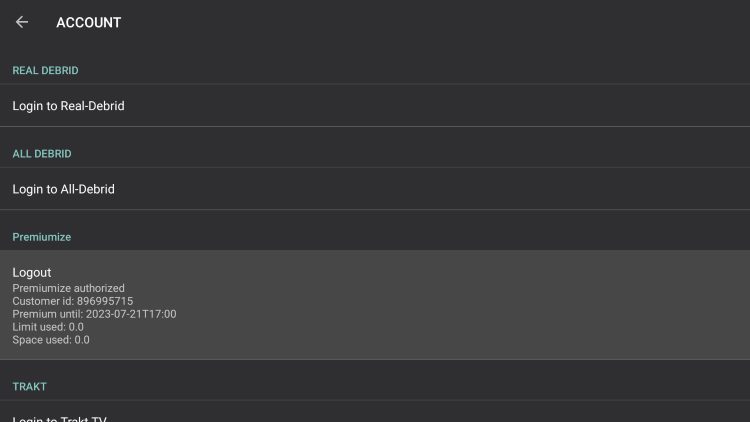 Premiumize is now integrated within your Streaming App.
Enjoy!
For more helpful tutorials, use our popular resource guides below:
Frequently Asked Questions
What is Premiumize?
Premiumize is a premium resolver that provides high-quality links to stream media and video files.
Is Premiumize Free?
No. Premiumize is a paid service that costs roughly $8/month depending on your subscription plan.
Can I use Premiumize on Kodi?
Yes. The guide above provides step-by-step instructions to integrate Premiumize on Kodi.
Is Premiumize better than Real-Debrid?
Premiumize provides the same capabilities as real-debrid with a few added benefits which we list above.
This page includes affiliate links where TROYPOINT may receive a commission at no extra cost to you. Many times, you will receive a discount due to the special arrangements made for our visitors. I will never promote something that I personally don't use or recommend. Purchasing through my links directly supports TROYPOINT which keeps the content and tools coming. Thank you! Learn more on my Affiliate Disclaimer page.