Firestick Ethernet Adapter for Increased Speed & Connection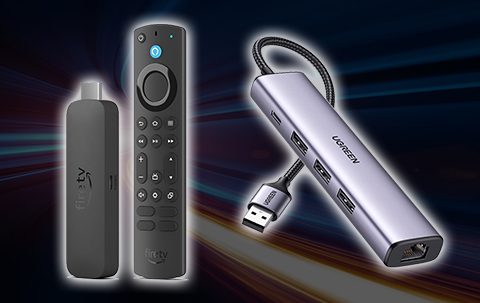 The following guide will show you how to set up the best Firestick Ethernet Adapter to improve your download speeds and network connection.
This includes a step-by-step video tutorial with important details regarding setup and how to get the most out of this tool.
Using an Ethernet adapter is a fabulous way to boost speeds on any Firestick or Fire TV device.
Unlike various Android TV Boxes that have Ethernet ports for quick connection, Firesticks do not provide an Ethernet connection without an adapter.
Many complain that Firestick devices lack the speed and power that we see in Android Boxes which provide a direct Ethernet connection.
Luckily, we can use an Ethernet Adapter and get the most out of a Firestick by improving download speeds and overall connection.
Using an Ethernet adapter is one of the best ways to Eliminate Firestick buffering and make your streaming experience much more enjoyable.
Amazon offers an Ethernet Adapter for Firestick/Fire TV, however, it only offers max speeds up to 100 Mbps.
In the guide below, we detail the Best Firestick Ethernet Adapter that will allow you to get blazing-fast speeds up to 300-400 Mbps.
This adapter also provides 3 additional USB ports that are perfect for expanding internal storage or attaching additional peripheral devices.
In the guide below, we are using a Fire TV Stick 4K Max. However, this will also work for any variation of Firestick or Fire TV you prefer.
Gigabit Firestick Ethernet Adapter – Video Tutorial
TROYPOINT Free Secret App Guide
UGREEN Gigabit Ethernet USB 3.0 Ethernet Adapter
Expand Internal Storage on Firestick/Fire TV
OTG Cable for Firestick/Fire TV
Analiti Speed Test on Firestick/Android TV
Buffer-free Playback & Faster Downloads
Many Firestick, Fire TV, and Android TV Box users often connect an Ethernet adapter to their streaming device for a more reliable connection and faster download speeds.
YOU'RE BEING TRACKED...
Your online activity is tracked by your government, Internet Service Provider, app/addon/IPTV devs and all websites through your identifying IP address
Stream anonymously by using Surfshark VPN
Your Current Identifying IP Address:
SAVE 82% ON SURFSHARK VPN + 2 FREE MONTHS
Surfshark backs their service with a 30-day money back guarantee
Use your account on unlimited devices & share with family members
HURRY! SALE ENDS SOON
Claim Surfshark VPN Discount
In the video guide above, we provide speeds before and after restarting our Firestick device.
NOTE: We recommend rebooting your device when connecting to an Ethernet adapter or vice versa, which will reset the device and improve your download/upload speeds.
How to Restart Firestick/Fire TV
A direct Ethernet connection will improve speeds as oftentimes your device is not close to your router and this is the best way to hard-wire directly to your network.
Or, you can connect directly to an Ethernet jack in the wall if you have these available.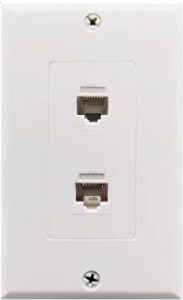 Although Amazon does sell its own Firestick Ethernet adapters, the maximum download speed can only reach 100 Mbps.
We suggest an alternative adapter such as the UGREEN Gigabit Ethernet Adapter that supports Gigabit speeds, which is 3 times faster than the Amazon adapter.
Since we're connecting the Ethernet adapter to the device via USB, it's important to note that you probably won't reach the maximum Gigabit speeds.  I personally get 200 Mbps more speed on mine than the standard adapter sold by Amazon.
Also, to realize these speeds, you must have a connection that supports these speeds through your Internet Service Provider.
It is important to remember that you typically only need around 20-25 Mbps in order to stream content up to 4K UHD.
Speeds required for streaming high definition such as 720p or 1080p are even lower as most can view videos with only 10 Mbps download speed.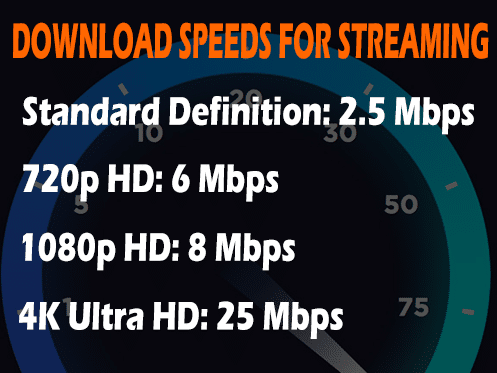 For those of you streaming from Real-Debrid links, you may need extra speed due to the torrent files not being optimized for playback.
For more information on internet speeds, we suggest viewing our Internet Speed Guide.
Best Firestick Ethernet Adapter
The UGREEN Ethernet Adapter referenced in the video above is a fabulous option for those looking to improve streaming speed and stability on Firestick or Android TV Box.
It is also compatible with various other devices including laptops, tablets, gaming devices, and more.
UGREEN is a fast adapter that outperforms other options with speeds up to 1000 Mbps.
With the help of an OTG Cable, the UGreen Ethernet Adapter will work perfectly to increase and stabilize internet speeds on your Firestick or Fire TV device.
Besides providing a direct connection to your network, it also provides three USB 3.0 ports so you can connect other devices such as a flash drive, keyboard, or anything that connects via USB cable.
This is perfect for those who wish to expand internal storage on streaming devices that do not have a lot of storage built in.
Frequently Asked Questions
Can you Connect Firestick to Ethernet?
Yes. We show you how to connect a Firestick to Ethernet in this guide using a Firestick Ethernet Adapter.
What does a Firestick Ethernet Adapter do?
Using an Ethernet Adapter on your Firestick will likely increase your download speeds for a better streaming experience.
What is the best Firestick Ethernet Adapter?
After testing several adapters, we found the UGREEN Gigabit Ethernet Adapter as the best option.
Do I need an Ethernet Adapter for my Firestick?
While using an Ethernet Adapter for your Firestick is not required, it is recommended for faster download speeds.
This page includes affiliate links where TROYPOINT may receive a commission at no extra cost to you. Many times, you will receive a discount due to the special arrangements made for our visitors. I will never promote something that I personally don't use or recommend. Purchasing through my links directly supports TROYPOINT which keeps the content and tools coming. Thank you! Learn more on my Affiliate Disclaimer page.