This tutorial will show you how to reset Firestick and breathe new life into your favorite streaming device.
This same process can be administered on any Fire TV model, including the Fire TV Cube.
The Amazon Firestick is the most popular streaming device on the market today because of its low price and we can jailbreak it.
Unfortunately, the small 8 GB internal storage fills up rather quickly.   This may make your Firestick or Fire TV slow and sometimes unresponsive.  Resetting your Fire TV Stick will allow you to start fresh.
When you reset your Firestick, it will return to the same state it was in when you first purchased it.
It is simple to reset a Firestick or Fire TV and only takes a couple of minutes.
Please keep in mind that when you do this, you will be erasing everything on the system.  After your system reboots, you will need to reinstall your applications.
Luckily, you can use the free TROYPOINT App which includes the Rapid App Installer.  This will allow you to reinstall all of your favorite streaming apps and tools in a matter of minutes!
How to Reset Firestick Screenshot Guide
1  Hover over Settings on Firestick / Fire TV menu.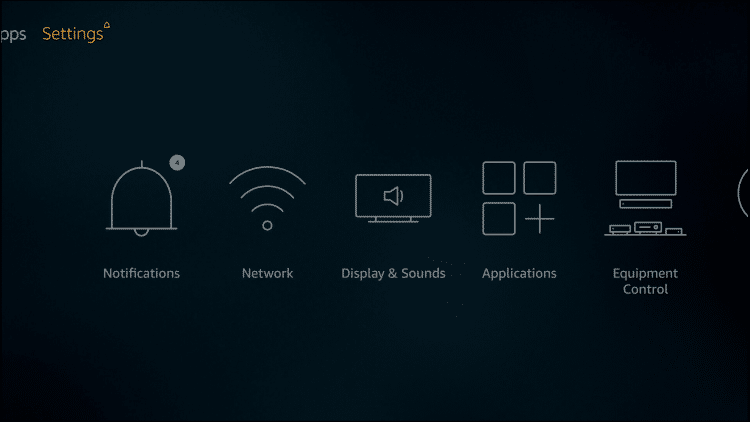 2  Click My Fire TV.
3  Click Reset to Factory Defaults.
4  Click Reset.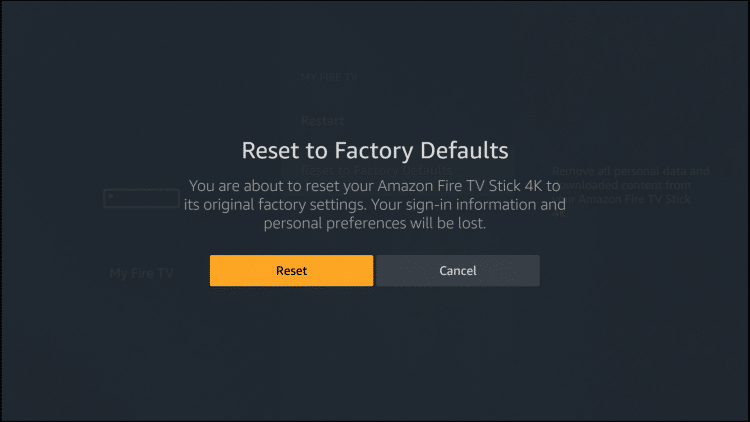 5  You will see a screen similar to this when your Amazon Fire TV Stick is resetting.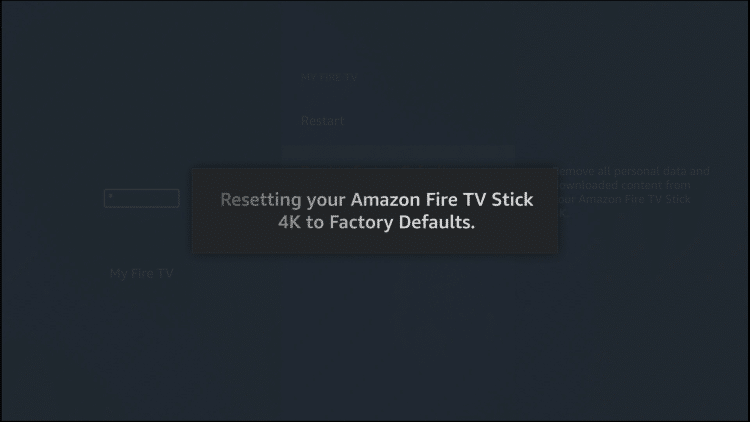 6  Your Firestick or Fire TV will reboot and you will see the following screen which reads "Resetting your Fire TV stick".
7  You will be prompted to connect to your WiFi network and once you do that, you will see the Amazon sign-in screen.
Factory Reset Firestick Without Going Into Settings
Sometimes you can't access your settings panel to reset your Firstick or Fire TV due to a frozen system.
You can try initiating a Factory Reset on your Firestick by pressing the Right and Back buttons together for 10 seconds or more.

Now that you know how to reset Firestick you can prepare for a quick reinstall of your favorite apps with the TROYPOINT Rapid App installer.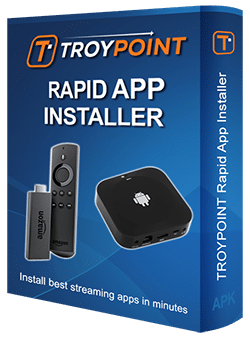 This app will allow you to install the best free streaming apps and tools in a matter of minutes.
TIP: If you're trying to install unverified apps from the Amazon App Store, you can only complete it by side-loading or installing anything into your device without using the official app-distribution method. I recommend using a VPN to install such apps. Click this link to learn how to install a VPN for Firestick, Fire TV, Fire TV Cube.