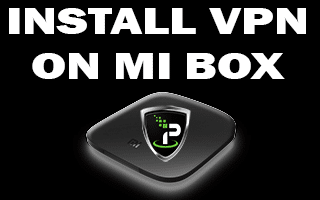 This step-by-step tutorial will show you how to install VPN on Mi Box.
Why would you want to install a VPN on your Mi Box?  There are many reasons but I will go through a few of the important ones below.
First, if you haven't already noticed, our privacy is gone.  Just watch the movie Snowden and you will quickly realize that our government and Internet service providers can see everything that we are doing online.
When you install a VPN on any device, you will enjoy an encrypted connection which means it will be impossible to see what you are downloading or streaming on your device.
The VPN will connect your Mi Box to one of their servers through an encrypted connection, assign it a new IP address, which will place your device in stealth mode so your privacy will remain intact.
If you have installed Kodi on your Mi Box and you have used some addons such as Exodus, Placenta, Neptune Rising, etc., you may have noticed that many of them don't work the way that they are advertised.  Or, you will notice that the video is constantly buffering.
The reason for this is because many Internet service providers are starting to either block or throttle your connection to these addons.  Most of these providers are also in the cable television business so they don't want you using these Kodi addons.  A VPN will allow you to connect to these Kodi resources without any limitations.
Also, many of the free streaming apps such as Cinema APK come from unknown developers and you should be using a VPN to protect yourself.
IPVanish VPN Service
I have tried at least a dozen different VPN services on my various streaming devices.  There are three main factors that are important to me when looking at VPN services.  The first is to ensure that the VPN provider doesn't store any traffic logs.  By doing this, there is not Internet traffic history on file for items that you have downloaded or streamed.
Next, it is important that the download speeds are strong.  Many of these VPN providers will connect you to crappy servers that will return a terrible download speed which will not allow you to stream quality HD content to your devices.
I also want to ensure that the user interface that the VPN service provides through the application works on all devices.  With the Mi Box, it is important that you can use your remote to navigate the application.  Since this is an application that we are sideloading, many times these apps will only work on a tablet or phone.
I always get the question, "I want to use a free VPN service, where can I find a good one?"  First of all, I always chuckle when I hear this question because there is no way in "heck" that I would trust a free service with my streaming logs.  Also, the free ones that I have tried when I set out on this mission, were very slow and completely unreliable.
When looking at these important features, the best VPN service that I have come across is IPVanish.  This service gets an A+ on all of the requirements that I have listed above.
How To Install VPN On The Mi Box With IPVanish Tutorial
SAVE UP TO 74% WITH THIS TIME-SENSITIVE DEAL

Use IPVanish on unlimited devices & when away from home.

IPVanish backs their service with a 30-day money back guarantee.

Click Here To Get Your IPVanish Discount
Step 1  Register for an account at IPVanish by clicking Here.  You will be assigned a username and password that you will use in a future step.
Step 2  Click Google Play Store icon
Step 3 Type IPVanish in the search box or use voice remote to perform the query and then click the IPVanish icon once it appears
Step 4 Click Install button
Step 5 After IPVanish VPN has installed click the Open button
Step 6 Click the Username box and type in your IPVanish Username which is the email address that you used to register for your account with then type in your password
Step 7 Click the Login button after you have input your Username and Password
Step 8 Click Connect to use Best Available settings or choose to connect from a different country, city, or server
Optional Step Click the gear icon in top right corner and change settings to your liking such as VPN auto-launch, etc.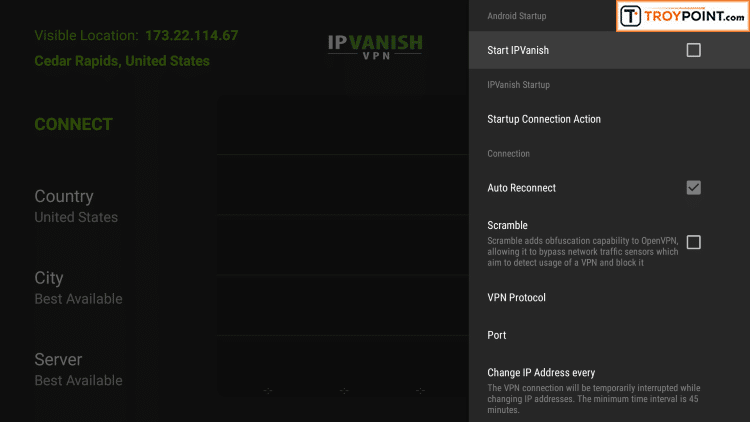 SAVE UP TO 74% WITH THIS TIME-SENSITIVE DEAL

Use IPVanish on unlimited devices & when away from home.

IPVanish backs their service with a 30-day money back guarantee.

Click Here To Get Your IPVanish Discount
Read more about IPVanish with pros, cons, and much more in our unbiased review at the following link.
This page includes affiliate links where TROYPOINT may receive a commission at no extra cost to you. Many times, you will receive a discount due to the special arrangements made for our visitors. I will never promote something that I personally don't use or recommend. Purchasing through my links directly supports TROYPOINT which keeps the content and tools coming. Thank you!
Register as a TROYPOINT Insider and discuss this article with thousands of other cord-cutters.