U.S. lawmakers are in the process of examining the current legal loophole that exists for copyrighted works obtained through online streaming.
As of now, there is a legal difference between streaming and downloading.  Streaming is currently considered a public performance that is punishable as a misdemeanor whereas downloading is punishable as a felony.
It's apparent that the Subcommittee on Intellectual Property currently chaired by Thom Tillis (North Carolina Republican) & ranking member Christopher Coons (Deleware Democrat) want to close this loophole.
In early May of this year, a hearing was held at the Senate Committee on the Judiciary with two professional sports organizations represented.
Michael Potenza, vice president and intellectual property counsel for the NBA and Riché McKnight, Global Head of Litigation for the UFC's parent company Endeavor were among the speakers.
Both Potenza and McKnight informed legislators that streaming piracy was severely affecting their business models.
Some solutions presented by the NBA and UFC representatives included the following.
Social media and other digital services should terminate accounts for known infringers.
Digital platforms should consider sending out piracy notices to their users before live events – or if that is not feasible, then at least periodically reminding them that piracy is illegal.
Renew call to criminalize online streaming.
"Without a real fear of criminal prosecution, pirates are emboldened to continue engaging in illegal activity to distribute sports content – whether it is manufacturing and selling ISDs or operating an illegal streaming service," NBA's Michael Potenza said.
WARNING!
Your online activity is actively tracked by your Internet Service Provider, app/addon devs, and government through your identifying IP address.
Stream anonymously by using IPVanish VPN.
IPVanish will encrypt your connection to the Internet and mask your IP address so you will remain 100% anonymous.
SAVE 65% FOR LIMITED TIME
IPVanish backs their service with a 30-day money back guarantee.
IPVanish allows you to use your account on unlimited Internet-connected devices
"It is important to revise the criminal law to recognize illegal streaming of copyrighted content as a felony, which would provide a more effective way to deter illegal streaming," he added.
2011 Commercial Felony Streaming Act
Its been eight years since a similar push to criminalize streaming appeared in the Senate, however this bill was met with public outrage and didn't pass.
The commercial Felony Streaming Act was a bill that was introduced to the United States Senate. It was proposed by Amy Klobuchar, Chris Coons, and John Cornyn on May 12, 2011.  It would have been an amendment to US Code Title 18 Section 2319, that would make unauthorized streaming of copyrighted material for the purpose of "commercial advantage or personal financial gain", a felony (under current law, unauthorized streaming is only a misdemeanor). The penalty could include up to five years of prison-time. The bill defined illegal streaming as streaming ten or more times in a 180-day period. Furthermore, the value of the illegally streamed material would have to be greater than $2,500, or the licensing fees would have to be over $5,000.
Questions to the Copyright Office
After the initial hearing with NBA and UFC representatives, Tillis and Coons requested assistance from the US Government's Copyright Office on four streaming-related questions.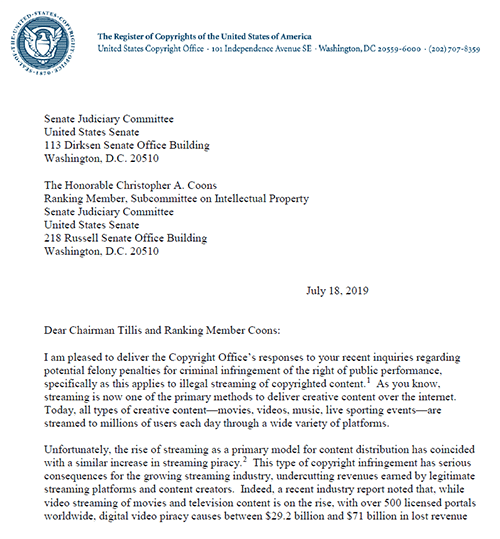 The Copyright Office replied with the following answers.
1.  Does unauthorized streaming violate the copyright holder's right to public performance?  If so, why?
Yes, unauthorized streaming implicates the right of public performance. Streaming is the delivery of digital media content to members of the public in real time, so that it may be watched, listened to, or played contemporaneously with the transfer of the media to a recipient's device. As former Register of Copyrights Maria A. Pallante explained in her 2011 testimony to the House Subcommittee on Intellectual Property, "Streaming, which transmits a performance to members of the public, fits comfortably within [the statutory definition of public performance]." Indeed, the Supreme Court reviewed the question of the proper contours of the public performance right in the 2014 Aereo case and concluded that, reading the statutory provisions in light of the purposes articulated by Congress, the public performance right encompasses streaming. The Copyright Office also concluded that streaming implicates the right of public performance in our 2016 report, The Making Available Right in the United States. Thus, unauthorized streaming, absent an applicable exception or limitation, infringes the right of public performance.
As a recent industry report illustrates, there has been an explosion of consumer demand for streamed video content.  Today there are over 500 licensed online video portals worldwide providing television, motion pictures, and, as highlighted in your letter, sports.
This report also notes that the digital video industry is plagued by piracy, to the tune of losses of at least $29.2 billion per year, 80% of which are from unauthorized streaming. Likewise, streaming continues to grow as a source for public access to recorded music, with its share of global music revenue reaching 46.9% in 2018; at the same time, stream-ripping continues to present significant piracy problems. Internationally, the United States Trade Representative this year included eight sites that primarily or partially engage in streaming piracy in its list of notorious online markets, which is designed to "highlight prominent and illustrative examples of online and physical marketplaces that reportedly engage in and facilitate substantial piracy and counterfeiting." These sites may host pirate streams, distribute stream-ripped files, or make available illicit streaming devices ("ISDs").
2.  Does unauthorized streaming violate the copyright holder's right to control reproduction and distribution?  If not, why not?  If so, Under what Circumstances?
Although the streaming of copyrighted content most obviously implicates the public performance right, depending upon the technology at issue, there may be instances in which the rights of reproduction and/or distribution also will be implicated. Which copyright right(s) are implicated in a particular case will depend on the applicable factual situation. It is partially for this reason that it is important that penalties for violation of the public performance right mirror those for violation of the reproduction and distribution rights: in a criminal infringement situation, prosecution should not be hindered by some infringements qualifying as felonies and others not, based solely on the illicit delivery method chosen for the creative content.
3.  Do you believe that increasing the criminal penalty for the unauthorized streaming of copyrighted material from a misdemeanor to a felony would better deter illicit streaming?  If yes, what specific statutory changes would you recommend?
The Copyright Office has previously supported statutory amendments that would provide the same felony-level penalties for criminal streaming as for criminal reproduction and distribution. Despite the fact that streaming may, in some factual situations, constitute a reproduction or distribution of a work, there are also many instances where it primarily constitutes public performance of the work. As noted above, there may be other instances where it is not immediately clear which right is at issue. Hence, the Copyright Office believes that consistent felony-level penalties for violation of the public performance, reproduction, and distribution rights would provide the most comprehensive tools for federal authorities. We believe this can be achieved in a way that does not bear upon the activities of individual users of streaming services.
Currently, there are three bases for prosecution of criminal copyright infringement set forth in the Copyright Act. All require that the infringement be willful. The first basis, which covers infringement "for purposes of commercial advantage or private financial gain," may be used to prosecute infringements of the right of public performance. However, under the U.S. Criminal Code, only violations of the rights of distribution and reproduction can form the basis of a prosecution for felony infringement. In contrast, violations of the right of public performance can be prosecuted only at the misdemeanor level. The other two bases for criminal infringement in the Copyright Act explicitly mention only reproduction and distribution.
The Copyright Office supports the same level of felony penalties for violation of the public performance right as for the reproduction and distribution rights, a position reinforced by the combination of the growing importance of streaming to the U.S. economy and the failure of the current law to effectively address unauthorized streaming. This policy recommendation has been endorsed previously by the Department of Justice, the Intellectual Property Enforcement Coordinator ("IPEC"), and the Department of Commerce Internet Policy Task Force. We also note that a bill in the 112th Congress was proposed in response to unauthorized streaming, and the Office stands ready to assist Congress in developing future legislative language to address this issue.
4.  Are there additional legislative solutions that you believe would address the growing issue of unauthorized streaming of copyrighted content?
The Copyright Office remains ready to work with the Subcommittee and its members, as well as our colleagues in the Department of Justice, in order to develop effective enforcement tools to combat the unauthorized streaming of copyrighted content.
One tool that may be beneficial in enabling smaller copyright owners to enforce their rights civilly is a small copyright claims tribunal. The Copyright Office is also in the process of studying the section 512 notice-and-takedown system, and may have additional recommendations as part of that process. We look forward to working with you on these and any other issues.
Download Copy of Letters
Letter to Copyright Office from Tillis & Coons
Reply from Copyright Office to Tillis & Coons
Streaming Loophole Resolution
Where will all of this go from here?
This will be an interesting story to follow over the coming months and we will continue updating this article as things transpire.
Troy's Opinion
Please note that this is my opinion and I don't represent the thoughts of any partners/contractors associated with TROYPOINT.
This is another great example of our tax "contributions" going down the tubes and time wasted in DC!
Let's take a 10-second look at the two organizations who are lodging this complaint.  By no means are they hurting.
The average NBA team is worth $1.9 billion, up 13% over last year and three times the level of five years ago.
Dana White, UFC President, claims that the UFC is now worth $7 billion which is $3 billion more than what it was sold for in 2016.
I'm a huge fan of the UFC and have been to approximately 10 live shows.  I also subscribe to their UFC Fight pass subscription service.  I find both of these products in line with what should be charged, plus I want to support the fighters.  Would I pay $79.99 to watch 1 Pay Per View event?  Absolutely no.
Pay Per View is a dying outlet and those who still use it are stuck in the past.
These businesses should start going after a larger audience by charging less.  Wouldn't this also increase revenue in other areas of their business?
How Do We Determine Which Streaming Sites Are Legal & Which Are Not?
I've always held the opinion that it shouldn't be the consumer's responsibility to determine whether an online streaming service, app, or add-on is legal.
How do we know if the proper licenses have been obtained through these various streaming portals?
Yes, common sense should usually prevail but many of these IPTV sites look 100% legal and similar to services such as Sling, YouTube TV, DirecTV Now, etc.
Due to this issue at hand, it will be very difficult to create an enforceable law.
SET TV which was shut down last year was notorious for their marketing efforts and claims that they held the proper licensing for the media that they served.
Their Website looked very professional and provided all of the account tools that most legal services offer.
Change Your Business Model
We saw this same legal scenario play out in the music industry with Napster, torrent sites, etc.
Now, there are services such as Spotify that charge $9.99 per month for their premium service.  This model allows music fans to listen to almost any song they choose at an affordable price.  I would rather pay $9.99 per month than mess around with downloads, torrents, etc.  In my mind, this is the perfect price point and most will pay this as opposed to wasting time on the file sharing sites.  The cable/satellite and motion picture industry needs to adopt a model like this and fast!
In the second quarter of 2019 AT&T lost 946,000 video subscribers.  Comcast lost 224,000 video subscribers.  Charter lost 150,000 video subscribers.
The writing is on the wall.  People are sick of paying these ridiculous prices for cable/satellite packages.
How about an a la carte option that allows consumers to pay for the channels that they would like to view?  These cable/satellite packages are riddled with hundreds of channels that are never viewed yet we are paying for them!
The entertainment industry is currently playing whac-a-mole with these legal maneuvers.  One service or app gets removed after litigation and seven more pop up.  This will never change due to the technology era that we currently live in.  There will always be a source to get free or low-cost media in an easy way due to the World Wide Web.  There are literally thousands of IPTV providers and the task of shutting all of these down will prove to be a nightmare.
Lawmakers are wasting their time and taxpayer dollars addressing this ridiculous complaint.
Rather than creating laws that can't be enforced, how about these companies adapt to the times that we live in and change their business models?
As long as consumers can connect through a VPN while streaming or downloading from the Internet, these criminal threats don't carry any weight.
I'm curious to hear what you gals and guys have to say about this new push to criminalize streaming.
Tell Us What You Think!
What are your thoughts about this new push to criminalize streaming in the United States?  What type of business model would you like to see from these major media providers?  Let us know in the comments section below.
This page includes affiliate links where TROYPOINT may receive a commission at no extra cost to you. Many times, you will receive a discount due to the special arrangements made for our visitors. I will never promote something that I personally don't use or recommend. Purchasing through my links directly supports TROYPOINT which keeps the content and tools coming. Thank you!
Register as a TROYPOINT Insider and discuss this article with thousands of other cord-cutters.