This step-by-step tutorial will show you how to install the Best VPN for Chromecast for anonymous streaming.
TROYOINT suggests IPVanish VPN for any streaming device and this includes the new Chromecast with Google TV.
There are two ways to install IPVanish on your Chromecast device and we detail both below.
Why would you want to set up a virtual private network (VPN) for your Chromecast with Google TV?
Using a VPN on your Chromecast will protect your online activity and create an anonymous connection through a masked IP address, which will hide your identity.
This will make it impossible for app developers, hackers, site operators, your Internet service provider (ISP), and other organizations from monitoring what you are streaming or downloading.
This is especially important when Jailbreaking a Chromecast with Google TV.
And because IPVanish provides easy-to-install apps, we can encrypt our IP address on nearly any device available.
Best VPN for Chromecast with Google TV
IPVanish is the best VPN for Chromecast with Google TV for several reasons which we list below.
Blazing Fast Speeds
IPVanish is the fastest, most reliable VPN Provider on the market today. Speed is arguably the most important factor to look for when choosing a VPN service.
Because most Chromecast owners are streaming High Definition Video files on their device, speed is a vital factor.
Many Internet providers (ISPs) also impose throttling methods for various Streaming Apps and IPTV Services, so using a VPN may in fact increase your streaming speeds.
This makes sense as most ISPs are in the cable and VOD business and don't want customers using VPNs to access restricted content.
IPVanish also supports several VPN Protocols on the Chromecast with Google TV including OpenVPN (TCP), OpenVPN (UDP), and IKEv2 protocols.
Many other VPNs don't provide these various protocol selections.
Zero Logs
Most people don't realize that their current ISP keeps logs and monitors all streaming and download traffic on their accounts.
IPVanish does not keep track or store any traffic logs so if they were ever requested to provide your streaming history, it doesn't exist.
Also, if you ever connect to public WiFi hot-spots, your online activity can easily be intercepted.
When using these insecure access points, it is crucial to connect to a VPN for safe internet browsing.
IPVanish's zero log policy is another one of many reasons why it is regarded as the Best VPN for Streaming among the cord-cutting community.
Unblocking Geo-Restrictions
One of the most popular uses of a VPN is the ability to access websites that are only available in certain geographical regions.
This is often referred to as "unblocking websites" which is very popular among sports fans, YouTube, and Netflix users who are often geo-restricted in certain locations.
Using a VPN on your Chromecast will help evade geo-blocking and that's why it is claimed the best VPN for Streaming UFC and Watching the NFL Online.
IPVanish VPN has more than 1,500 servers across 75 locations to choose from. This also includes over 45,000 shared IP Addresses throughout the world.
No matter your location, you can easily connect to IPVanish and access content from around the world.
Streaming App Compatibility
IPVanish is known for its superior compatibility with Streaming APKs and popular apps like Kodi.
How to Install Kodi on Chromecast with Google TV
Using a VPN in conjunction with these apps is a must as many must be side-loaded for use.
Because we cannot verify these app developers, it is extremely important to protect your identity and anonymize yourself with a VPN.
Unlimited Device Support
One of the main reasons we have chosen IPVanish as our VPN Provider is because of the ability to install their application on any device.
IPVanish is available within the Google Play Store for a simple one-click download. It is also provided in all app stores including Apple, Amazon, and more.
This means users can install IPVanish on any device they want including iOS, Android, Fire TV, Roku, and much more.
Best of all, one IPVanish account can now be used simultaneously on unlimited devices!
This means 100% protection for all your internet-connected devices.
TROYPOINT TIP: If you wish to protect all device at once, you can easily setup VPN on your router using the guide below:
By doing this, you will protect all your internet-connected devices instead of using apps for each device.
TROYPOINT TIP: For the quickest installation of IPVanish VPN and tons of other apps on your Chromecast, check out the TROYPOINT Rapid App Installer.
This will allow you to install all of your favorite streaming apps and tools in a matter of minutes instead of one by one.
Use the link below to access this free application.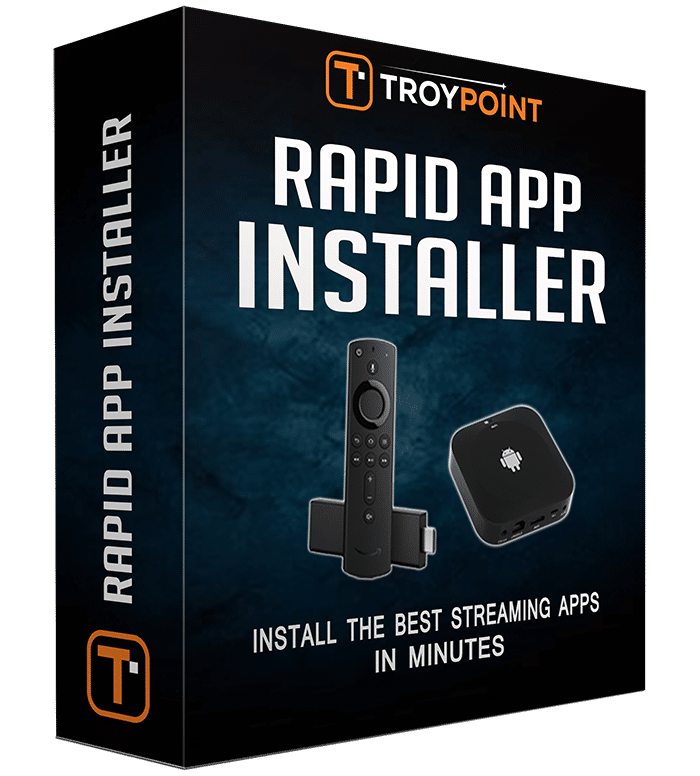 Install VPN on Chromecast with Google TV
Google Play Store Instructions
1. Register for an account at IPVanish by clicking HERE.
2. From the device main menu, Search for apps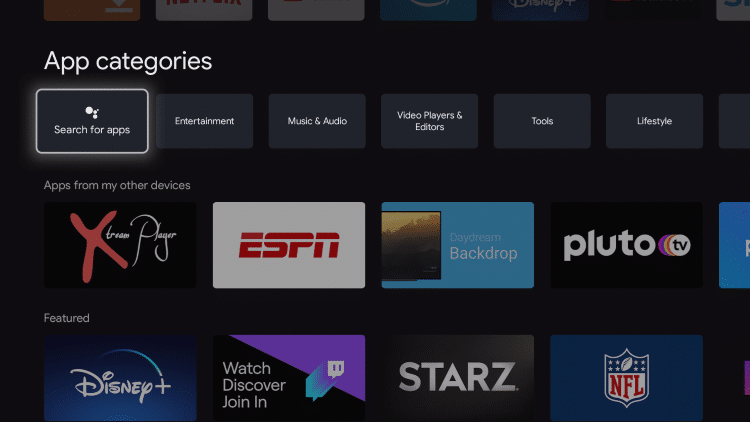 3. Search IPVanish
4. Click Install
5. Wait for the app to download
6. Click Open
7. Log in to your IPVanish account by entering in your account credentials
8. IPVanish will launch
9. Click Connect
10. Click OK when you receive this Connection request message.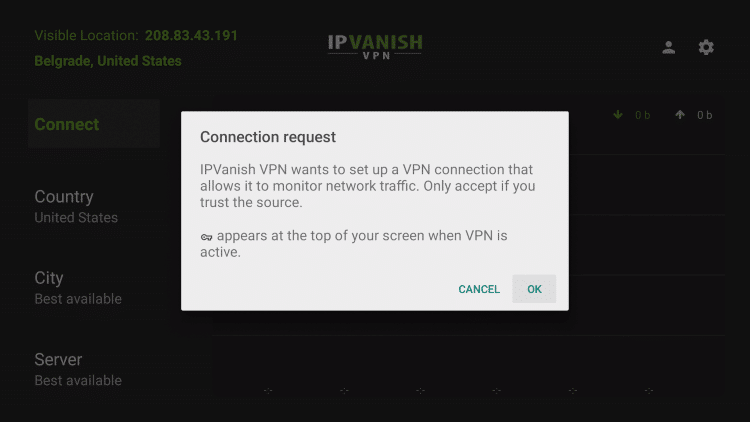 11. That's it! You have successfully installed IPVanish VPN on your Chromecast with Google TV and are now protected.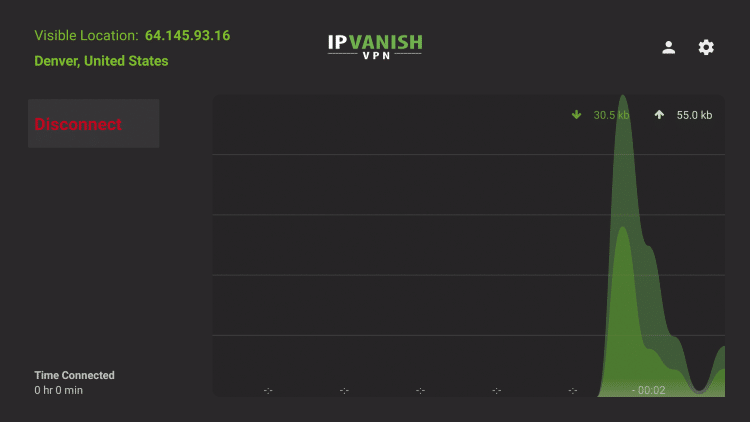 Install VPN for Chromecast With Downloader App
If for some reason IPVanish is no longer available in the Google Play Store, you may install it through Downloader by following these instructions.
As seen in our Chromecast Setup Guide, in order to side-load apps on your Chromecast with Google TV, you must enable Developer Options before you can turn on unknown sources.
Follow the steps below to enable unknown sources on your Chromecast with Google TV.
1. Click Search within the menu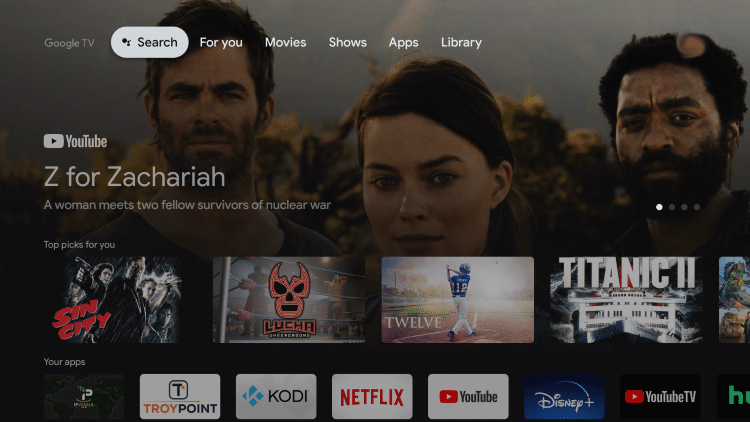 2. Type in "Downloader app" within the search bar and click the search icon.
3. Select Downloader by AFTVnews under Apps
4. Click Install
5. After Downloader finishes installing return back to the home screen on your Chromecast
6. Click Settings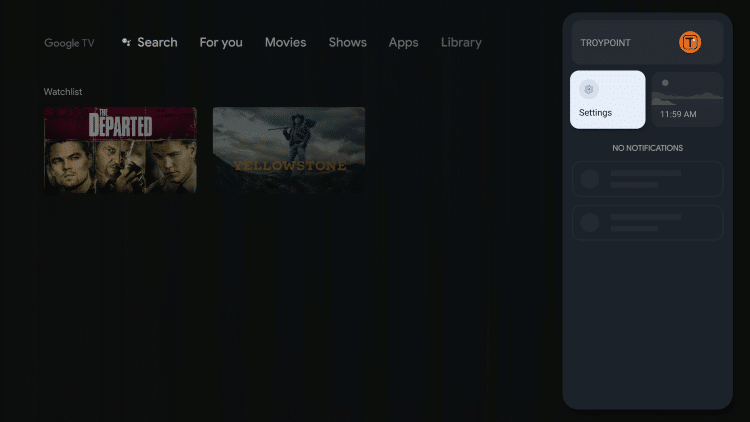 7. Click System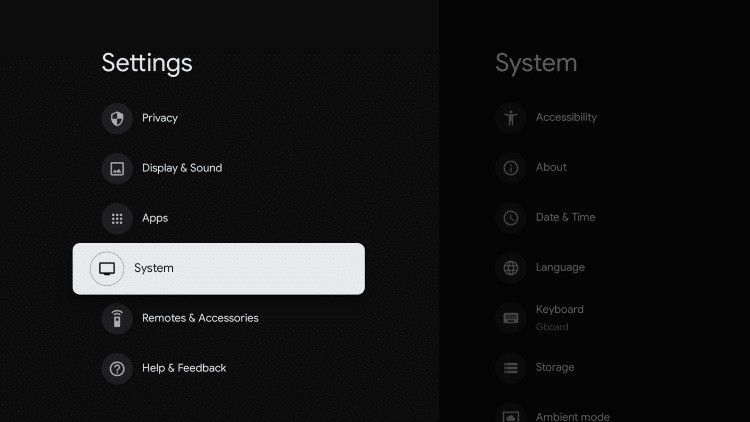 8. Click About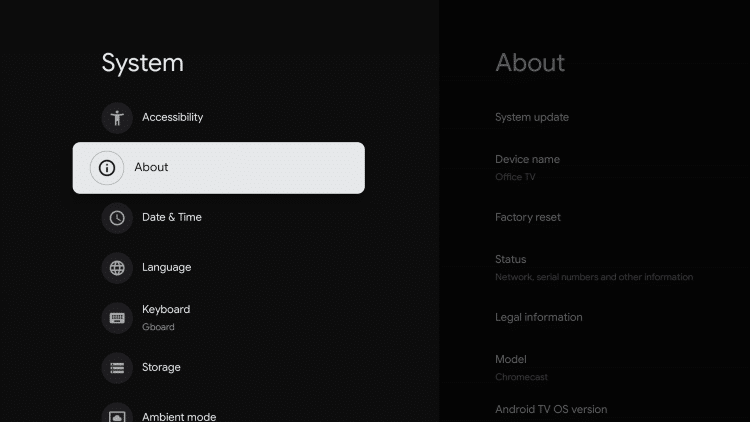 9. Click Android TV OS build approximately 7 times until you see a message that Developer Options have been enabled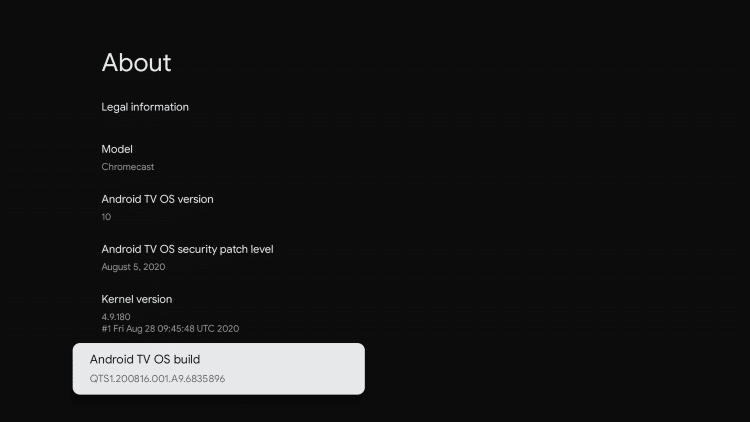 10. Go back until you see the Apps menu item, click that
11. Click Security & Restrictions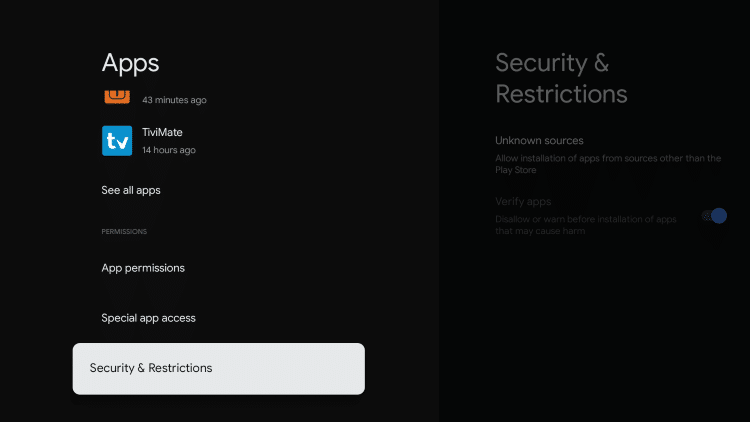 12. Push the right arrow to move to the right side of the screen where apps are located
13. Turn on unknown sources for the Downloader app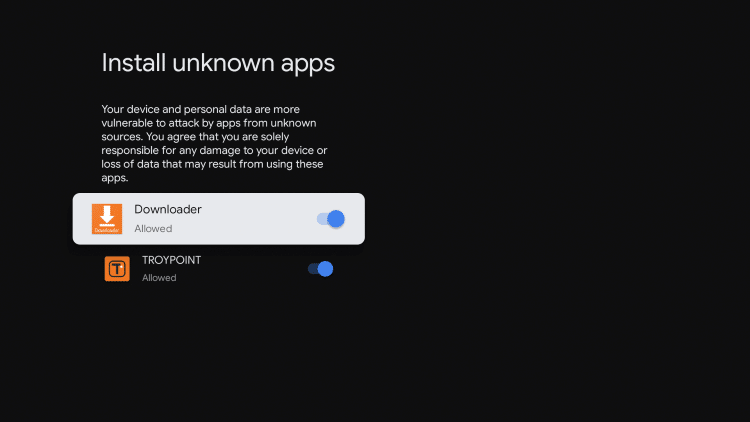 14. Launch the Downloader app and click Allow
15. Click OK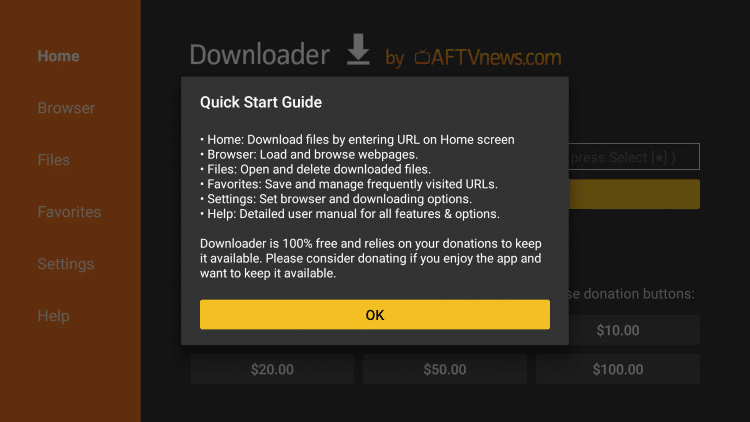 16. Click the search box
17. Type in the following URL – troypoint.com/ipv and click Go
18. Wait for the app to install
19. Click Install
20. Click Done
21. Click Delete
22. Click Delete again
23. Return back to your apps then scroll to the right and click See all
24. Locate the IPVanish VPN app and hold down the OK button on your remote
25. Select Move
26. Place the IPVanish app wherever you prefer and click the OK button to confirm
27. Enter your account credentials
28. That's it! You have installed IPVanish VPN on your Chromecast using the Downloader app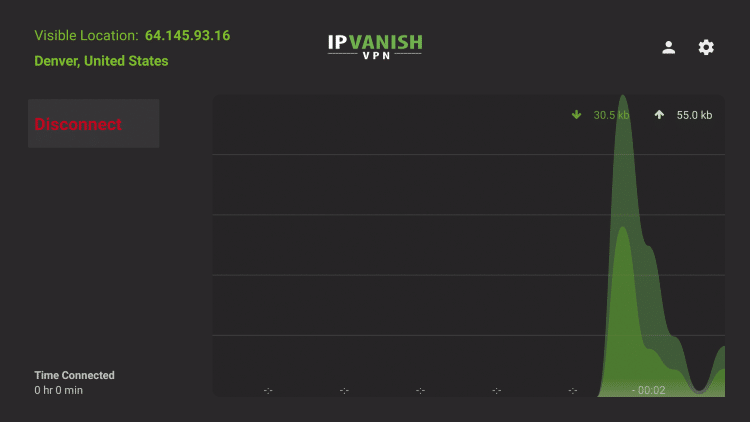 SAVE UP TO 74% WITH THIS TIME-SENSITIVE DEAL

Use IPVanish on unlimited devices & when away from home.

IPVanish backs their service with a 30-day money back guarantee.

Click Here To Get Your IPVanish Discount
How To Test VPN on Chromecast
Another useful application I recommend installing in conjunction with IPVanish VPN is the VPNSafetyDot app.
VPNSafetyDot is a useful tool that enables an icon to appear in the upper right-hand corner of your screen when you are connected to a VPN.
With this app installed, you will always know when your connection is safe through a VPN.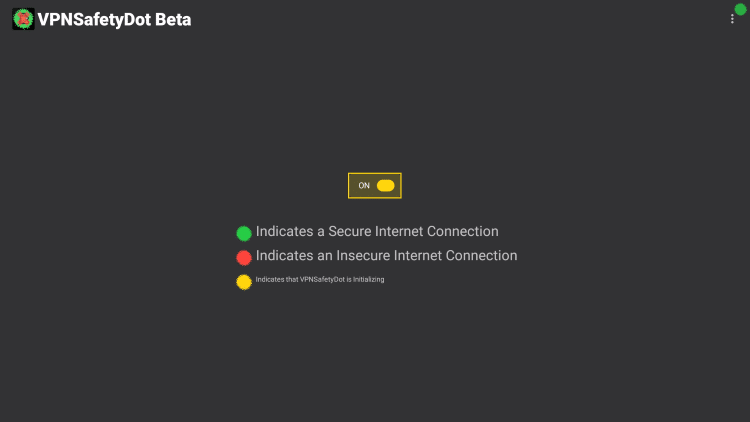 This is a great tool in granting peace of mind whenever streaming on your Chromecast. For more information, refer to our VPNSafetyDot guide below.
VPNSafetyDot – VPN Kill Switch Alternative
IPVanish VPN for Chromecast – Common Questions
Why should I choose IPVanish for my Chromecast with Google TV over other VPN services?
By using IPVanish VPN, you are guaranteed that your VPN will do the following:
No storage of any activity logs
Blocking all network traffic when your VPN connection is lost
Allows for split tunneling
Block firewalls that detect OpenVPN connections
Prevent other devices from communicating with your Chromecast when you're sharing a local area network (LAN).
Can I use a free VPN for my Chromecast?
Yes, technically you can use a free VPN on a Chromecast device but we NEVER recommend using free VPNs. Refer to our guide below for more information on free VPNs.
Why You Can't Trust a Free VPN
Can I change the VPN Protocol in the IPVanish app for Chromecast?
Yes, within the IPVanish app on a Chromecast device, you are able to use the OpenVPN (TCP), OpenVPN (UDP), and IKEv2 protocols.
How many servers are available on IPVanish?
As of this writing, there are more than 1,500 servers across 75 locations to choose from. This also includes over 45,000 shared IP Addresses throughout the world.
What operating system (OS) does IPVanish support for Chromecast?
It supports both Google TV OS and Android 5.1 and higher.
Should I purchase separate IPVanish plans if I have multiple devices connected to the Internet?
IPVanish now supports unlimited connections on multiple devices so you don't have to spend on additional plans.
For VPN installation instructions on other popular devices, refer to our guides below.
SAVE UP TO 74% WITH THIS TIME-SENSITIVE DEAL

Use IPVanish on unlimited devices & when away from home.

IPVanish backs their service with a 30-day money back guarantee.

Click Here To Get Your IPVanish Discount
For more information on VPNs, we highly suggest viewing our detailed VPN Guide below.
What is a VPN? Your Complete VPN Guide
For more information and details on the new Chromecast with Google TV device, I suggest viewing our in-depth review below.
Chromecast with Google TV Review
Learn more about IPVanish by reading our unbiased review linked below.
VPN for Chromecast FAQ
What is a VPN and why do I need it on a Chromecast?
A virtual private network (VPN) is a service that allows you to privately and securely use your Chromecast with Google TV. Yes to remain anonymous online you need a VPN on all your devices that access the internet.
Is a VPN legal?
Yes. A VPN is 100% legal to install and use in most countries including the U.S. However, in some countries VPNs are not legal to use.
How does a VPN work?
A VPN works by routing your device's internet connection through a private server instead of your internet service provider (ISP). This will mask your IP Address to any websites you visit.
What devices can a VPN be installed on?
a VPN is available for installation on almost every electronic device you can think of. This includes Chromecast, PCs, Iphones, Android phones, Amazon Fire TV devices, and many other popular electronic devices.
How much does a VPN cost?
While some VPN services are free, most quality VPN services charge less than $5 per month.
Can you be tracked if you use a VPN?
A VPN encrypts your IP Address from your Internet Service Provider (ISP) making your online activity anonymous.
Should I use a VPN at home?
Yes. If you are accessing the internet at your home we recommend using a VPN for your online privacy.
Should I use a VPN on my phone?
Using a VPN on your phone is not necessary, but recommend if you want to hide your internet activity.
This page includes affiliate links where TROYPOINT may receive a commission at no extra cost to you. Many times, you will receive a discount due to the special arrangements made for our visitors. I will never promote something that I personally don't use or recommend. Purchasing through my links directly supports TROYPOINT which keeps the content and tools coming. Thank you!