This Mi Box Review will supply you with important information regarding this Android TV 6.0 streaming 4K box.  This is a nice Android TV Box that runs the true Android TV 6.0 operating system which means the apps available for this device perform well with the included remote.
You can purchase the Mi Box at your local Walmart which is great as most of you have a store close to you.  This streaming device has gained popularity rather quickly due to its power at a fairly inexpensive price point.
Before I get started with this review, I want to make it perfectly clear that this Android TV Box is not the same as your typical Android streaming boxes that are being sold all over the Internet.  The difference with this device is that it is running Android TV 6.0 operating system and not Android…these are two different operating systems.  The Android TV 6.0 operating system provides apps that work nicely with a remote.  The streaming boxes that are based off Android, do not provide a remote friendly experience for the majority of its applications.
The main benefit is that the the system is much more remote-friendly than just plain Android.  Typically with an Android streaming box, you must use a wireless keyboard to navigate the applications.
The downside to using Android TV 6.0 compared to just basic Android is that not all applications will show up in Google Play Store.  If the application hasn't been optimized for Android TV 6.0 then it will not be available in the store.  However, you can still sideload the apps that aren't available but they will probably not be remote friendly in which case you will be required to utilize a wireless mini keyboard such as the Rii i8+ BT Mini Wireless Bluetooth Backlight Touchpad Keyboard with Mouse.
Xiaomi (pronounced "Shami") is the company that manufactures this 4K streaming powerhouse and was featured during this year's Google's I/O developers conference.
Upon unboxing the Mi Box, I was greeted with a nice looking, small design that seems pretty durable to the touch.  As with many of the newer Android-based streaming boxes, this one also has  a small design that will look nicely on the counter next to your television.
The first thing that I noticed about the Mi Box was that it was lacking an Ethernet port and SD card expansion slot.  It does come equipped with a USB port, HDMI port, and a 3.5mm audio output jack.  Unfortunately, we will only be able to connect this device by Wi-Fi to the Internet.  Also, any type of expandable storage will need to be in the form of a USB drive of some sort.  I am o.k. with these shortcomings because for me, they are not deal-breakers.  With the small $69 price tag, I am willing to forfeit a few features.
The Mi Box comes with a voice activated remote control, HDMI cable, two AAA batteries for the remote, a manual, and a coupon pamphlet full of discounts to some of the most popular streaming services available on the Internet today.
This device comes equipped with the Quad-core Cortex-A53 2.0GHz CPU, which provides a powerful and quick interface.  The unit includes 2GB of DDR3 RAM which helps with Kodi buffering and large computing tasks.  The Mi Box also includes 8GB of onboard eMMC Flash Storage and the ability to add additional space through the USB port on the back of the box.  The Mi Box is also equipped with Bluetooth 4.0, making it easy to add accessories such as game pads, keyboards, speakers, etc.
When I powered on the device, it took me through an easy setup process which you will see outlined in the video below.  After I was logged into my Google account, I was ready to start exploring.  The user interface is simple to use with horizontal scrolling and the ability to move the application icons is a nice feature.
The first application that I installed was Kodi Media Center and that task took less than two minutes by using the Google Play Store.  I played a 4K sample video through Kodi and it played with no buffering and everything was very smooth with no lag whatsoever.  I am very happy with the Kodi performance on the Mi Box and look forward to adding some builds in the future.
I searched the Google Play Store for my VPN service provider, IPVanish but it was not available.  I downloaded the .apk file off the IPVanish Website and then sideloaded it to the device.  The sideloaded app worked fine after I paired my favorite wireless mini keyboard –  Rii i8+ BT Mini Wireless Bluetooth Backlight Touchpad Keyboard with Mouse.
Install (Sideload) IPVanish On Mi Box
The majority of TROYPOINT readers use Android as their smartphones and they will be happy that Google Cast is built into the Mi Box, making it dead simple to cast video/audio from their phone onto their televisions.
The wireless download speed measured at 32.15 Mb/s while upload speed measured at 16.24 Mb/s.  Since the device doesn't have a LAN ethernet port, obviously, I could not test that connection.
Click Here To Get Your Free Guide "Supercharge Your Android TV Box"
Mi Box Quick Video Review
Things I like about the Mi Box Android TV Box
Fast and powerful system
Easy to use graphical interface
Plays 4K video very smooth
Kodi Media Center works nicely on the system and very easy to install through Google Play Store
I like the remote friendly apps that work with this system
Sideloaded apps work just fine
Emulators work great on this system and Google Play provides many options
What I don't like about the Mi Box
Not all apps are optimized so they don't appear within Google Play Store, requiring a user to sideload them
Sideloaded apps are not present under the apps section on the home screen
No Ethernet LAN port or SD expansion ports on the Mi Box
Would I use the Mi Box Android TV As A Primary Streaming Device Within My Home?
Absolutely.  This device can be compared to devices such as the Fire TV Box and Nvidia Shield due to its remote-friendly interface, which I like.  Installing Kodi Media Center is a breeze through Google Play Store which may make this the streaming device of the future.  People are sick and tired of jumping through hoops to install Kodi onto the Fire TV/Stick.
What's In The Box?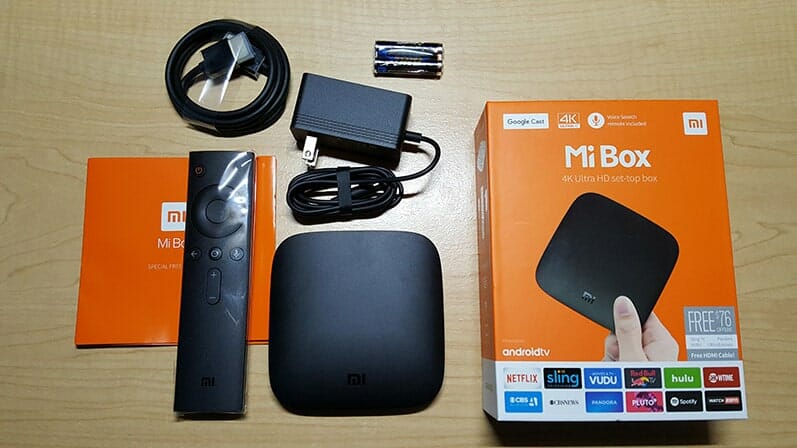 Mi Box
Bluetooth Voice Activated Remote Control
HDMI Cable
Power Cord
2 AAA Batteries for Remote Control
User Manual
Discount Pamphlet for Popular Internet Streaming Services
Mi Box Android TV Specs
Length: 101mm
Width: 101mm
Thickness: 19.5mm
Weight: 176.5g (+/- 1g)
Color: Black
Output Resolution: Up to 4K 60fps
Processor: Quad-core Cortex-A53 2.0GHz
GPU: Mali 450 750MHz
RAM: 2GB DDR3
Flash: 8GB eMMC
System: Android TV 6.0
Security: Widevine L1 + PlayReady 3.0
Wi-Fi: 802.11a/b/g/n/ac, Dual-band Wi-Fi 2.4GHz/5GHz
Bluetooth: Bluetooth 4.0/3.0
VP9 Profile-2 up to 4K x 2K @ 60fps
H.265 HEVC MP-10 at L5.1, up to 4K x 2K at 60fps
H.264 AVC HPat L5.1, up to 4K x 2K at 30fps
H.264 MVC, up to 1080P at 60fps
Supports HDR10/HLG HDR processing
DTS 2.0+ Digital Out, Dolby Digital Plus
Up to 7.1 pass through
HDMI: HDMI 2.0a x 1 port (HDCP 2.2)
USB: USB 2.0 x 1 port
AV: SPDIF Out / 3.5mm audio output x 1 port
Power: 1 port
Remote: Bluetooth voice remote control, powered by 2 AAA batteries
Included accessories: Bluetooth voice remote control, HDMI cable, user guide
Power input: 100~240V 50/60Hz input, 5.2V, 2.1A output
Click Here To Get Your Free Guide "Supercharge Your Android TV Box"
Important Note:  Internet service providers are starting to block or throttle access to Kodi addons and Android streaming apps.  Also, your Internet service provider is keeping logs of all your Internet activity.  Below, you will find a link to a tutorial that will provide instructions on how to setup a VPN on Mi Box.