MECOOL KM7 Plus Android TV Box Review
The MECOOL KM7 Plus is a Google TV / Android TV 11 streaming box that is Netflix certified and comes with enough power to suit most people's streaming needs.
MECOOL was kind to send me this new model and I've already created a First Impressions Video that is exclusively available to TROYPOINT Patrons and Founding Members.
Click Here for MECOOL KM7 Plus First Impressions Video
Below, you will find my in-depth unbiased review that covers both the good and bad.
MECOOL KM7 Plus Features/Specs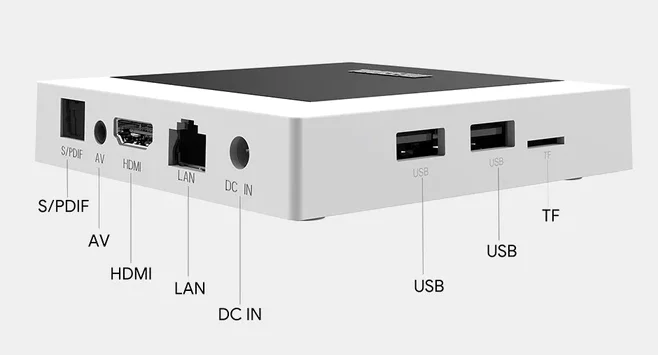 Google TV built on Android TV 11
4K HDR & HDR+
Amlogic S905Y4 Processor
16GB EMMC internal storage
2GB DDR4 RAM Memory
WiFi 2.4 & 5 GHz
Standard Ethernet Port
2 USB ports
microSD slot
Digital Optical port
3.5mm AV port
HDMI out port
12.0V power adapter
Bluetooth 5.0
AV1 Codec Support
Chromecast Built-in
Google Assistant
Netflix 4K Certified
Prime Video Certified
Dolby ATMOS
Legal Disclaimer: TROYPOINT does not develop, operate, host, distribute, or administer any streaming application, add-on, website, or service. Furthermore, we cannot determine the legality of any streaming platform reviewed on this website. TROYPOINT specializes in educational tech reviews, tutorials, and news which is protected by the First Amendment of the United States Constitution. The end-user is solely responsible for media accessed and TROYPOINT assumes that all visitors are abiding by copyright laws set forth within their jurisdiction. Users should only stream works not protected by copyright when using unverified streaming solutions.
Use coupon code TROYPOINT15 at checkout and save 15%
MECOOL KM7 Plus Review
I've been using the MECOOL KM7 Plus on a regular basis for the past two weeks and the following unbiased review will provide you with my findings.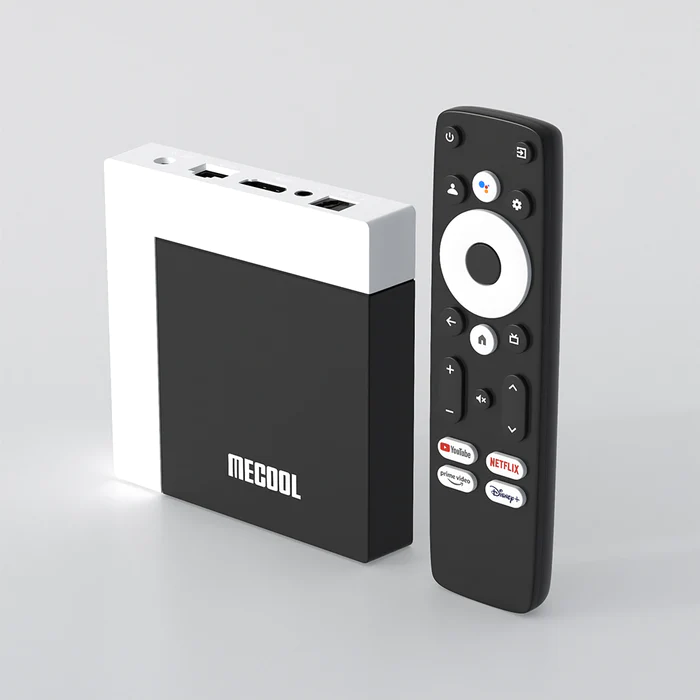 I won't dive into every feature listed above as most of those are self-explanatory.  I will single out the important aspects of this device that most cord-cutters are interested in.
As mentioned in my First Impressions Video, when I first booted the device, I had all kinds of problems. I did a factory reset and all of those problems went away. This shall serve as a friendly reminder that if you ever have problems with devices like this right out of the box, try doing a factory reset.
Sideloading Apps on MECOOL KM7 Plus
Yes, sideloading applications works perfectly on the new MECOOL KM7 Plus.
I installed the free Downloader App then opened the TROYPOINT Toolbox and installed Kodi, TiviMate, SmartTubeNext, and Unlinked.
All of the sideloaded apps performed as expected.
Google TV
Google TV is the operating system that is installed on the MECOOL KM7 Plus.  This is the same operating system that comes installed on the Chromecast with Google TV.
Google TV is powered by Android TV 11 on this device.  You can think of Google TV as a user interface that lays on top of Android TV.
YOU'RE BEING TRACKED...
Your online activity is tracked by your government, Internet Service Provider, app/addon/IPTV devs and all websites through your identifying IP address
Stream anonymously by using Surfshark VPN
Your Current Identifying IP Address (digital fingerprint):
SAVE 82% ON SURFSHARK VPN + 4 FREE MONTHS
Surfshark backs their service with a 30-day money back guarantee
Use your account on unlimited devices & share with family members
HURRY! SALE ENDS SOON
Claim Surfshark VPN Discount
I'm not a huge fan of Google TV due to the numerous ads for streaming services and menu/screen transitions are slower.  Google TV also consumes more space on internal storage and I will expand on this further into the review.
That takes me to the next portion of this review…3rd Party Launchers.
3rd Party Launchers
Thankfully, we can install 3rd party launchers such as Wolf Launcher that provides a customized user interface and snappier device.  Users must also install Launcher Manager to get this working properly.  Both Wolf Launcher and Launcher Manager are also included in the TROYPOINT Toolbox as well.
I'm happy to report that the MECOOL KM7 Plus does support 3rd party launchers and Wolf works extremely well.
Google Assistant
Google Assistant works very well on this device.  When speaking into the remote, results are accurate and quick.
Google Remote
The MECOOL KM7 Plus comes with the popular Bluetooth Google Remote Control.
When I first booted the device, the remote was extremely laggy and didn't perform very well. Then, after a few minutes, I was prompted to install and update for the remote and that took care of all the problems.
The MECOOL KM7 Plus Remote comes with four shortcut buttons, YouTube, Netflix, Prime Video, and Disney+.
It also pairs nicely with televisions and other audio/visual equipment.  This allows for controlling power, volume, and input on external devices.
I like this remote a lot and wish all Android TV manufacturers would use it.
Netflix 4K HD & Amazon Prime Certified
Both Netflix and Amazon Prime work as expected for a certified box.
Use coupon code TROYPOINT15 at checkout and save 15%
MECOOL KM7 Plus Storage
The MECOOL KM7 Plus touts 16GB of internal storage. But, there's a big problems with this.  Once Android TV, Google TV, and other system apps are accounted for, the remaining storage is approximately 9GB.
As mentioned above, one problem with Google TV is the increased storage required for the operating system.
I wish the MECOOL KM7 Plus included at least 32GB due to this storage limitation.
Expanding Internal Storage
Expanding internal storage allows us to use external storage such as a USB drive as internal storage.  We can instruct the device to use a USB drive or microSD card as internal storage so we can install applications onto it.
Not all Android devices support expanding internal storage but the KM7 Plus does.
I tested this by using a 256 GB SanDisk USB 3.0 drive and it worked flawlessly.
Here you can see that it supports moving applications to external storage.
MECOOL KM7 Plus Download/Upload Speeds
I used the Analiti Speed test app for the following tests.
I have one GB Fiber download speed plan through my Internet Service Provider.
During the WiFi tests, I am connected to the 5Ghz band on my Asus AC3100 Router.  This router resides in the same room as my MECOOL KM7 Plus (approximately 20 feet away from the wireless router).
I'm using Surfshark VPN on Chicago Server.
Ethernet
VPN On: Download = 91 Mbps & Upload = 86 Mbps
VPN Off: Download = 95 Mbps & Upload = 86 Mbps
WiFi
VPN On: Download = 123 Mbps & Upload = 76 Mbps
VPN Off: Download = 342 Mbps & Upload = 326 Mbps
Note:  The reason for faster WiFi speeds is because the Ethernet port is only capable of 100 Mbps.
The KM7 Plus provides screaming fast WiFi speeds for both downloading and uploading.  Keep in mind, you only need 20-30 Mbps to stream 4K video and anything higher is overkill and won't provide any benefit.
KM7 Plus Overall Performance
The MECOOL KM7 Plus is extremely snappy and responsive.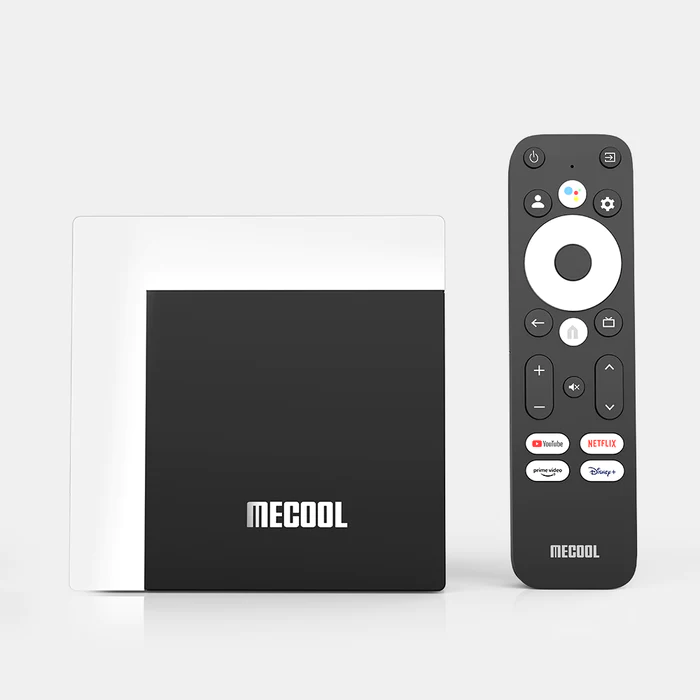 I've had absolutely no problem streaming 4K video through official apps such as Neflix or sideloaded apps like Kodi.
I was expecting some lag due to the fact that the KM7 Plus only comes with 2GB of RAM but I'm not seeing that.  I still wish they would have included an additional 2GB to help future-proof the device.
What I Like
Android TV
Low-power yet powerful CPU
Netflix & Amazon Prime Certified
2 USB ports
Ethernet port
Google Assistant
Chromecast works
Support 3rd party launchers such a Wolf
Can expand internal storage
Fast download/upload speeds
4K works great for both official and side-loaded apps
Great remote control
AV1 codec
What I Dislike
Google TV
2GB RAM
Not enough internal storage
No USB 3.0
No Dolby VISION
Limited support
Usually no updates from MECOOL
MECOOL KM7 Plus Final Thoughts
The MECOOL KM7 Plus is a good streaming device but not great.
As with everything in life, having great usually requires paying more money.
This Android TV Box will suit most cord-cutters and many will find this a welcome upgrade from Fire TV devices.
Many people will compare this to the Chromecast with Google TV due to the fact that both run Google TV.  I prefer the MECOOL KM7 Plus due to the fact it includes various ports not found on the Chromecast with Google TV. Yeah, you can buy a USB C  Hub and new power adapter for the Chromecast but who wants to do that?
It sounds like most Android TV devices will be transitioning to Google TV and I'm not a fan of that due to the reasons mentioned in this review. I wish this device included bare-bones Android TV.
All-in-all this is a good streaming device for the money but MECOOL didn't do a great job future-proofing it.  I wish they would have added an additional 16GB of storage and 2GB of RAM.
Here's my TROYPOINT ranking system for reviews.
Terrible – Bad – OK – Good – Great
My ranking looks at the features offered, how well those features work, and price.
I rank the new MECOOL KM7 Plus as Good.
Use coupon code TROYPOINT15 at checkout and save 15%
This page includes affiliate links where TROYPOINT may receive a commission at no extra cost to you. Many times, visitors will receive a discount due to the special arrangements made for our fans. I will never promote something that I personally don't use or recommend. Purchasing through my links directly supports TROYPOINT which keeps the content and tools coming. Thank you! Learn more on my Affiliate Disclaimer page.