I've been approached multiple times by SuperBOX to promote their Android TV Boxes.
I received another request a few weeks ago for their new model which is the SuperBOX S3 Pro.
I said no.
Throughout the past year, many of our TROYPOINT followers have asked for my opinion on this Android Box distributor.
Below, you will find my unbiased review of the SuperBOX S3 Pro and all other models.
This is a bit different than my other Android TV Box reviews because I'm not actually reviewing the box.  I don't need to.
SuperBOX Android TV Box Review – Lifetime IPTV Subscription Included
I've always promised my readers that I won't sell-out and promote products that I personally don't recommend or use myself.
Sure, we could make some nice advertising revenue by promoting this box but there is no way that I can recommend it.
WARNING!
Your online activity is actively tracked by your Internet Service Provider, app/addon devs, and government through your identifying IP address.
Stream anonymously by using IPVanish VPN.
IPVanish will encrypt your connection to the Internet and mask your IP address so you will remain 100% anonymous.
SAVE 65% FOR LIMITED TIME
IPVanish backs their service with a 30-day money back guarantee.
IPVanish allows you to use your account on unlimited Internet-connected devices
The SuperBOX Android TV Boxes come pre-loaded with an IPTV service that offers up thousands of channels and on-demand movies and TV shows.
The IPTV service that comes with the unit is supposed to be a lifetime subscription.  The terms lifetime and IPTV should never go together in my opinion.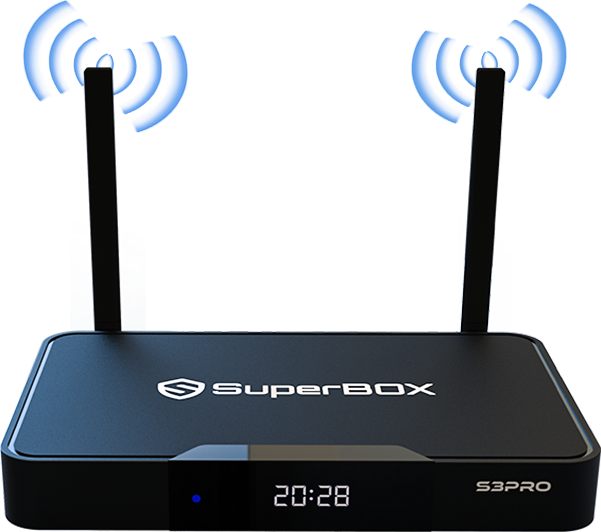 As of this post, the new SuperBOX S3 Pro is selling for a discounted price of $329.00.  Are you laughing yet?  You should be.
There's nothing special about the actual Android TV Box.  You are basically paying for the unverified IPTV service that comes pre-loaded onto the device.
We use the term 'unverified' because it's impossible for us to determine whether the IPTV service that they are using carries the proper licensing.  I dive more into the legal questions surrounding this box further into the article.
SuperBOX touts a 1-year warranty but what happens when the IPTV service stops working after the first year?  What happens when SuperBOX gets shut down for selling illegal Android TV Boxes?
You will notice on the SuperBOX Website that they don't mention the IPTV service that comes pre-loaded on the system.  They leave the dirty work to their affiliates who push the device.
When you do a Google Search for SuperBOX, you will see multiple Websites that offer this Android TV Box.  Heck, you can even purchase one of these off the Walmart Website and Amazon.
Let's take a look at the specs from the new SuperBOX S3 Pro.
SuperBOX S3 Pro Specs
As you will see below, there is nothing special about this generic Android TV Box.
You can find a comparable model on Amazon for $30-$50.
Operating System: Android 9
Processor: Quad-core ARM Cortex-A53
GPU: Mali-720MP2
RAM: 2GB DDR
Storage: 32GB eMMC
Antenna: 2T2R (2 transmitters, 2 receivers)
WiFi: Dual Band (2.4G+5G)
Ethernet: Network RJ45 10/100M
Bluetooth: 4.1
Video Decoder: H.265 [email protected]
Power Supply: DC 5V/2A
Is SuperBOX Legal?
In the United States, it's illegal to sell Android TV Boxes that have been loaded with apps or IPTV services that don't carry the proper licensing.
In the past, TorrentFreak has reported on manufacturers such as Dragon Box who had to pay the Alliance for Creativity and Entertainment (ACE) $14.5 million in piracy damages.
When TROYPOINT covers IPTV, we often refer to the questionable services as 'unverified'.  The reason why we use that word is because it's impossible for us to determine whether or not these services hold the proper licensing.
So, for now, we will continue calling the SuperBOX IPTV service 'unverified' because they haven't been sued or shut down….yet.
If you go to the Review section of the SuperBOX Website, you will see that some of the YouTube reviews they are showcasing have been removed (This video is unavailable).  More than likely, these removals came from ACE or another copyright enforcement group.
You may wonder why sites such as Amazon and Walmart offer this for sale on their websites.  It's because these businesses aren't aware of the questionable built-in IPTV service that comes pre-loaded on the box.  Again, they are relying on their affiliates to do their dirty work such as some of the YouTubers that you see listed above.
When SuperBOX has approached me to promote their Android TV Boxes, I've often replied asking if their IPTV service is legal.  I've never got an answer.
If SuperBOX sees this post and wants to reply with an official statement, please do so via our contact form and I will gladly publish it here on this review page.
Update 12/23/2021
Yes, I will keep my promise above and allow SuperBOX to reply.
Will from SuperBOX sent the following reply regarding this review.
---
Hi, this is Will from SuperBox. I'm flattered that you could waste time to write an article for us. But I guess you know a few of SuperBox.
1. We've been here for nearly 3 years, not a single customer said their service was down.
2. Specs are not that high but enough for streaming, our technical team needs to make sure the hardware and service match well. And I suppose specs are not everything, no one can support IPTV voice search like our S3 Pro.
3. We stay low-profile on the website because we need to stick to maintaining our service to keep our word, lifetime service. Even if we've been targeted, we still have backups for customers.
---
My reply to the message above would be, "What happens when you get shut down?  How will you continue offering lifetime subscriptions then?"
Alternatives
TROYPOINT suggest purchasing a reputable Android-based streaming device such as the Fire TV Stick 4K Max.
If you're interested in using an IPTV service, I recommend installing it yourself.  The process is simple and you will save lots of money in the long-run.
I suggest not getting locked into one IPTV provider by purchasing this box.  What if it doesn't work for you?
When you purchase and setup your own IPTV service, you have the ability to quickly move onto another service if it gets shut down or doesn't work for you.
Here is a list of the Best IPTV Services currently available.  You will see that we rank both the legal and 'unverified' services.
Summary
I strongly suggest staying far away from SuperBOX Android TV Boxes at all costs or any box that comes pre-loaded with an IPTV service.
Due to legal reasons, they probably won't be around for long and those who purchase will be stuck with a generic Android Box they could have bought for $30.
As we always say, you need to learn how to do things yourself when it comes to cord-cutting.
I rank the new SuperBOX S3 Pro 1 star out of 5
Our Score
This page includes affiliate links where TROYPOINT may receive a commission at no extra cost to you. Many times, you will receive a discount due to the special arrangements made for our visitors. I will never promote something that I personally don't use or recommend. Purchasing through my links directly supports TROYPOINT which keeps the content and tools coming. Thank you!
Register as a TROYPOINT Insider and discuss this article with thousands of other cord-cutters.