Android TV vs Fire TV – A Complete Breakdown for 2023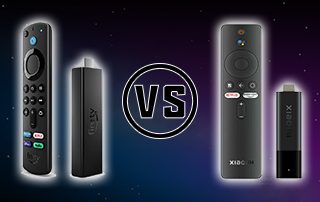 The following article details Android TV vs Fire TV (Firestick) to compare the most popular streaming devices available.
This comprehensive breakdown lists all the differences in these devices to help determine which is the better option.  I also throw in my own experience and explain which one I prefer.
In today's world, most cord-cutters have one of these two devices for their streaming needs.
However, there are tons of variations and devices to choose from that vary in price, speed, power, RAM, and much more.
What's important to note here is that while the hardware of these devices may be similar, it's the Operating Systems that differ.
In fact, both options are now available in Smart TVs which do not require a streaming device at all for access to these platforms.
This guide will detail Android TV vs Fire TV with both media devices in mind as well as the software that they provide.
Android TV vs Fire TV – Devices
Both Fire TV & Android TV have numerous streaming options to choose from.
We break down some of the most popular variations of each device with important information for each.
Troy's Thoughts – Android TV or Fire TV?
I've been a huge proponent of Fire TV devices since 2014 when the first Firestick was released.  At that time, Kodi was the most popular application to stream free movies and TV shows and the Firestick was an inexpensive option to run it.  At first, Amazon App Store actually provided Kodi as a download but was eventually banned so cord-cutters then had to side-load the application.
Amazon was the first major player when it comes to Android-based streaming devices that can run 3rd party APKs (apps).  As with many things in life, the early bird gets the worm and that is definitely the case for streaming systems.  It's unfortunate that Android TV hasn't received the attention that it deserves but I think that is coming to an end.
Amazon Blocks Fire TV Customizations
Over time, Amazon has restricted various tweaks that can be administered such as blocking 3rd party launchers, disabling auto-update blocks, and just this week they disabled the ability to remap app shortcut buttons on bottom of remote.
Elias at AFTVnews created numerous applications that allowed us to remap the buttons that most of us would never use such as Netflix, Disney+, hulu, etc.  Yesterday, he posted an announcement on his website that Amazon has now blocked the ability to remap those buttons.
Amazon has pushed out a software update to select Fire TV devices that prevents customers from remapping the app shortcut buttons at the bottom of Fire TV remotes. Two years ago I released my Remapper app which allows Fire TV owners to use the app buttons on their remote to launch any app they wanted. When releasing the utility, I noted that I expected Amazon to block its use at some point and now that day has come.
Amazon is also making it more apparent that they don't want people side-loading 3rd party applications.
Here's what their old Unknown Apps screen previously looked like.
Allow specific applications to install other applications that are not from Appstore.
Here's their new Unknown Apps screen after a recent update.
Allow installation of applications that are not from Appstore.  Turn this option ON only if you install apps from reliable sources as a developer.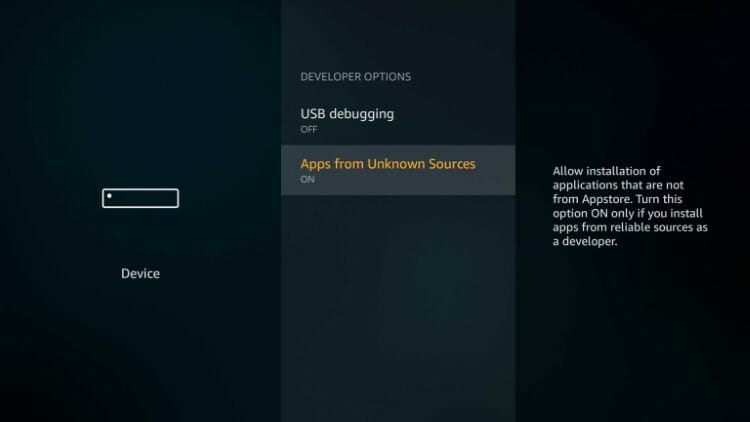 Most Android-based devices provide a Developer Option and this is strictly meant for developers who want to test their new app on the device prior to publishing it to the app store.  This feature was never meant for regular users to install apps not available in the Amazon App Store.
YOU'RE BEING TRACKED...
Your online activity is tracked by your government, Internet Service Provider, app/addon/IPTV devs and all websites through your identifying IP address
Stream anonymously by using Surfshark VPN
Your Current Identifying IP Address:
SAVE 82% ON SURFSHARK VPN + 2 FREE MONTHS
Surfshark backs their service with a 30-day money back guarantee
Use your account on unlimited devices & share with family members
HURRY! SALE ENDS SOON
Claim Surfshark VPN Discount
Will Amazon eventually block installation of 3rd party apps?  I highly doubt it because they would still need to provide developers with an option of testing applications.  However, I'm sure there's technology out there that would allow for disabling this while also keeping developers happy so don't take my word as gospel.
Either way, the writing is on the wall, Amazon doesn't like its users side-loading APKs!
My Firestick/Android TV Experience
I've personally been using Fire TV Sticks on our less-used televisions and I have an NVIDIA SHIELD in our family room where we watch most of our movies and TV shows.  The NVIDIA SHIELD still ranks as one of the best streaming devices out there and I really like the up-scaling that is provides.
Most of us resist change and I'm guilty of that as well.  I've used the Fire TV Stick for the past 8 years on our other three televisions just because it's inexpensive and easy.  No need to change if everything is working, right?
Last week I was greeted with the following screen on our living room TV when I woke up in the morning.  This is the 2nd most used television in the house.
My Fire TV Stick 4K Max was unresponsive and hanging on the boot screen.  I tried factory resetting with the button combination.  I replaced the power cord.  Nothing worked.
I figured that now is a good time to switch from Fire TV to Android TV.
Although the cheap Walmart Onn Android TV Boxes are no longer available, I had three of them sitting in my office.  I snagged these when I heard that they were being discontinued.  I connected one of those to this television and I wish I would have done this a long time ago.
While I was setting up this Android TV Box, I was thinking to myself, this is so much better than the Amazon Firestick.  I can install Wolf Launcher and get rid of the annoying ads.  I can use a better mouse toggle to navigate apps that are meant for phones and tablets and not TV.  In the future, if I want to expand storage with a USB drive, that will work better than Fire TV devices.  I can remap the buttons on my remote to my liking because there are actually apps in the Google Play Store that allow for this.  The list goes on and on.
Android has always been an open operating system and we haven't seen Google clamp down on tweaks that can be made to phones and tablets.  I really don't see this happening with Android TV or Google TV either.
If you're like me and want to move from Fire TV over to Android TV, I would wait until a few new devices are released.
As we reported a few weeks ago, there's a new Walmart Onn Android TV Box that will be hitting the shelves soon!  Also, there's word that a new Chromecast with Google TV will also be released in 2023 as well.
We've been pushing Fire TV devices as the #1 streaming device but that is going to change.  Moving forward we will be advocating for Android TV and Google TV devices due to the open nature of their operating systems.  Unfortunately, Amazon is being too restrictive and it's definitely time for a change.
The rest of this article dives into differences when comparing Android TV to Fire TV.
Android TV vs Fire TV – Operating System
In technical terms, comparing Android TV vs Fire TV means comparing the Operating System.
Fire TV OS was built on Android's Operating System which means they have more similarities than they do differences.
However, there are still a few noticeable contrasts between the two that cord-cutters will want to take note of before deciding which one to use.
Both Android TV and Fire TV user interfaces provide a sleek home screen with simple navigation.
It's important to point out that newer Android TV devices are now coming with Google TV.  You can think of Google TV as a user interface built on top of Android TV.  Although the marketing may say that the device is powered by Google TV, the operating system is still built off Android TV.
Although both Android TV and Fire TV are Android-based, there are a few key differences that we point out below.
Fire TV
Fire TV and Firestick devices offer a well-put-together user interface with tons of options.
One thing that is extremely prevalent with these devices is the advertisements that display as videos, banners, and commercials.
Amazon makes sure you notice its presence with ads for Prime Video, Luna, and all things Amazon related.
Recently, the company blocked access to 3rd party launchers. (Luckily there is a workaround to still use these)
It has also completely disabled the ability to install or use the Google Play Store on Firestick and Fire TV devices. (We also have a workaround to install a Google Play Alternative on Firestick).
Amazon has also blocked the ability to remap the app buttons on the bottom of the Firestick / Fire TV remote.
Also, users can no longer block auto-updates from Amazon.  You must accept their updates, no questions asked.
Many of these changes take place during system updates that roll out to streaming devices with various changes and bug fixes.
Overall, Fire TV Operating System works extremely well and features a user-friendly interface.
Fire TV Interface
The home screen of Fire TV devices features advertised content at the top.
This is typically a push for a separate Amazon product, streaming service, or Movie/TV Show.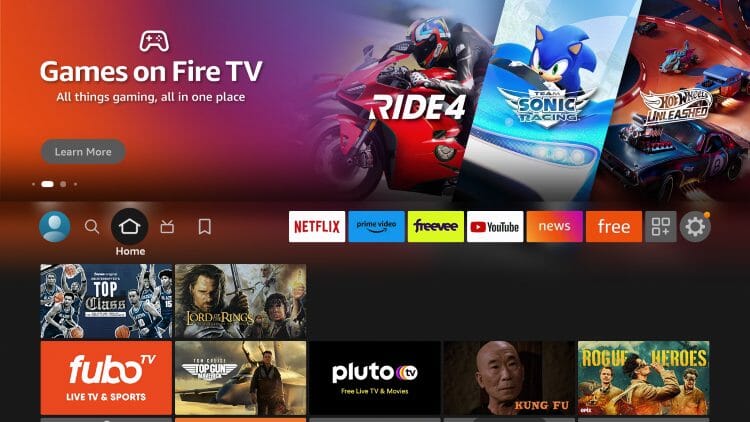 There is a Live Tab that is built in with free live channels from various Streaming Apps including Pluto.
Finding and installing Apps is easy with the Apps Tab on the home screen that takes you directly to the Amazon App Store.
Android TV
The User Interface provided on Android TV and Google TV devices is relatively similar to that of Fire TV.
There are multiple tabs that both Android TV & Fire TV share including the Live option, Apps, and Settings.
Similar to Fire TV, Android TV home screens are typically littered with ads for Android/Google products and services.
3rd Party Launchers are also widely used on Android devices with no restrictions on them currently.
Android TV is also supported by Google which means users can sync multiple devices including phones and tablets with ease.
This is one area where Android TV distances itself from Fire TV and Firestick devices.
Casting and syncing devices is a breeze with built-in Chromecast for easy screen mirroring.
There is also easy access to thousands of apps via the Google Play Store.
Using the remote and voice command via Google Assistant is a breeze and typically works better than Amazon Alexa.
Android TV is easy to use and has tons of benefits for all streamers and cord-cutters.
Android TV / Google TV Interface
Just like Fire TV options, Android TV / Google TV interface features a simple display with only a few tabs to choose from.
Ads are also noticeable at the top of the screen with videos and other content.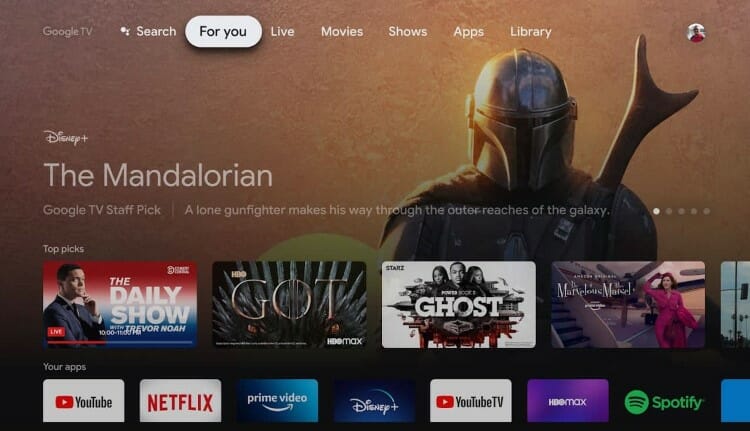 The Live option within Android TV provides tons of channels with the ability to integrate additional services.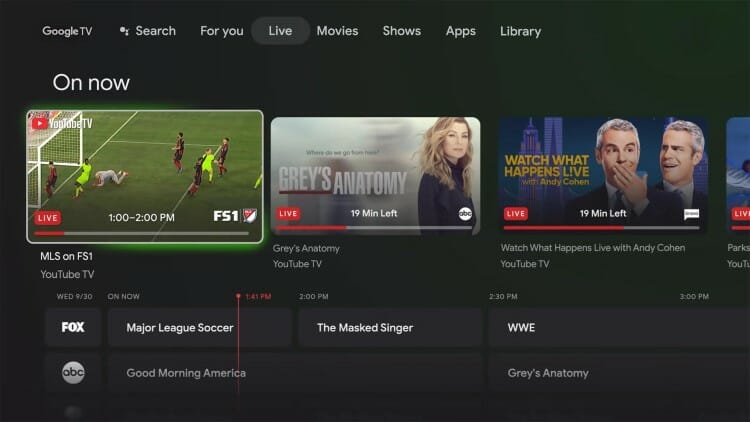 With Google Play Store built-in, there is no shortage of Apps for Movies, Live Streaming, Games, and more.
Android TV vs Fire TV – Apps & App Store
The main reason cord-cutters purchase streaming devices is to install various applications that provide content.
Amazon & Google both have thousands of apps within their respective app stores.
However, the Google Play Store has tons more applications for Android TV devices than its counterpart Amazon App Store.
This means that Android users will likely have more options to download apps directly from the pre-installed Google Play Store.
Luckily, both Android TV Boxes and Firestick devices have the ability to sideload applications.
Sideloading is the process of enabling Unknown Sources to install apps that users cannot find in the Amazon App Store.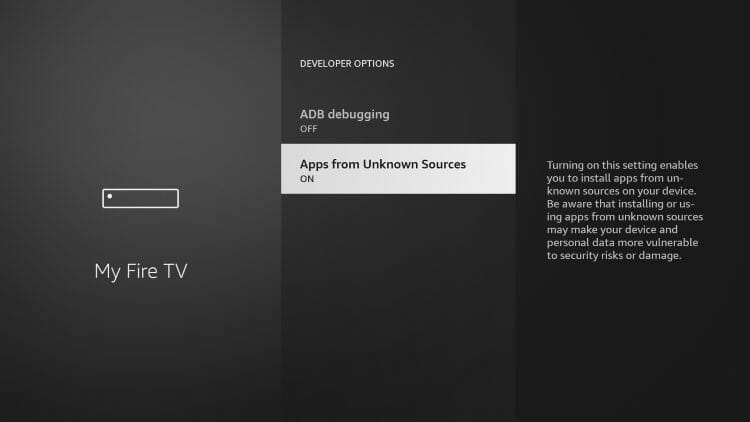 This is extremely popular among Firestick users and is commonly referred to as "jailbreaking".
Jailbreaking Firestick and Fire TV devices is the best way to unlock tons of free content including Movies, Shows, games, and more.
Android TV devices have this same ability, oftentimes with fewer restrictions, which is a key reason many prefer them over Firestick and Fire TV.
Android TV vs Fire TV – Privacy Settings
Both Fire TV & Android TV do their best to collect information on users.
As a default, Firestick devices have the ability to turn off various privacy options within Settings.
This includes Devices Usage Data, Interest Based Ads, and collection of Over the Air usage.
Android is a bit trickier to find Privacy options, however, users can adjust these within Settings as well.
Google cites its Privacy Policy on its official website which explains:
Google may collect system activity, crash reports, and usage data (details about how you use the casting functionality of your Cast device, including the apps and domains you cast). Crash reports and diagnostics data collection is optional.
Users can disable this within the Privacy Settings of any Android TV device.
Android TV vs Fire TV – VPN Compatibility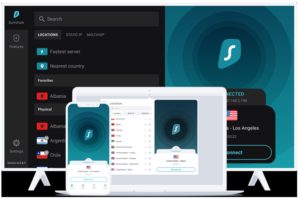 The best way to combat lurking eyes is with a VPN and this is true for all streaming devices.
Both Android & Fire TV devices are 100% compatible with nearly all VPN Providers.
Most have dedicated apps that are built to work on these devices and this includes Surfshark VPN.
Surfshark is TROYPOINT's #1 Recommended VPN Provider and works fabulously on both Firestick & Android TV devices.
Best of all, Surfshark provides a widget for the home screen of both devices so you can always see your connection status.
How to Install Surfshark Widget on Firestick/Android
One of the main reasons users weigh Android TV vs Fire TV is for their ability to run VPN software.
We have used a VPN on both devices strenuously for many years and have yet to find one that has an advantage over the other.
What about Roku?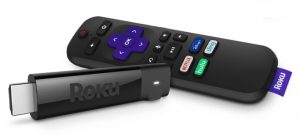 The third giant in the streaming device industry is Roku which develops some of the most popular media streamers available today.
While many opt for Roku devices, we strongly recommend pursuing other options for one simple reason: open-source technology
Roku devices feature a closed-source software that restricts usage and device accessibility.
Both Android TV & Fire TV provide open-source systems that allow outside installation of apps & APKs.
Many TROYPOINT visitors ask how to install these apps on Roku devices and the answer is simply that you can't.
By purchasing a Roku, you are missing out on thousands of apps that contain free content and much more.
We always suggest a device based on Android OS such as Android TV and Fire TV.
Roku vs Firestick – Everything You Need to Know
Android Boxes
While there are hundreds of devices that support Android TV / Google TV, not all of them offer the same operating system.
Android Boxes have two operating systems they are supported by: Android TV and Stock Android.
The main difference between Android TV and Stock Android is that Android TV is built for streaming devices and TVs while Stock Android is what you may find on a phone or tablet.  Some manufacturers optimize Stock Android to work well with the television.  This is usually less optimal than using Android TV / Google TV.
You can find more details on this using our in-depth resource guide below.
Android TV Box Resource Guide – Stock Android & Android TV
With that being said, there are hundreds if not thousands of Android Boxes available for purchase that come in all shapes and sizes.
The most popular Android Boxes run on Android TV / Google TV that is continually developing and being updated.
Listed below are the most well-known Android Boxes with specs, pricing, and more.
NVIDIA SHIELD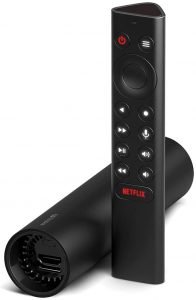 The NVIDIA SHIELD is a powerful Android Box that has provided cord-cutters with a fabulous streaming option for years.
There are two variations of NVIDIA SHIELD: The NVIDIA SHIELD Pro & NVIDIA SHIELD TV.
Both devices are upwards of $100 but well worth the money with tons of power, storage, and more.
They support 4K video and include an ethernet port for fast navigation and streaming.
Price: $199.99 & $149.99
Storage: 16 GB & 8 GB
Operating System: Android 11
Formuler Z11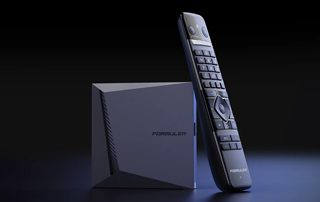 Those who use an IPTV Service for live streaming will enjoy the Formuler Z11 Android TV Box.
It is touted as the Best IPTV Box for cord-cutters with a customizable user interface and built-in IPTV Player.
One of the best features this device provides is the included Bluetooth remote with dedicated app buttons and more.
There is plenty of space for all the best streaming applications as the Formuler Z11 has 32 GB of internal storage.
Price: $199.99
Storage: 32 GB
Operating System: Android 12
Chromecast with Google TV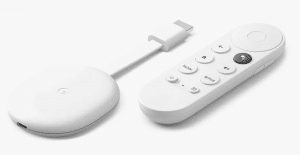 Google's variation of a streaming device comes in the form of the Chromecast with Google TV.
This easy-to-use media device is cheaper than others listed above and has the same streaming options without all the bells and whistles.
With the same price point as Firestick devices, those who prefer Android TV can opt for a Chromecast with Google TV.
Google offers both a 4K version and a 1080p version of this device.
Price: $29.99 & $49.99
Storage: 4 GB
Operating System: Android 12
Chromecast with Google TV Review
Fire TV Devices
Amazon first introduced Fire TV in April 2014 with the 1st Generation Fire TV.
Later that year, the Fire TV Stick made its debut and quickly earned the nickname "Firestick".
There are now 4 variations of Firestick available for purchase as well as the Fire TV Cube which is in its 3rd generation model.
Each are priced differently with varying specs, streaming capabilities, and more.
Fire TV Stick 4K Max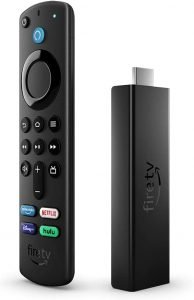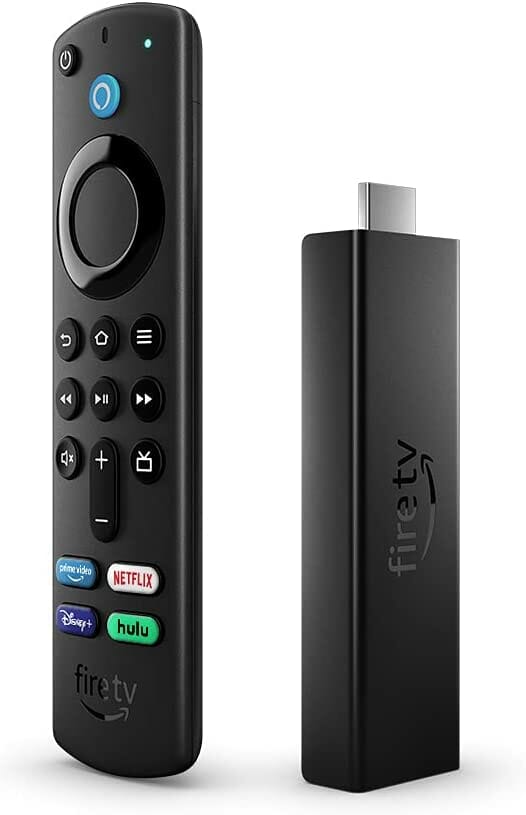 The most powerful Firestick available today is the Fire TV Stick 4K Max.
It features WiFi 6 support, 2 GB of Ram, and HD streaming up to 4K.
With an all-new remote that features dedicated app buttons and Alexa technology, the Fire TV Stick 4K Max is the most popular media device available today.
Price: $54.99
Storage: 8 GB
Operating System: Fire OS 7
Fire TV Stick Lite
As noted in the name, the Fire TV Stick Lite is the lightest version of the Firestick family.
Users will not have 4K capabilities but nearly all other features Fire TV provides are available.
If you are looking for an affordable, easy to use media device the Fire TV Stick Lite is a fabulous option.
Price: $29.99
Storage: 8 GB
Operating System: Fire OS 7
Fire TV Stick Lite Official Page
Fire TV Cube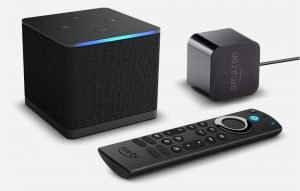 While the Firestick is a capable streaming device with Fire OS, many opt for the Fire TV Cube with more power, storage, and hands-free technology.
The Fire TV Cube features built-in Alexa capabilities so users can control the device simply with their voice.
With double the storage capacity and USB, HDMI, and Ethernet ports, the Fire TV Cube has everything needed for all-inclusive streaming.
Price: $139.99
Storage: 16 GB
Operating System: Fire OS 7
Android TV vs Fire TV – Our Final Verdict
When comparing Android TV vs Fire TV it's best to look at user capabilities and device options.
It seems that Amazon is pushing its products and services more and more and getting away from its usability.
Typically, Android devices have more storage than Firestick devices if you are willing to spend a little extra money.
There are also thousands of more variations of Android boxes than Fire TV devices so users can find one that fits their preference.
Customization is much easier and users can sync numerous devices to Android TV which is a fabulous feature to have in today's technological world.
With Fire TV, you get assistance from Amazon including their customer support which is usually very helpful and reliable.
Firestick devices are also fairly cheap yet extremely reliable which makes them fabulous budget streaming devices.
When it comes to streaming content, both play HD up to 4K and offer easy navigation for even the most novice users.
While Firestick & Fire TV provide everything needed in a streaming device, many are choosing to switch to Android TV.
Amazon has begun adding restrictions and imposing guidelines for devices that may continue in the future.
While this is also the case for some Android devices, it seems less invasive.
This page includes affiliate links where TROYPOINT may receive a commission at no extra cost to you. Many times, you will receive a discount due to the special arrangements made for our visitors. I will never promote something that I personally don't use or recommend. Purchasing through my links directly supports TROYPOINT which keeps the content and tools coming. Thank you! Learn more on my Affiliate Disclaimer page.