Our Score

4.3/5

This Fire TV Stick 4K Max Review was written by Troy from TROYPOINT after one day of heavy use.
In this review, I will point out both the pros and cons of this new Amazon streaming device.
Fire TV Stick 4K Max Review
Amazon has released the all-new Fire TV Stick 4K Max that is available now for purchase.
It's priced at $54.99 which is $5 more than its sister device, the Fire TV Stick 4K.
BE CAREFUL...
Your online activity is actively tracked by your Internet Service Provider, app/addon devs, and government through your identifying IP address.
Stream anonymously by using IPVanish VPN.
IPVanish will encrypt your connection to the Internet and mask your IP address so you will remain anonymous.
EXCLUSIVE DISCOUNT – SAVE 63% ON IPVANISH
IPVanish backs their service with a 30-day money back guarantee.
IPVanish allows you to use your account on unlimited Internet-connected devices
This is the latest iteration of the most popular streaming device available on the market today.
How to Jailbreak Firestick/Fire TV
The all-new Fire TV Stick 4K Max features built-in Wi-Fi 6 and improved processing power.
The device is running Fire OS 7 which supports expanding the internal storage.  Don't get too excited about this just yet, there is a big problem that I will get into below.
Users can also expect more memory with 2GB of RAM. (The original Fire TV Stick 4K comes with 1.5 GB of RAM).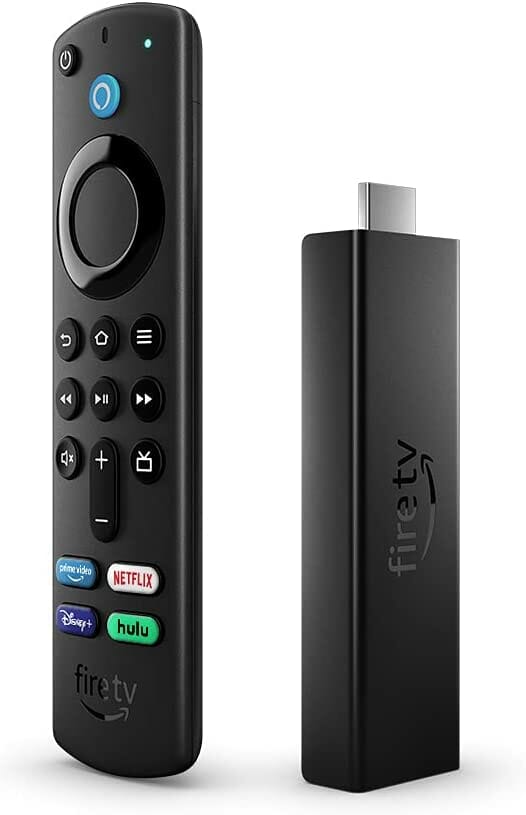 The new Fire TV Stick 4K Max features up to 40% more processing power for a quicker, sleeker experience.
This is because of its new 1.8GHz processor, increased RAM memory, and strong graphics processor. 
One of the most notable features available is support for Wi-Fi 6 which is sure to improve buffering issues and more.  See our speed tests below regarding this new addition.
Right now, the only other media device with Wi-Fi 6 compatibility is the Apple TV 4K priced at $179.
The Fire TV Stick 4K Max comes equipped with a MediaTek MT7921LS Wi-Fi 6 chipset that is typically seen in laptops and gaming consoles.
This device also features the all-new Alexa Remote with dedicated app buttons for Netflix, Prime Video, and more.
One thing to note about the Fire TV Stick 4K Max is the provided 8 GB of internal storage.
This is the same amount of internal storage that comes with the Fire TV Stick 4K, Fire TV Stick Lite, and other models.
Currently, the only model of Fire TV with more storage is the Fire TV Cube which includes 16 GB of internal storage.
Below, I will take you through my Fire TV Stick 4K Max Review process step-by-step.
Purchase Amazon Fire TV Stick 4K Max
Installing Apps on the Fire TV Stick 4K Max
We know that all apps within the Amazon App store are going to work properly so I'm not going to spend time on those.
I'm more interested in seeing how well the side-loaded applications work on this device such as Kodi, Syncler, TiviMate, etc.
I first installed the free TROYPOINT Application with the Rapid App Installer.
This is the easiest and fastest way to install the best free streaming apps and tools. I then installed the following applications through the Rapid App Installer inside of the TROYPOINT App.
IPVanish VPN
TiviMate
Syncler
Kodi
Unlinked
Launcher Manager
Wolf Launcher
Click Here for Free TROYPOINT App
Again, I really want to test the side-loaded applications that many of you use on a regular basis.
All of the above applications were installed properly and they all worked as expected.
Of course, I linked my Real-Debrid Account to Syncler and Kodi so I could enjoy buffer-free playback.
User Interface
After installing the above applications, I noticed some app shortcuts missing which is typical for Fire OS 7.
The reason some of these don't display is that the developers didn't properly code their shortcuts for the new Fire TV operating system which is Fire OS 7.
You also see this on the Fire TV Stick Lite, 3rd Generation Fire TV Stick, and Fire TV Cubes.
So, I activated Wolf Launcher through the Launcher Manager application and I could now see all applications without ads.
So much better!
Fire TV Stick 4K Max Expandable Storage
After setting up Wolf Launcher, I wanted to test the expandable storage that everyone is so excited about.
I unplugged the device from power, connected an OTG adapter, and my UGREEN USB 3.0 Gigabit Ethernet Hub with USB 3.0 Ports. We will get to download speeds with the Gigabit adapter later in the review.
I then inserted a SanDisk 3.0 256 GB USB drive into the hub.
I went into Settings / My Fire TV / USB Drive and I formatted it as expandable storage.
I then went into my applications list as I wanted to move some apps onto the external drive.
As with past Fire TV devices that offer this ability, you can't move most applications.
Here, you will see that Netflix doesn't provide a move option as they don't support this feature. 
If the app developer doesn't declare support for this feature, you can't move them.
But, if you side-load an application, it should automatically be placed on the external drive.  You should then have the ability to move it to internal storage after that.
But, once it's on internal storage, you won't be able to move it back unless that app provides support for moving.    
Below, you will see an example of an app that can be moved, which is Kodi. 
We don't have this problem on Android TV systems such as the NVIDIA Shield TV Pro because we can force all apps to external storage through developer options.
When we set this option in Android TV, all apps installed from there forward will automatically be placed on the external drive. 
So, this feature is pretty much useless as far as I'm concerned.
I'm sure you can still push apps manually to external through the ADB shell application but I haven't tried that yet.  And that entire process is less than ideal.
Download Speeds
I used the Analiti Speed test app for the following tests.
I have a one GB Fiber download speed plan through my Internet Service Provider. During the WiFi tests, I am connected to the 5Ghz band on my Asus ROG Rapture WiFi 6 Router (GT-AX11000). 
This router resides in the same room as my Fire TV Stick 4K Max (approximately 20 feet away from the wireless router).
I'm using IPVanish VPN as my VPN on Chicago Server 02 (chi-a02).
WiFi
VPN On: Download = 162 Mbps & Upload = 93 Mbps
VPN Off: Download = 428 Mbps & Upload = 106 Mbps
Ethernet – via UGREEN Gigabit Adapter
VPN On: Download = 190 Mbps & Upload = 134 Mbps
VPN Off: Download = 301 Mbps & Upload = 129 Mbps
As you will see from the tests above, the new WiFi 6 chip-set makes a pretty big difference in download speeds.
Here's what I get for wireless download speed with VPN off on the original Fire TV Stick 4K.
As you can see, I'm getting almost 100 Mbps more speed with the new Firestick Max on my WiFi 6 compatible router. 
It's important to point out that the Fire TV Stick 4K Max still supports the other typical wireless bands as well (802.11a/b/g/n/ac).
For those of you with WiFi reception problems, this could be the fix you're looking for.
Purchase Amazon Fire TV Stick 4K Max
Fire TV Stick 4K vs Fire TV Stick 4K Max
The most common question will be, "What's the difference between Fire TV Stick 4K and Fire TV Stick 4K Max?"
Below are the noticeable features found on the Firestick Max not available on the original 4K system.
More powerful processor with the Quad-core 1.8GHz MT8696 (original has

1.7GHz, GPU 650MHz

)
WiFi 6 support plus traditional bands (original supports all traditional WiFi bands 802.11 b/g/n/ac)
2 GB memory (original has 1.5 GB)
More powerful graphics chip with the IMG PowerVR GE9215 750 MHz (original has IMG PowerVR GE8300 650 MHz)
Native support via USB OTG (original = unofficial support via USB OTG – some things still work but wasn't officially supported)
Fire OS 7 (original has Fire OS 6)
AV1 Video Decoding (original doesn't have this)
Remote control includes buttons for Prime Video, Netflix, Disney+, hulu, and Channel Guide, App Shortcut (original doesn't have these buttons)
Live View Picture-in-Picture for apps that support it
Fire TV Stick 4K Max Specs
Size – 99 mm x 30 mm x 14 mm (only housing) | 108 mm x 30 mm x 14 mm (including the connector)
Weight – 48.4 g
Processor – Quad-core 1.8GHz MT8696
GPU – IMG GE9215, 750MHz
Storage – 8 GB
WiFi – MT7921LS. Supports 802.11a/b/g/n/ac/ax (Wi-Fi 6) networks.
Bluetooth – Bluetooth 5.0 + LE. Pair with compatible Bluetooth speakers, headphones, video game controllers, and more.
Voice support – Yes, with the Alexa Voice Remote (included) or free Fire TV app (available for download on Fire OS, Android, and iOS)
IR device control with included Alexa Voice Remote – The included Alexa Voice Remote can control Fire TV Stick 4K Max and certain functions (such as power and volume) on a wide range of compatible IR-enabled devices, including TVs, soundbars and A/V receivers. Note: Certain functions may not be available on some IR-enabled devices.
Cloud storage – Free cloud storage for digital content purchased from Amazon
Ports – HDMI ARC output, micro USB for power only
Audio support – Dolby Atmos, 7.1 surround sound, 2-channel stereo, and HDMI audio pass through up to 5.1. Dolby Atmos is available on select Netflix, Prime Video, and Disney+ titles when connected to compatible equipment.
4K Support – To watch movies and TV shows in 4K Ultra HD, you need a compatible Ultra HD TV. All services may not be available in 4K/HDR. Certain services are subject to change at any time, may not be available in all areas, or in 4K/HDR, and may require separate subscriptions. Learn more about services.
Content formats supported – Video: Dolby Vision, HDR 10, HDR10+, HLG, H.265, H.264, VP9, AV1 Audio: AAC-LC, AC3, eAC3 (Dolby Digital Plus), FLAC, MP3, PCM/Wave, Vorbis, Dolby Atmos (EC3_JOC), Photo: JPEG, PNG, GIF, BMP
Output resolution supported – 2160p, 1080p and 720p up to 60 fps
System requirements – High-definition television with available high-speed HDMI input, high-speed internet connection via Wi-Fi. Wi-Fi 6 router needed for Wi-Fi 6 support. Auto-Low Latency Mode is included in the HDMI 2.1 standard.
TV compatibility – TV must support minimum HDCP requirements for protected content playback. Compatible with 1) 4K UHD TVs with HDMI capable of 2160p at 24/25/30/50/60 Hz and HDCP 2.2 or 2) high-definition TVs with HDMI capable of 1080p or 720p at 50/60 Hz. Learn more about high-definition.
Warranty and service – 1-year limited warranty and service included. Optional 2-year and 3-year extended warranty available for U.S. customers sold separately. Use of Fire TV is subject to the terms found here.
Content availability – Certain apps and services are subject to change or withdrawal at any time, may not be available in all areas and languages, and may require separate subscriptions.
Accessibility features – VoiceView screen reader enables access to the vast majority of Fire TV features for users who are blind or visually impaired. Watch videos and TV shows with closed captioning displayed. Captions are not available for all content. You can also listen to Fire TV with compatible Bluetooth headphones. Learn more about compatibility.
Included in the box – Fire TV Stick 4K Max, Alexa Voice Remote (3rd Gen), USB cable and power adapter, HDMI extender cable for Fire TV Stick 4K Max, 2 AAA batteries, Quick Start Guide
Software Security Updates – This device receives guaranteed software security updates until at least four years after the device is last available for purchase as a new unit on our websites. Learn more about these software security updates. If you already own a Fire TV, visit Manage Your Content and Devices for information specific to your device.
Pros
40% more powerful than the original 4K device, which creates fast transitions between screens and menus
2 GB of RAM memory
Excellent 4K playback
Supports WiFi 6 – screaming fast WiFi speeds when connected to a WiFi 6 compatible router
Supports all popular and newer formats including 4K Ultra HD, Dolby Vision, HDR, HDR10+, Dolby Atmos Audio, AV1
Side-loading works
OTG cable works
Gigabit Ethernet Adapter works
Wolf Launcher works
Excellent remote control
Cons
Only 8 GB internal storage
Expanding internal storage is useless
Bad user interface with too many ads for services never used
Fire TV Stick 4K Max Review – Final Thoughts
The new Fire TV Stick 4K Max brings some nice updates.
Would I suggest trading in your original Fire TV Stick 4K for the Fire TV Stick 4K Max?  Probably not.
The only reason why you might want to do this is to take advantage of WiFi 6 if you have a compatible router and you currently have problems with getting a strong wireless connection.
If you are new to this, you will definitely want to spend the extra money and purchase the Firestick Max.  Yes, the other Firesticks are less expensive but this will be more future-proof as it's more powerful and supports upcoming technology such as WiFi 6 and AV1 decoding. 
Fire OS 7 gives us the opportunity to expand internal storage with an external USB drive but it doesn't do much for us because most apps don't support it.
Maybe Amazon will address this and provide us with a setting under Developer Options like previously mentioned above. 
Personally, the storage thing isn't a huge issue for me because I only use 5 applications on a regular basis.
If you use a lot of different applications, I suggest moving over to an Android TV device that does a good job of supporting expanding internal storage such as the NVIDIA Shield TV Pro.
Or, if you only use side-loaded apps and an unverified IPTV service, I would strongly suggest taking a look at the BuzzTV XRS 4900.
All in all, the Fire TV Stick 4K Max is a powerful and affordable streaming device that will provide most people with everything that they need.
Purchase Amazon Fire TV Stick 4K Max
What Do You Think?
Thanks for reading my Fire TV Stick 4K Max Review!
We want to know what you think of Amazon's newest Fire TV Stick 4K Max.
Are you excited about this new Firestick? Will you be purchasing this device?
Let us know your thoughts in the comment section below!
Be sure to sign up for the TROYPOINT Advisor to stay up to date on the latest Firestick news, tips, reviews, and more.
This Advisor provides all the best cord-cutting tips to get the most out of your favorite streaming devices and more.
Click the link below to join the other 800,000 Advisor subscribers.
This page includes affiliate links where TROYPOINT may receive a commission at no extra cost to you. Many times, you will receive a discount due to the special arrangements made for our visitors. I will never promote something that I personally don't use or recommend. Purchasing through my links directly supports TROYPOINT which keeps the content and tools coming. Thank you!