New Anti-Piracy Campaign Claims "Illegal Streams Let Criminals In"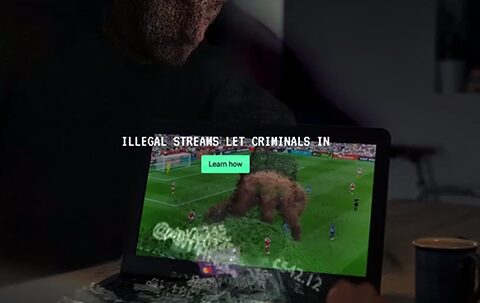 An all-new anti-piracy scheme in the UK is raising eyebrows for its attempt to stop users from accessing online illegal streams.
The campaign is called BeStreamWise and it aims to deter individuals from accessing and using illicit streams to view live content and more.
The main focus of the campaign is what is catching the eye of many as the slogan for this project is "Illegal Streams Let Criminals In".
It seems as though the heavy hitters in the media industry have decided to try a new tactic to discourage individuals from accessing pirated content.
Their latest scheme involves scaring individuals with various risks and more associated with using illegal streams.
BeStreamWise
The name and website that the campaign is focused around is called BeStreamWise and features an abundance of propaganda aimed at deterring online streaming.
This includes the dangers that they say are associated with piracy and IPTV Services such as viruses & malware, ID theft, Scams & fraud, and inappropriate content.
They point this out in a wild video that details all of the problems they say come with pirated streams.
In another video posted by BeWiseStreams, a booth is set up in London's Paddington Station advertising a free streaming for life with no commitment called "MalStreams".
Users input their information for MalStreams including name, email address, phone number, and payment details to sign up for the service.
After accepting the terms and conditions you are met with a warning page and a message stating "You Have Just Let Criminals In".
The following note is then displayed notifying users that services offering free content "can be too good to be true and aren't always legal."
It then directs you to visit BeStreamWise.com wevbsite which hosts safer ways to enjoy content and recognize the personal dangers of illegal streaming.
The website also lists various "facts" regarding illicit streaming noting that "illegal streams let criminals in, making it easy to hack your device, steal your money, personal data, and identity."
Many of the claims stated as "facts" are from various studies that are not linked and are unavailable to the public which makes these claims even more hollow.
YOU'RE BEING TRACKED...
Your online activity is tracked by your government, Internet Service Provider, app/addon/IPTV devs and all websites through your identifying IP address
Stream anonymously by using Surfshark VPN
Your Current Identifying IP Address (digital fingerprint):
SAVE 86% ON SURFSHARK VPN + 3 FREE MONTHS
Surfshark backs their service with a 30-day money back guarantee
Use your account on unlimited devices & share with family members
HURRY! SALE ENDS SOON
Claim Surfshark VPN Discount
However, that hasn't stopped them from pushing this narrative across the UK as they have even gone as far as erecting a billboard in Belfast which has circulated on Reddit.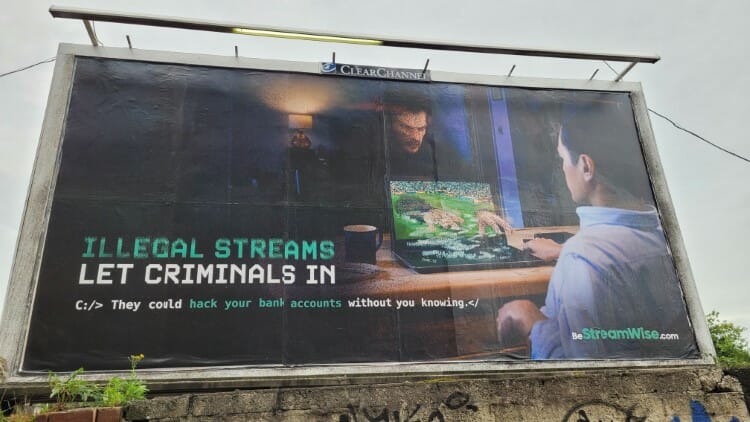 A user named BassGaming made the following comment regarding the billboard and the BeStreamWise campaign as a whole:
Their website makes a lot of wild and veeery stupid statements. Their statistics don't really have anything to do with streaming. They are just combining random stats with no causation. It's like taking the population density of storks and finding a correlation between it and illegal streaming. Yes, it's there but irrelevant for the point you're trying to make.
One of the most laughable notes regarding the BeStreamWise website is that you are in fact prompted with the following message when you visit the site.
That's right, those warning you about "criminals" obtaining your data with various online streams are asking to receive your data and personal info when using this website.
If that wasn't enough, we scanned the BeStreamWise website with VirusTotal and found that there is a malicious file associated with it.
It comes as no surprise that the organization behind the initiative is composed of at least 8 members including:
Sky
Premier League
Warner Brothers
ITV
Universal
Disney
MGM
Paramount
and more
Our Thoughts
The BeStreamWise campaign is a hilariously awful attempt at reducing online streaming activity and pirated content.
It is clear that much of this scheme is aimed at those who use streaming devices such as a Firestick to view media content. They even detail this in their FAQs section.
How do I recognise illegal options?
While streaming from devices such as Amazon Firesticks is perfectly legal, many are modified with unauthorised apps or add–ons that allow people to access copyrighted content illegally. These are often sold with a one-off fee, through unofficial sources.
Overall, the plan by Sky and other corporations is absolutely ludicrous and a fear-mongering tactic to get individuals to purchase their subscriptions and more.
Your data and sensitive information are vulnerable no matter where they are uploaded as we have seen major corporations in the past experience hacks, data leaks, and cyberattacks.
Cyberattacks on NVIDIA and Samsung Executed by Same Hackers
Of course, all of these risks can be eliminated with the use of a VPN, an anonymous email address, and anonymous payment methods such as Bitcoin or Abine Blur.
This article was originally published by TorrentFreak.
We want to know what you think of the BeStreamWise campaign. Will this tactic to reduce online streaming work? Or will this only make these media companies look worse?
Be sure to stay up-to-date with the latest streaming news, reviews, tips, and more by following the TROYPOINT Advisor with updates weekly.
This Advisor provides all the best cord-cutting tips to get the most out of your favorite streaming devices and more.
Click the link below to join the other 800,000 Advisor subscribers.
This page includes affiliate links where TROYPOINT may receive a commission at no extra cost to you. Many times, visitors will receive a discount due to the special arrangements made for our fans. I will never promote something that I personally don't use or recommend. Purchasing through my links directly supports TROYPOINT which keeps the content and tools coming. Thank you! Learn more on my Affiliate Disclaimer page.