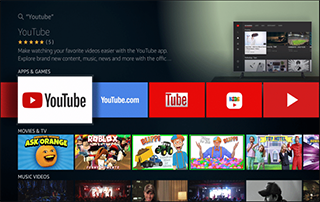 After a year and a half long absence from the Amazon App Store the YouTube app is officially back and available for installation on Fire TV devices.
This comes from a compromise between the two companies after an ongoing tech feud.
Amazon and Google have reached an agreement in which the YouTube app was allowed back in the Amazon App Store in exchange for Chromecast integration within the Prime Video App.
Prime Video will also now be allowed on all Android TV operating systems.
This agreement means good news for streamers everywhere.
Previously, Firestick users could only access YouTube on Firestick from a Browser such as Silk. But this exchange returns a much more user friendly app.
Read below for details regarding the two companies' history.
Amazon Bans YouTube from Amazon App Store
As of January 1st, 2018, the official YouTube App will not be available on any Amazon Fire TV Devices. This includes the most popular media streaming device, the Amazon Fire TV Stick 4k.
This stems from a war between Google and Amazon.  Google isn't happy that their products are not allowed for sale within the Amazon app store. So they will block access to the Amazon YouTube App.
YouTube is one of the most popular steaming apps available on the Amazon Fire TV & FireStick.
Official Statement Made By Google:
"We've been trying to reach agreement with Amazon to give consumers access to each other's products and services. But Amazon doesn't carry Google products like Chromecasts and Google Home, doesn't make Prime Video available for Google Cast users, and last month stopped selling some of Nest's latest products. Given this lack of reciprocity, we are no longer supporting YouTube on Echo Show and Fire TV. We hope we can reach an agreement to resolve these issues soon."
Install YouTube on Firestick/Fire TV
With the feud between these two tech giants to an end, we can now easily install YouTube on Firestick from the Amazon App Store.
Follow guide below to learn How To Install YouTube on Firestick or Fire TV:
YouTube Firestick Installation Guide
This page includes affiliate links where TROYPOINT may receive a commission at no extra cost to you. Many times, you will receive a discount due to the special arrangements made for our visitors. I will never promote something that I personally don't use or recommend. Purchasing through my links directly supports TROYPOINT which keeps the content and tools coming. Thank you!
Register as a TROYPOINT Insider and discuss this article with thousands of other cord-cutters.