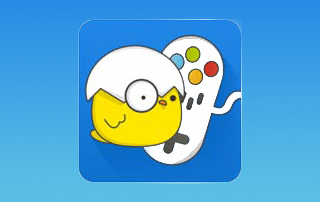 The following step-by-step tutorial will show you How To Install Happy Chick on iOS, Android, Firestick, and more. These instructions will work for iPhone, iPad, and Android devices, along with all streaming devices such as the Amazon Firestick.
Happy Chick is a game emulator that is compatible with nearly any device imaginable. It has tons of content with games from numerous different consoles. There are literally thousands of games available for download including all the favorites such as Mario Kart and more.
For those who wish to use this app on an iOS device such as iPhone or iPad, we must first install a third party app store called Emus4U.  (For those using Android, you can install directly from the Happy Chick Website. A step-by-step guide is provided below.)
Emus4U is third party app installer and features tons of emulators, games, music, and more. Many of the apps available are premium applications that require payment but with Emus4U are free!
This guide is divided into the following sections:
How To Install on iOS (via Emus4U)
Install  on Android Device
How To Check Storage Space Available on Your Device
Install on Firestick, Fire TV, and Android TV Box
How To Install Games via Happy Chick
Controller Options (Including Virtual Controller App for Android Phone)
Navigating the Features of Happy Chick
Frequently Asked Questions
The first guide below will show you how to install Happy Chick on mobile devices such as iPhone, iPad, or Android. For those who wish to use Happy Chick on their television sets, follow the guide below to install on a streaming device such as Firestick or Android TV Box.
The instructions below will show you How To Install Emus4U first. We can then download Happy Chicks from the Emus4U application.
IMPORTANT NOTE: Happy Chick currently does not work when VPN is turned ON. When downloading and using Happy Chick, make sure your VPN is OFF for proper use. 
Table of Contents
BE CAREFUL...
Your online activity is actively tracked by your Internet Service Provider, app/addon devs, and government through your identifying IP address.
Stream anonymously by using IPVanish VPN.
IPVanish will encrypt your connection to the Internet and mask your IP address so you will remain anonymous.
EXCLUSIVE DISCOUNT – SAVE 63% ON IPVANISH
IPVanish backs their service with a 30-day money back guarantee.
IPVanish allows you to use your account on unlimited Internet-connected devices
Install Happy Chick on Firestick, Fire TV, and Android TV Box
For those who wish to use Happy Chick on their television, this can easily be done with a streaming device such as the Amazon Firestick.
The Amazon Fire TV Stick 4k is an all-in-one streaming powerhouse that is used by millions. While most see this device as the perfect streaming tool for Movies and TV Shows, it is so much more.
By jailbreaking your device, you can get unlimited Movies, TV Shows, Sports, PPV, and more, all for FREE. TROYPOINT has created an in depth jailbreak tutorial that will provide you with step-by-step instructions for unlimited streaming capabilities.
One of the best features this device provides is the ability to play retro games via the Happy Chick application.
The following tutorial will show you how to install Happy Chick on a Firestick or Fire TV. However, these steps will also work on an Android TV Box, NVIDIA SHIELD, or other devices that run the Android operating system.
The application we will use to side-load Happy Chick is called Downloader. If you are using an Android TV Box, NVIDIA SHIELD, Mi Box, etc. you can follow along with this tutorial by installing Downloader on your respective device.  Use the link below for that tutorial.
How To Install Downloader App On Android Box
Use the step-by-step guide below to Install Happy Chick on Firestick/Fire TV/Android TV Box.
Or, install Happy Chick from the free TROYPOINT App by way of Rapid App Installer.  This is the easiest way to download and install the most popular streaming applications and tools.
Free TROYPOINT Rapid App Installer

Install the Best Streaming Apps in Minutes
The free TROYOINT app includes over 50 of the best streaming apps including the one(s) you're about to install on this page.
Happy Chick Installation Screenshot Guide
Step 1
From the Main Menu, scroll to hover over Settings.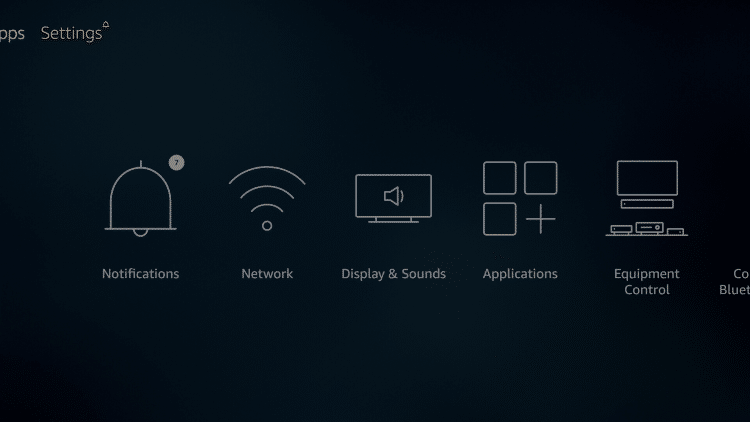 Step 2
Click My Fire TV.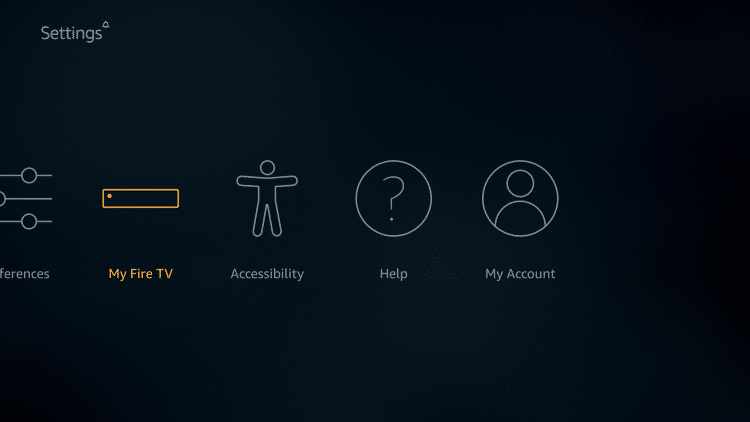 Step 3
Choose Developer options.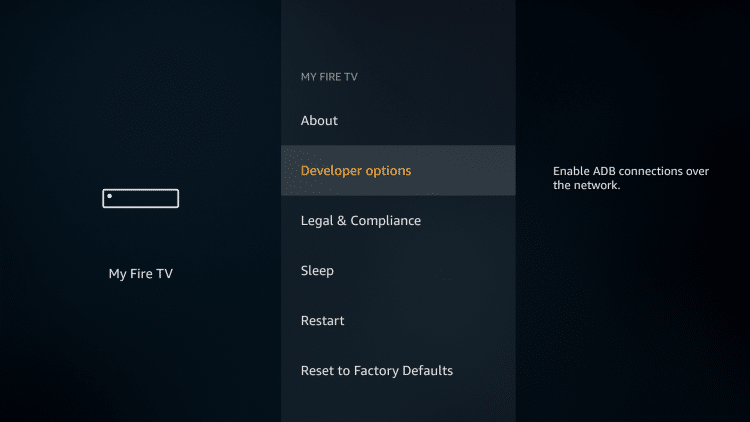 Step 4
Click Apps from Unknown Sources.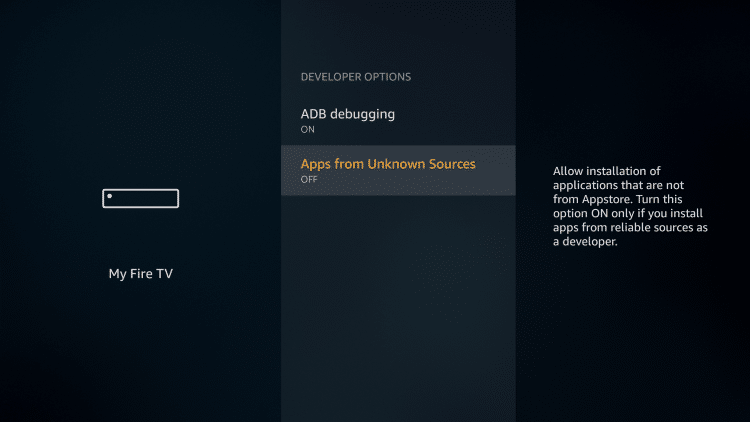 Step 5
Choose Turn On.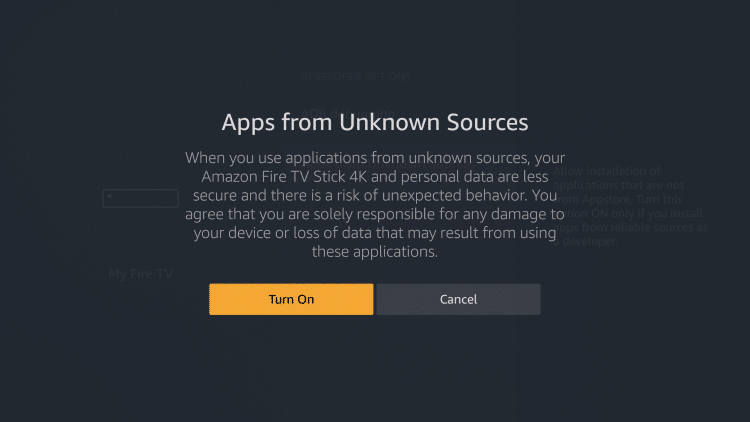 Step 6
Return to the home screen and hover over the Search icon
.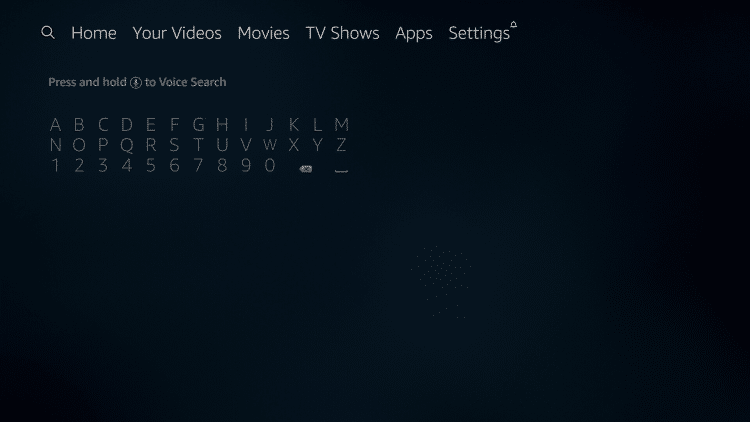 Step 7
Type in "Downloader".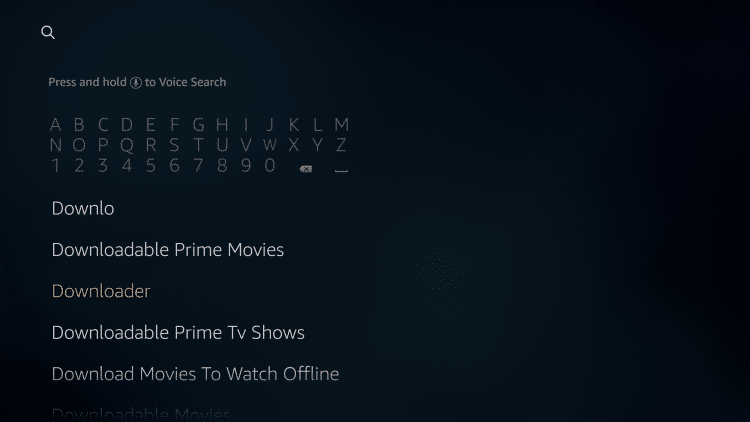 Step 8
Select the Downloader app.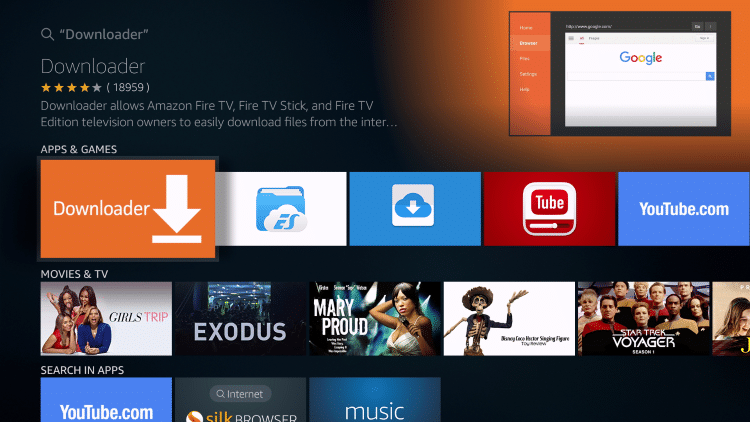 Step 9
Click Download.
Step 10
Click Open.
Step 11
Click Allow.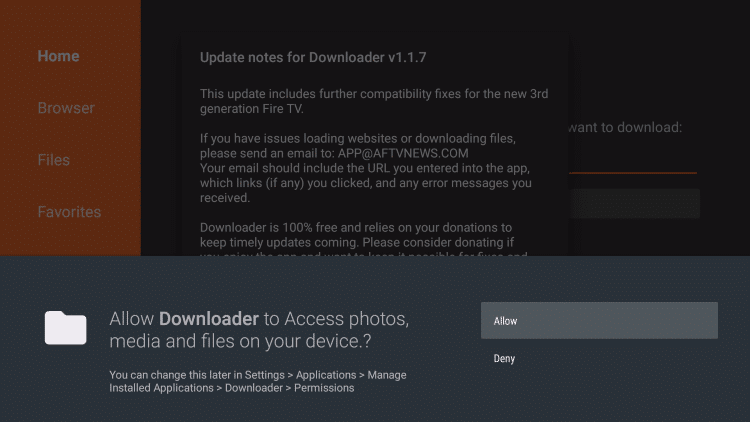 Step 12
Click OK.
Step 13
Click remote to open the keyboard and type the following address exactly as shown here: "troypoint.com/happy" and click Go.
Step 14
Wait for file download to finish.
Step 15
Click Install.
Step 16
Click DONE.
Step 17
This will bring you back to Downloader. Click Delete to remove the file.
Step 18
Click Delete again.
Step 19
Return to your device's home screen and under YOUR APPS & CHANNELS, click See All.
Step 20
Scroll to the bottom to hover over the Happy Chick icon and click the Options button (3 horizontal lines)
on your remote.
Step 21
Click Move to front.
That's it! Click the home button to return back to home-screen and Happy Chick is available under Apps. Enjoy!
How To Install Happy Chick on iOS (via Emus4U)
In the guide below, I am using an iPhone XS. However, the steps can also be used to install Happy Chick on an iPad or other generation iPhone.
NOTE: The steps below may be different for those with other iOS versions. In this tutorial, I am using iOS 12.3.1.
Step 1
On your iPhone or iPad, go to troypoint.com/emus within your preferred web browser
Step 2
Tap Install Emus4U.
Step 3
Tap Configuration Profile.
Step 4
Tap Allow.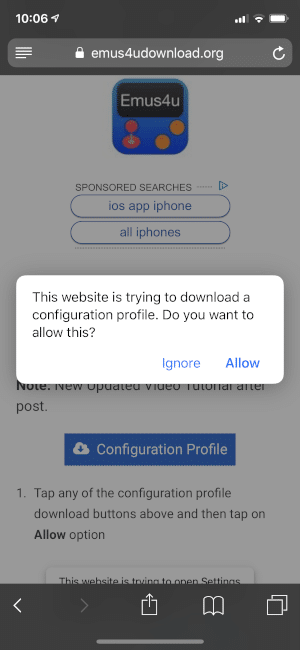 Step 5
When prompted, tap Close.
Step 6
Open Settings from the main menu of your device and tap Profile Downloaded.
Step 7
Tap Install.
Step 8
Enter your passcode when prompted.
Step 9
Tap Install.
Step 10
Tap Install again.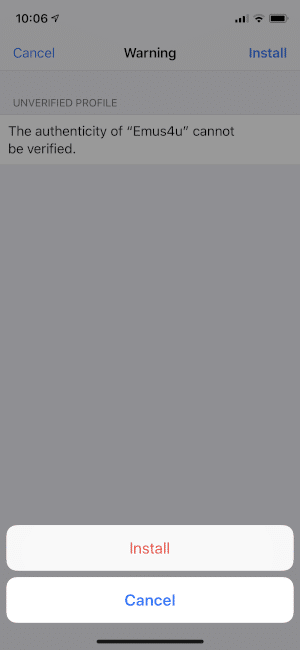 Step 11
Tap Done.
Installation is now complete! Return to your home screen and launch the Emus4U app, which we will use to install Happy Chick.
Install Happy Chick
Step 1
Open Emus4U and tap Apps on the bottom of the screen.
Step 2
Tap the GET button next to HappyChick.
Step 3
Tap Install.
Step 4
Wait for app to install and then locate it on your device.
Notice that if you try opening the app, you will receive Untrusted Enterprise Developer message.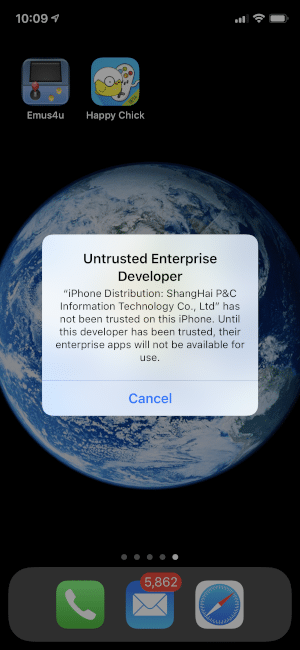 Step 5
To approve the developer, tap Settings > General.
Step 6
Scroll down and tap Profiles & Device Management.
Step 7
Tap text located beneath ENTERPRISE APP. Yours may read something different than ShangHai P&C Information Techn….
Step 8
Tap Trust "ShangHai P&C Information Technolo…" or the text that is displayed.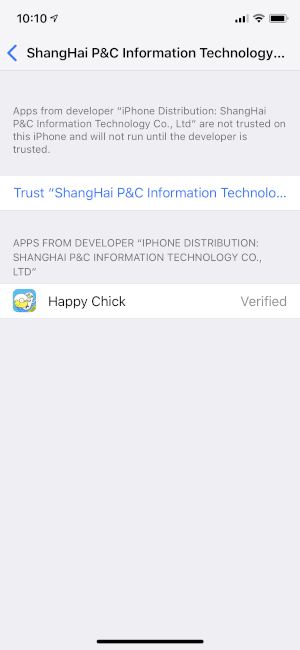 Step 9
You will be prompted to verify. Tap Trust.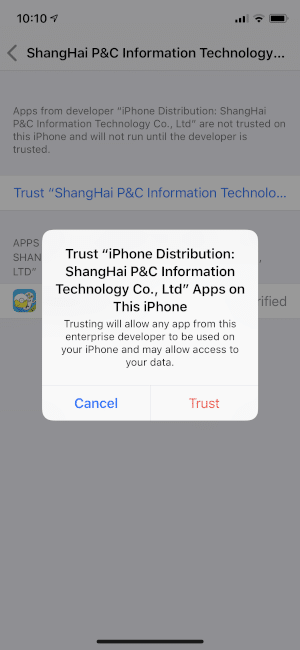 That's it! You can now open Happy Chick from your device's apps list.
Install Happy Chick on Android Device
To install the Happy Chick app on an Android device, follow the steps below:
Step 1
Go to http://www.happychick.hk/.
Step 2
Tap Download.
Step 3
A message will be prompted. Tap OK.
Step 4
Tap Open.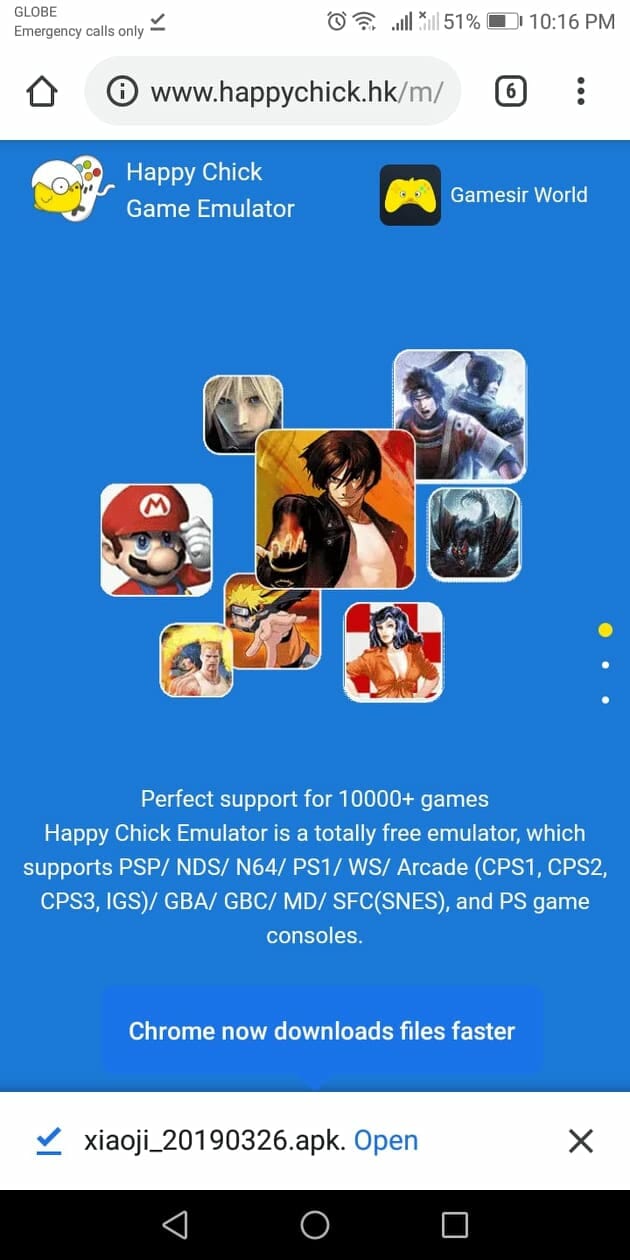 Step 5
Tap INSTALL.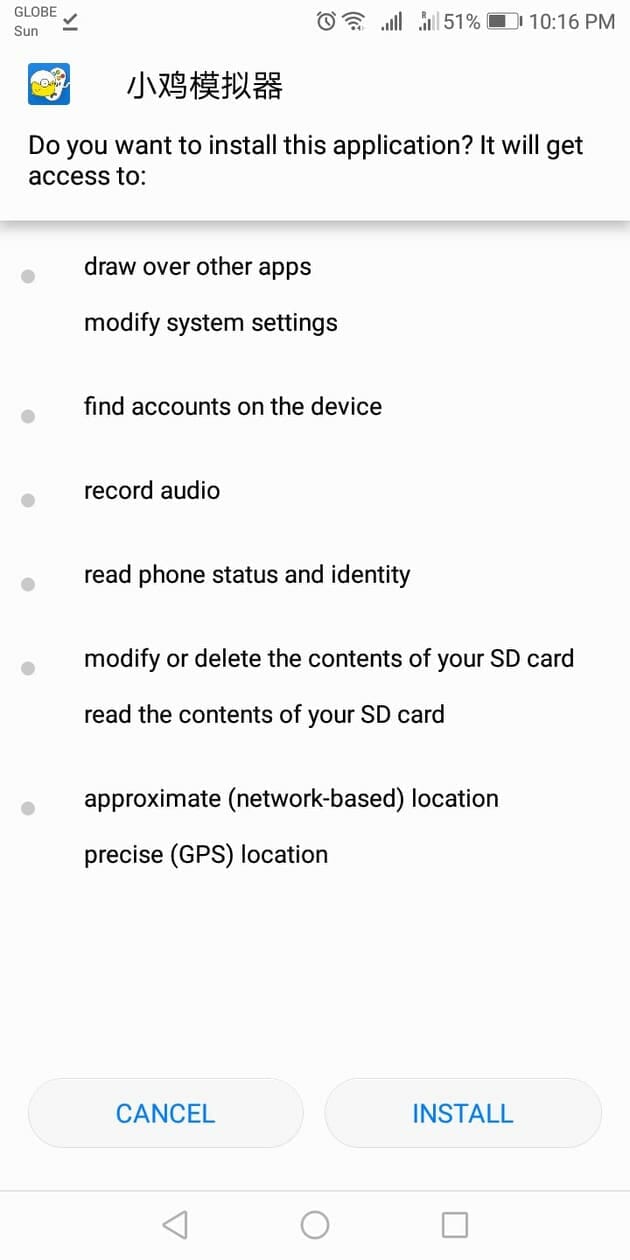 Step 6
Wait for the installation to be completed.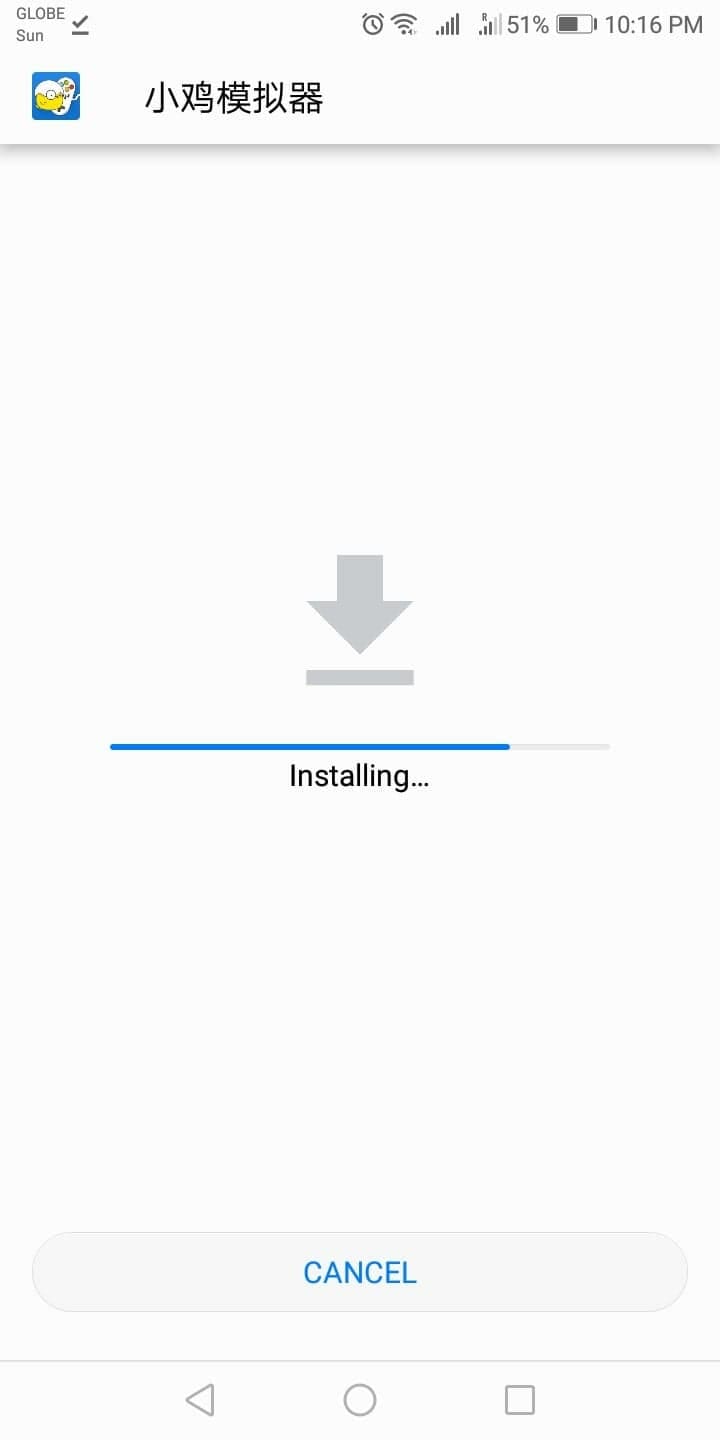 Step 7
Once installation is completed, tap OPEN.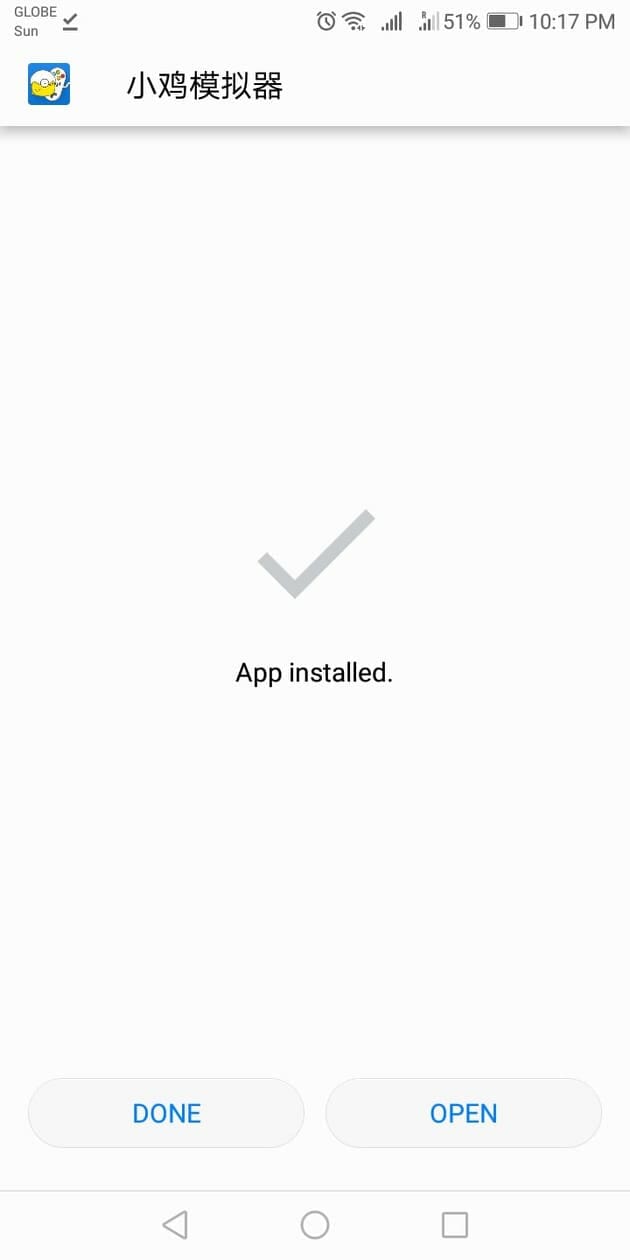 Step 8
Tap AGREE.
Step 9
Happy Chick will be now be launched.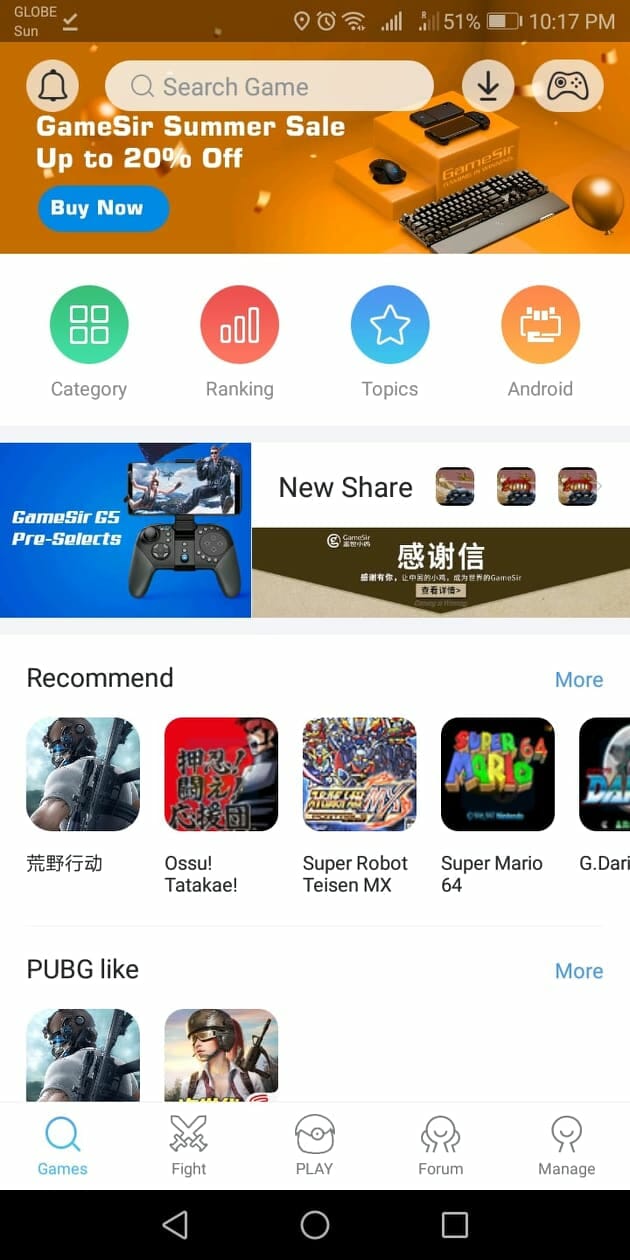 How To Check Storage Space Available on Your Mobile Device
With app installation complete, you can now open the application and check out all games available.
Prior to installing games via Happy Chick, you must ensure your device has enough storage. You can check storage on your device using the instructions below.
For iOS Devices:
Click Settings
Choose General
Click About
Next to Available is your device's storage space
For Android Devices:
Tap Settings
Tap Storage
Below INTERNAL STORAGE, the total and free storage are displayed
With sufficient storage space available on your device, you are now able to install games from the Happy Chick App.
Please read more information below regarding installation of games and tips and tricks to get you started!
Check Storage on Streaming Device
Before downloading any games via Happy Chick it is important to remember that you need sufficient storage on your device.
For Firestick users, you can check your storage using the instructions below:
Step 1
From the home screen of your device scroll to the right and hover over Settings.
Step 2
Click Applications.
Step 3
Hover over Manage Installed Applications.
Step 4
Your internal space is listed on the right side of the screen.
If you don't have enough storage, you can easily increase this in only a few steps:
How To Increase Storage on Firestick/Fire TV
Once you are sure you have sufficient storage, you can start downloading games within the app.
TROYPOINT TIP: Happy Chick is not the only game emulator available on Firestick and Fire TV devices. RetroArch is an outstanding emulator that has thousands of games available for download and installation.
Play Thousands or Retro Games on Firestick with RetroArch
Install Games within Happy Chick
Step 1
Open Happy Chick and hover over a preferred game category to make a selection.
Step 2
Choose a game.
Step 3
Click Download.
Step 4
Once complete, you will see download finished notification. Click Launch.
Step 5
Make your controller selection and click Launch again.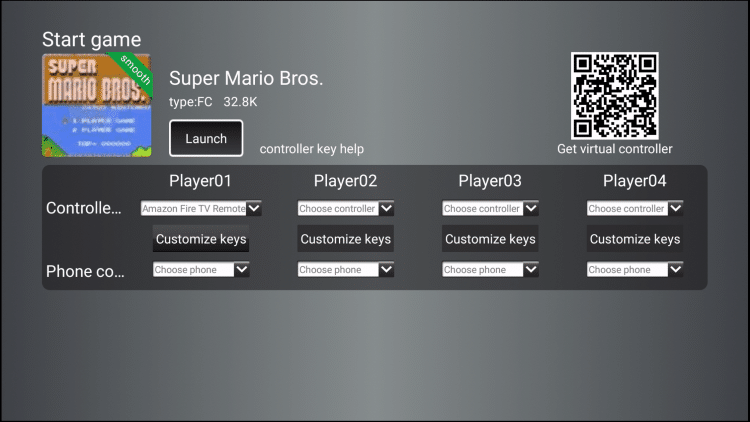 Step 6
Click any button to continue.
Step 7
Game will then open. Enjoy!
Controller Options
While the provided Firestick remote does work for navigation within Happy Chick, it is not ideal for gaming.
Luckily, there are a few unique gaming controllers that work with Fire TV devices. I suggest the Matricom G-Pad BX Wireless Controller that uses Bluetooth technology to connect to your device.
Or, those with an Android Phone can install a remote control app using the steps below:
Install Virtual Controller on Android Phone/Tablet
Step 1
Type in "https://troypoint.com/happyvc" on your browser.
Step 2
Tap Download in bottom right hand corner.
Step 3
Tap Open.
Step 4
Tap INSTALL.
Step 5
Wait for file to install.
Step 6
Tap OPEN.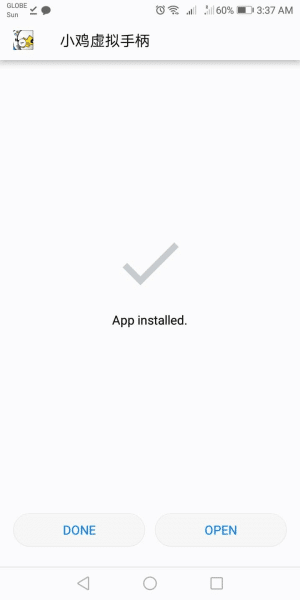 Step 7
Make sure that your internet connection on your mobile device is the same as your Firestick's network.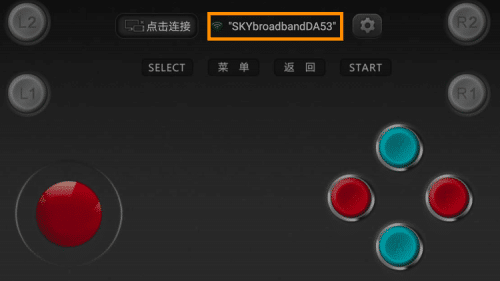 Step 8
On your TV screen, Happy Chick will ask you to use your phone as your controller. Scan the QR code presented.
Step 9
Once the scan is complete, tap Browse website.
Step 10
Tap the blue Android button. This will install any updates on your Happy Chick app.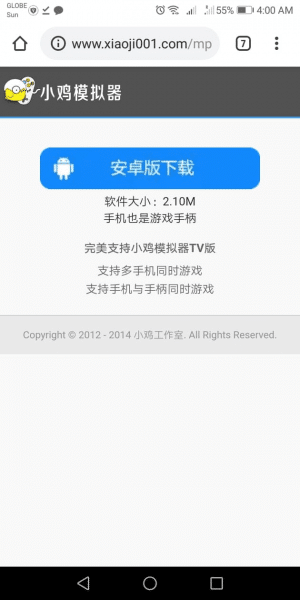 Step 11
On your Happy Chick Virtual Controller app, tap the TV and mobile phone connection status button.
Step 12
A message in Chinese characters will be displayed. This indicates the network that you are connected to. If the TV and mobile phone connection status button is not highlighted, this means that the mobile app is not detecting your Firestick.
Step 13
If you are not able to connect, disconnect your mobile from the network and try to re-connect after a couple of seconds. This will refresh the mobile app's search for Firestick.
Step 14
Once the TV and mobile phone connection status button is highlighted in green, your mobile app has now detected your Firestick.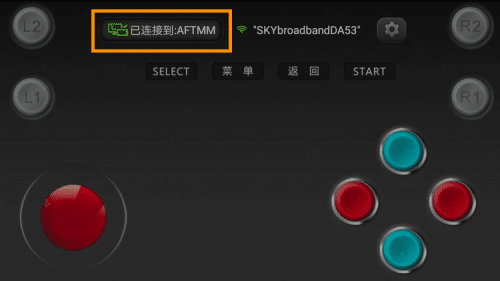 Step 15
Try moving the Directional pad (D-pad) button in any direction.
This should navigate your control on the Happy Chick app on your Firestick.
Step 16
If you have a separate controller for a second player, go to the Happy Chick home screen on your Firestick, click Manage > Handler connection.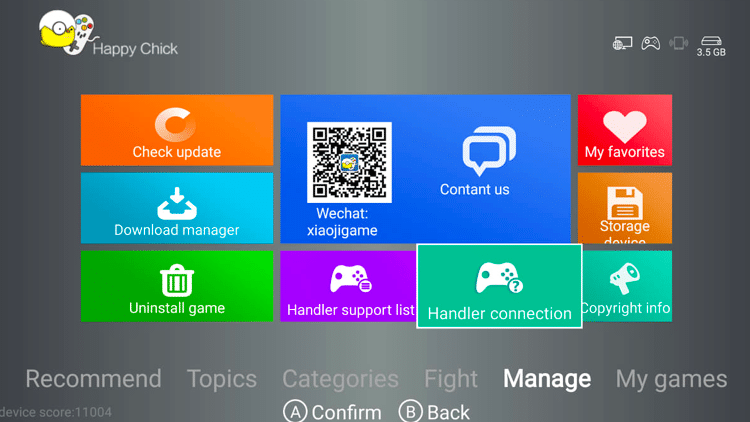 Step 17
Follow the instructions on your screen.
Step 18
Go to My games and select a game to play.
Step 19
Navigate to the Controller and Phone controller fields and set your devices.
Step 20
Click Launch.
Step 21
Press any key to continue.
Step 22
Start playing using your Virtual Controller on your mobile phone.
Step 23
If you want to control your virtual controller's settings, tap the Settings icon.
Step 24
The toggle button on the first row will turn OFF the vibration feature of your virtual controller.
Step 25
Swipe the toggle button on the fourth row to modify your keypad.
Enjoy!
Happy Chick is packed with features that are ahead of other game emulators.
Below is a comprehensive breakdown of the Happy Chick Categories with info on all.
Top Menu
The top menu is composed of the following:
News  – presents news feeds (in Chinese language only)
Search bar – allows you to search for games; presents keywords used by other users
Download list – presents all your downloaded games
Promos – allows you to explore GameSir
Main Menu
The main menu is composed of the following:
Category – contains a roster of apps divided into Emulator and Platform.
Ranking – contains games ranked according to Week (top downloads for the week), Praise (highest praises) and Total.
Topics – contains games discussed by users.
Click on a game to view its details.
Scroll down to read players' feedback.
Android – contains games categorized into Best, New and Hot. You may also use the Filter option to easily located your preferred games.
Middle Features
On the middle section, you may access the following:
GameSir Pre-selects – shows pre-selected game lists that are compatible with GameSir G5 that you can download
New Shares – the freshest games shared on the app
Lower Menu
The lower menu is composed of the following:
PUBG like
MUSIC GAME
GALGAME
Week hot
Bottom Menu
You can access the following features on the bottom menu:
Games – takes you to the Happy Chick home screen
Fight – choose between Network battle and Local battle.
PLAY – allows you to select between VR where only GameSir game operations are supported or LOCAL GAMES
NOTE: You will be asked to refresh to enable your downloaded games when you select LOCAL GAMES to work wth the Happy Chick app.
Forum – access different game-related topics.
NOTE: This feature only supports selected regions.
Manage – allows you to set user settings
For more retro gaming options, check out our guides below.
Frequently Asked Questions about Happy Chick
What are the platforms that Happy Chick can work with?
As of this writing, Happy Chick works with the following:
Android devices – Version 1.7.9
iOS devices – Version 1.5.6.4
TV Box and Smart TV – Version 1.1.7
Windows – Windows XP, Windows 7, Windows 8 and Windows 10
What emulators are included in Happy Chick?
There are a lot of emulators available. These include MAMEPLUS/MAME/FAB, PSP, PS and NES, among others.
What are the most popular downloaded games on Happy Chick?
The classic games such as Pokemon, Super Mario and Street Fighter are just some of the most downloaded games.
Can users play in online multiplayer mode?
Yes, Happy Chick supports such feature.
Can you play on LAN?
Definitely. Happy Chick allows users to play on their local network.
How can games be backed up?
Happy Chick supports cloud saving.
For more tech and streaming tutorials be sure to sign up for the TROYPOINT Advisor with updates weekly. This Advisor provides all the best cord-cutting tips to get the most out of your favorite streaming devices and more. CLICK HERE or link below for TROYOPINT Advisor Subscription:
This page includes affiliate links where TROYPOINT may receive a commission at no extra cost to you. Many times, you will receive a discount due to the special arrangements made for our visitors. I will never promote something that I personally don't use or recommend. Purchasing through my links directly supports TROYPOINT which keeps the content and tools coming. Thank you!