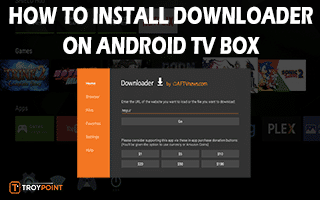 This step-by-step tutorial will show you how to install Downloader on Android TV Box.
The Downloader app is one of the most important tools that we use on jailbroken Firesticks and Fire TVs.
This tutorial will show you how to use it on all of the other Android-based devices as well.
You will also learn how to use ES File Explorer as an alternative to Downloader and how to install apps directly through Chrome Browser.
The Downloader application is a popular tool for those of us who side-load applications quite often on the Fire TV or Fire TV Stick.  Now, with the release of version 1.1.6, we have the ability to install it onto Android TV Boxes.
The release is available within the Google Play App Store on devices running the true Android TV Operating System such as the NVIDIA SHIELD, and Mi Box.
Important:  Most of you are NOT running the Android TV operating system.  Most Android TV Boxes are running stock Android and not Android TV, there is a big difference.
The tutorials below cover both Android TV and Stock Android operating systems.
The Downloader application comes with a built-in browser which we can use to download files onto our Firestick or Fire TV.  In order for the app to be approved for the Google Play Store, the developer had to disable the built in browser.  But, we can side-load a plugin through Downloader which will allow us to use the browser on an Android TV device.
The browser feature does not currently work very well on Android TV Boxes running the stock Android OS.  I will show you how to complete the same task through Chrome browser instead.
As of this article, Downloader already has over 5 million users and is one of the most popular applications within the Amazon App store.
Congratulations and special thanks to Elias Saba over at AFTVnews.com for developing this wonderful application.
How To Install Downloader On Android TV Box Tutorial
Video Tutorial
TROYPOINT Tip: Click pause button on video player between each step so you can keep up.
Click Here for Free TROYPOINT App with Rapid App Installer
  X96 Max Android TV Box
Exclusive IPVanish VPN Discount for TROYPOINT Fans
The following are general steps to complete this process.  You should watch the video above for important details.
Screenshot Guides
Steps for Stock Android TV Boxes, Phones, & Tablets
Note:  For those of you running true Android TV such as NVIDIA SHIELD OR Mi Box, see the guide below this.
1 Launch Google Play Store.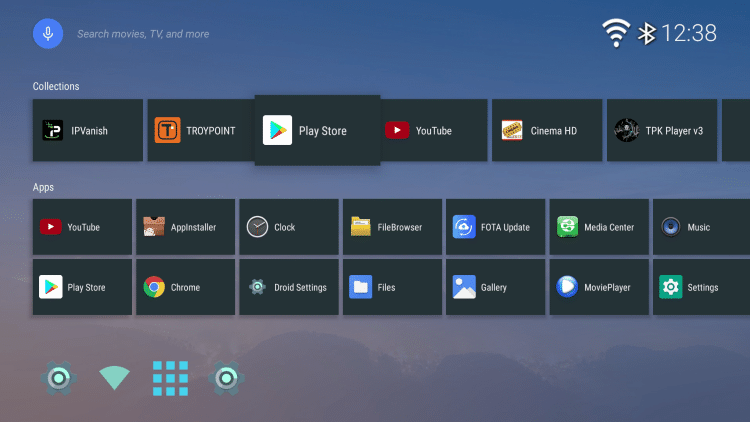 2 Install ES File Explorer File Manager.
3 Click Settings.
4 Click Security & restrictions (some older Android releases may only read "Security").
5 Click Unknown sources.
6 Turn on unknown sources for ES File Explorer.  On older Android versions, there is only one button for Unknown Sources and this covers all apps on the device.
7 Launch ES File Explorer.
8 Click Downloader Manager under Tools.
9 Click + New on bottom row of app.
10 Type https://troypoint.com/dl into Path box. You may input any name that you would like in Name box.
11 Click Open File button.
12 Click Install
13 Click Install again.
14 Click Open.
15 Click Allow.
16 Click OK for Release Notes.
Downloader is now installed on your Android TV Box running stock firmware.
The browser feature in Downloader App doesn't work well on stock Android.  Please watch video above to learn how to download and install apps through Internet browser on these devices.
Steps for Android TV Devices (NVIDIA SHIELD, MI BOX)
1 Open Google Play Store.
2 Search for "aftvnews".  Click Downloader to open Install screen.
3 Click Install for Dowloader
4 Click Open.
5 Click Allow
6 Click OK for Release Notes.
7 Type in https://troypoint.com/dlb to install browser extension for Downloader app.
8 Click Settings button if prompted.
9 Turn on Unknown Sources for Downloader App.
10 Click Install button again.
11 Click Install button.
12 Click Done.
13 Click Delete to get rid of the installation file.
14.  Click Delete again to confirm.
15 Click Settings.
16 Enable JavaScript so Websites load better in browser of Downloader App.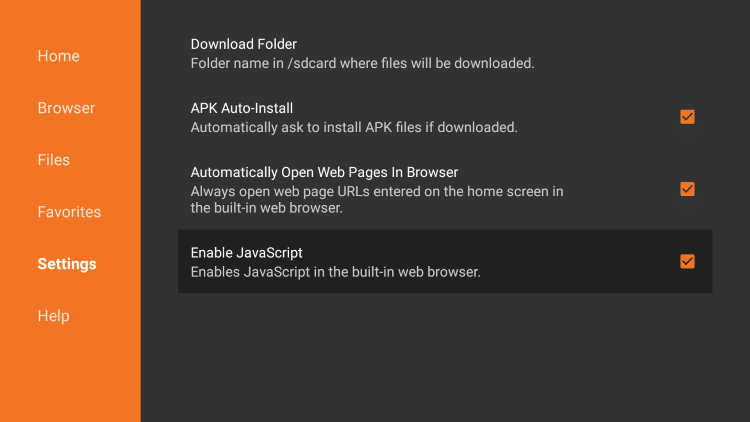 Downloader is now install on Android TV device such as NVIDIA SHIELD or Mi Box.
The Browser feature of this application works great with the remote on Android TV devices.
TIP: If you're trying to install unverified apps into your Firestick or Fire TV from the Amazon App Store, you can only complete it by side-loading or installing anything into your device without using the official app-distribution method. I recommend using a VPN to install such apps. Click this link to learn how to install a VPN for Firestick, Fire TV, Fire TV Cube.
Get Your Free Guide
Supercharge Kodi On Your Streaming Device
Learn how to install the best Kodi addons with the click of a button and access blocked content. Created by Troy from TROYPOINT
Get Your Free Guide