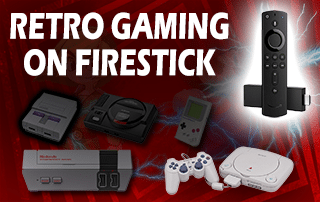 This video tutorial will teach you how to play thousands of Retro Games on Firestick, Fire TV, Android TV Box, NVIDIA SHIELD, and more with RetroArch.
RetroArch is a free application that can be side-loaded onto the Firestick, Fire TV, or any Android-powered device.
IMPORTANT: The Amazon App Store prohibits side-loading unverified apps into your device without using the official app-distribution method. Click this link to learn how to install a VPN for Firestick, Fire TV, Fire TV Cube so you can install such apps.
RetroArch includes emulators for all popular gaming systems including PlayStation, Nintendo, Super Nintendo, Sega, GameBoy, Atari, Commodore, and more.
The great thing about RetroArch is the ability to play all games in one user interface.  Most applications will only allow for us to play one gaming system but RetroArch give us everything under one "roof".
Yes, there are many different ways that you can "peel this orange".  This is one of many ways that you can setup retro-gaming on an Android-powered device and I will be covering more in the future so stay tuned.
Free TROYPOINT Rapid App Installer

Install the Best Streaming Apps in Minutes
The free TROYOINT app includes over 50 of the best streaming apps including the one(s) you're about to install on this page.
How to Play Retro Games on Firestick / Fire TV with RetroArch
Note:  RetroArch user interface has changed but the same process applies covered in the video.
 Timestamps
1:26 – Prepare USB drive
8:30 – Install RetroArch
13:16 – Pair Matricom G-Pad BX Bluetooth Game Pad with Fire TV Stick 4K
15:35 – Configure initial settings for RetroArch
18:02 – Setup Game Pad button mapping
24:22 – Setup RetroArch Cores (emulators)
26:50 – Add ROMs (games) to RetroArch
28:55 – Download thumbnails for games
30:32 – Add games as favorites
31:58 – In-game options and features
33:18 – A few tips I learned along the way
* See notes below for downloading thumbnails to USB drive.
Links Mentioned In Video
Matricom G-Pad BX Bluetooth GamePad – No longer available, however, most Bluetooth gamepads will work. See this – https://amzn.to/33CdSsT
SanDisk Ultra CZ48 256GB USB 3.0 Flash Drive
How To Format a Flash Drive With A Mac to FAT32
Google Search for "No Intro Rom Set"
 Note: If you are having problems downloading the Thumbnails through the Online updater or you want to save space on your device, you may Download them onto your USB Drive instead.
1. Create a new directory on your USB Drive named "Thumbnails".
2. Download your respective game system thumbnails to this directory by using this site on GitHub – https://goo.gl/hqWcMA
3. Unzip the zip file into same directory.
4. Rename the folder to the matching name of the Game System that you see on the GitHub page.
Example: Super Nintendo Thumbnails folder should be renamed to "Nintendo – Super Nintendo Entertainment System" because this is how the name of the file is listed on the GitHub page.
5. In RetroArch, change the directory of where Thumbnails are stored under Settings / Directory.
For more retro gaming options, check out our guides below.
Tell us in the comments section below what your favorite gaming system is and what videos/guides you would like to see in the future that pertain to Retro Gaming.
This page includes affiliate links where TROYPOINT may receive a commission at no extra cost to you. Many times, you will receive a discount due to the special arrangements made for our visitors. I will never promote something that I personally don't use or recommend. Purchasing through my links directly supports TROYPOINT which keeps the content and tools coming. Thank you!
Register as a TROYPOINT Insider and discuss this article with thousands of other cord-cutters.