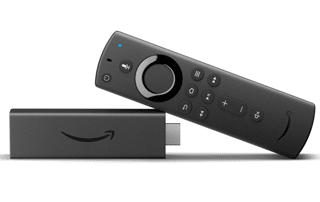 This Firestick resource page will provide you with everything you need to know about the Amazon Firestick.
This includes up-to-date tutorials that will teach you how to stream movies, TV shows, live channels, sports, pay-per-view sporting events, and much more, all for FREE.
The Amazon Firestick has become the most popular streaming device on the market today due to its low price point and ease of "side-loading" popular free streaming applications.
There are currently 3 iterations of this media device which includes the Fire TV Stick 4k, Fire TV Stick 3rd Gen, and the Fire TV Stick Lite.
Amazon Announces all-new 3rd Gen Firestick and Firestick Lite
Users can purchase these amazing devices at numerous locations including Radio Shack, Sears, Staples, Best Buy, Target, and more.
You can also buy these products directly from Amazon using the links below.
What is a Firestick? – The Basics

In October of 2018, Amazon released the new Fire TV Stick 4k with Alexa Voice Remote.
For the price of $49.99, the Firestick is an affordable option for anyone looking to expand their streaming options.
This is an upgrade from the previous version of the Firestick which did not have 4k streaming capabilities.
This new device also comes with a compatible remote with added volume and power control buttons.
Gone are the days of using two remotes for your TV and Firestick as this added benefit simplifies your streaming experience.
Best of all, you can use the Alexa remote to prompt commands on your device with just your voice!
Currently, the Firestick is at the top of our list of Best Streaming Devices.
Following up the Fire TV Stick 4k was Amazon's release of the Fire TV Stick 3rd Gen and the Fire TV Stick Lite in the fall of 2020.
These "cheaper" alternatives provide all the streaming capabilities of the Firestick 4k with a smaller price tag.
However, both are missing various features such as 4k capabilities and power and volume control.
One of the main reasons the Fire TV Stick is so popular is because of its accessibility. This little device is about the size of a flash drive and can be used nearly anywhere.
The Firestick features a built-in HDMI connector that will plug into almost any television. It will access your TV's Input and allow for multiple functions via wi-fi connection.
The 4k version offers up to 4K UHD video streaming which means all content will be in High Definition quality.
Users can also game in 4K with various firestick gaming options:
Retro Gaming on Firestick with RetroArch
Install Happy Chick on Firestick/Fire TV
After purchasing the Fire TV Stick, there is no additional fee or subscription price.
You will simply install various applications on the device that allow you to stream, game, and everything in between.
While some of these apps do charge a small fee, there are hundreds of free ones as well.
Where to Buy Firestick
The Amazon Firestick is available for purchase in-store at select retailers and online as well.
Most purchase the Firestick directly from Amazon for quick shipping, however, the following stores also keep this item on the shelf:
Best Buy
Target
Staple's
Radio Shack
Toys R Us
Sears
more
Currently, the price for each Firestick is shown below:
Fire TV Stick 4k: $49.99
Fire TV Stick 3rd Gen: $39.99
Fire TV Stick Lite: $29.99
However, Amazon also features numerous sales a year on this device.
For the latest deals on Fire TV Stick and more info on how to purchase one, use the resource guide below:
Where to Buy a Firestick and Firestick Deals
How To Get Started

If you would like to stream free movies, TV shows, live channels, sports, and pay-per-view events for free, you will want to side-load apps that will allow this onto your Firestick.
Many people refer to this as "jailbreaking."
While we are not actually "jailbreaking" the device, we are enabling unknown sources within settings of the device for 3rd party app installation.
This is how we get applications and secret Filelinked Codes not available within the Amazon App Store onto our device for unlimited streaming.
The most popular tutorial among cord-cutters is the TROYPOINT Jailbreak guide that you can view via the video and screenshot guides below.
This tutorial is the quickest way to unlock the full potential of your Firestick and/or Fire TV.
How Does a Firestick Work?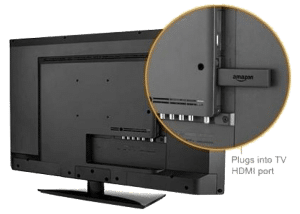 A frequently asked question many like to know prior to purchasing a Fire TV Stick is whether or not it will work with their television.
Because nearly all television sets have HDMI ports, Firesticks are fully functional with just about every TV available.
Most streaming devices operate by connecting directly to their HDMI port. This includes the popular Roku device that rivals the Amazon Firestick.
Due to its closed source software, however, TROYPOINT recommends using a Firestick instead of a Roku.
Roku vs Firestick – Everything You Need to Know
The Amazon Firestick uses wi-fi to install and use the applications and is controlled with a provided remote.
Because of the device's portability, it will work with a wireless Hot Spot or nearly every other wireless internet connection.
This makes the Firestick one of the most versatile streaming devices available today. With a compact design and a simple setup, you can take the firestick with you almost anywhere.
Be sure to check out the TROYPOINT Firestick Setup Guide after purchasing your Firestick or Fire TV. This instructional guide will get you up and running on your device in less than 2 minutes.
One of the greatest features of the Firestick is the Alexa Voice Remote. This new component works great for those who don't like to type out an entire search option.
The remote is able to use your voice to control the device and can even connect to an Amazon Echo or Alexa device.
Newly upgraded as well, the firestick remote now includes Power and volume buttons. This means no more switching back and forth between multiple remotes for use!
For complete information regarding the Amazon Firestick remote, use the resource guide below:
Firestick Remote – How To Fix, Pair, and Much More
Although the Firestick does come with the Alexa remote, numerous other remotes are compatible with the device as well.
TROYPOINT has come up with a list of some of the best replacement remotes for the Firestick or Fire TV.
Fire TV/Stick Replacement Remote
Because apps are installed on the device itself, a firestick is portable and able to be used on nearly every TV.
This is great for those who travel and want to watch their favorite content while on the go.
To use at any location, simply connect the power cord to an outlet, the firestick to an HDMI port, and access a local wi-fi network.
For the small fee of only $49.99, the Amazon Firestick as a media streamer can't be beaten.
However, there are a couple of upgraded versions of this device as well. For $69.99, you can purchase the Amazon Fire TV and for $119.99, the Amazon Fire TV Cube.
Firestick Apps to Install
The home-screen of Firestick and Fire TV devices generally include tons of options including News, Live Events, Free Content, and more.
The Amazon App Store is available directly on the home page and can easily be searched using the search option.
This is a great place get tons of apps for Movies, TV Shows, Music, and much more.
The following applications are available within the Amazon App Store and may require payment:
A firestick will also give users access to thousands of apps and APK's that are not available in the Amazon App Store.
TROYPOINT's Best APK's for Movies and TV Shows
Because of its side-loading abilities, the Firestick's app possibilities are endless.
If you can't find an application in the Amazon App Store, you can likely side-load it using the Downloader Application.
TROYPOINT has created a list of Best Apps for Firestick & Fire TV to help get you started. This list includes apps in the App Store and those you must side-load as well.
Users can also install the following applications for FREE that allow for the streaming of unlimited Movies, TV Shows, and more.
Kodi
This application provides an open-source platform for users to install various add-ons to stream content.
These add-ons are available in all shapes and sizes and hold numerous options for streaming.
TROYPOINT has created a list of Best Kodi Add-Ons with instructional guides for add-ons with Movies, TV Shows, Live Television, Music, and more.
Users can easily side-load Kodi onto a Firestick or Fire TV using the instructional guide below:
How To Install Kodi on Firestick
Cinema APK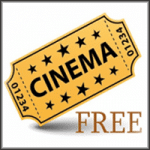 Cinema is an APK or android application that serves up Movies and TV Shows.
Unlike Kodi, you will not have to install 3rd-party add-ons within Cinema to see titles for viewing. All content is stored within the app that also features a user-friendly interface.
Cinema is featured as one of the Best APK's by TROYPOINT.
How To Install Cinema APK on Firestick
Aptoide TV
Aptoide is a "Google Play Alternative" that works as an App Store for 3rd party applications.
Installing Aptoide opens the door to thousands of apps that are not available in the Amazon App Store.
This includes nearly all apps from the Google Play Store and tons of others as well.
Installing Aptoide is the first step in the TROYPOINT Jailbreak Firestick tutorial.
Silk Browser

The Silk Browser is the most popular web browser used among Firestick/Fire TV device users.
Installing Silk allows you to access the same websites on a Firestick/Fire TV as you would on a PC, tablet, or mobile device.
From accessing free movie streaming sites, social media, online shopping, and more, the Silk Browser has it all!
Refer to the link below for more information on the Silk Browser and how to install it on your Fire TV device.
How To Install Amazon Silk Browser
IPVanish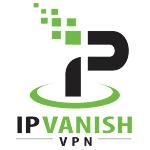 Anyone who uses 3rd party apps to stream content should always install a VPN for their protection.
A VPN will encrypt your IP address which makes it impossible to track or log your internet activity.
In addition, some of the apps that you would want to download are restricted by the Amazon App Store since they are unverified apps.
However, you can side-load them into your device without using the official app-distribution method with the help of a VPN for Firestick, Fire TV, Fire TV Cube.
TROYPOINT recommends IPVanish for all cord-cutters because of its easy to use application and zero log policy.
IPVanish is available in the Amazon App Store.
How To Install VPN on Firestick
These APK's are available for side-load on any Fire TV device including the Firestick.
Installing one or some of these apps will provide access to unlimited Movies and TV Shows with NO BUFFERING.
Best APK's for Movies and TV Shows
Live TV on Firestick
Movies and TV Shows are not the only content Firestick users will have access to.
In fact, the Amazon Firestick recently added a new Live TV Tab to its main menu screen. This features tons of free and paid options for streaming live television without a cable subscription.
Live TV apps are also available for download and usually come in the form of an IPTV Service.
IPTV stands for Internet Protocol Television and oftentimes provides thousands of live channels for a small monthly fee.
Users can install their preferred IPTV app on a Firestick and stream live News, Sports, and more.
This is especially popular among sports fans for Streaming UFC and Watching the NBA Online.
Oftentimes, these apps provide an EPG or Electronic Program Guide that will display TV Scheduling.
Check out our IPTV Resource Page for everything else IPTV.
Fire TV Cube – The Other Option
In my opinion, the Amazon Fire TV Stick 4k is the best possible option available for unlimited streaming.
Because of its price point and awesome specs, this is a perfect choice for any cord-cutting enthusiast.
In June of 2018, Amazon also released another streaming choice – the Amazon Fire TV Cube.
This is a hands-free Alexa box that controls your television with only your voice.
TROYPOINT has created a Fire TV Cube Review that is completely unbiased and will help you determine if it is the right choice for you.
With a heftier price, many opt for the Firestick instead of the Fire TV Cube. However, if you would like more bang for your buck, the Fire TV or Cube is a better device.
The current release of the Fire TV Cube is priced at $119.99 and features 4k streaming, Alexa remote, and hands-free operation with built-in Alexa.
Overall, you cannot go wrong with either device you choose. Many have found that upon purchasing a Firestick or Fire TV, they have been able to cancel their Cable or Satellite subscriptions.
With the purchase of any firestick device, your streaming capabilities are endless.
Firestick Extras

Once your device is set up and ready to go, there are tons of different apps and tools you can install for streaming and more.
TROYPOINT has created a list of some Tips and Tricks that will help you get the most out of this awesome device.
10 Firestick Tricks and Tips for Ultimate Firestick Setup
Users can even connect numerous devices to their Firestick via casting.
This includes iOS, Android, and PC.
If you are experiencing buffering problems or slow download speeds, refer to our popular guides below.
How to Stop Buffering on Firestick
Best Firestick Ethernet Adapter
If you are having issues with your Firestick device, there are plenty of awesome tips we can do to speed up the device.
Refer to our popular video guide below to learn how to improve performance on your Firestick or Fire TV:
Speed Up Firestick Video Guide
Links Mentioned in Video
Free TROYPOINT App with Rapid App Installer
IPVanish VPN with Discount
VPN for Firestick
One of the most important tools for a Firestick owner, especially if the device is "jailbroken", is a VPN application.
Doing so will anonymize your streaming activity and protect you from app developers, ISP, and more.
How To Install VPN on Firestick
Follow the quick steps below to install VPN on Firestick:
Step 1 – Register for an account at IPVanish by clicking HERE.
Step 2 – Hover over the search icon on your Firestick, Fire TV, or Fire TV Cube and type in "Ipvanish".
Step 3 – Click the IPVanish VPN option that appears.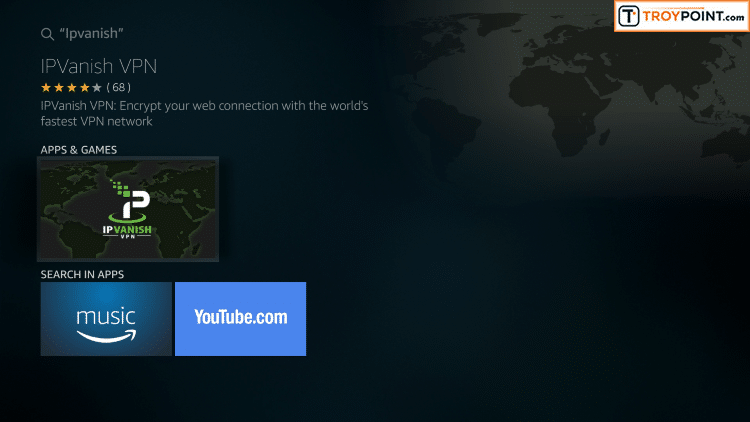 Step 4 – Click the Download button.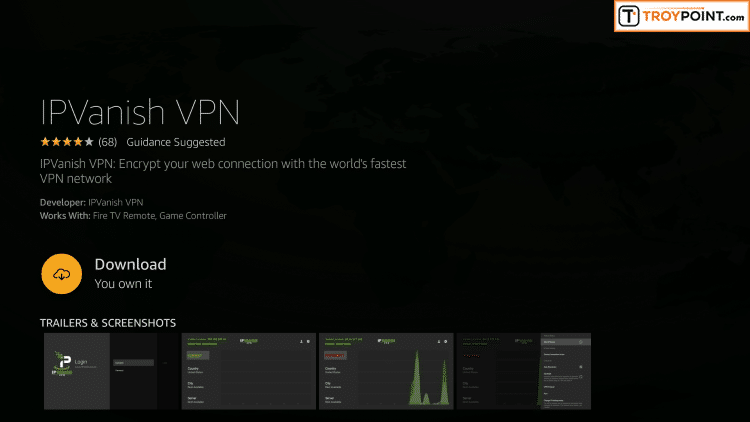 Step 5 – Click Open to launch IPVanish VPN application.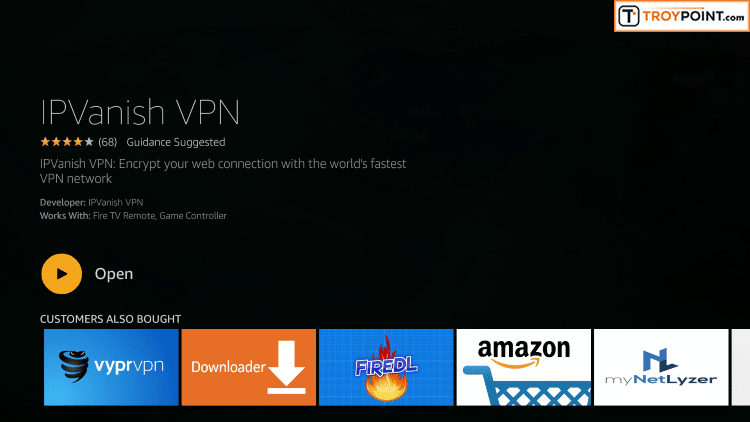 Step 6 – Input your IPVanish username and password and then click Login.
Step 7 – Click CONNECT button.
Step 8 – If you receive a VPN connection request such as this, click OK.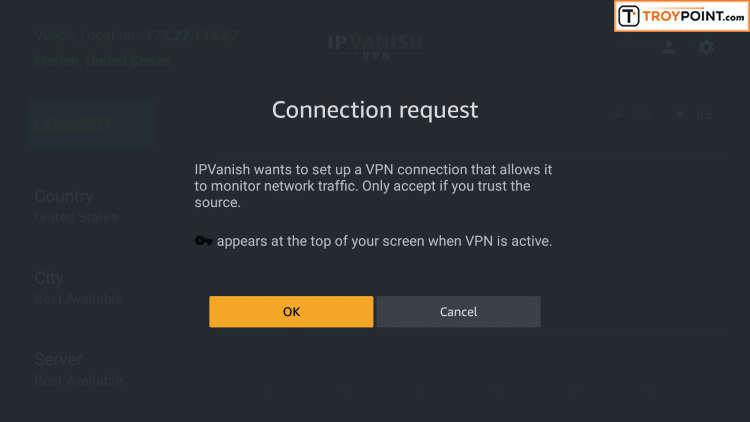 Step 9 – Click Disconnect button to stop service.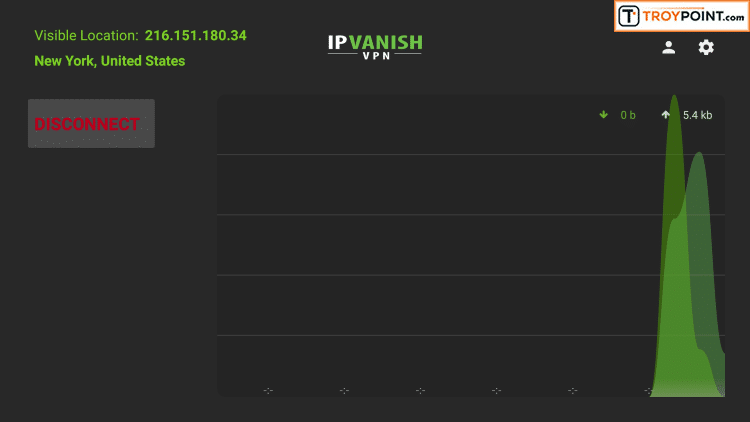 With a VPN active, you can now access all content on your device Anonymously.
Most VPN users do so to protect themselves when streaming on Kodi. Using Kodi on Firestick is one of the best ways to "jailbreak" your device and stream free content.
However, Kodi doesn't do much without the great 3rd party addons that provide free movies, TV shows, channels, live sports, etc.
Outside of apps and Kodi addons, the Firestick can also be used for streaming websites to watch movies and TV shows.
Check out our popular lists below for even more Firestick streaming options.
Firestick Frequently Asked Questions
Where Can I Buy a Firestick?
Multiple retail stores have Firesticks for sale including Wal-Mart, Best Buy, Target and more. However, you can also purchase on Amazon.
What Channels Can I get on Firestick?
There are thousands of apps users can install on a Firestick including those that will provide free Movies, TV Shows, and even Live TV.
Can I Jailbreak a Firestick?
Yes, this is the best way to get tons of apps not available in the Amazon App Store. These apps are free and have unlimited content for streaming.
Does Firestick Have a Remote?
Yes, the Firestick comes with included Alexa remote for voice control of your device.
Is there a Monthly Fee for Firestick?
No. The firestick is a one time purchase. However, some apps available for installation may require a monthly fee for use.
Is Roku Better than Firestick?
While Roku devices are a popular choice, they feature a closed Operating System which means apps that provide free content are unable to be installed. TROYPOINT always recommends a Firestick or Fire TV for streaming.