This detailed guide covers a question we frequently receive – Is IPTV Legal?
The short answer to "is IPTV legal?" is Yes. IPTV itself is not illegal.
For those unfamiliar with this technology, IPTV stands for "Internet protocol television." In other words, streaming live TV through the internet.
What Is IPTV – All Questions Answered
The number of IPTV users is only increasing, as millions of households continue to cut the cord every year across the world.
People are becoming frustrated with expensive cable/satellite TV packages still offered by their Internet service providers (ISPs).
Consumers only want to watch their favorite channels without paying a fortune, and that's why IPTV services are becoming more attractive.
If you are brand new to IPTV or cord-cutting in general, we suggest viewing our popular IPTV guide below that has been visited by millions.
WARNING!
Your online activity is actively tracked by your Internet Service Provider, app/addon devs, and government through your identifying IP address.
Stream anonymously by using IPVanish VPN.
IPVanish will encrypt your connection to the Internet and mask your IP address so you will remain 100% anonymous.
SAVE 65% FOR LIMITED TIME
IPVanish backs their service with a 30-day money back guarantee.
IPVanish allows you to use your account on unlimited Internet-connected devices
Our IPTV Guide explains everything you need to know about live TV including services, apps, players, IPTV Boxes, and much more.
Once you understand the basics of IPTV it's important to discuss the legality of IPTV and the difference between verified and unverified providers.
Legal Copyright Disclaimer: TROYPOINT is a tech website that publishes tutorials, news, and reviews. We do not verify if apps, services, or websites hold the proper licensing for media that they deliver. We do not own, operate, or re-sell any streaming site, service, app, or addon. Each person shall be solely responsible for media accessed and we assume that all visitors are complying with the copyright laws set forth within their jurisdiction. Referenced applications, addons, services, and streaming sites are not hosted or administered by TROYPOINT.
Is IPTV Legal?
As mentioned previously, IPTV by itself is not illegal. Streaming live TV through the Internet has been happening for the past several years, as there are thousands of services available.
However, some IPTV providers are 100% legal and some are illegal. It's extremely difficult for us at TROYPOINT to determine whether an IPTV service holds the proper licensing to broadcast its channels.
Since it's almost impossible for us to determine whether an IPTV service is legal or not, we take the following approach at TROYPOINT:
"TROYPOINT can't verify whether or not an IPTV service holds the proper licensing for the channels and other content that they provide.  The end-user is solely liable for any IPTV service or app used on their streaming devices."
Since this is the case we separate IPTV providers into two different categories – Verified and Unverified.
Verified IPTV Services (100% Legal)
If an IPTV provider is available through a reputable app store such as Amazon, Apple, or Google Play, we can be certain it carries the proper licensing for the channels and content they broadcast.
Companies like Amazon, Google, and Apple would likely be held liable for allowing any IPTV service that distributes copyrighted content without proper licensing.
Popular examples of legal IPTV services include fuboTV, YouTube TV, Philo, Hulu, Sling, XUMO, Pluto TV, and many others listed in our guide below.
The same is true with many Free IPTV Apps and IPTV Players that can be found within trusted app stores.
Where legality in IPTV becomes a topic of concern is when unverified services are used.
Unverified IPTV Services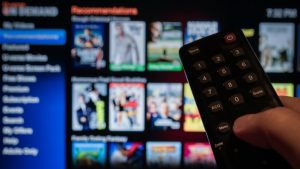 Unverified IPTV services on the other hand are defined as live TV providers not available within reputable app stores (Amazon, Apple, Google).
These IPTV providers often require users to sideload an application to access channels. This is common among users who "Jailbreak their Firestick."
Unverified services usually offer thousands of channels, PPV, major sports packages, international channels, and more for $10 – $20 per month.
When asking the question "is IPTV legal?" it is often the unverified services that raise concerns.
The major concerns of using an unverified service are legal questions and possible identity/security vulnerabilities.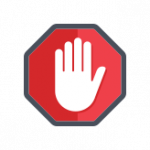 One recent example of security vulnerabilities involved the once-popular "Sapphire Secure" IPTV service.
Due to the fact that TROYPOINT has no way to fully determine whether these services carry the proper licensing, we label them as unverified services.
This also applies to the thousands of Free Sports Streaming Sites and Live TV Streaming Websites available online.
Some of these unverified IPTV services/apps are clearly delivering channels that they don't have proper licensing for. When we are certain this is the case, we report these instances on our website.
In late 2020, the United States Congress approved a Felony Streaming Bill that classifies running/operating illegal streaming services as a felony.
This will do little to stop these unverified services because most of them operate outside of the United States.
People worldwide are fed up with paying these monopolistic cable/satellite companies each month.  Change is definitely coming and millions of people are using unverified IPTV services around the world.
Unverified IPTV services aren't owned by a well-known organization so people must be extremely careful when dealing with these unknown entities.
The first line of defense when streaming from an unverified provider is to use a Virtual Private Network or VPN.
Protect Yourself When Streaming IPTV
When it comes to IPTV and privacy on the internet, it's becoming more important than ever to protect your identity online.
The best ways to protect yourself while using unverified IPTV is through a VPN and registering anonymously for the IPTV service itself.
The VPN will mask your identifying IP address so the IPTV service provider can't personally identify you or determine your location.
Plus, the VPN will prevent your Internet Service Provider from logging what you access through your Internet account.  That's right!  Without a VPN, your ISP can track everything that you access and they even have the right to sell that information to third parties.
It's impossible to know what these unverified IPTV service operators/developers are doing with user data.
Using a VPN will make it impossible for IPTV services, hackers, and your Internet Service Provider (ISP) from monitoring what you are doing online.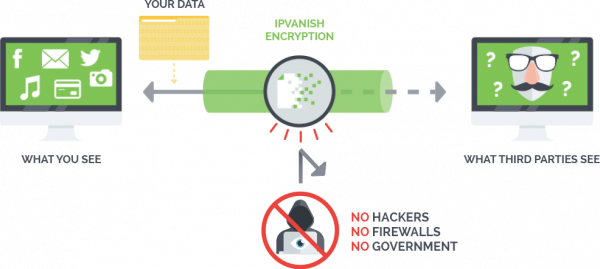 A VPN will make you anonymous while using the Internet.
One thing to note when testing different providers is whether or not their service works with a VPN. If the IPTV Service is not "location locked", a VPN should work fine with the service.
A quality VPN will help evade censorship due to geographic locations, which is especially important for sports and MMA fans looking to watch the big events!
It's important to know that some ISPs block unverified IPTV services and the only way to access them is by using a VPN.
There are several options out there when it comes to choosing a VPN. However, after years of testing different services, we have found IPVanish to be the best VPN for IPTV.
IMPORTANT: TROYPOINT visitors also receive an exclusive IPVanish VPN discount not found on other websites. Click the link below to get the discount!
Click Here for IPVanish Discount
If you already have a VPN see our popular tutorial below.
VPN on Firestick/Android Guide
It's also important to register anonymously for unverified IPTV services because you don't want them having any personal information about you.
To do this, you will need to set up an anonymous email account and you can find our tutorial below for that.
Also, never input your credit card details into an unverified IPTV service website.  Instead, pay with Bitcoin or purchase through Abine Blur.  You want to protect yourself by using a middleman so your personal information remains private.
Below is a video that shows how to register for an unverified IPTV service anonymously.
How to Buy Unverified IPTV Anonymously
Links Mentioned in Video
 Register for Coinbase Account
Get Best IPVanish VPN Discount
 How to Buy Bitcoin Tutorial
Overall, it is our hope that this guide answered the question of "Is IPTV Legal?"
For the best VOD options when it comes to streaming movies and TV shows, refer to our popular guides below.
Is IPTV Legal FAQ
Is IPTV Legal?
IPTV itself is not illegal. We explain more about the legality of IPTV in this guide. It's impossible to determine whether an IPTV service carries the proper licensing for the content that they broadcast.
What are the Best Legal IPTV Services?
The best legal IPTV services include fuboTV, Philo, YouTube TV, Sling, Pluto TV, XUMO, Hulu, Locast, and many others found within reputable app stores.
Do you Need a VPN for IPTV?
Yes. Having a VPN is recommended if using IPTV services. This will hide your streaming activities and protect yourself from website operators, hackers, and your ISP.
What does IPTV Stand for?
IPTV stands for internet protocol television.
Is IPTV Safe?
Yes, many IPTV services are safe to use. However, there are some unverified IPTV providers that have been hacked and exposed user data. Protect yourself with a VPN if using unverified services.
This page includes affiliate links where TROYPOINT may receive a commission at no extra cost to you. Many times, you will receive a discount due to the special arrangements made for our visitors. I will never promote something that I personally don't use or recommend. Purchasing through my links directly supports TROYPOINT which keeps the content and tools coming. Thank you!
Register as a TROYPOINT Insider and discuss this article with thousands of other cord-cutters.