Best Anonymous Email Providers 2023 (How to Send Anonymous Email)
The following guide details the Best Anonymous Email Providers that will ensure your privacy and security.
"How do I send an anonymous email?" This is a question we frequently receive on the TROYPOINT site.
When it comes to privacy on the internet, it is becoming more important than ever to protect your identity online.
One way you can establish security on the web is to create an anonymous email account.
While you may be familiar with fake email generators, anonymous email accounts are better for long-term email use.
Hackers, Internet Service Providers (ISP), governments, and 3rd party app developers have been known to collect the personal information of end-users.
With the government pushing to criminalize streaming, the importance of staying anonymous online is crucial.
Using an anonymous email account is a great way to register for things like IPTV Services, Real-Debrid, and other streaming-related services.
And if you pay for these services with Bitcoin or other cryptocurrencies, that provides an added layer of security.
There are numerous reasons why you may want an email address with anonymity.
Whether you are sick of providing your personal information when registering with an email address, or just want to remain private, having an anonymous email account has no downside.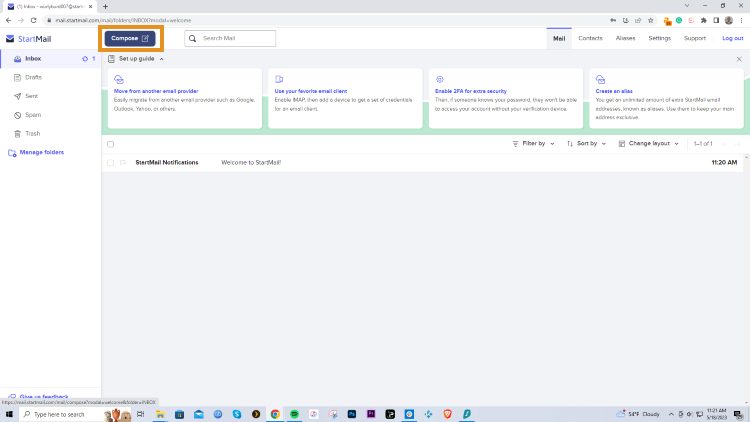 While there are tons of anonymous email services available, not all of them provide the same layers of security and privacy.
We have searched for the best anonymous email account options and provide them below with important details for each.
Best Anonymous Email Providers
Below you will find a list of the most popular anonymous email account providers.
Although there are hundreds of email services available, we only included the most reputable and secure options.
YOU'RE BEING TRACKED...
Your online activity is tracked by your government, Internet Service Provider, app/addon/IPTV devs and all websites through your identifying IP address
Stream anonymously by using Surfshark VPN
Your Current Identifying IP Address (digital fingerprint):
SAVE 82% ON SURFSHARK VPN + 4 FREE MONTHS
Surfshark backs their service with a 30-day money back guarantee
Use your account on unlimited devices & share with family members
HURRY! SALE ENDS SOON
Claim Surfshark VPN Discount
Without a doubt, the Best Anonymous Email Provider available today is StartMail for numerous reasons which we list below.
StartMail's main feature is its unlimited anonymous aliases that allow you to register for various services without providing personal information including your actual email address.
This includes Burner Aliases that create a temporary email address that will automatically disappear after one hour.
You can also opt for the custom alias option that will work for a set amount of time and expire when you want it to.
StartMail makes migrating content from an existing email extremely easy with the use of ShuttleCloud to automatically transfer all of your existing emails, folders, and more.
With world-class encryption and 20 GB of storage, there is plenty of room for all of your data which will stay completely private and secure.
StartMail offers an absolutely free 7-day trial that will allow new users the ability to test the service prior to purchasing.
StartMail Free 7-Day Trial (& Discount)
Learn more about StartMail and all of its features in our detailed review guide below.
StartMail Review – Best Anonymous Email Provider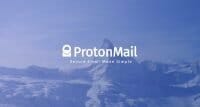 ProtonMail is arguably the most popular anonymous email service available to the public.
Creating an account is 100% free, and we show how to set up a ProtonMail account in our tutorial below.
Proton is also known for its Free VPN service that is used by many.
Abine Blur is one of the best services available when it comes to staying completely anonymous online.
In addition to a secure email masking feature, Abine Blur also provides masked credit card payments, anonymous phone numbers, password management, and much more.
If you are looking for a service that will keep you 100% anonymous online, I highly suggest looking into Abine Blur. You can find our detailed review & tutorial below.

MailFence is another well-known private email service. There is no tracking, spam, and they offer a quality free plan of up to 500MB.
The free option also includes email encryption and two-factor authentication. For more information on MailFence check out their official website.
Tutanota is a Germany-based secure email service that provides encryption, no ads, a calendar feature, and a solid free plan.
Their tagline is "secure email for everybody. Easy to use and private by design." Refer to the link below for more information on Tutanota.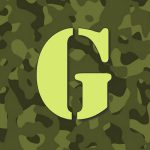 Guerilla Mail is a reputable email provider that provides disposable email addresses. Their "scramble" address feature allows users to generate a random email address.
Their motto is "keeping your inbox safe and clean." Check out the Guerrilla Mail website for more information on the service.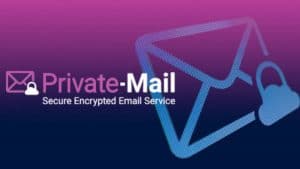 PrivateMail is another popular free private email service. They do offer a free plan that includes up to 100MB of encrypted email storage and "OpenPGP" encryption.
PrivateMail's motto is "you don't have to be a scientific genius to use Private-Mail." Check out their website for more information.
How To Send an Anonymous Email with StartMail
The short guide below will show you how to send an anonymous email with StartMail.
As noted above, StartMail is the Best Anonymous Email Provider and is extremely simple to use for sending anonymous emails and more.
Follow the guide below to sign up for StartMail (With Discount) and send an anonymous email.
1. Go to the StartMail Website and click Create account.
2. Select your preferred account option and click Try it free for 7 Days.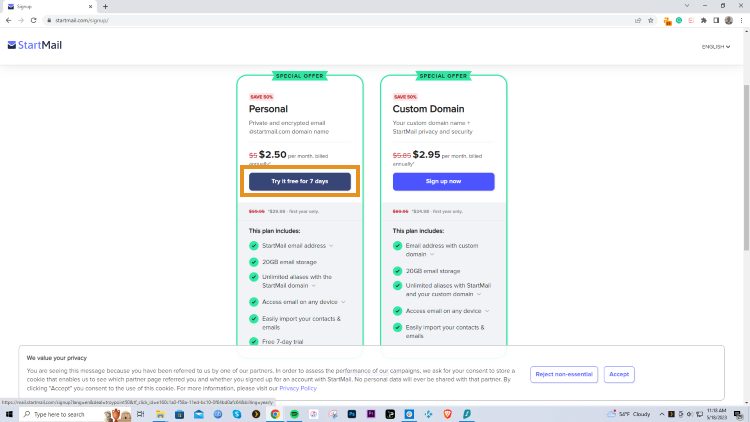 3. Input your preferred email address, Display name, Password, and click Next.
4. Click Next again.
5. Choose your location and click Next.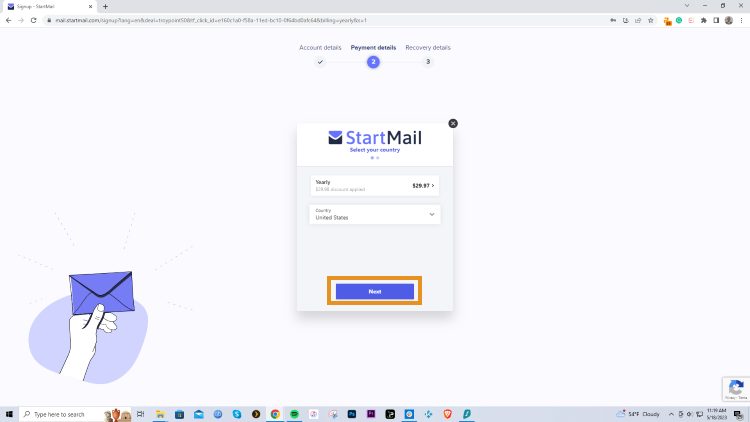 6. Input your payment information and click Subscribe.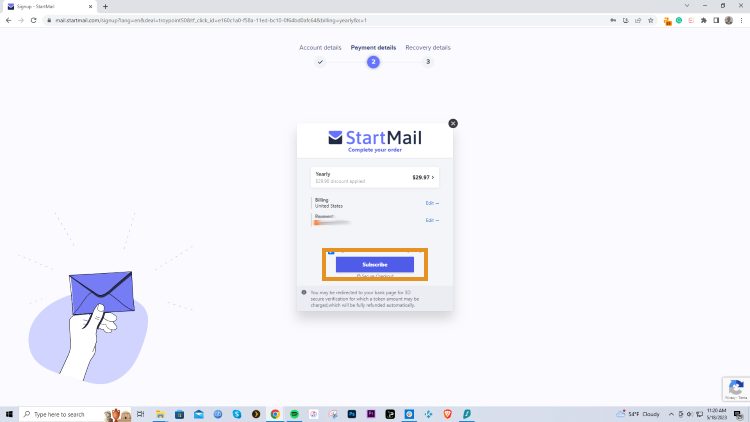 7. Click Go to your inbox.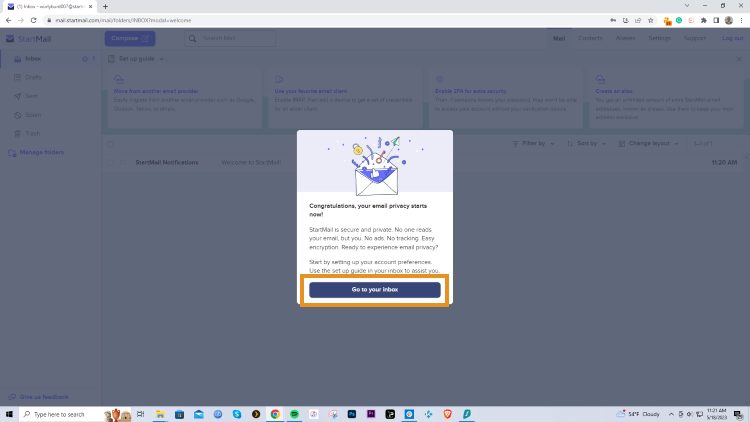 8. Click Compose in the upper left-hand corner to send an anonymous email.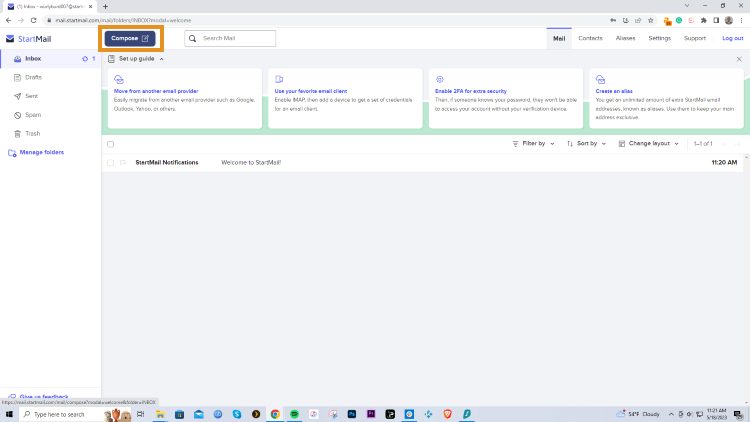 9. Choose Aliases or use your created email account and send an anonymous email with StartMail.
That's it!
Added Privacy – Use a VPN
To help keep your privacy at a maximum, using a VPN such as our #1 VPN Provider is a great way to ensure your information is confidential.
A VPN or Virtual Private Network is an important part of keeping your emails and activities secret.
Whenever you log into your email account, your IP address is recorded by your service provider (Gmail, Yahoo, AOL, etc.).
By using a VPN, your connection to the Internet will be assigned a different IP address so your email provider will not have access to this important string of numbers.
TROYPOINT's #1 VPN Provider has a strict no-log policy which means there are no retention logs of your internet history whatsoever.
Best of all, users can install a VPN on unlimited devices including streaming devices such as the Amazon Firestick & Android TV.
This will ensure all of your data is completely secure and anonymous on any device you prefer.
Best VPN for Firestick/Android TV
Anonymous Email Frequently Asked Questions
How do you Send an Anonymous Email?
To create an anonymous email account you will need to sign up with a reputable private email service such as StartMail, ProtonMail, Abine Blur, or MailFence.
What is the Best Anonymous Email Provider?
The Best anonymous email provider is StartMail for many reasons including its simple migration process and more.
Can you be Traced by Email?
Yes and no. This depends on what email service you are using, and if you are sending emails using a VPN to hide your IP address.
Are Anonymous Email Accounts Legal?
Yes. Using anonymous email accounts is legal. Just make sure to use a reputable private email service.
Is Gmail Anonymous?
The Gmail service itself is not considered an anonymous email provider, but if you create an account using phony information then your email is anonymous.
Can you Find IP Addresses from Email?
Yes and no. If the user is not running a VPN when sending emails then it is possible to trace the IP address.
This page includes affiliate links where TROYPOINT may receive a commission at no extra cost to you. Many times, visitors will receive a discount due to the special arrangements made for our fans. I will never promote something that I personally don't use or recommend. Purchasing through my links directly supports TROYPOINT which keeps the content and tools coming. Thank you! Learn more on my Affiliate Disclaimer page.