The following step-by-step tutorial will show you how to Cast to Firestick with nearly any device including iPhone & iPad, Android, and PC.
This guide will provide Cast or Mirroring instructions for 3 different devices.
You can find instructions below for casting iOS, PC, and Android Mobile to your Fire TV or Fire TV Stick.
To cast to Firestick using an iOS device we must first install an application to our Fire TV device from the Amazon App Store.
This app is called Airscreen, and once installed you will be able to mirror your device right to your TV with ease!
Airscreen is listed as one of the Best Firestick Apps by TROYPOINT. Many of these apps are also available in the Jailbreak Firestick guide.
By using the popular TROYPOINT Jailbreak guide, you will have access to tons of Movies, TV Shows, Sports, and more, all for FREE.
There are plenty of options when it comes to choosing an app that will allow you to cast to Firestick. However, most of them require payment.
Airscreen is completely free and works just as good if not better than the alternatives!
Use the guide below to learn how to Cast to Firestick/Fire TV on iPhone or iPad.
Note: In the following tutorial, I am using an iPhone XS with iOS version 12.3.1. However, these steps will also work for other devices and iOS versions.
We are also using a Fire TV Stick 4k. These instructions will also work on any Fire TV Device including Firestick Lite, Fire TV Cube, and any other version.
How To Cast to Firestick on iOS
1. On your Firestick/Fire TV device, search for and select Airscreen
2. Choose AirScreen app
3. Click Download
4. Wait for the app to finish installing
5. Message will prompt when the app is installed. Click Open or Launch now
6. This will launch Airscreen. Click Start Now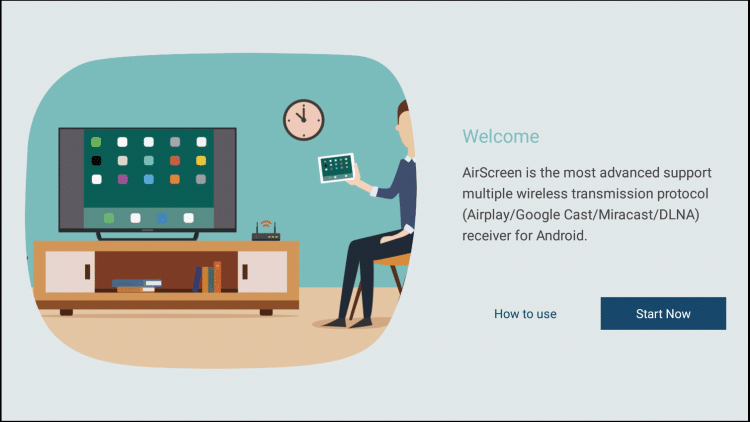 7. Scroll down to hover over and select Settings
8. Click the Device name
9. Here, we can enter a name for our fire tv device. I named mine "firestick4k". Once complete, click Next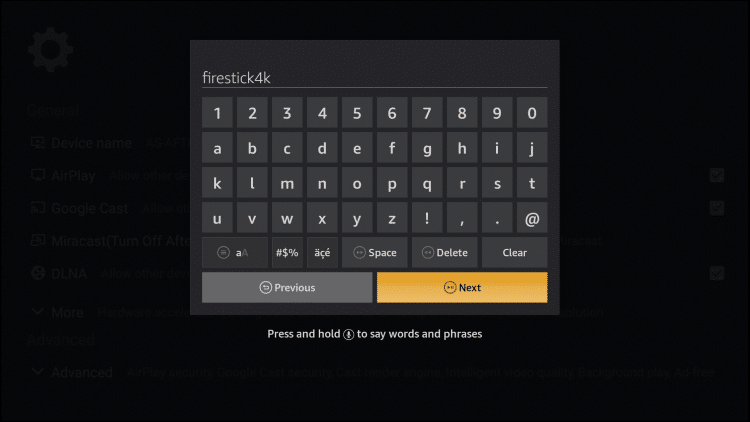 10. Click ok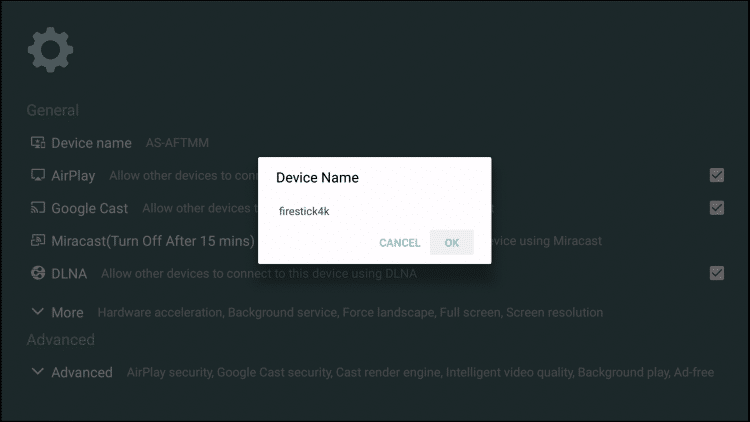 11. From your iOS device, swipe down or open the control center from your main screen and Tap Screen Mirroring
12.  Select your Fire TV device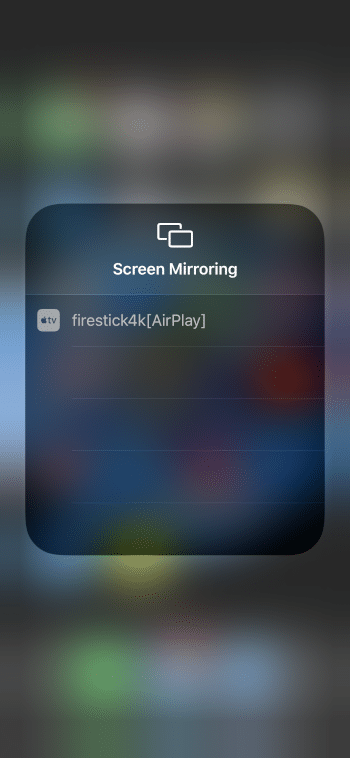 13. A checkmark will display once enabled
That's it! Your device will now appear on your TV screen. Enjoy!
If you want to access the app in the future, simply launch Airscreen and click Start. You will then be prompted to connect your device via Screen Mirroring.
(Remember to name your streaming device in order to quickly sync when screen mirroring)
Airscreen Details & Extras
Airscreen provides a few extra options within the app that is perfect for Firestick users. Categories provided include Start, Media Servers, Recordings, Settings, & Help.
The Recording feature is extremely easy to use and can be done using just your firestick remote for both Video & Audio.
The Settings tab provides plenty of options to cater to your needs. I suggest checking this category out to get the most out of this awesome app.
You will also see the option Operating Systems compatible with Airscreen under the "Help" category. This includes macOS, Android, and Windows.
Using your favorite device to cast to firestick is a great way to mirror your phone/tablet right to your tv. Let us know why you Cast to Firestick in the comment section below!
How To Cast to Firestick from PC
There are tons of reasons why users may want to mirror their PC to their Firestick.
Casting to Firestick from a PC is even easier than when using an iOS device as it does not require any app installation.
While this is often referred to as "casting" your device, the Firestick and Fire TV recognize it as Mirroring.
Use the guide below to Cast or Mirror to Firestick from your PC:
1. On your Fire TV device, hold down the home button to bring up the following options and select Mirroring
2. You are then prompted with the following screen:
3. On your PC, select the notifications icon in the bottom right corner to pull up the side menu bar
4. Click Connect
5. Choose the Firestick or Fire TV device you wish to cast to
6. Wait for the connection to establish
7. You will now see "Connected to Fire TV" at the top of your screen
8. You will now see your PC is Mirroring on your Firestick or Fire TV Device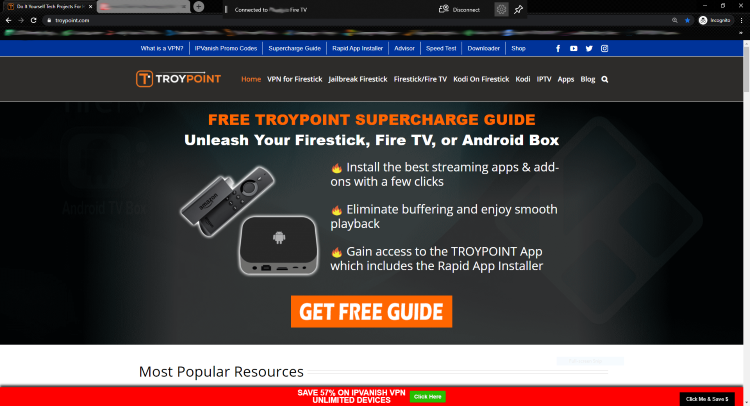 That's it!
To disconnect, simply click the button on your PC or the back button on your Fire TV remote and choose Yes as shown below:
How To Cast to Firestick from Android Mobile Device
Casting to firestick from an Android mobile phone varies for each device.
Oftentimes, users can simply open the notifications menu and choose "Cast" or "Screen Mirroring".
In this instance, we are using a Samsung Android smartphone. However, this will vary depending on the Android mobile device you own.
Use the guide below to Cast to Firestick from Android Mobile Device:
1. On your Fire TV device, hold down the home button and choose Mirroring
2. You are then prompted with the following screen:
3. Swipe down or open the notifications menu on your Android and select SmartView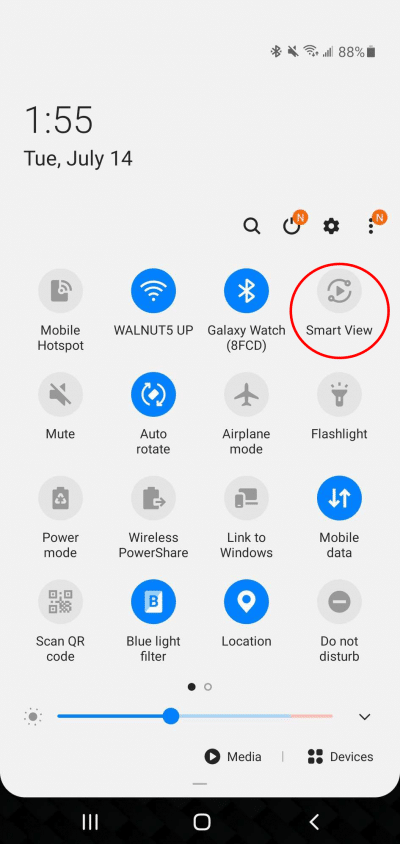 4. Select your preferred Fire TV Streaming Device
Your Android Device will now cast to firestick or Fire TV and mirror the screen. Enjoy!
For more tech and streaming tutorials be sure to sign up for the TROYPOINT Advisor with updates weekly.
This Advisor provides all the best cord-cutting tips to get the most out of your favorite streaming devices and more. CLICK HERE or link below for TROYOPINT Advisor Subscription:
Security Warning
Your online activity is tracked by your Internet Service Provider, app/addon devs, and hackers through your identifying IP address.
IPVanish VPN will mask your IP address and encrypt your connection so you will become 100% anonymous.
YOUR IDENTIFYING IP ADDRESS: 50.48.142.157
SAVE UP TO 74% WITH THIS TIME-SENSITIVE DEAL
30-Day Money-Back Guarantee
Cast to Firestick FAQ
Can I Cast my Phone to Firestick?
Yes, this guide will provide you with instructions to cast any iOS device including iPhones to Firestick.
How Do I Mirror to a Firestick?
Casting is often referred to as mirroring and can easily be done on your Firestick with nearly any device. Use this guide to learn how.
What devices can Firestick Mirror?
Firesticks and Fire TV's have the ability to mirror nearly any device including iOS, Android, PC, and more.
Can I Cast Videos to My Firestick?
Yes, this guide will show you how to Cast to Firestick and will work with any app or screen you prefer to use.