IPVanish Subscription Renewals Are Not Eligible For Refunds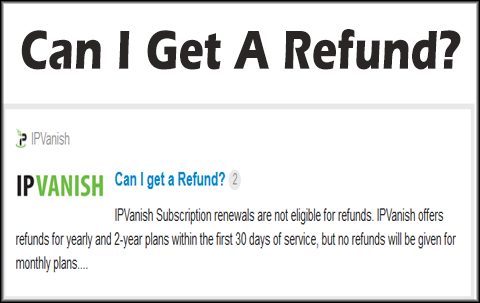 All current IPVanish VPN customers should be aware that subscription renewals are not eligible for refunds.
IPVanish has been promoted as one of the best VPN services by TROYPOINT for many years and rightfully so.  As of this article, IPVanish is ranked #3 in the TROYPOINT VPN Rankings.
Many of you are still using IPVanish which is great, but it's important to share the following information with you about their auto-renewal process.
We've all been there.  We register for a service and the fine print indicates that we will be automatically charged for the next billing period.
I personally don't have a problem with this business practice if the service provides an easy way to turn off automatic renewal or they serve up a refund when asked after the renewal has been processed.
I've found myself in this situation numerous times with various online services and a simple email asking for a refund and cancellation is quickly granted.  Unfortunately, that doesn't seem to be the case for IPVanish customers.
Here's a post by 65GTO on September 7th, 2023 on the TROYPOINT Insider.
IPVanish automatically renewed my subscription on 8/31/23 for $91.00. I contacted them on 9/2/23 and told them I was no longer using their service and would like to cancel my subscription. I was informed that per their refund policy, they do not refund annual renewals. They offered me some deal for $31.45 for the year to continue. I informed them I had changed to a different VPN provider, but they simply said no refund for a renewal. So now I am out $91.00 for a service I dont use. Buyer beware!
Upon further investigation, I found the following statement on the IPVanish support site regarding refunds.  You will see that they bold the first sentence which indicates that they do not offer refunds for subscription renewals.  I can understand them making this statement, due to the hundreds of thousands customers, but I have a hard time believing that they actually enforce it.
It seems to me that most people who are told, "Too bad, so sad, no refund", will simply contact their credit card company and put in a claim for a fraudulent charge.
IPVanish Subscription renewals are not eligible for refunds. IPVanish offers refunds for yearly and 2-year plans within the first 30 days of service, but no refunds will be given for monthly plans. Refunds are also available for 7-day free-trial accounts created through the IPVanish mobile apps within the first 6 days of your trial (You must cancel through Google or Apple). If an account was created without your authorization, your financial institution should be contacted. Refunds will not be given for problems with the VPN that are beyond our control. For more information, check IPVanish's Terms of Service. For full details regarding refunds, please continue reading…
No IPVanish VPN Auto-Renewal Shutoff
After reading the IPVanish refund policies, I logged into my account to see if there was an easy way to turn off auto-renewal and unfortunately there wasn't.
There was a Cancel Subscription button on my Account Information page that took me to an online cancellation form.  My concern was that it would immediately cancel my account and my remaining pre-paid time would be gone so I opened a live chat which you will see below.
IPVanish VPN Chat to Turn Off Auto-Renewal
Chat started on 15 Sep 2023, 09:21 PM (GMT+0)

(09:21:28)
*** Visitor 5398618 joined the chat ***
(09:21:30)
IPVanish Customer Support
Can we convince you to stay? We want to ensure you are enjoying our service. If you give us another chance to resolve your issue, we'll give you an exclusive discount.
(09:22:13)
Visitor 5398618
If I cancel my account online will it cancel immediately or will it still be active through my period which is in a few years?
(09:22:40)
Visitor 5398618
I just don't want to be auto-billed when the time comes.
(09:23:37)
*** Jaspher joined the chat ***
(09:23:45)
Jaspher
Hello,
Thank you for contacting IPVanish Support.
My name is Jaspher and I will be assisting you.
(09:23:48)
Jaspher
Let me check your account first. May I know the email address associated with your active IPVanish account?
(09:23:57)
Visitor 5398618
mail@troypoint.com
(09:24:31)
Jaspher
Thank you.
Please allow me a few minutes to review your account before anything else.
(09:24:47)
Visitor 5398618
I just want to know when I fill out this form, will it be cancelled or can I still get into my account until it expires? You guys should have a one-click button to remove auto-billing.
(09:25:37)
Jaspher
I can help you disable the auto-renew feature on your account, so you will not be automatically renewed and charged.Also, you can still use our service up until your subscription date ends.
(09:25:53)
Jaspher
To assist you in disabling the auto-renew, I need to verify the proof of ownership of the account.
Please kindly provide me with the following:
-Registered Full Name
-Last 4 digits of the credit card
-Billing Zip/Postal Code
(09:26:18)
Troy
Troy XXXXXXXXX
(09:26:24)
Troy
My Zip Code Went Here
(09:26:32)
Troy
I don't have my credit card with me right now.
(09:28:11)
Jaspher
Can't you recall? It is a Visa card.
(09:28:54)
Troy
I don't have my card memorized. Yes, it is a Visa. Turning off auto-bill shouldn't be this difficult.
(09:30:13)
Jaspher
Alright
(09:30:21)
Jaspher
I just disabled the auto-renew feature on your account.
(09:30:51)
Troy
Thank you.
(09:31:25)
Jaspher
You're welcome.
(09:31:30)
Jaspher
Is there anything else I can help you with?
(09:31:50)
Troy
No that's it. Thank you.
(09:31:57)
Jaspher
If there are no other concerns, I will now close this chat.
Thank you for your time. Have a great day! Goodbye for now.
(09:31:58)
*** Chat Rating request has been sent. ***
(09:32:36)
*** Troy left the chat ***
So, as you can see I had to jump through a few hoops to turn off auto-renewal on my account with IPVanish.  Definitely more time-consuming than it should be but I'm sure this drawn-out process stops subscribers from turning off auto-renewal or cancelling.
I sure hope that IPVanish starts offering an easy way to turn off auto-renewal within our online dashboards.
Within the chat box I had the option to send a transcript of the chat to my email which I did in case auto-renewal still occurs when my current subscription has expired.  I will file this in a folder within my StartMail Email account just in case I need it down the road.
Surfshark VPN Auto-Renewal Process
After going through this process I thought that it was important to see if our #1 ranked VPN Surfshark offers a convenient way to turn off auto-renewal.
As soon as I logged into my Surfshark account the first thing I saw front and center was the opportunity to manage auto-renewal.  It appears that I had already turned off this setting in the past.
I'm happy to see that Surfshark is providing an easy way for customers to do this on the main dashboard.  No funny business which I like.
YOU'RE BEING TRACKED...
Your online activity is tracked by your government, Internet Service Provider, app/addon/IPTV devs and all websites through your identifying IP address
Stream anonymously by using Surfshark VPN
Your Current Identifying IP Address:
SAVE 82% ON SURFSHARK VPN + 2 FREE MONTHS
Surfshark backs their service with a 30-day money back guarantee
Use your account on unlimited devices & share with family members
HURRY! SALE ENDS SOON
Claim Surfshark VPN Discount
ExpressVPN Auto-Renewal Process
Checking on our #2 ranked VPN ExpressVPN, I found that they also offer an option to turn off automatic renewal as well under My Subscription/Edit Subscription Settings but it's not a one-click procedure.
After I click the button that reads Turn Off Automatic Renewal, I'm taken to the following screen.
I click Turn Off Automatic Renewal again and get the following page.

Software As A Service (SAAS) Depends On Auto-Renewal
Many of us are guilty of missing auto-renewal charges that hit our bank accounts and this is why it's a huge revenue producer for online businesses.  They know that these charges will go unnoticed, sometimes for years, regardless of whether the service is being used or not.
This is a friendly reminder by the TROYPOINT team to check the auto-renewal settings on your current VPN service and other online services that you have as well.  If you're using IPVanish VPN and want to turn off auto-renewal, follow what I did above through their online chat system.  If you're using Surfshark VPN or Express VPN you can quickly turn off auto-renewal through your account page as shown above as well.  Or, leave auto-renewal on if you aren't planning on changing services after your plan has expired.
If you would like to create masked credit cards that carry a maximum balance and can't be re-billed, you should look into the service called IronVest, formerly Abine Blur.
This page includes affiliate links where TROYPOINT may receive a commission at no extra cost to you. Many times, you will receive a discount due to the special arrangements made for our visitors. I will never promote something that I personally don't use or recommend. Purchasing through my links directly supports TROYPOINT which keeps the content and tools coming. Thank you! Learn more on my Affiliate Disclaimer page.