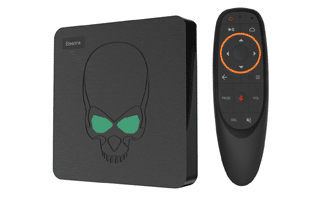 This Beelink GT-King Review was written by Troy from TROYPOINT after using the Android TV Box on a regular basis for three weeks.
Its important to note that even though I received the Beelink GT-King for free from GearBest, I still provide my true feelings and give you both positives and negatives.
I've had great luck in the past with Beelink Android TV Boxes and I consider them well made.  So, I'm expecting the same quality in the GT-King as others I've reviewed on this site in the past.
This device is currently touted as the most powerful TV Box available today.  But, it also carries a powerful price tag which is $119.99 on the Gearbest Website as of this post.  This price is also referenced as "7% off" off so when you see this, the price may be different.
We'll get back to the claim that the GT-King is the most powerful device later in this post…wink, wink.
What's A Beelink GT-King Android TV Box?
Before diving into this review, you should understand how a box like the Beelink GT-King differs from other Android-based streaming devices.
The GT-King runs on stock Android 9.0 Pie operating system, not Android TV.
You can think of stock Android as the same operating system found on Android phones and tablets.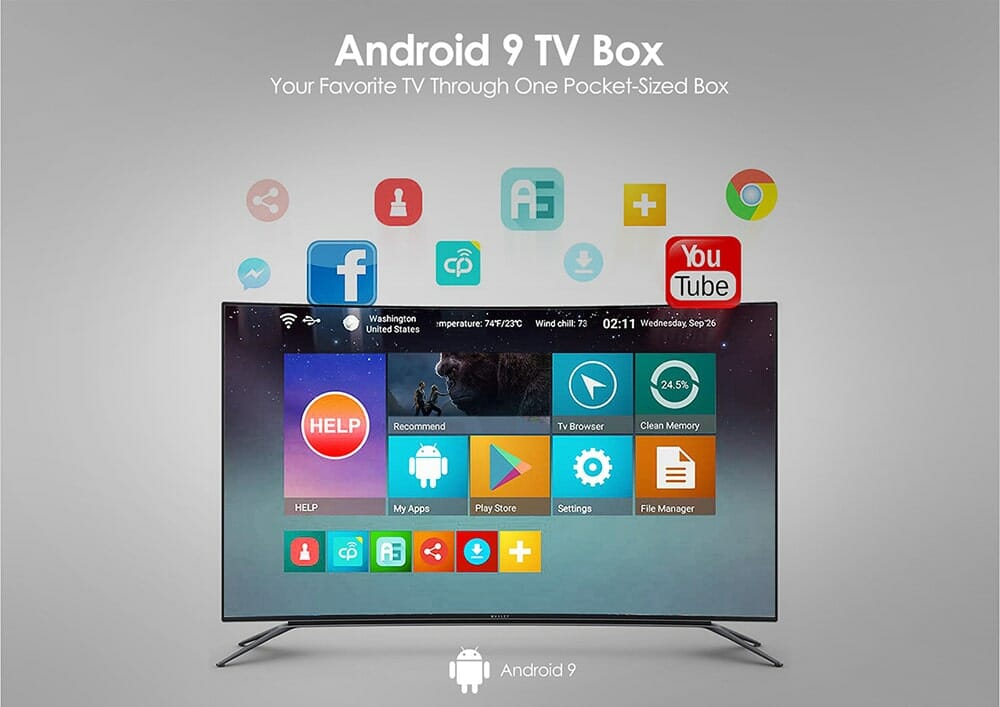 Android TV is Google's operating system optimized for television screens found on products such as the NVIDIA SHIELD, and Mi Box.
Amazon has a similar Android-based operating system (Fire OS) that powers the Fire TV Stick/Fire TV which is also optimized for the TV screen.
I often refer to boxes such as the Beelink GT-King as a "generic Android TV Box" because it isn't using the true Android TV operating system.
Boxes such as the GT-King are perfect for those who don't use the popular paid services such as Netflix, Amazon Prime, etc.  If you use any of those services, I would suggest either the Fire TV Stick 4K/Fire TV, NVIDIA SHIELD, or Mi Box.  Those apps perform much better on Android TV and Fire OS operating systems.
Most of these boxes are distributed in China which means customer support is usually very limited.
Also, when Android comes out with a new update such as 10.0, chances are pretty high that devices such as this won't see the update.
The great thing about these generic Android TV Boxes is that you can get a lot of bang for your buck because there aren't any license requirements from the manufacturers so they pass the savings onto you.
I strongly suggest purchasing the iPazzPort Wireless Keyboard/Remote Combo if you are using one of these stock Android units.  It will make it much easier navigating the screen in apps that aren't remote-control friendly.  Again, you're using stock Android which is developed for phones and tablets, not the television.
Beelink GT-King Price

Let's start with the elephant in the room…the price!
I personally have a problem paying over $100 for a device such as this that doesn't run the true Android TV operating system.  Plus, the fact that this system probably won't see updates to Android 10 and higher is a bummer.
Again, as mentioned above, this is running Android 9.0 Pie stock Android and these generic boxes usually don't see updates.
When going through this review, in the back of my mind I'm comparing it to the NVIDIA SHIELD, which is the premium streaming device that also comes with a high price tag.
Purchase Beelink GT-King from Gearbest
Purchase Beelink GT-King from Amazon
What I Like
When I first un-boxed the device I was very impressed.  Everything speaks quality from the box it comes shipped in, to the design of the unit itself.
The etched alien graphic with green eyes on the top of the GT-King add a cool design and the build quality seems great.
The specs are what sets this box apart from its competitors.
When you pick up the box, you can immediately notice that its better built than most of its competitors.
It sports the new Amlogic S922X, 4GB LPDDR4 RAM, and 64GB of internal storage!  It also comes with 5G WiFi, Gigabit Ethernet, and Bluetooth 4.1.
Its a very snappy system and I don't notice any lag when streaming movies, TV shows, IPTV, etc.
It played all of the video formats that I threw at it which included H.263, H.264, H.265, and HD MPEG4.
I streamed some 4K videos from YouTube and encountered no buffering.
I installed the TROYPOINT app so that I could quickly install my preferred applications by way of the Rapid App Installer.
I used Streams for Us and DurexTV to test live IPTV HD streaming and encountered no buffering in these apps either.
I also installed Kodi 18, Cinema HD, and paired them with RealDebrid.  As with the IPTV services indicated above, no problems at all.
The Beelink GT-King also supports 5.1 surround sound output which is great for those with a home theater setup.
The GT-King comes with an air mouse remote control but unfortunately, my box didn't include the proper remote.  According to Gearbest, they were first shipping this device with a remote that didn't include the air mouse button but now all of them do.
The remote that I received is identical to the one that actually comes with the streaming device except for the air mouse button so I can still accurately comment about this.
I like the remote due to the fact it doesn't operate off of infrared like most of these boxes do.  It includes a wireless dongle which I prefer over Bluetooth and the responsiveness is great.
Download speeds are excellent on this device (with VPN on and off) which I will dive deeper into below.
So, no complaints whatsoever in the quality of the Beelink GT-King when it comes to performance.  Its great!
What I Don't Like
The typical Beelink launcher (user interface) is present on this Android box.  We've seen this same launcher on a few of their other devices so nothing has changed in that regard.  I'm not a big fan of this launcher.
I immediately installed ATV Launcher to replace what comes by default on the system.  This launcher works very well on Android TV Boxes and can be easily customized too.
As with most other Android TV Boxes running stock Android (not Android TV), the paid services such as Netflix and Amazon Prime don't work very well.  You can get them to work by side-loading compatible applications but they don't play at maximum resolution.  As stated earlier, in my opinion you don't want one of these generic boxes if you use Netflix or Prime.
Due to not having an air mouse available on the remote that came with the box, I still used the iPazzPort Wireless Keyboard/Remote Combo to configure everything.  To be fair, I always use one of these during setup as it speeds up the process considerably.  Once everything is installed an configured, I moved back to the actual remote and it worked perfectly for me.
The remote control comes with a voice button but it will only work is certain applications.  I still haven't trained myself to use voice input on a regular basis so no big drawback here for me.
My last complaint is price.  So far, its hard for me to justify purchasing this Android Box instead of the NVIDIA SHIELD.  More on that later.
Beelink GT-King Download Speed Tests
Download speed is one of the most important features to test due to the fact that we're streaming large HD files through these devices.
The following tests were conducted through my 200 Mbps Internet service.  The WiFi testing was done through the 5 GHz band on my Asus AC3100 router.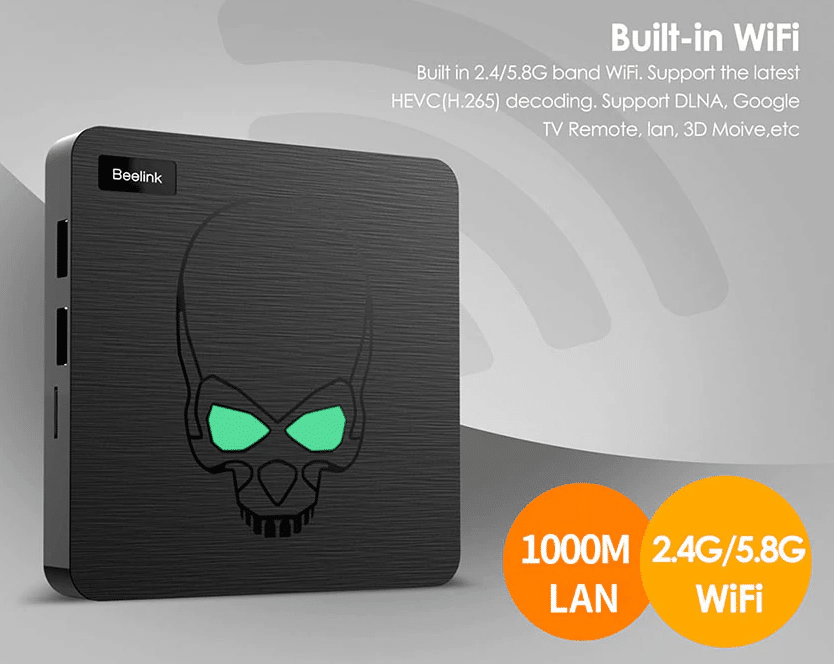 I used the Speed Test tool within the TROYPOINT App to conduct the testing.
The VPN that I am using in this speed test is IPVanish which is the fastest VPN available on the market today.
Ethernet
VPN On: 98.39 Mbps download & 25.35 Mbps upload
VPN Off: 129.26 Mpbs download & 25.72 Mbps upload
WiFi
VPN On: 80.64 Mbps download & 10.77 Mbps upload
VPN Off: 101.35 Mbps download & 20.29 Mbps upload
Download speeds on the Beelink GT-King are fabulous when compared to other Android TV Boxes running stock Android.
We usually see a bigger decrease in speed when running a VPN but not on this device.
Purchase Beelink GT-King from Gearbest
Purchase Beelink GT-King from Amazon
Photo Gallery
Beelink GT-King VS NVIDIA SHIELD
Is the GT-King the most powerful TV box on the market today?
No, not in my opinion.
The Beelink GT-King is the first box to feature the Amlogic S922x processor but its still not as powerful as the Tegra X1 found in the SHIELD.
One way to compare processors is to look at their PCMARK.  The NVIDIA SHEILD comes in with a PCMARK of 6048 where the GT-King comes in at 5487.
One huge difference is the power in the GPU or graphics processor units of these devices.
The SHIELD scores a 3DMARK of 44203 and the Beelink GT-King registers at 19939.
A few areas where the Beelink GT-King outperform the NVIDIA SHIELD are RAM and Internal Storage.
The GT-King includes 4GB of DDR4 RAM and 64GB of internal storage whereas the SHIELD features 3GB DDR4 RAM and only 16GB of internal storage.  Keep in mind that you can easily expand the internal storage of the SHIELD by attaching an external storage device.
When comparing everything mentioned above, I would still say that the NVIDIA SHIELD remains the most powerful TV Box on the market today.
Conclusion
If you're looking for a true stock Android Google experience and you're OK with this price, then look no further.
This is a quality Android TV Box with high-quality components.
Some cord cutters actually prefer the stock Android experience as compared to Android TV due to the larger number of apps available and more customization options.
But, if you're willing to spend an additional $40 to $50, I would point you to the NVIDIA SHIELD instead.
What's In The Box
TV Box, HDMI cable, voice remote control, power adapter, user manual
Beelink GT-King Specs
Brand: Beelink
CPU: Amlogic S922X
Core: Hexa Core
The device is rooted
RAM: 4G RAM
RAM Type: LPDDR4
ROM: 64G ROM
Max. Extended Capacity: TF card up to 64GB (not included)
TV Box Features: 5G WiFi
Color: Black
Decoder Format: H.263, H.264, H.265, HD MPEG4
Audio format: AAC, FLAC, MP3, OGG, RM, WMA
Video format: AVI, DAT, ISO, MKV, MP4, MPEG, RM, WMV
Photo Format: BMP, GIF, JPEG, JPG, PNG, TIFF
Support 5.1 Surround Sound Output: Yes
5G WiFi: Yes
Bluetooth: Bluetooth 4.1
Power Supply: Charge Adapter
Interface: AV,DC 5V,HDMI 2.0,LAN,SPDIF,TF card,USB2.0,USB3.0
Language: Multilanguage
HDMI Version: 2.0
Other Functions: Others
RJ45 Port Speed: 1000Mbps
Power Type: External Power Adapter Mode
Remote Controller Battery: 2 x AAA Battery ( not included )
Product weight: 0.1900 kg
Package weight: 0.6310 kg
Product size (L x W x H): 10.80 x 10.80 x 1.60 cm / 4.25 x 4.25 x 0.63 inches
Package size (L x W x H): 19.00 x 14.50 x 6.00 cm / 7.48 x 5.71 x 2.36 inches
Purchase Beelink GT-King from Gearbest
Purchase Beelink GT-King from Amazon
Do you own a Beelink GT-King?  If yes, we would love to hear about your experience in the comments below and any other useful information that you can share about this device.
This page includes affiliate links where TROYPOINT may receive a commission at no extra cost to you. Many times, you will receive a discount due to the special arrangements made for our visitors. I will never promote something that I personally don't use or recommend. Purchasing through my links directly supports TROYPOINT which keeps the content and tools coming. Thank you!
Register as a TROYPOINT Insider and discuss this article with thousands of other cord-cutters.