Streams For Us IPTV serves up over 8,500 live channels plus video on demand with both movies and TV shows.
Their service may be setup on Android powered devices including the Amazon Firestick, Android TV Boxes, NVIDIA SHIELD, and more.
Their basic $7 package comes with two connections which allows you to use their service on up to two devices at the same time.  You may purchase up to ten additional connections during registration.
The Steams For Us new Android applications now include the popular multi-screen option.  This allows the user to view up to four live streams on one screen!  Each stream that you add to multi-screen will use one connection.  If you want to add up to four streams, you must purchase their 4-device (connection) plan during registration.  Registration links are located below for each plan.
They also provide a Browser Web Player which is perfect for Desktop use.
Streams For Us Highlights
New XCIPTV App Now Available – See Instructions Below
Over 8,500 live channels (most HD)
VOD with movies & TV shows
Catchup (DVR) available for popular channels
2 connection included with basic plan with option to purchase 10 additional
M3U Playlist & EPG URL provided
Browser Web Player
Multi-screen feature enabled
Not IP location locked so you can use when away from home
Works excellent with IPVanish VPN
Discord support channel
TROYPOINT Tip: 
You should always use a
VPN
to protect your identity and security when streaming with IPTV services such as this.
Legal Copyright Disclaimer: TROYPOINT does not verify whether IPTV providers hold the proper licensing for content delivered through said service.  TROYPOINT does not endorse or promote illegal activity tied to streaming or downloading copyrighted works. The end-user shall be solely responsible for media accessed through any service or app referenced on this Website. Referenced applications/addons are not hosted by TROYPOINT and this guide is for educational purposes only.  
Registration
The basic Streams For Us package costs only $7 per month and includes 2 connections.
You may choose from different packages on their Website by using the links below.
Important:  Most of you aren't using MAG Boxes so don't choose that option when registering.  If you're using an Android-powered system such as Fire TV/Stick, Android TV Box, NVIDIA SHIELD, Mi Box, etc. do not choose the MAG package when setting up your account.  
Free 3-Hour Trial – The trial begins immediately, once registration has completed.  If you don't plan on using the service immediately, hold off registering until you do.   
4 Device (Connection) Package – Use coupon code "multiscreen" when purchasing within this package and receive 35% off whichever plan that you purchase.
Note:  Streams For Us currently does not accept PayPal or Bitcoin. Users must purchase with a credit or debit card.
TROYPOINT Tip: TROYPOINT recommends avoiding long-term contracts for any IPTV service due to this always-changing industry.  We suggest the 1-month or 3-month package.
Registration Email
You will receive a registration email upon successful checkout.  This email will include your IPTV username and password, which is different from the username and password that you use to log into your online portal with.
This email includes important information on how to use the service and we strongly recommend that you read it thoroughly.
When registering, make sure that you are inserting a valid email address so you receive this important information!
IPTV Username & Password
In addition to the welcome email, you may also find your IPTV username and password by following these steps in your online panel.
Click Login and login with the username and password that you created when registering.
Hover over Services and then click My Services.
Click the Active link behind your listed service.
Click Subscription Details
This is your IPTV username and password that you will use to log into the Streams For Us IPTV application as referenced below in the screenshot guide.
Setup
In this example, we're setting up the application on a Fire TV Stick 4K with the Downloader App.
Streams For Us provides two Android Applications that can be used on your device.
We suggest installing both apps, trying each, and then use the one that you like best.
These applications are also available in the free TROYPOINT App by way of Rapid App Installer.  This is the easiest way to download and install the most popular streaming applications and tools.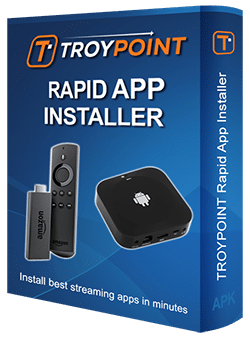 For those of you using an Android TV Box, phone or tablet, you can install by navigating to this page on your device in a browser such as Chrome and clicking the link below to download the APK.  After you have downloaded the APK to your device, you will be able to install it by opening your "File Manager", go to Downloads and click the .apk file.
Streams For Us IPTV Smarters Branded APK
The first set of instructions will show you how to install the IPTV Smarters Branded APK and then we will show how to install the new XCIPTV APK.
Manually Install Through Downloader App
Instructions for IPTV Smarters Branded APK.  You may find instructions below this guide for the new XCIPTV APK.
Go to Home screen of your device and click the Settings button.
Click My Fire TV
Click Developer options.
Turn on Apps from Unknown Sources
Go back to Home screen and hover over search icon.
Type in "Downloader" and click the Downloader term which appears under the keyboard.
Select Downloader which will appear under Apps & Games.
Click Download.
Click Open.
Select Allow if presented with this prompt.
Click OK.
Click OK button on remote to open keyboard on your device.
Select Clear button.
Type in troypoint.com/sfu – double check for accuracy and then click Go button.
Click Install.
Click Done.
This will take you back to Downloader. Click Delete to free up space on your device.
Click Delete to confirm.
Go back to home screen.
Press & hold home button on Fire TV remote for a few seconds.
Click Apps.
Highlight Streams For Us shortcut and click the options button on the remote, which is the button with 3 horizontal lines on top of each other.
Click Move to front.  This will place the shortcut at the front of your app list on the home screen.
Launch Streams For Us.
Type in your IPTV username and password.  Refer to above screenshot guide to find that information in your online panel.
You will see this screen after logging in.
Click Install EPG.
Wait for following process to finish.
You will now see your Electronic Program Guide categories.
Go back to home screen of Streams For Us and click Settings icon in top right corner.
Click General Settings.
Uncheck "AutoStart on Bootup".
Click Save Changes.
Click Settings icon again.
Choose Player Settings.
If you have a powerful streaming device, we suggest changing this setting to Hardware Decoder.  If you experience buffering come back in and change back to Software Decoder.
How To Add Favorites
Go back to home screen and click Live TV.
Go into a category of your choice.
Highlight the channel that you would like to add as favorite and press the OK button on the remote for a few seconds.
The following box will appear, now click Add to Favourite.
How To Use Multi-Screen
Go back to home screen and click Multi-Screen.
Click one of the + buttons and choose which channel that you would like to add to the screen.  You must have enough connections on your plan to use this feature.  This is explained in the post above.
The Multi-Screen feature requires a strong Internet connection because you are now playing multiple HD streams at the same time.
You will also notice that low-powered devices such as the 1st and 2nd Generation Fire TV Sticks won't work as well as a Fire TV Stick 4K or NVIDIA SHIELD.

 CAUTION - YOUR STREAMING ACTIVITY IS BEING LOGGED
TROYPOINT does not verify the legality or security of any applications or services covered on this Website.
You should always use a VPN in conjunction with free or low-cost streaming solutions to protect your identity and security.
Your Internet Service provider, government, app/addon developers, and hackers can log your online activity through your visible IP Address and location.
A VPN will encrypt your connection to the Internet and mask your IP address so you will remain 100% anonymous while online.
TROYPOINT recommends IPVanish VPN due to their blazing fast speeds and zero-log policy.
Special Prime Day Discount - Get IPVanish VPN @ $3.25!

This offer expires on Thursday so don't delay.

Click Here for IPVanish VPN Discount $3.25
How To Change Video Player
The new Streams For Us application allows you to assign a video player for different functions within the app!
So, if you want to use MX Player for VOD and Catch Up, which we recommend, no problem!
First, you must install MX Player by using the following tutorial.
Once you've installed MX Player, follow these steps to get it working in the app.
Click Settings icon in top right corner.
Select External Players.
Click Add Player.
Click MX Player
Click Add to confirm.
You will see success message for MX Player.
Go back to Settings screen and click Player Selection.
Designate which video player you want to use as default for each section.
How To Change Default Video Player With Remote
Highlight the item you want to play.
Hold down on the OK button of your remote for a few seconds until you see the following dialog and then choose MX Player.
New – XCIPTV APK Install Instructions
1 Open Downloader app and type https://troypoint.com/sfuxc and click Go.
2 Type in your Streams For Us service username and password (this is not the username and password that you use to login on their web portal).  Refer to your welcome email for proper login credentials.
3 Click Allow if presented with this screen.
4  Go into Live TV section.
5 You can mark favorites by highlighting a channel and holding down on OK button of remote for a few seconds.
6  You can remove a favorite by using the same action as adding one.
7  You can also mark favorites in list by highlighting channel and holding OK button on remote for a few seconds.
8  When you do this, a star will be placed next to channel indicating a favorite has been added.
9 To open the video full screen, highlight the channel and click OK button again.
10 Video now in full screen.
11 Once inside a channel, you can scroll through TV guide on left side with right/left arrows on your remote.
12 TV Guide section provides EPG (electronic program guide).
13 You can scroll through this area similar to Live TV section with right/left arrows on remote.
14 Gear icon in bottom right corner will open settings page.
15 You will find many options and tools in this area that can be utilized.
16 Click Multi-Screen icon in bottom right corner.
17 Click plus sign to add a channel.
18 Choose a channel.
19 Move to right side of the screen and click plug sign again.
20 Choose another channel for the second screen.
21 You can add up to four channels but to do this, you must purchase their 4-connection plan.  Their standard plan comes with two connections so in this case, you can add up to two channels to this page.
You will also notice multiple options when hovering over the screens that allow for volume mute, display change, pause, and screen removal.
This new application also provides a catchup section which acts like a DVR so you can view popular TV broadcasts that have been aired recently.
Streams For Us Support
TROYPOINT does not administer this IPTV service.
If you need support, you must reach out to the Streams For Us team.
You can do that by logging into your online panel and submitting a support ticket.
You may also join their Discord channel and seek assistance there.
Support questions posted in the comments section below will not be approved.  Again, please use the above options for seeking support for this service.