BuzzTV HD5 Android TV Dongle – Budget-Friendly Yet Powerful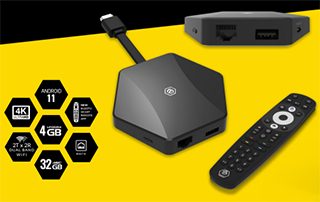 This BuzzTV HD5 Review was written by Troy from TROYPOINT after using the Android TV dongle on a regular basis for approximately two weeks.
This streaming device was provided free of charge to TROYPOINT by BuzzTV. However, this review is unbiased and you will see that I point out both the good and bad regarding this Android TV dongle. BuzzTV did not have access to this post prior to publishing.
Below, you will find an in-depth review that will provide you with the information that you need prior to purchasing.
The BuzzTV HD5 is the budget-friendly derivative of the BuzzTV X5 that I previously reviewed.  There are many aspects of the X5 that apply to the HD5 so you will definitely see some overlap in this review.
BuzzTV is known for their Android TV Boxes that cater to those who use IPTV services.  These devices come with a dedicated IPTV application and remote control that is specifically built for that app.  These streaming boxes also work great with side-loaded applications such as Kodi, Syncler, etc.
If you're a TROYPOINT Patron or Founding Member, be sure to watch my BuzzTV HD5 first impressions video on the TROYPOINT Insider!  In this video, I go through the initial setup process and point out important things about the device…both good and bad.
Table of Contents
Legal Disclaimer: TROYPOINT does not develop, operate, host, distribute, or administer any streaming application, add-on, website, or service. Furthermore, we cannot determine the legality of any streaming platform reviewed on this website. TROYPOINT specializes in educational tech reviews, tutorials, and news which is protected by the First Amendment of the United States Constitution. The end-user is solely responsible for media accessed and TROYPOINT assumes that all visitors are abiding by copyright laws set forth within their jurisdiction. Users should only stream works not protected by copyright when using unverified streaming solutions.
BuzzTV HD5 Android TV Dongle
The BuzzTV HD5 stands head and shoulders above other streaming dongles/sticks due to its large 32GB internal storage.
It also comes with 4GB of LPDDR4 RAM which provides an extremely fast and responsive system.
The BuzzTV HD5 provides a powerful built-in 2T/2R dual band WiFi antenna that offers screaming fast download speeds.  You will find my speed tests for this streaming device below.
This dongle comes in a plastic shell that includes a standard Ethernet connection (not Gigabit), and a USB 2.0 port.  The HD5 will be easy to conceal behind a hanging television.
The BuzzTV HD5 is running Android TV 11 and not stock Android.  Android TV provides a friendly remote control experience and access to applications optimized for the television through Google Play Store.
Most off-brand Android TV Boxes are running a form of Android meant for phones and tablets and I'm very happy to see that this isn't the case for the HD5.
Read about the differences between Android TV and Stock Android here
My favorite new feature on the BuzzTV HD5 is the ability to rewind live TV.
This review won't cover every single feature but I will point out important aspects that are unique to this streaming system.
Powerful Components
This Android TV device comes with powerful components that make this a future-proof streaming  system.
The biggest complaint that we often see from those who use streaming sticks or dongles is the lack of internal storage.  We don't have that problem with the BuzzTV HD5!
YOU'RE BEING TRACKED...
Your online activity is tracked by your government, Internet Service Provider, app/addon/IPTV devs and all websites through your identifying IP address
Stream anonymously by using Surfshark VPN
Your Current Identifying IP Address (digital fingerprint):
SAVE 86% ON SURFSHARK VPN + 3 FREE MONTHS
Surfshark backs their service with a 30-day money back guarantee
Use your account on unlimited devices & share with family members
HURRY! SALE ENDS SOON
Claim Surfshark VPN Discount
The HD5 comes with 32GB of internal storage which is 24GB more than the popular Amazon Fire TV Sticks.  This large internal storage will provide more than enough space for applications and games that you may want to install.
The large amount of internal storage should also prove useful for recording live TV through the BuzzTV 5 IPTV application that we will discuss further in this review.  It can also serve as the caching mechanism for rewinding live TV inside the IPTV application.
The BuzzTV HD5 comes with 4GB of internal RAM Memory which will ensure a snappy system.
It also supports standard Ethernet and dual-band WiFi.  I will test download/upload speeds as well which you will see below.
This Android TV dongle is powered by the Amlogic S905Y4 Quad-Core Cortex A55 processor which provides power-saving capabilities yet still delivers great performance.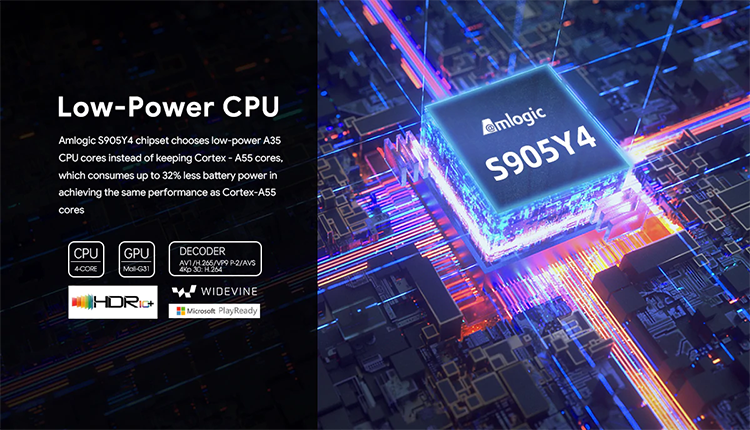 Unlike many generic Android TV Boxes, BuzzTV actually does a great job of issuing important firmware and software updates.
Get BuzzTV HD5 with 10% Discount
Use Coupon Code TROYPOINT for 10% Discount
BuzzTV HD5 Remote Control
The BuzzTV HD5 remote control is pretty awesome in my opinion.
You can turn backlight buttons on/off within the BuzzTV HD5 Remote Control Setup Application.  The backlight has turned out to be a feature that I really enjoy when watching TV in my dark basement.
There are four colored buttons on the remote that perform various functions within the BuzzTV 5 IPTV application.  But, you can also map these to launch various apps as well!
You will see that I've defined my four buttons to open the TROYPOINT App, YouTube, BuzzTV 5, and Kodi.
The BuzzTV HD5 Remote Control App also allows you to setup your remote so it can control your television's volume, inputs, and power buttons.
The only two complaints that I have about the remote are the directional buttons and no voice assistant support.
I wish the up/down/left/right arrow buttons on the remote stuck out so you could feel them.  These buttons are the same depth as the select button and I often find myself pushing that instead of one of the directional buttons.
Unfortunately, voice assistant does not work on this remote.  This isn't a deal breaker for me because I hardly ever use it, but it may be to some, so I do want to point that out.  Maybe a future update can fix this as well?
BuzzTV HD5 Regular OTA Updates
Most off-brand Android TV Boxes don't issue regular over the air updates, or none at all for that matter.
BuzzTV is well-known for sending out updates on a regular basis that fix various bugs or adds improvements to the product.
This is a sign that the company cares about their customers and want them to enjoy the best possible TV viewing experience possible.
BuzzTV HD5 Launcher
I really like the BuzzTV HD5 launcher.
It's clean and provides various customization options.
You can choose from four different home screen layouts but I find BuzzTV Modern to be the best one.  The Modern home screen allows you to display your favorite IPTV channels which is a huge benefit.  You can quickly launch your favorite channels directly from your home screen!
You can also customize the home screen background with your own image.
I do wish there was a way to create your own sections on the home screen like you can with Wolf Launcher.
All-in-all, most people will like the BuzzTV HD5 launcher that is easy to use and displays absolutely no ads.
BuzzTV 5 IPTV Application
Like I said earlier, the BuzzTV HD5 is designed for those who use IPTV services.  Their BuzzTV 5 application is exclusive to their systems and comes loaded with some powerful features.
Now, if you're a TiviMate user, you might not like the BuzzTV 5 IPTV app.  The biggest complaint that TiviMate users make is that you can't see multiple IPTV services on the same screen.  Yes, you can setup multiple IPTV services in the app but you can only see one service at a time.
Two big changes that I see in BuzzTV 5 on the HD5 is the ability to rewind live TV and better recording options.
Rewind IPTV Feature Video
Here is a short video demonstrating the rewind feature and how to set it up.  This video was recorded using the X5 but the same process works on the HD5.
Rewinding live TV is huge in my opinion.  There are so many times that I'm watching an IPTV stream and I want to rewind and watch something again.  We can now do that with BuzzTV 5!
You must enable Timeshift within PVR settings to get this feature working.
You can define the cache size that you want to allocate to this feature and you can also use external USB drive for this as well.
The BuzzTV HD5 also comes with powerful recording options.
You can perform both one-time or multi-day recordings.
I'm a big fan of this IPTV application and the included Bluetooth remote makes it easier to navigate.
Get BuzzTV HD5 with 10% Discount
Use Coupon Code TROYPOINT for 10% Discount
AV1 Codec Support
The BuzzTV HD5 supports AV1 Video (AOMedia Video 1) which will soon be the industry standard streaming format.  Another great "future-proof" feature on the HD5.
Expand Internal Storage
Expanding internal storage allows us to add an external storage device such as a USB drive and it is counted as internal storage.
Yes, we can expand internal storage on the BuzzTV HD5.
I tested this with a SanDisk 256GB 3.0 USB drive and it worked as it should.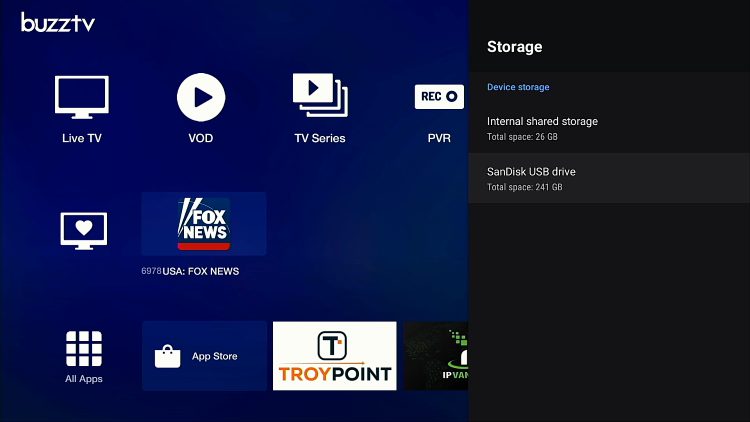 Due to the large internal storage of 32GB, I'm not sure if there would be a need to do this.
But, if you need it, it's there!
BuzzTV HD5 Download & Upload Speeds
I used Analiti Speed test app for the following tests.
I have 1 GB Fiber download speed plan through my Internet Service Provider.
During the WiFi tests, I am connected to the 5Ghz band on my Asus AC3100 Router.  This router resides in the same room as my BuzzTV HD5  (approximately 20 feet away from wireless router).
I'm using IPVanish VPN as my VPN on Chicago Server 04 (chi-a04).
Ethernet Speeds
Note:  The HD5 comes with standard Ethernet which means max download speeds will be 100 Mbps.  You will get better speeds with WiFi on this device as you will see in my speed tests for that below.
VPN Off: Download = 94 Mbps & Upload = 83 Mbps
VPN On: Download = 81 Mbps & Upload = 76 Mbps
WiFi Speeds
VPN Off: Download = 455 Mbps & Upload = 134 Mbps
VPN On: Download = 123 Mbps & Upload = 87 Mbps
As you can see above, the download and upload speeds are fabulous, especially when using WiFi!
One point of interest is that the download speed didn't decrease very much on Ethernet when connected to my VPN.
BuzzTV HD5 Specs
Operating System: Android 11
CPU: Amlogic S905Y4 Quad-Core Cortex A55
GPU: ARM Mali-G31 MP2
Memory: 4GB
Internal Storage: 32GB
LAN/Ethernet (not Gigabit)
WiFi: 2T/2R Dual Band
USB: 1 X USB 2.0
HDMI Output: 4Kp75 10bit: H.265/VP9 P-2/AVS2, 4Kp120 10bit: AV1 HDR10/10+
Remote Control: BT-400 Smart Remote
Power Supply: Standard Canada/USA or Universal Power Kit (EU/UK/AU/SA)
BuzzTV App: BuzzTV5
What's In The Box?
HD5 Dongle
BT-400 Smart Remote
Type-C Power Cable
Power Adapter
Setup/Help Card
2 X Premium AAA Batteries
Who Is The BuzzTV HD5 For?
The BuzzTV HD5 is designed for those who use IPTV services that allow for either XC API Login, M3U, or MAC Server setup.
If you're using an unverified IPTV service, more than likely they they support one of the protocols mentioned above.
The HD5 is also great for those of you who use free streaming APKs such as Kodi, Syncler, etc.
This Android TV Box is not meant for those who use Netflix.  Netflix is not certified on the HD5.
I did test Amazon Prime and that application is working as it should.
What I Like
Android TV 11 OS
Strong Processor with Good Power-Saving Capabilities
4GB of RAM
Ethernet Network Adapter
Dual-band WiFi
USB 2.0 Port
Customizable Bluetooth Remote
Bluetooth 5
Launcher
Can Expand Storage
Great Download/Upload Speeds
BuzzTV 5 IPTV App
Rewind Live TV
Easily hide behind TV
What I Dislike
No voice assistant on remote
Directional buttons on remote should stick out more
Note:  I no longer deduct points for no Netflix certification due to the numerous free streaming apps that are available.
Final Thoughts on the BuzzTV HD5 Android TV Box
The BuzzTV HD5 is a great streaming dongle for those who use IPTV and want to move away from the constraints imposed by devices such as the Firestick.
Yes, it does cost twice as much as Amazon's best Fire TV Stick but you get what you pay for with four times more storage and no ads always being pushed at you through the user interface.
When considering price, you must also remember that companies like Amazon can sell their devices at a loss because they recoup their money through services or products that they can sell through their user interface.  BuzzTV can't do that because they don't have any streaming services like Prime Video to sell.
If you're interested in the BuzzTV HD5 you should also read my review about their new X5 as well.  Yes, the X5 costs more but you may find some features on that device that you want such as Gigabit capability.
I rate the BuzzTV X5 4.5 out of 5.
Get BuzzTV HD5 with 10% Discount
Use Coupon Code TROYPOINT for 10% Discount
This page includes affiliate links where TROYPOINT may receive a commission at no extra cost to you. Many times, visitors will receive a discount due to the special arrangements made for our fans. I will never promote something that I personally don't use or recommend. Purchasing through my links directly supports TROYPOINT which keeps the content and tools coming. Thank you! Learn more on my Affiliate Disclaimer page.