Amazon is currently releasing two updates that will block 3rd party launchers such as the extremely popular Wolf Launcher.
This has caused some furious Amazon customers and we want to hear your thoughts in the comments below after reading this article.
Over the past year, users have flocked to Wolf Launcher and other 3rd party launchers due to the constant ads and streaming services pushed through the new Amazon user interface.
Wolf Launcher allows for an ad-free experience with numerous customization options.
A launcher replaces the home user interface, allowing users to customize it to their liking.
The popularity to use 3rd party launchers came when Amazon pushed out their new user interface over a year ago that was riddled with advertisements and very few customization options.
The two Fire OS updates in question are.
Fire OS 6.2.8.7 NS6287/3768
Fire OS 7.2.7.3 PS7273/2622
It seems that the above two updates are targeting Fire TV Sticks whereas Fire TV Cubes and Fire TV Televisions will probably receive a similar update soon.
Either way, it's apparent that Amazon is fed up with these customizable launchers that are blocking their advertisements and they're going to stop it.
BE CAREFUL...
Your online activity is actively tracked by your Internet Service Provider, app/addon devs, and government through your identifying IP address.
Stream anonymously by using IPVanish VPN.
IPVanish will encrypt your connection to the Internet and mask your IP address so you will remain anonymous.
EXCLUSIVE DISCOUNT – SAVE 63% ON IPVANISH
IPVanish backs their service with a 30-day money back guarantee.
IPVanish allows you to use your account on unlimited Internet-connected devices
What Can You Do?
When I first learned of this new update on Sunday morning courtesy of Powerfader in our TROYPOINT Insider, I made two videos that show how to block Amazon updates.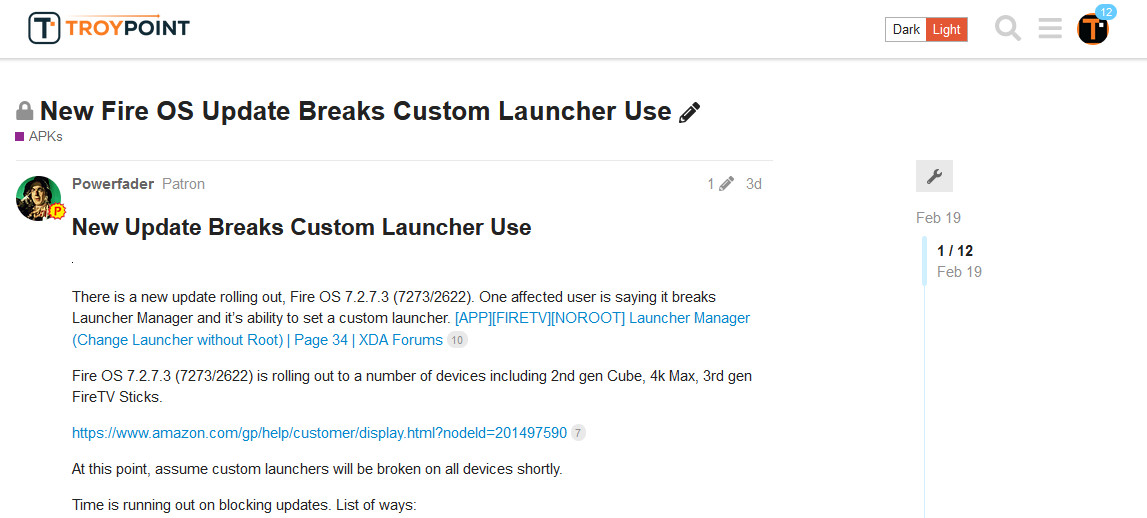 Unfortunately, for some of you, it was already too late because Amazon pushed out an update recently for some devices that stops the ability to block their updates.
It seems that this process does currently work on newer Firesticks such as the Amazon Fire TV Stick 4K Max as that's what I'm using in the tutorials linked below.
How to Block Amazon Automatic Updates for Firestick / Fire TV
Maybe It's Time to Move On
Some speculate that blocking 3rd party updates is just the start and soon we won't be able to side-load 3rd party apps such as Kodi, Syncler, Unlinked, etc.
I don't necessarily agree with this because there will still need to be a way for developers to test their apps on these devices and they do this by allowing Unknown Apps/Sources.  This is the main reason why that feature exists in the first place.
But, there is no doubt that Amazon will continue closing options to modify their Fire OS and the question remains how far they will take this.
Android TV Devices
If you want to use 3rd party launchers, Android TV devices are still an option.
As of this article, I've tested the following popular Android TV streamers and they are still working with 3rd party launchers in combination with Launcher Manager.  I've applied the most recent available updates for each of these devices during my testing.
NVIDIA SHIELD TV Pro (2017)
I've got other Android TV systems in my closet and assume they all currently work due to the fact that the ones listed above do.  Please let us know in the comments section if you've run across an Android TV device that doesn't work with 3rd party launchers.
My Thoughts on Android TV Boxes
Android TV / Google TV is an operating system built by Google and is meant for the television.  This is very similar to Fire OS which is Amazon's operating system that is built for the TV and/or tablets.
Last year, Google released Google TV which is a user interface that pushes ads for various streaming services, TV shows, movies, etc.  You will find the full Google TV experience on the Chromecast with Google TV.
Other manufacturers such as NVIDIA have also adopted some of Google TV into their user interface as well.
This new Google TV experience created an uproar in the streaming community and many people started using 3rd party launchers on those devices as well.
So, similar to Amazon, Google is pushing ads and streaming services on their operating system as well.
Will Google start blocking 3rd party launchers just like Amazon in one of their future updates?
NVIDIA Shield Allows Update Blocking
Most Android TV devices will push operating system updates automatically, similar to Amazon Fire OS.
I couldn't find a setting on my Chromecast with Google TV that disables automatic system updates.  Yes, you can block automatic updates for applications, but not system updates.
This isn't the case for NVIDIA SHIELDS.
Thankfully, NVIDIA provides the option to disable automatic updates on their Shields.  If you own a SHIELD, I would strongly suggest not enabling this and take a good look at the release notes for future updates.
Many of us got stung by NVIDIA SHIELD Experience 9.0 as there were many bugs.
And the same question applies for NVIDIA.  Will they eventually remove the ability to block Auto-upgrades on their devices?
Generic Stock Android TV Boxes
And finally, we have the generic devices that run stock Android which is often found on phones and tablets.
Stock Android is not designed for the TV experience but manufacturers have used customizable launchers so they will work.
You can read the difference between Stock Android and Android TV in my post below.
I've gotten away from doing reviews on these generic devices due to the fact that we have so many good options that run the true Android TV experience.
Due to what's unfolded over the past few days, that's going to change.
The great thing about generic Android TV Boxes is that you generally aren't limited to customizing it.  In fact, many manufacturers build their devices with customizing in mind.
I recently reviewed the Ugoos AM7 Android TV Box and was blown away by its performance and ability to customize.
Devices such as the Ugoos won't be limited by future updates, in fact, just the opposite!  Ugoos is well-known for their regular updates that expand the various features, settings, and options available on their devices.
There are some drawbacks of using these devices running stock Android.
Most won't play Netflix & a few other streaming services in HD
You don't get Android TV app store…you get stock app store meant for phones and tablets
Sometimes you need a mouse to navigate screens since it's not meant for TV screen
If you don't use any of the major streaming services such as Netflix and Amazon Prime, a generic Android TV Box might be for you.  Many TROYPOINT fans are only interested in the free APKs and unverified IPTV services, and these devices are perfect for that.
Final Thoughts
If you're a strong user of paid streaming services such as Netflix, Amazon Prime, YouTube TV etc. and you don't use third party applications, the Fire TV devices are probably perfect for you.
If you want the ability to customize your system then I would suggest both generic stock Android TV Boxes and true Android TV systems.
But, we need to keep a close eye on what happens with Android TV moving forward.  Their steps this past year are very similar to Amazon in that they are pushing ads and streaming services through their user interface or launcher I should say.
It is apparent that both Google and Amazon are getting a kickback from those who purchase streaming services directly through their devices.  This is why they can sell their hardware at a break-even price point.  How about they give us the option for the ability to customize and we pay slightly more?
Please tell tell us in the comments what you think about Amazon blocking the use of 3rd party launchers.  Also, what type of streaming device do you see yourself using in the future.
Lots to discuss on this one so let us know what you think below!
This page includes affiliate links where TROYPOINT may receive a commission at no extra cost to you. Many times, you will receive a discount due to the special arrangements made for our visitors. I will never promote something that I personally don't use or recommend. Purchasing through my links directly supports TROYPOINT which keeps the content and tools coming. Thank you!