MECOOL KM2 Review – Android TV Box with Netflix Certified 4K
This MECOOL KM2 Android TV Box Review was written by Troy from TROYPOINT after using the Android TV Box on a regular basis for three days.
This streaming device was provided free of charge to TROYPOINT by MECOOL. However, this review is unbiased and you will see that I point out both the good and bad regarding this Android TV Box. MECOOL did not have access to this post prior to publishing.
Below, you will find an in-depth review that will provide you with the information that you need prior to purchasing.
I've also provided a setup video below due to the numerous people trading in their Fire TV Sticks for the KM2.
MECOOL KM2 – Setup Video
In-depth MECOOL KM2 review located below.
Links Mentioned in Video
Purchase MECOOL KM2 Android TV Box
MECOOL KM2 – Features at a Glance
The MECOOL KM2 is a new Android TV Box that supports Netflix in 4K quality.
MECOOL is no stranger to Android TV Boxes but this is the first one that allows for 4K playback within Netflix.  This has always been the main complaint when it came to their past devices.
The reason many Android Box manufacturers don't provide Netflix support is due to the licensing requirements that probably require fees as well.
The MECOOL KM2 box comes with an Amlogic S905X2-B processor, 2GB DDR 4 RAM, 8GB eMMC internal storage, 2.4 and 5Ghz WiFi, Ethernet port (100 Mbps max), SFDIF Optical, USB 3.0, USB 2.0, and TF sd card slot.
Audio codecs include AAC & HE-AAC, Dolby Digital, Dolby Digital Plus, MS12, Dolby Atmos Passthrough.
Chromecast is also built-in which means you can easily stream media to the KM2 from your phone, tablet, or laptop.
YOU'RE BEING TRACKED...
Your online activity is tracked by your government, Internet Service Provider, app/addon/IPTV devs and all websites through your identifying IP address
Stream anonymously by using Surfshark VPN
Your Current Identifying IP Address:
SAVE 82% ON SURFSHARK VPN + 2 FREE MONTHS
Surfshark backs their service with a 30-day money back guarantee
Use your account on unlimited devices & share with family members
HURRY! SALE ENDS SOON
Claim Surfshark VPN Discount
The remote is absolutely fabulous.
There are four shortcut buttons available on the MECOOL KM2 for YouTube, Netflix, Amazon Prime Video, and Google Play.  These buttons are truly handy for those who use these apps on a regular basis.
You will also see an up/down button on the right side of the remote.  This is great when scrolling up or down a page within a browser or streaming application.
Google voice assistant is available along with many other shortcuts.
The only button that's missing is a mouse pointer for apps that don't work well with a remote control that we sideload.
Use coupon code TROYPOINT at checkout for 10% discount.
MECOOL KM2 Official Website & Purchasing Options
MECOOL KM2 Android TV Box Review
Setup was straightforward forward just like most Android TV Boxes.
It's important to point out that this is running Android TV and not stock Android which is found on phones, tablets, and generic Android boxes.
Android TV is optimized for the television experience and remote control.
Read about differences between Android TV and stock Android found on generic boxes in our guide linked below.
I'm happy to see that the MECOOL KM2 box is not using Google TV which is a derivative of Android TV.  Google TV is found on the Chromecast with Google TV and includes numerous ads for streaming services.
This version of Android TV is more bare-bones which I like more as I don't use a lot of paid services.
Plus, you can easily modify the home screen with this version and you can't do that on Google TV.
MECOOL, please keep this form of Android TV!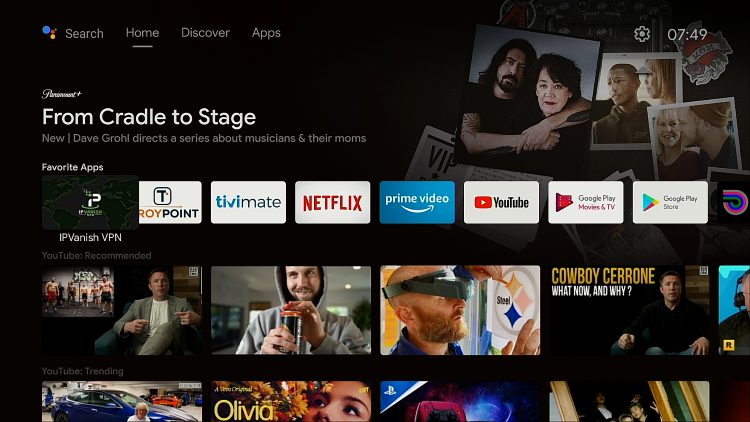 The first thing I did during this MECOOL KM2 review was dive into Netflix since that is the main new feature of this Android TV Box.
I was happy to see that the Netflix app isn't a hacked version that tries to get around the certifications.  It's the real deal and it works excellent!
I also tested Amazon Prime Video and YouTube with both working great in 4K quality.
All of the sideloaded applications worked as expected and so did my IPTV service.
I recently reviewed the MECOOL Now Android TV Box and that one didn't allow for sideloading apps.  I'm glad to see that they didn't make that mistake again.
I used the MECOOL KM2 as the primary streaming device in my office for three days and I can say that I am pleasantly surprised.  It performs great and I really like the remote control.
There are a few things that bother me a bit such as small storage at only 8GB, only 2GB of RAM, and the Ethernet port is standard, not Gigabit.  But, we need to remember that all of these additions cost money and they probably had to pay the Netflix licensing which kept some of those features out.
The MECOOL KM2 does allow for expanding storage though!  And it is extremely easy which I will demonstrate in the next section.
I also show how to expand storage in the video above.
Expandable Internal Storage
Due to the small internal storage (8GB) on the MECOOL KM2, some may want to expand internal storage.  This will allow you to install apps onto a USB drive or SD card.
I first enabled Developer Options by going into Settings / Device Preferences / About / clicked the Build menu item 7 or 8 times.  I then went back to one screen and into Developer options where I enabled "Force allow apps on external".
I then inserted a 256GB SandDisk 3.0 USB Drive into the unit and formatted it as internal storage and it worked exactly like it would on the NVIDIA Shield.  Great news!
From now forward, all applications that I install on the MECOOL KM2 will be added to the USB drive.  I can also go into each application through settings and move apps to and from the USB drive if I would like.
We can achieve this same feature with the Fire TV Stick 4K but the process is less than ideal.
When I go into Apps under the Settings panel, I can also indicate whether it should run off internal or external storage.  I typically run apps that require more resources on internal storage such as my VPN and Kodi.
I first started with my USB drive in the 3.0 slot but for some reason, the system was very laggy.  I then moved it into the USB 2.0 slot and everything worked fine.
MECOOL KM2 – Download Speeds
I used the Analiti Speed test app for the following tests.
I have one GB Fiber download speed plan through my Internet Service Provider.
During the WiFi tests, I am connected to the 5Ghz band on my Asus AC3100 Router.  This router resides in the same room as my MECOOL KM2 Deluxe (approximately 20 feet away from the wireless router).
I'm using IPVanish VPN as my VPN on Chicago Server 02 (chi-a02).
Ethernet
VPN On: Download = 98 Mbps & Upload = 65 Mbps
VPN Off: Download = 94 Mbps & Upload = 94 Mbps
WiFi
VPN On: Download = 91 Mbps & Upload = 51 Mbps
VPN Off: Download = 350 Mbps & Upload = 126 Mbps
Note:  The reason for faster WiFi speeds is because the Ethernet port is only capable of 100 Mbps.
Since the MECOOL KM2 Android TV Box doesn't come with a Gigabit Ethernet port, I decided to connect my UGREEN USB 3.0 Gigabit Hub.  I wanted to test download speeds through this Gigabit adapter.
Here's what I got.
VPN On:  Download = 98 Mbps & Upload = 65 Mbps
VPN Off:  Download = 319 Mbps & Upload = 65 Mbps
Use coupon code TROYPOINT at checkout for 10% discount.
MECOOL KM2 Official Website & Purchasing Options
Gaming
I paired my NVIDIA Shield game controller with the MECOOL KM2 and tested some of the more popular games.
I didn't experience any lag and the game performance was excellent on this Android TV Box.
The ability to expand internal storage (mentioned above) should appeal to gamers if they run out of space to hold all of their games.
One game can quickly reduce your storage by 1 GB or more.
MECOOL KM2 – Photo Gallery
What's In The Box
MECOOL KM2 Android TV Box
Remote
HDMI cord
Power supply
User guide
Use coupon code TROYPOINT at checkout for 10% discount.
MECOOL KM2 Official Website & Purchasing Options
MECOOL KM2 – Specs
Hardware Key Specs
Amlogic S905X2-B
2 Gbytes DDR4
8 Gbytes eMMC
WiFi&BT RT8822CS 2R2T
Interfaces
HDMI2.1 with HDCP2.3
SPDIF Optical
RJ-45 for Ethernet
DC Input 12V1A
USB2.0 Type A
USB3.0 Type A
Macro SD Slot
Audio Codecs
AAC & HE-AAC
Dolby Digital & Dolby Digital Plus & MS12
Dolby Atmos Passthrough
Video Codecs
H.264 AVC, H.265 HEVC, VP8 & VP9
HDR
HDR10+,HDR & HLG
DRM
Widevine L1, Playready 3000
Software Features
Android TV based on Q
ATV Standard Launcher
Non-A/B GOTA
USB Upgrade
Boot Splash screen with a retail brand
PAI as per country requirement
HDMI-CEC
GTVS
Play Store, Play Movies&TV, Play Games, YouTube, YouTube Music,
Assistant/Search, Chromecast Built-in, etc.
Netflix
Amazon Prime Video
Disney + (installed during FTI via PAI)
Other Apps to be installed during FTI via PAI
Allow Skip Network Setup for FTI
Allow Skip Google Account Sign-In for FTI
Certifications
Google ATV
Netflix
Amazon Prime Video
MS12 including DD & DD+
HDMI2.1 (with CEC)
HDCP2.3
CE,FCC, RoHS,PoPs,REACH
Box Size
110*110*24.05mm
Packaged Weight
530g
Accessories
HDMI Cable
Power Supply Adaptor (12V1A 1.5m)
Manuals
Remote Control
What I Like
Netflix 4K works great
Android TV 10
Customizable home screen
No bloatware installed
Remote control (Bluetooth)
Expandable storage
Plays 4K video flawlessly
Good support of audio codecs
Can sideload apps
Fast wireless speeds with IPVanish on and off
USB 3.0 and 2.0 ports
Ethernet port
Micro SD card slot
SPDIF Optical
The design of the box looks nice
What I Dislike
8GB storage (I wish 16GB)
2GB RAM Memory
Ethernet port not Gigabit
2-week shipping to the United States
MECOOL KM2 – Final Thoughts
While I was doing this MECOOL KM2 review I kept thinking back to the recent Android TV Boxes that they've released.  Most MECOOL Android TV Boxes come with increased storage and RAM memory.
I then quickly remembered that this one incorporates Netflix which I'm sure cost some money to license.  Don't even get me started on this licensing fiasco.  Netflix should allow all manufacturers to integrate their application at 4K playback for free.
There is no doubt that MECOOL wants to compete with the likes of the other less expensive devices such as the Fire TV Stick and Chromecast with Google TV.  They simply can't do that by increasing storage, RAM, and providing a Gigabit Ethernet port.  Everything costs money.
So, when I look at this streaming device, I try to compare it to the other systems in the same price range.
I think this device compares most closely with the Chromecast with Google TV.  But, I like this MECOOL Android box much better for a few reasons.
The MECOOL KM2 allows for peripheral devices by way of two USB ports, an SD card slot, Ethernet port, SPDIF Optical, etc.  To get all of that on the Chromecast, you will need to purchase a hub so your price will be higher than this one at the end of the day.
I also like the KM2 remote control better than the Chromecast with Google TV.
It also has twice the storage as the Chromecast with Google TV as well.
This comes with true Android TV and we can edit the home screen.  Can't do that on Chromecast as theirs comes with Google TV which is full of ads for services I will never use.
This Android TV Box comes with a standard Ethernet port and some will complain about it not being Gigabit.  My comment to that is how much download speed do you really need?  You only need 20 Mbps to stream 4K and anything more than that is overkill.
The small 8GB internal storage argument is the same.  How much storage do you really need?  I personally use 3 to 4 apps on my devices so the lack of storage on these boxes has never been a big pain point for me personally.  But, we can easily expand internal storage with a USB drive if necessary!
All in all, this is a great streaming device and it's nice to see that MECOOL has finally integrated the official Netflix application.
For these reasons and more, we have included the KM2 in our lists of Best IPTV Boxes and Best Streaming Devices.
If you want a device with additional storage and RAM, I would suggest looking at MECOOL's other Android TV Boxes.  If Netflix isn't important to you, there are other models that sport up to 64GB onboard storage and Gigabit Ethernet.
Use coupon code TROYPOINT at checkout for 10% discount.
MECOOL KM2 Official Website & Purchasing Options
I hope that you enjoyed my MECOOL KM2 review!
I rate the MECOOL KM2 4.6 stars out of 5
This page includes affiliate links where TROYPOINT may receive a commission at no extra cost to you. Many times, you will receive a discount due to the special arrangements made for our visitors. I will never promote something that I personally don't use or recommend. Purchasing through my links directly supports TROYPOINT which keeps the content and tools coming. Thank you! Learn more on my Affiliate Disclaimer page.