Ugoos AM7 Android TV Box Review
This Ugoos AM7 Review was written by Troy from TROYPOINT after using this Android TV Box on a regular basis for one week.
This streaming device was purchased by Troy from Banggood.com.  This is an unbiased review where I point out both the good and bad regarding this Android TV Box.
As of this review, this streaming box is so popular that it's sold out in most places.  Thankfully, I will be doing a drawing for two of these devices.  More on the drawing and purchasing options later in the review.
Below, you will find an in-depth review that will provide you with the information that you need prior to purchasing.
Ugoos AM7
Before I dive into this review, I do want to point out something important.
Legal Disclaimer: TROYPOINT does not develop, operate, host, distribute, or administer any streaming application, add-on, website, or service. Furthermore, we cannot determine the legality of any streaming platform reviewed on this website. TROYPOINT specializes in educational tech reviews, tutorials, and news which is protected by the First Amendment of the United States Constitution. The end-user is solely responsible for media accessed and TROYPOINT assumes that all visitors are abiding by copyright laws set forth within their jurisdiction. Users should only stream works not protected by copyright when using unverified streaming solutions.
The Ugoos AM7 is a generic Android TV Box which means it runs stock Android and not Android TV.
Stock Android is often found on phones and tablets whereas Android TV is found on streaming devices such as the popular NVIDIA Shield.
The manufacturers of these generic boxes develop custom launchers so that the device will work with a remote control on a television screen.
I've gotten away from writing reviews on generic Android Boxes because they are clunky and not really meant for a television experience.  Most of these boxes don't provide regular updates and their customer support is horrible or completely non-existent.
But, after seeing all of the hype surrounding the Ugoos streaming boxes, I decided to give the AM7 a try.
You can read more about the differences between stock Android and Android TV in my post linked below.
The Ugoos AM7 caught my eye because it checks off the important features that I look for in an Android TV Box.
Even though this device is running stock Android, there is no doubt that Ugoos understands how to make that operating system run well on a television screen.
Ugoos AM7 Features at a Glance
The Ugoos AM7 is powered by the Amlogic S905X4 processor, comes with 4GB Memory and 32GB internal storage.
It runs stock Android 11 and supports AV1 codec and other well-know Video Formats.
YOU'RE BEING TRACKED...
Your online activity is tracked by your government, Internet Service Provider, app/addon/IPTV devs and all websites through your identifying IP address
Stream anonymously by using Surfshark VPN
Your Current Identifying IP Address (digital fingerprint):
SAVE 82% ON SURFSHARK VPN + 4 FREE MONTHS
Surfshark backs their service with a 30-day money back guarantee
Use your account on unlimited devices & share with family members
HURRY! SALE ENDS SOON
Claim Surfshark VPN Discount
It's great to see a 1Gbit LAN port and WIFI 6 MIMO Chipset with two Dual-band antennas on board.
Runs Android 11 on Amlogic S905X4, which delivers smooth video playback
New AV1 video codec included
Voice assistant on remote control
HDR / Dolby Vision supported
Dolby Atmos / DTS Audio / Dolby True HD (with Kodi only)
Bluetooth 5
Unique Ugoos Settings Panel
1GB Gigabit Port & WiFi 6
Samba server setup capability
Excellent remote control
4K HDR Resolution
The Ugoos AM7 supports 4K resolution at 60 fps.  It also supports HDR for smoother playback.
Most of us use these Android TV Boxes to view movies and TV shows so it's important that they provide the best quality as possible and the AM7 does just that.
Ports and Connections
The Ugoos AM7 provides the following ports.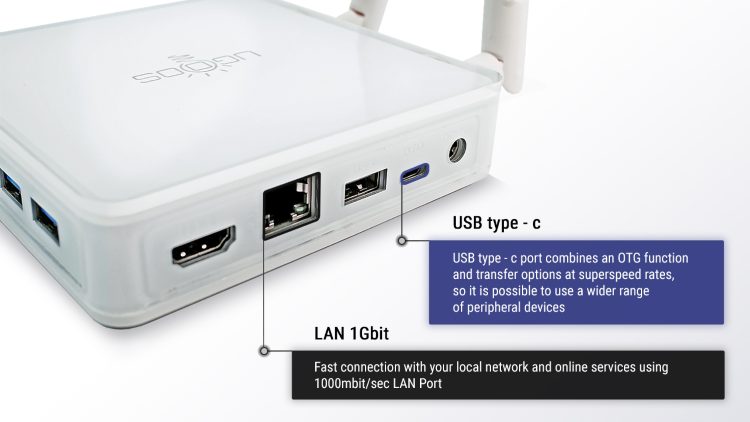 HDMI
3 USB 3.0
1 USB 2.0
1 USB-C
1 SPDIF
1 Gigabit Ethernet (1000M Ethernet Integrated IEEE 802.3 10/100/1000M Ethernet)
The only port I don't see that some may want is a micro-SD slot.
Ugoos AM7 Over the Air Updates
When I first booted my device, I was pleasantly surprised to see six updates available for install.
Most of those required a reboot so it took approximately 10 minutes to get everything updated but I didn't care as it's apparent that Ugoos issues numerous updates on a regular basis.
We don't see this very often from generic Android TV manufacturers so this is extremely important in my opinion.  Excellent job, Ugoos!
Here's what was addressed in firmware V. 1.0.6 on January 14th, 2022, which is the latest release as of this review.
1. Improvements of automatic frame rate function
2. Fixed error where video size might not fit the screen
3. Fixed GeForce Now freezes
4. Added power indicator settings
5. Added Bluetooth settings
6. Added DTS-HD and TrueHD audio pass-through for hardware audio decoder
7. Fixed synchronization of DTS-HD and TrueHD audio pass-through
8. Improvements of video codecs
9. USearch changes:
– added sorting and deleting of search results
– changed results design
– added settings menu
– added application launch after clicking on icon (results row)
– fixed problem of long search for applications
10. Many other changes for system stability
Ugoos Settings Panel
The Ugoos AM7 comes with additional settings not found on most other Android TV Boxes.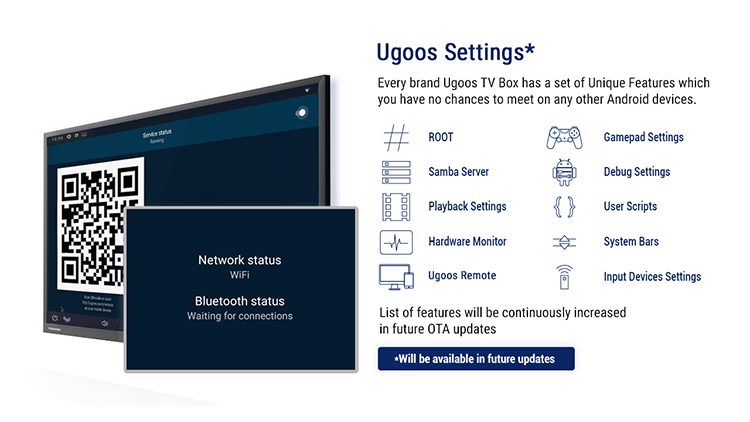 There are some extremely helpful settings that can be manipulated to your liking with the AM7.
Menu Button
One of my favorites is the new Menu button where I can change what will happen if I single press, double press, triple press, or long press the menu button.  Very cool feature!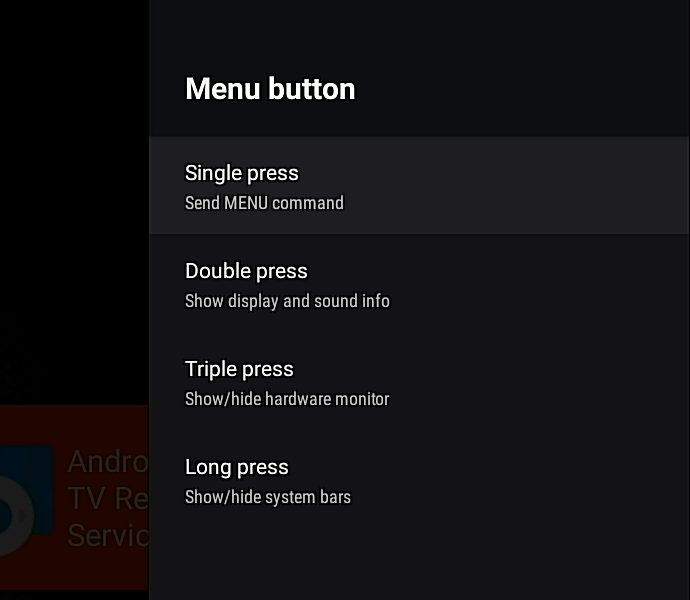 File Server
Another big feature that Ugoos has implemented into the AM7 is a file server.  You can share files from this device and they may be accessed by other network-attached systems.
The file server could be handy for cord cutters who want a central location for their home videos, pictures, TV shows, movies, etc.  These items could then be accessible throughout the entire network.  If users did this, they would probably want to attach an external drive to hold the media due to the fact that this only comes with 32 GB onboard storage.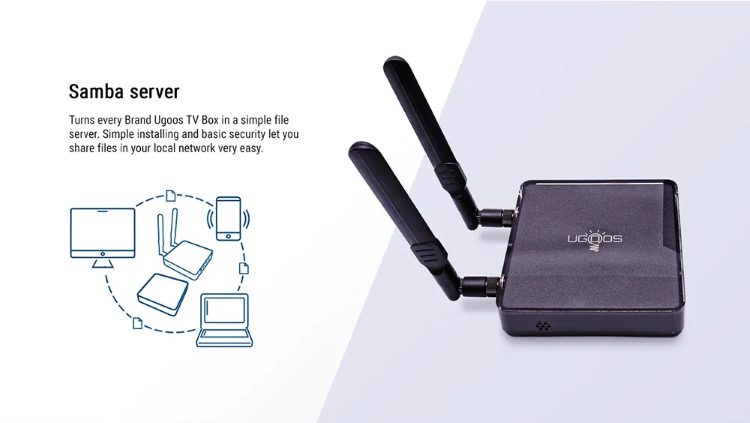 Hardware Monitor
The Hardware Monitor setting allows you to place a widget in the corner of your screen and display various hardware statistics about your system.
Or, you can hide the widget and it will only appear when you triple-click the menu button on the remote.
There are approximately a dozen extra settings implemented by Ugoos that you can tweak to your liking with more on the way according to them.
Ugoos Launcher
The launcher that comes with the Ugoos AM7 is very similar to what you would find on an Android phone or tablet.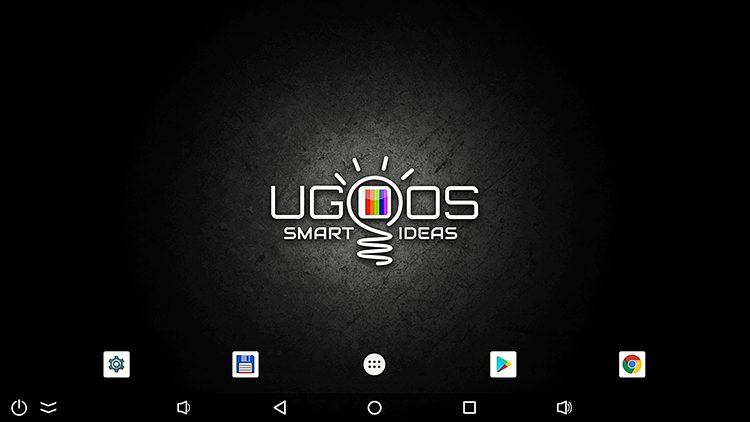 I'm not sure why they do this.  In my opinion, it's more difficult navigating a television screen with this type of layout.
Fortunately, they do let you use custom launchers and they have even developed one themselves that you can download through Google Play Store on your device.
Ugoos AM7 Remote
I love this remote.
It does everything that I need it to do and even comes with a built-in mouse.  Usually, the mouse function doesn't work well on these devices but this one is smooth and you can even tweak those settings as well.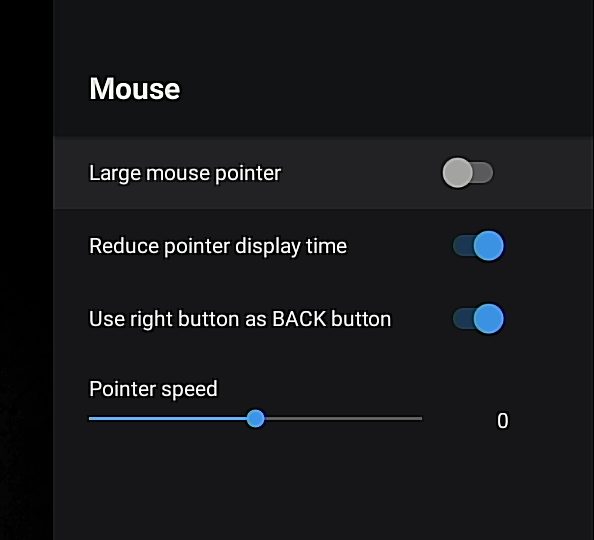 When I first powered-on the Ugoos AM7, the remote wasn't working.  This is because I wasn't pointing it at the unit.  It works as both an Infrared and Bluetooth remote.  Once I realized this, I pointed the remote at the box, went into settings and then paired the remote as Bluetooth and from then on, everything is working perfectly.
Instructions are included for both Bluetooth and Infrared pairing inside the box.
You can use the right power button on the top of the remote to turn your television on and off after you've paired it with the IR instructions.  The volume buttons will work but those control the volume on the box itself, not the TV.
Ugoos AM7 & Side-loaded Apps
Yes, the AM7 works great with side-loaded apps and addons.
I loaded up my favorite IPTV service inside the TiviMate app, kept it running for over 12 hours and it never buffered or closed.
It performed flawlessly with every application that I tried.
Gigabit Ethernet & WiFi 6
You can't get much better than providing both Gigabit Ethernet and WiFi 6!
You have the best of both worlds and will enjoy maximum speed regardless of which one you use to receive your Internet connection.
Ugoos AM7 Download Speeds
I used Analiti Speed test app for the following tests.
I have 1 GB Fiber download speed plan through my Internet Service Provider.
During the WiFi tests, I'm connected to the 5Ghz band on my Asus ROG Rapture GT-AX11000 WiFi 6 Router.  This router resides in the same room as my Ugoos AM7.  (approximately 20 feet away from wireless router).
I'm using IPVanish VPN as my VPN on Chicago Server 04 (chi-a04).
Ethernet Download Speeds
VPN On: Download = 156 Mbps & Upload = 122 Mbps
VPN Off: Download = 913 Mbps & Upload = 116 Mbps
WiFi Download Speeds

VPN On: Download = 122 Mbps & Upload = 95 Mbps
VPN Off: Download = 420 Mbps & Upload = 112 Mbps
Ugoos AM7 Specs
Operating System: Android 11.0
Language: Multi-Language support
CPU: Amlogic S905x4 with?Quad core ARM Cortex-A55 CPU
GPU: ARM Mali G31 MP2 GPU
RAM: DDR4 4GB
Storage Capacity (Flash): 32GB ?EMMC?
WIFI: 2.4G+5G The wireless module complies with IEEE 802.11 a/b/g/n/ac/ax 2×2 MIMO standard
Bluetooth: Bluetooth 5.0 with LE technology
Power Supply: DC 5V/3A
HDR Support: Yes
HDMI Output: HDMI(2.1 and 2.0 ) to support maximum 4K@60fps output(HDCP2.2)
USB Port: 3 USB 3.0 Fast Speed, 1 USB 2.0 Host, 1 TypeC (OTG)
Optical Output: 1 SPDIF
Network: 1 RJ45 1000M (1000M Ethernet Integrated IEEE 802.3 10/100/1000M Ethernet)
Power Supply: 1 DC Jack
Audio Container: MP3,AAC,WMA,RM,FLAC,OGG
Audio Out: Supports MP3, AAC, WMA, RM, FLAC, Ogg and programmable with 7.1/5.1 down-mixing I2S audio interface supporting 2-channel input and 8-channel (7.1) output Built-in serial digital audio SPDIF/IEC958 output and PCM input/output Built-in stereo audio DAC, Stereo digital microphone PDM input Support concurrent dual audio stereo channel output with combination of analog+PCM or I2S+PCM
Video CODEC: AV1 Codec Support VP9 Profile-2 up to 4Kx2K@60fps H.265 HEVCMP-10@L5.1 up to 4K*2K@60fps H.264 AVC HP@L5.1 up to4K*2K@60fps H264 MVC up to1080P@60fps MPEG-4 ASP@L5 up to 1080P@60fps (ISO-14496) WMV/VC-1 5P/MP/AP up to 1080P@60fps AVS-P16(AVS+)/AVS-P2 jiZhun Profile up to 1080P@60fps MPEG-2 MP/HL up to 1080P@60fps(ISO-13818)
MPEG-1 MP/HL up to 1080P@60fps(ISO-11172) Realvideo 8/9/10 up to 1080P WebM up to VGA Multiple language and multiple format sub-title video support MJPEG and JPEG unlimited pixe resolution decoding(ISO/IEC-10918) Supports JPEG thumbnail, scaling, rotation and transition effects Support *.mkv,*.wmv,*.mpg,*.mpeg,*.dat,*.avi,*.mov,*.iso,*.mp4,*.rm and *.jpg file formats
Software Extension: Support Google Play & APK install
DLNA, Miracast Protocol: Support DLNA, Miracast Protocol
Remote Control: Bluetooth Remote controller with voice search + Gyro
IM Software: Support Skype/QQ/MSN/GTALK (Depends on APK)
What's In The Box
Ugoos AM7
Bluetooth/IR Remote
Power Adapter
HDMI Cable
Manual
What I Like
Powerful processor
4 GB DDR4 RAM
32 GB Onboard Flash Storage
Gigabit Ethernet
WiFi 6
AV1 Codec
Over the air update on regular basis
Remote Control with air mouse capability
Hardware monitor
Navigation Bar/Status Bar
4K HDR
Dolby Atmos / DTS Audio / Dolby True HD (on Kodi only)
What I Dislike
No micro-SD card slot
Netflix doesn't work
Not Android TV (not deal breaker as Ugoos has done great job making this TV friendly)
Final Thoughts on the Ugoos AM7
As I mentioned earlier, I stopped reviewing these generic Android TV Boxes due to the fact that they don't run true Android TV operating system and support is usually awful.  Also, due to the abundant amount of Fire TV and Android TV devices, there hasn't been a strong need for people to use these types of boxes.
Ugoos has changed my mind on that!
Maybe it's time for these generic Android TV Boxes to make a comeback due to the ads now displaying constantly in both Fire OS (Fire TV) and Android TV (Google TV).  We don't see that on systems like this.
Moving forward, I will keep a close eye on Ugoos and be certain to provide reviews for all of their future products.
The Ugoos AM7 ranks high on my list and if I didn't use an NVIDIA Shield for my main media center streamer, this would be it for sure.
It's great to see the numerous updates that Ugoos pushes out.  It is obvious that they care about their customers and their in it for the long haul.  Plus, they are continually pushing out new features or settings on these devices.
Purchasing Options
Due to the popularity of the Ugoos AM7 and shortage of processor chips, this device is difficult to find for immediate delivery.  If you do, you are lucky!
As of this review, you can order from AliExpress but it will take approximately 45 days to receive it.
You can also try ordering from Banggood as they have this device in stock from time to time.
We hope that this device will be back in stock soon as it is one of the best generic Android TV Boxes available today.
Important: When purchasing, pay attention to the power adapter that comes with the AM7.  Many are sold out of US plug so you will need to purchase an adapter.
I rate the Ugoos AM7 4.8 stars out of 5
I hope that you've enjoyed this Ugoos AM7 review.
This page includes affiliate links where TROYPOINT may receive a commission at no extra cost to you. Many times, visitors will receive a discount due to the special arrangements made for our fans. I will never promote something that I personally don't use or recommend. Purchasing through my links directly supports TROYPOINT which keeps the content and tools coming. Thank you! Learn more on my Affiliate Disclaimer page.