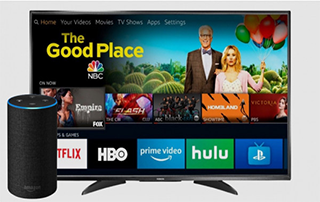 This instructional tutorial will show you How to Control Firestick with Echo Device.
We will also show you how to connect Echo to a Roku device such as the Roku Streaming Stick+.
The Amazon Echo is a fabulous Smart Home Hub that works with tons of streaming devices.
It is compatible with the Amazon Firestick which is the most popular media device available today.
This is likely due to its low price point and sideloading capabilities that allow for "jailbreaking" the device.
How to Jailbreak a Firestick/Fire TV
We can easily control Firestick with Echo to enable voice capabilities for tons of functions.
By integrating your Echo with a Firestick or Fire TV you will be able to control the device 100% hands-free.
This is a great way to enjoy content without a Firestick Remote for easy streaming.
If you are a Roku user, you can also pair your streaming device to Echo which we show below.
Although we cover Roku devices on this Website, we don't recommend them due to their closed system.  We recommend the Amazon Fire TV Stick 4K due to its low price and ability to easily Jailbreak it which will allow for free movies, TV shows, live channels, sports, games, and more.
Firestick vs. Roku – Which is Really Better?
In the guide below, we are using a Fire TV Stick Lite.
However, these instructions will also work for any variation of Firestick including Firestick 4k and Fire TV Cube.
We are also using a 3rd Generation Echo Dot but this method works for all Echo devices.
How to Control Firestick with Echo
In order to control firestick with Echo, we must first install the Alexa app on a mobile device or tablet.
This gives us access to all functions of Echo and lets you adjust various settings and preferences for your device.
You can find the Alexa App in the Google Play Store or other designated app store:
Install Alexa App – Google Play
Install Alexa App – Apple App Store
After installing the Alexa App on your preferred device, launch the app to begin setup.
Use the guide below to learn how to Control Firestick with Echo.
1. Open the Alexa App and scroll down to select Link Fire TV.
2. Choose Fire TV
3. Select your preferred Fire TV Device.
NOTE: If you have multiple Firesticks, you can only enable Alexa to work with one device at a time.
4. Click Link Your Alexa Device
5. Choose your Echo device and click Link Devices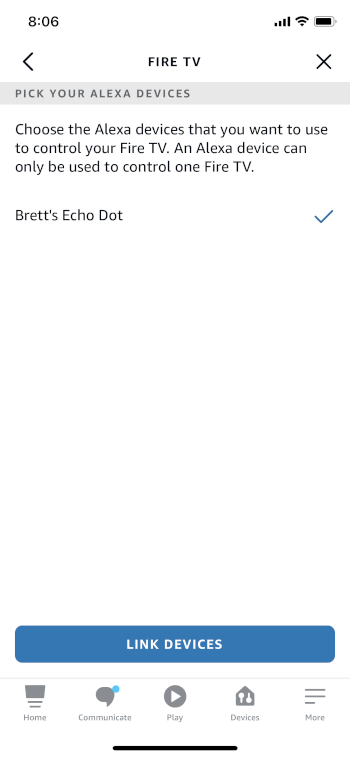 That's it! You can now control firestick with Echo for easy hands-free streaming on your Fire TV device.
There are tons of commands you can use to access applications on your Firestick using Echo/Alexa.
We will explain some of the most popular options below.
If you would like to Control Roku with Echo, follow our step-by-step guide below.
How to Control Roku with Echo
Similar to Firestick, we can also control Roku with Echo to enjoy voice command prompts on our Roku device.
Use the guide below to set up Roku with Echo.
1. Within the Alexa App home screen, click Connect your Streaming Device.
2. Click Next.
3. Click Next again.
(If using a Roku TV, you must first enable Fas TV start on your device)
4. Select Enable to Use
5.  Enter your Account information and click Sign in
6. Click Accept and Continue
7. Select your preferred device and choose Continue
8. Click Link to the Alexa app
9. Choose Yes if you want Echo to automatically link new Roku device or click No thanks
10. Click Continue to Alexa App
11. Wait for Alexa to discover devices
12. Choose your preferred Roku device to pair
13. Select your Echo device and click Link Devices
That's it! You can now Control Roku with Echo for hands-free streaming.
Continue reading to learn about all the commands and prompts available with this setup.
Control Firestick/Roku with Echo Commands
With your Echo now paired to your preferred streaming device, we can easily command functions for hands-free use.
IMPORTANT NOTE
: While you can use Echo to launch various Streaming Apps, it will not work with apps that have been sideloaded to your device.
This includes all apps in our Best APKs list and other various 3rd party options.
However, we can tell Echo to launch the following apps and more:
Amazon Prime Video
Netflix
YouTube
and more
You can also ask Alexa to play specific content from these supported apps by saying the title of the episode or Movie.
Live TV is another feature that is compatible with Alexa and Echo, just say "Go To Channel Guide" or "Play ABC News".
Within a Firestick Channel or application, you can also control video playback using Echo.
Simply tell the device to Play, Pause, Rewind, Fast Forward, or Watch from the Beginning.
Nearly all commands you can use with the provided remote can be accessed to control firestick with Echo.
These same functions will work with your Roku device, just tell Echo to connect to Roku and play your preferred content.
You can visit the Official Amazon Website for all command options available with Echo or Alexa devices.
Be sure to stay up-to-date with the latest streaming news, reviews, tips, and more by following the TROYPOINT Advisor with updates weekly.
This Advisor provides all the best cord-cutting tips to get the most out of your favorite streaming devices and more.
Click the link below to join the other 800,000 Advisor subscribers.
Control Firestick with Echo FAQ
Can you control Firestick with Echo?
Yes. This guide will show you how to control firestick or Roku with an Echo device.
How do I connect Echo to Firestick?
You can use the Alexa App to connect your Echo device to Firestick or Fire TV.
Can I Control Roku with Echo?
Yes. This guide will show you how to pair Roku to any Echo or Alexa device.
Can I open Netflix on Firestick with Echo?
Yes. You can launch tons of apps with Echo including Netflix, Prime Video, YouTube, and more.
This page includes affiliate links where TROYPOINT may receive a commission at no extra cost to you. Many times, you will receive a discount due to the special arrangements made for our visitors. I will never promote something that I personally don't use or recommend. Purchasing through my links directly supports TROYPOINT which keeps the content and tools coming. Thank you!
Register as a TROYPOINT Insider and discuss this article with thousands of other cord-cutters.