This step-by-step guide will teach you how to install an NVIDIA SHIELD VPN in less than one minute.
In this example, we are using IPVanish VPN due to its blazing fast download speeds and friendly remote control interface.  IPVanish has created an Android TV application specifically optimized for the NVIDIA SHIELD!
The NVIDIA SHIELD is touted as the best Android TV Box on the market today, due to its power and numerous features.  That power allows for fast download speeds when IPVanish is activated on this streaming device.
We typically see a decrease in download speed when a VPN is activated but due to the power on the NVIDIA SHIELD, its very minimal.
Sure, if you use a free VPN, you will never see good download speeds and will encounter nothing but buffering.  The free plans that some VPN providers offer don't provide the necessary download speed required to stream HD video.  Plus, you can't trust what these companies will do with your data.
IPVanish VPN owns its own servers which means blazing fast speeds for you!
You will find a detailed screenshot tutorial which covers details and how to properly change various settings.
How To Install NVIDIA SHIELD VPN Guide
Screenshot Guide
Step 1 – Register for your IPVanish account by using the special discount link below.
Click Here for Exclusive IPVanish Discount
Step 2 – Open Google Play Store on NVIDIA SHIELD.
Step 3 – Click Search icon.
Step 4 – Type "ipvanish" into search box and click Search button on keyboard.
Step 5 – Click IPVanish VPN.
Step 6 – Click Install.
Step 7 – Enter account credentials & click login
Step 8 – Type in Username & Password and click Next.
Step 9 – Click Connect button.
Step 10 – IPVanish VPN is now connected and you are protected.  Click Home Button on remote to return to home screen and start using your NVIDIA SHIELD.
IPVANISH VPN SPRING DISCOUNT - Save 73% on IPVanish VPN

IPVanish provides a 7-day money-back guarantee so you have nothing to lose.

This discount expires Tuesday, March 31st so don't delay.


Click Here To Get Your IPVanish Discount
IPVanish provides a 7-day money-back guarantee if you aren't satisfied so you have nothing to lose.
New – You can now use one IPVanish VPN account on up to 10 devices at the same time!
With an NVIDIA SHIELD VPN, you will enjoy a secure connection to the Internet.  A VPN will encrypt your traffic making it impossible for your Internet Service provider or government to see what you are streaming or accessing on the Internet.
The NVIDIA SHIELD is one of the most popular Kodi boxes available today due to its power and ease of use.  Those who use 3rd party Kodi addons and apps such as Cinema HD will benefit from the privacy that a VPN will provide.
TROYPOINT tested the top streaming devices and found that the NVIDIA SHIELD performed the fastest with IPVanish VPN.
IPVanish does not store or record any activity or connection logs of their customers.
IPVanish also works great with other devices as well.  You can install their application on Windows, Mac, Linux, Android, iOS, Windows Phone, Fire TV/Stick, Chromebook, etc.
You may use one account on up to ten devices at the same time so you will always have a secure connection to the Internet.
IPVanish provides a 7-day money-back guarantee if you aren't happy with their service.
NVIDIA SHIELD VPN Suggested Settings
Note:  If you don't see some of these settings in your IPVanish app this means that you don't have the most recent update.  I suggest uninstalling your current app NVIDIA SHIELD Settings / Apps / IPVanish / Uninstall.  Then, reinstall the app.
To access the settings section, click the gear icon in top-right corner.
Start IPVanish will automatically launch the application when the NVIDIA SHIELD is turned on.  I leave this off because there are some applications that I don't use the VPN with.
Auto Reconnect will automatically re-connect the VPN if it is terminated for some reason unexpectedly.  I keep this option turned on to allow for maximum protection in case the VPN disconnects for some reason.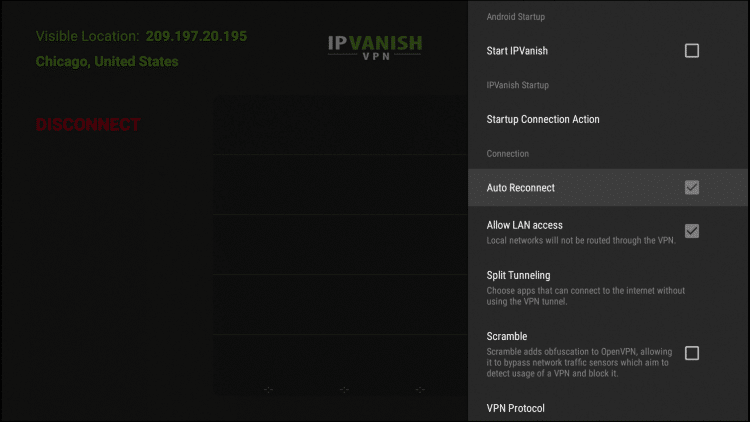 Allow LAN access when turned on will not route local are network traffic through the VPN.  I keep this turned on so that I can connect to the NVIDIA SHIELD through the network with various apps such as Plex Media Server or various remote control apps.
Split Tunneling allows the user to choose applications that can connect to the Internet without being routed through the VPN.  This is handy when using applications that don't allow for VPN use such as Netflix.
Once inside the Split Tunneling settings, you can check which apps don't require VPN protection.  Click the three vertical dots in top-right corner will allow you to show system apps such as all Google apps so you can activate this feature for those as well.
Show system apps button.
System apps are displayed after enabling "Show system apps".
Scramble adds obfuscation to Open VPN which may allow it to bypass Websites or services that block VPNs.  I keep this off unless there is a site or service that is blocking my VPN where this setting circumvents the action.
VPN Protocol is the connection protocol used by the application.
OpenVPN (TCP) and OpenVPN (UDP) are the available settings for VPN Protocol.  UDP usually provides much faster download speeds when using a VPN so I recommend that option.  If your VPN app is not connecting, it may help switching your connection protocol in this section.
Port is the tunnel through which your Internet traffic moves.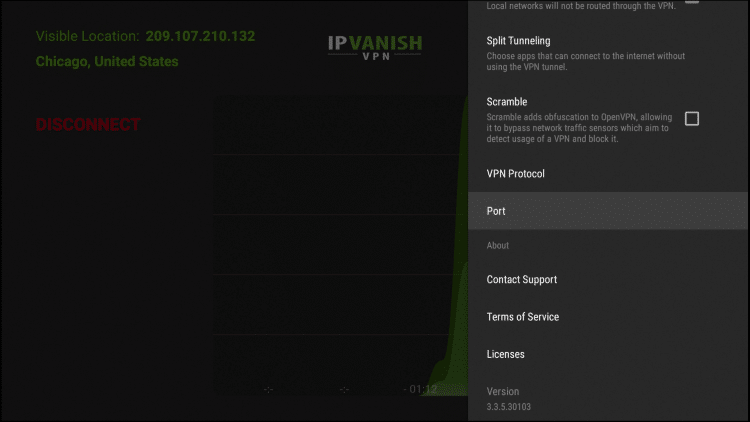 Port 443 is optimal since this is usually used for HTTPS traffic and may help get around various blocks.  I suggest leaving this setting on 443 unless directly by IPVanish staff to change it.
Contact Support will direct you to the IPVanish support information.
Terms of Service provides their most recent document.
Licenses provides a document with the licenses used within the application/service.
Let us know in the comments section of this post if you have any questions about running a VPN on your NVIDIA SHIELD.