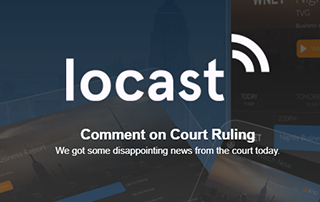 The popular live streaming service Locast has lost a court decision and suspended service, the app reports.
The service issued a statement on their app and via tweet.
As a non-profit, Locast was designed from the very beginning to operate in accordance with the strict letter of the law, but in response to the court's recent rulings, with which we respectfully disagree, we are hereby suspending operations, effective immediately.

— Locast (@LocastOrg) September 2, 2021
Locast is a live tv app that provides users with access to local channels without cable in over 35 markets across the US.
Locast App on Firestick/Roku/Android
The app is funded by donations that users pay monthly for uninterrupted service.
It has undergone legal scrutiny from major broadcast companies including CBS, ABC, NBC, and FOX.
In 2019, these 4 major broadcast corporations joined forces to file a lawsuit against Locast for violating copyright law.
The lawsuit alleged that Locast was retransmitting their television signals without permission.
However, Locast's defense claimed that because they don't charge customers for service, they are allowed to "boost" these signals for expanded access to local channels.
This would make them a nonprofit corporation and leave them exempt from copyright infringement lawsuits.
Unfortunately for Locast, a judgment was finally made ruling that Locast is not exempt and may be held liable.
Court documents noted the following:
Since portions of its user payments fund Locast's expansion, its charges exceed those "necessary to defray the actual and reasonable costs of maintaining and operating the secondary transmission service
Because Locast made more money than was required to maintain and operate service, its claim as a nonprofit company was denied.
Excess money from donations was used to expand into new markets which should only be used to cover running costs.
Locast made a statement to its subscribers and more in an email addressing the judgment.
It reads as follows:
Users of the app will no longer have access to  live local stations as the company has suspended activity.
If you open Locast on any device, you are prompted with the following message:
For alternative local streaming options check out our popular guides below:
What do You Think?
What do you think about the court's ruling against Locast?
Is this another letdown for cord-cutters trying to access local channels?
Are these major companies being too greedy?
Let us know your thoughts in the comment section below!
Be sure to stay up-to-date with the latest streaming news, reviews, tips, and more by following the TROYPOINT Advisor with updates weekly.
This Advisor provides all the best cord-cutting tips to get the most out of your favorite streaming devices and more.
Click the link below to join the other 800,000 Advisor subscribers.
This page includes affiliate links where TROYPOINT may receive a commission at no extra cost to you. Many times, you will receive a discount due to the special arrangements made for our visitors. I will never promote something that I personally don't use or recommend. Purchasing through my links directly supports TROYPOINT which keeps the content and tools coming. Thank you!
Register as a TROYPOINT Insider and discuss this article with thousands of other cord-cutters.