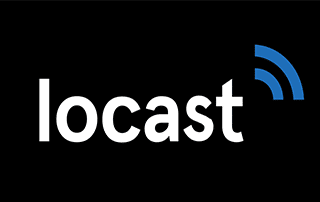 This page includes affiliate links where TROYPOINT may receive a commission at no extra cost to you. Many times, you will receive a discount due to the special arrangements made for our visitors. I will never promote something that I personally don't use or recommend. Purchasing through my links directly supports TROYPOINT which keeps the content and tools coming. Thank you!
Locast is a popular streaming app that serves up live local channels from news outlets across the United States for free.
This is a Legal IPTV Service available for installation on tons of devices including Firestick, Fire TV,  Roku, iPhone, Android devices, and more.
One of the biggest grievances streamers notice when cutting the cord is the lack of Local Channels available for viewing.
If you use an IPTV Service, you are likely without any local options and Locast helps solve that problem.
Oftentimes, cord-cutters can enjoy local television with an OTA Antenna. However, this usually requires a bit of setup work and is not always reliable.
Locast has eliminated the need for a TV Antenna with live streaming of local TV directly to your preferred streaming device.
Currently, there are over 100 stations available in select locations.
However, this is likely to grow as more channel options are added.
To use Locast, we must first register for a free subscription at their website.
After you've registered, you can install the Locast app and sign in for free streaming!
NOTE: While installation and use of this app is free, it does run on donations.
Donations can be made via Credit Card, PayPal, or Bitcoin.
Use the link below for donation page:
CLICK HERE for Donation Page
Because of its high-quality local channels and buffer-free streaming, we have included Locast within the following lists:
Available Cities
Locast is currently available in 25 markets but is continually adding to this as time goes on.
If you are not located in one of these areas, you can easily connect to a VPN and change your geo-location to one of these select cities.
Locast is available for use in these locations:
Chicago
Atlanta
Baltimore
Boston
Dallas
Denver
Detroit
Houston
Indianapolis
Los Angeles
Miami
Minneapolis
New York
Philadelphia
Phoenix
Puerto Rico
Rapid City
San Francisco
Scranton
Seattle
Sioux City
Sioux Falls
Tampa Bay
Washington DC
West Palm Beach
Local Channels
Channels vary dependent on the location you are streaming. However, most will have the following options:
ABC
CBS
FOX
NBC
PBS
BUZZR
ION
CourtTV
GRIT
STADIUM
and more
The best way to determine the channels in your area is by using the Locast website and selecting your city.
How to Install Locast App on Firestick/Fire TV
The following tutorials will provide you with step-by-step instructions to install Locast on Firestick or Fire TV.
We also have instructions for installing the Locast App on Roku which you can find below the Firestick guide.
In this instance, we are using the Amazon Fire TV Stick 4k which is the most popular media device available.
Many prefer the Fire TV Stick or Firestick because of its "jailbreaking abilities" that will provide you with unlimited Movies, TV Shows, and more for free.
Although we cover Roku devices on this Website, we don't recommend them due to their closed system.  We recommend the Amazon Fire TV Stick 4K due to its low price and ability to easily Jailbreak it which will allow for free movies, TV shows, live channels, sports, games, and more.
If using a Firestick or Fire TV, we can download the Locast app from the Amazon App Store.
However, all app stores hold this application so these steps will also work on any device you prefer.
Users can still access Locast via their Web Browser on any device and this includes Android TV Box.
The Puffin Browser works great for all Android TV devices including NVIDIA SHIELD and more.
In order to stream channels with Locast, you must have a subscription
1. From your device home-screen hover over the search icon to type and select Locast
2. Choose Locast under Apps & Games
3. Click Get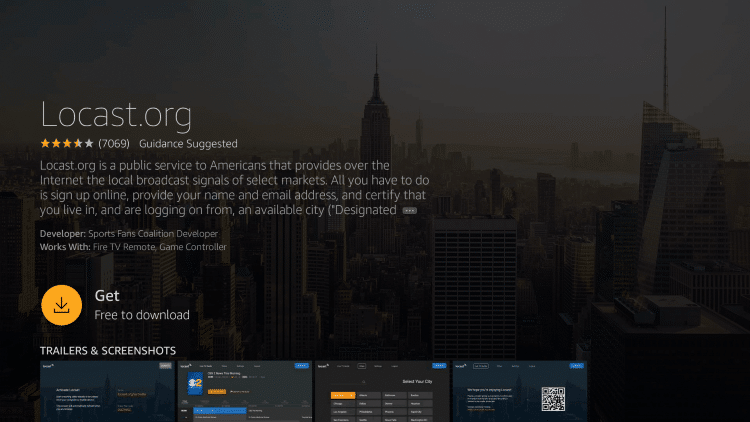 4. Wait for the app to download
5. After installation, you can choose to open the Locast TV app. But for this example, we suggest holding down the home button on your remote.
6. Click Apps
7. Hover over the Locast app and select Move
8. Place the Locast app within your Apps & Channels wherever you prefer
9. Launch Locast
NOTE: As mentioned previously, if you receive the screen below after installing Locast that means you are located in an area in which Locast is unavailable.
A simple way to "unblock" geo-restrictions like these is by using a VPN to change locations.
10. Once you connect to a compatible location, you will receive an activation code. I suggest writing this down.
11. Visit the following URL on another device – locast.org/activate
If you don't have an account, you will need to click the Create Account option
12. Fill out the required information and click Register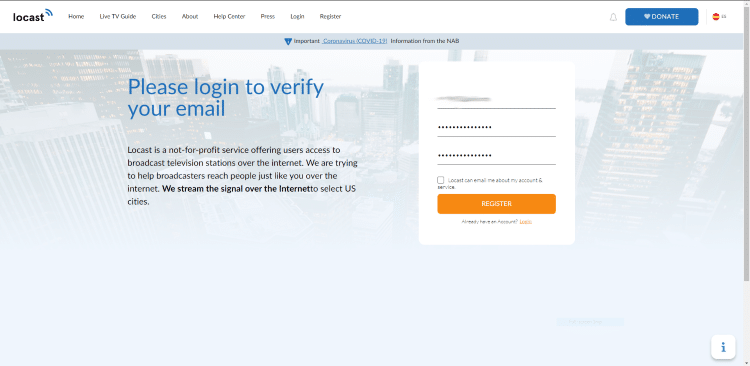 13. You are then directed to the Activation page
14. Enter in the activation code from the previous step and click Submit
15. Your Firestick/Fire TV is now activated.
16. That's it! Installation is now complete.
17. Enjoy streaming local channels for free!
For those with a Roku device, use the instructions below for installation.
Locast Roku Installation Guide
This guide shows how to install Locast on a Roku Streaming Stick+. However, these steps will also work for any variation of Roku.
1. From the home screen click the search option
2. Type Locast
3. Click the first option
4. Choose Add channel
5. Click Ok
6. Return to the home screen and locate your channels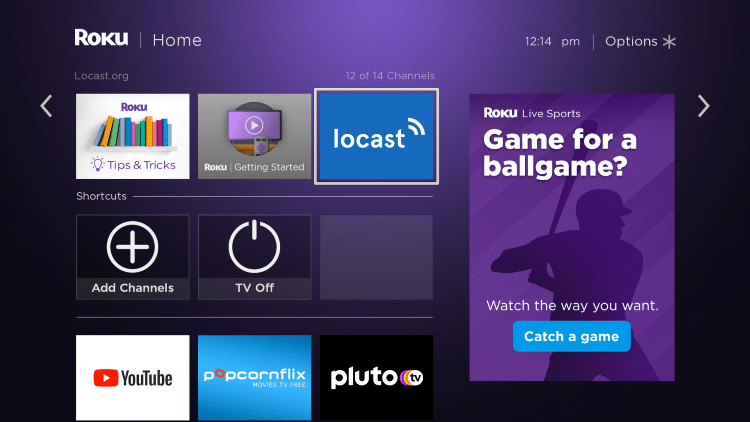 7. Choose Move channel
8. Move and drop Locast at the top of your Channels list
9. Click to launch the channel
10. Similar to the Firestick/Fire TV, if you are not in a compatible location you will need to use a VPN to unblock geo-restrictions
11. Once you have changed to a compatible location, you will also need to activate the app on your Roku device.
12. Visit the following URL on a different device – locast.org/activate
If you don't have an account, you will need to click the Create Account option
13. Fill out the required information and click Register.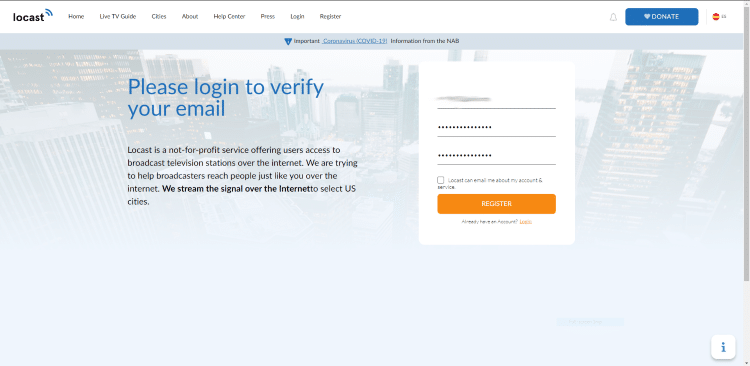 14. You are then directed to the Activate Locast page.
15. Enter in the activation code from the previous step and click Submit.
16. Your Roku device is now activated.
17. That's it! You have successfully installed the Locast app on your Roku device.
Enjoy! We have included this service within our list of Best Roku Channels.
Locast Features & Description
Locast is an excellent app with hundreds of local news stations available for free streaming.
You can view the complete list of channels and watch live news from any Browser, including the Silk Browser, on the official website.
Users will find HD streaming of their favorite local news channels as well as Settings for closed captioning, language, and more.
This app pairs perfectly with many IPTV Services that do not carry local stations.
This is very similar in comparison to VUit and the Local Now apps.
For those using Kodi on their devices, this service is available for installation as an add-on.
How to Install Locast Kodi Addon
If you are looking for VOD content for movies and TV shows, we suggest checking out the following popular resource guides:
The weekly TROYPOINT Advisor keeps everyone up-to-date on the ever-changing world of cord-cutting.  Use the link below to join the other 500,000 happy subscribers.
Locast FAQ
What is Locast?
Locast is a Local News App that carries hundreds of news stations across the country for free Live TV streaming.
Is Locast free?
Yes! The app is 100% free and available for use and installation on nearly any device.
What Channels are provided?
Locast has hundreds of channels from various News Stations across the major US cities including ABC, CBS, NBC, and more. This number will continue to increase as more locations are added.
Is Locast available on Firestick?
Yes. This guide will show you how to install the app on a Firestick or Fire TV device.
Is Locast available on Roku?
Yes. This instructional guide will provide you steps to install on any Roku device.