A new study has been released that provides insight into which apps and streaming devices collect/sell your data to 3rd parties.
Common Sense Media recently released a case study on various Streaming Apps and devices and what they do with your data.
There are hundreds if not thousands of streaming apps available today that provide Movies, TV Shows, Live Streaming, and more.
It is no secret that these apps oftentimes track or collect user data for various reasons.
In some instances, this is a good thing as it can help these platforms cater to your streaming needs.
We see this in popular services such as Netflix which oftentimes provide suggested Movies and TV Shows based on your viewing history.
However, this also means these apps can use your data and information for other reasons such as selling to various third parties.
The same goes for streaming devices such as the Amazon Firestick, Chromecast with Google TV, NVIDIA SHIELD, and more.
Common Sense Media dove into the most popular Media Apps and Devices to determine exactly what they are doing with your information.
Each app and device was given a percentage rating based on privacy, security, transparency, and more.
This includes a complete 150 point inspection of the product's privacy policies to determine the pros and cons of each option.
You can find the complete study at the link below.
Common Sense Media – Privacy of Streaming Apps And Devices
With so many apps and devices tracking your data, it is more important than ever to protect your privacy while online.
The best way to do so is with a VPN that will encrypt your internet connection and make your online activity anonymous.
What is a VPN? Everything You Need to Know
Streaming Apps And Privacy
Common Sense Media looked at various subscription-based Media Apps and their privacy policies.
In the study, 10 of the most popular Streaming Apps available today were studied to determine an overall privacy rating.
This includes both live streaming services as well as VOD services such as Netflix, HBO Max, and more.
The article ranked these services in the following order.
Apple TV
YouTube TV
Disney+
Paramount+
Prime Video
Hulu
Netflix
Apple TV was given the highest score, mostly because they do not sell users' data to third parties.
The only other services that say they do not sell user data to third parties were YouTube TV, Prime Video, and Netflix.
These services were also scored on app security such as Parental Controls and more.
Netflix was given the lowest overall score mainly because the platform tracks users across other apps and websites on the internet.
The complete breakdown is shown below: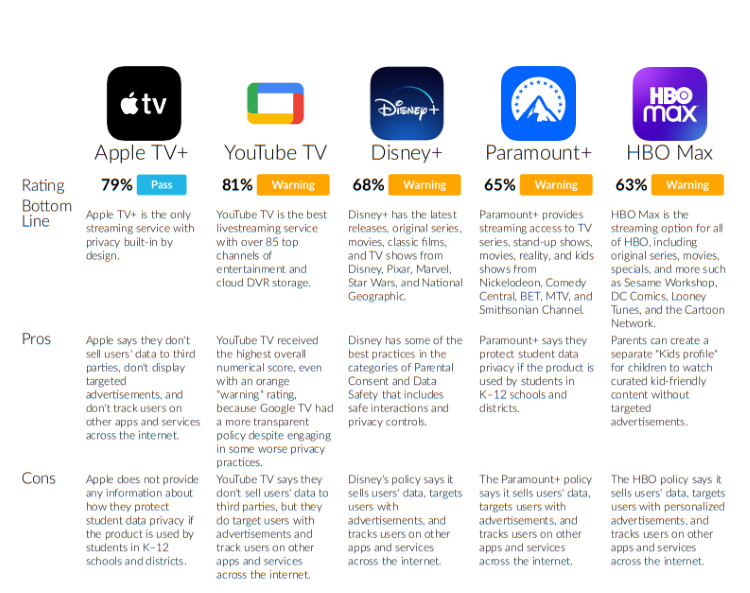 Streaming Devices and Privacy
Using a streaming device such as the Amazon Firestick, Roku, or others is the best way to stream Movies, TV Shows, Live TV, and more.
Although we cover Roku devices on this Website, we don't recommend them due to their closed system.  We recommend the Amazon Fire TV Stick 4K due to its low price and ability to easily Jailbreak it which will allow for free movies, TV shows, live channels, sports, games, and more.
Users can install apps such as those listed above and many more to enjoy instant access to all their favorite content.
There are hundreds of streaming devices available today from tons of major companies and brands.
Common Sense Media ranked 5 of the most popular devices available today.
An overall rating was given based on privacy settings, targeted ads, and more.
The rankings are as follows:
Apple TV
Chromecast with Google TV
Roku Streaming Stick+
Apple TV again received the highest overall score because it doesn't sell user data and doesn't display targeted ads.
However, Chromecast with Google TV was given the highest numerical rating because of its transparency.
Their Privacy Policy explains that they share user data and use it for targeted advertising.
How to Jailbreak Chromecast with Google TV
NVIDIA SHIELD was given the lowest rating due to minimal Parental Controls and large, annoying targeted ads.
Many have noticed this with the latest interface upgrade that all NVIDIA SHIELD devices have received.
NVIDIA SHIELD Users are Not Impressed with Google TV Interface
The complete breakdown for each device tested is shown below.
One thing to note is that companies with both a streaming service and device received the same score for each option.
This is because these creators use the same privacy policy across all media outlets including devices and apps.
How to Protect Yourself
It is important to make sure you are protecting your data when using streaming services and devices.
There are a few things users can do to help ensure their safety and security while streaming.
The best way to ensure your protection on any streaming device or application is with a VPN.
A VPN will make your connection anonymous so app developers are unable to track or see your internet activity.
IPVanish is TROYPOINT's trusted VPN Provider with easy-to-install applications on any device.
How to Install VPN on NVIDIA SHIELD
Best VPN for Chromecast with Google TV
Users can also implement various tools to reduce and remove advertisements and targeted ads on streaming devices.
Installing a Launcher is one way to remove the pre-installed user interface on Firestick/Android.
This means you will no longer encounter on-screen or pop-up ads within the home screen of your device.
How to Install Wolf Launcher on Firestick/Android
Leanback Launcher on Firestick, Fire TV, Android TV
For more ways to get rid of annoying advertisements on any Fire TV Device, use our resource guide below.
If you are looking for other options to stream live tv and on-demand content, check out the following popular tutorials:
Be sure to stay up-to-date with the latest streaming news, reviews, tips, and more by following the TROYPOINT Advisor with updates weekly.
This Advisor provides all the best cord-cutting tips to get the most out of your favorite streaming devices and more.
Click the link below to join the other 800,000 Advisor subscribers.
This page includes affiliate links where TROYPOINT may receive a commission at no extra cost to you. Many times, you will receive a discount due to the special arrangements made for our visitors. I will never promote something that I personally don't use or recommend. Purchasing through my links directly supports TROYPOINT which keeps the content and tools coming. Thank you!
Register as a TROYPOINT Insider and discuss this article with thousands of other cord-cutters.