Cost of Cutting the Cord – How Much Do You Spend?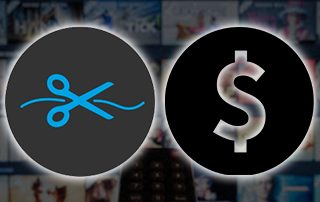 The following guide details the costs associated with cutting the cord and the comparison to traditional viewing methods.
TROYPOINT readers and subscribers are typically considered "cord-cutters" who have eliminated the use of cable/satellite television.
Many have decided to opt for these changes in order to save money due to expensive TV packages.
We wanted to take a look at the overall costs of cord-cutting compared to alternative methods to see just how much people are saving.
Because streaming services, VPNs, and more can vary in price, the costs below are averages compiled from numerous options.
Cord-Cutting Costs
Because an internet provider is required to stream content, we can expect that everyone who streams content via apps and services has an internet connection.
In addition to internet service, cord-cutters likely require a streaming device to serve up content such as Movies, TV Shows, and Live TV.
Some of the most popular devices include the Amazon Firestick and Fire TV due to their low price point and sideloading capabilities.
Sideloading applications is one of the most popular reasons why many cut the cord to access free content and more.
This is often referred to as "jailbreaking" and it opens the doors for tons of streaming options that are not available to those with a cable or satellite TV package.
Best of all, using a streaming device only requires a one-time purchase with no monthly payments or fees.
Right now, the most popular Firestick device is the Fire TV Stick 4K Max which is available for $54.99.
Because both a streaming device and internet service are required for all cord-cutters, we are going to leave them out of the equation.
Streaming Services/Apps
In today's world, there are hundreds of streaming services available that vary in content, price, and more.
Some of the most popular include options such as Netflix, Hulu, and HBO Max.
On average, users have subscriptions to two different streaming services for Movies and TV Shows.
Most of these services have multiple packages to choose from with options for ad-free versions, students, and those with multiple accounts.
YOU'RE BEING TRACKED...
Your online activity is tracked by your government, Internet Service Provider, app/addon/IPTV devs and all websites through your identifying IP address
Stream anonymously by using Surfshark VPN
Your Current Identifying IP Address:
SAVE 82% ON SURFSHARK VPN + 2 FREE MONTHS
Surfshark backs their service with a 30-day money back guarantee
Use your account on unlimited devices & share with family members
HURRY! SALE ENDS SOON
Claim Surfshark VPN Discount
The most popular for on-demand content, Netflix & Disney+ have both ad-free and ad-supported packages that vary in price.
Let's say the average consumer has accounts with both platforms and pays for an ad-free version and an ad-supported version.
In total, these are both under $10/month and are likely used in most households across the world.
In addition to paid streaming services, there are also tons of Streaming Apps that come at no cost.
Some of the most popular apps & APKs include Tubi, Kodi, Freevee, Pluto, FilmPlus, and more.
The best part about these options is that they provide tons of content and are absolutely free to install and use.
Those who strictly use free services will not have to pay any monthly subscription fee whatsoever.
With so many choices, the cost for streaming services can vary amongst users anywhere from no cost at all to up to $50/month.
Average Cost: $17.99/month
VPN
Most cord-cutters use a VPN in conjunction with various streaming services and rightfully so.
A VPN or Virtual Private Network provides tons of benefits that help users get the most out of streaming services.
This includes the ability to unblock content, anonymize your internet connection, and protect your overall privacy.
VPNs come in all shapes and sizes and vary in price depending on the subscription and service.
Right now, TROYPOINT's #1 VPN Provider is also one of the most affordable at roughly $2.50/month.
Many other VPN Providers offer service anywhere between $5-10/month.
For a small fee, however, a VPN will grant peace of mind whenever you are connected to the internet, and well worth the cost for cord-cutters.
Average Cost: $4.00/month
Real-Debrid
Those who use APKs, Kodi Addons, and Kodi Builds for streaming content likely also use the resolver service, Real-Debrid.
Real-Debrid provides premium links in high definition that typically play without any buffering issues.
There are tons of apps and addons that are compatible with real-debrid which means most cord-cutters subscribe to this service.
Real-Debrid is fairly inexpensive and eliminates most buffering issues which can be a real headache when streaming.
There are numerous purchase options for real-debrid based on the number of days users subscribe for.
Those who purchase a longer subscription package get a discount that will save money in the long run.
Average Cost: $5.00/month
IPTV
Those who are looking to eliminate cable or satellite tv likely opt for an IPTV Service for live streaming.
IPTV stands for Internet Protocol Television and is the newest and fastest-growing way to view live channels.
There are tons of IPTV Services available which include both Verified & Unverified Services.
Unverified Services are typically much cheaper than verified services, however, there are some risks involved with these as well.
Should You Use IPTV? – Everything You Need to Know
Prices for these options vary drastically and can range anywhere from as little as $5/month for unverified to up to $100/month for verified options.
Some of the higher end unverified services can cost up to $25/month with budget friendly verified options such as Philo similar in price.
We will use this number in our estimate.
Average Cost: $25.00/month
Premium Options
Besides the generic cord-cutting options listed above, there are some added "Premium" Services cord-cutters can subscribe to as well.
Some of the most popular are listed below.
Syncler+
Syncler+ provides premium features for Syncler users such as Debrid Manger, Debrid Cache Streaming, Improved autoplay, and more.
There are numerous package options available from $1.25/month to $4/month. We will split this to average the cost for our estimate.
Average Cost: $2.10/month
Trakt VIP
Trakt Members also have the option of purchasing a premium subscription with their VIP Package.
This also provides added benefits and helps support Trakt which pays for servers and other costs.
Some benefits include: No Ads, Plex Scrobbler, Android App, Calendar Notifications, Widgets, and more.
Average Cost: $2.50/month
TiviMate Premium
IPTV Subscribers oftentimes use an IPTV Player that works in conjunction with their service to stream live channels on any device.
Many of these such as IPTV Smarters are free to install and use, however, some require a monthly fee.
One of the most popular, TiviMate, has a Premium option that provides added benefits not available with the free subscription.
This is a fairly cheap purchase at only $4.99/year or $19.99 for a lifetime subscription.
Average Cost: $.50/month

Cord-cutters have tons of options available which is why many have chosen to go this route and eliminate cable tv!
We have totaled up the average cost for cord-cutters, however, this may be nowhere near what you pay monthly to stream.
Average Cost for Cord-Cutters: $51.99/month
Traditional Television Costs
Oftentimes, Cable Companies bundle Internet service with a cable subscription package.
Both of these can vary in price drastically and depend on numerous factors.
Prices for internet range from $20-$300/month based on service, speeds, and more.
Cable and satellite services are similar with tons of package options and addons to choose from that can add up quickly.
CableTV.com lists the average internet subscription price at $65.18/month with many spending much less or much more depending on service.
In our opinion, it is crazy to spend over $60/month for cable when you can have so much more at a lower monthly fee by cutting the cord.
If you are trying to find a way to cut the cord for good, check out our popular resource guides below to help get you started and never look back!
Be sure to stay up-to-date with the latest streaming news, reviews, tips, and more by following the TROYPOINT Advisor with updates weekly.
This Advisor provides all the best cord-cutting tips to get the most out of your favorite streaming devices and more.
Click the link below to join the other 800,000 Advisor subscribers.
This page includes affiliate links where TROYPOINT may receive a commission at no extra cost to you. Many times, you will receive a discount due to the special arrangements made for our visitors. I will never promote something that I personally don't use or recommend. Purchasing through my links directly supports TROYPOINT which keeps the content and tools coming. Thank you! Learn more on my Affiliate Disclaimer page.