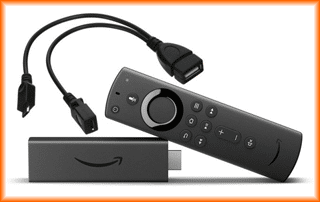 An OTG Cable allows you to connect peripheral devices to your Firestick, Android phone, or tablet by way of USB port(s).
This is an inexpensive way to upgrade your current device.
This article will provide detailed information on OTG cable and its many uses.
USB OTG Explained
A traditional USB system setup includes a host (commonly a computer) and peripherals, which can be in the form of storage (hard drive, flash drive), input (keyboard, mouse), output (printer, monitor) and communication (router, webcam) devices.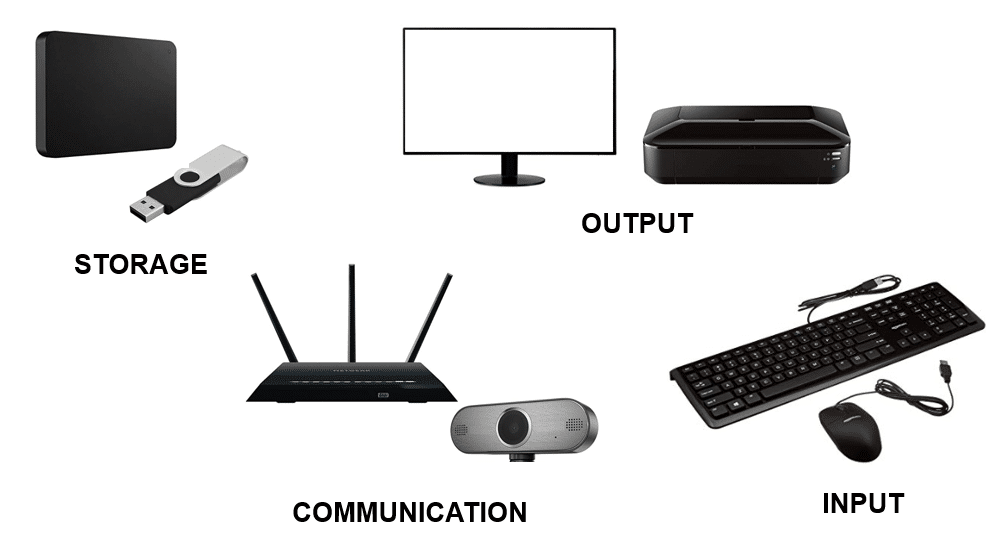 Since peripherals can't communicate directly with each other, your computer initiates and controls all communication in the network. It is considered a network host since it provides data, resources and even applications to other devices that are part of the network.
Aside from a PC host, there are also other devices that can accommodate a USB host function but are limited in hosting the full features of USB peripherals unlike a computer.  These targeted hosts, can be categorized into embedded hosts and on-the-go (OTG) devices.
The main difference between the two is that an embedded host only supports specific peripherals and has a single role, that of being a host. On the other hand, an OTG device has a dual role — it can switch between a host or a peripheral.
Some examples of OTG devices are mobile phones, digital cameras, printers and MP3 players.  But, we can also connect an OTG cable to an Amazon Fire TV Stick and enjoy USB access.
Communication Protocols Used in USB OTG
Communication protocols are used between devices to enable them to exchange messages and data format. These sets of rules (or protocols) direct what end-points in the connection have to follow. For USB OTG, two protocols are required, which is not the case among embedded hosts.
As stated above, when two devices support OTG they can have dual roles – host or peripheral. Through the Host Negotiation Protocol (HNP), these devices can reverse their roles from host to peripheral or vice versa automatically. For example, if you want to increase the storage on your Firestick, you can plug in an external USB drive to the OTG cable already connected to your Fire TV or Fire TV Stick.
Once you have downloaded a file to your Fire TV or Fire TV Stick, it now becomes the default host and the USB drive will now be the default peripheral where you will transfer the file. On your TV screen, should you decide to transfer a file from the USB drive to the Fire TV or Fire TV Stick, the USB drive now becomes the host. HNP allows these two devices' specific roles to reverse right away.
What is an OTG Cable
An OTG cable (also known as USB host cable or USB adapter cable) allows OTG devices to directly communicate with each other by allowing a device to act as a host and the connected device to be a peripheral.
Likewise, the role can be switched depending on the needs of the user. The cable is also designed for devices that do not have standard USB port sizes (such as tablets) but can be connected to USB flash drives and keyboards. For example, you can connect flash drives and other components to Fire TV devices that don't include USB port using the OTG cable.
A mobile phone can also be connected to a digital camera (acting as a peripheral) by an OTG cable to transfer image files. The camera (as a host) can also be connected to a printer to print the images. A host computer is not needed anymore for these devices to communicate with each other.
Take note that OTG devices can also be peripherals at the same time.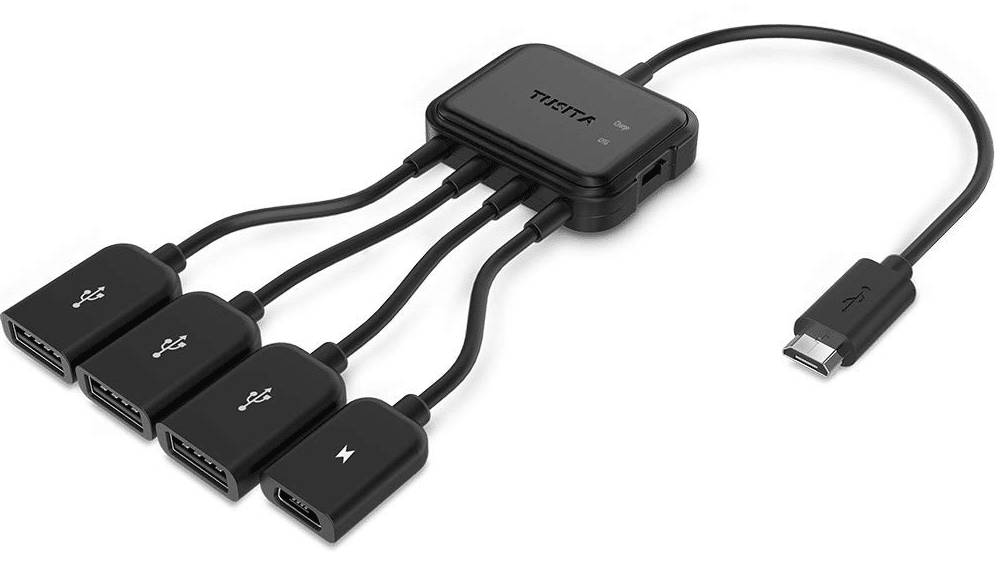 There are also OTG cables that come with USB ports, specifically designed to be compatible with the Fire TV Stick such as the TUSITA Micro USB HUB Adapter.
Connecting your device to the Fire TV Stick using the OTG HUB Adapter is simple.  See the video below for detailed demonstration.
Step 1
Connect the Fire TV Stick into the HDMI port in your TV.
Step 2
Plug the Micro USB male connector into the Fire TV Stick.
Step 3
Insert the Firestick power adapter to the female OTG connector.
Step 4
Connect the OTG Hub Adapter and the power cord using a Micro USB cable.
NOTE: When using a USB hub, roles between two OTG devices can be switched only when they are both disconnected first.
Differences Between Mini-USB and Micro-USB OTG
USB connectors have evolved through the years to accommodate new devices. Mini-USB and Micro-USB connectors are smaller than the standard Type-A and Type-B connectors. Mini-USB used to be the best connector type for mobile devices until the arrival of Micro-USB for mobile devices such as smartphones. You can see the differences in size among Type-A, Mini-USB and Micro-USB in the illustration below.
While considered a bit outdated, Mini-USB can still be found on MP3 players and game controllers. Micro-USB, on the other hand, can be found on a few tablets, smartphones and game controllers.
NOTE: The latest USB standard, Type-C, is much smaller compared to its predecessors. It has faster data transfer capability and can power devices.
OTG devices have a Mini-AB receptacle, which allows for the OTG product to act as a host (when a Mini-A plug is inserted) or as a peripheral (when a Mini-B plug is plugged in). An embedded host, on the other hand, only has a Mini-A receptacle, which is limited to embedded host devices such as a cable box.
Today, most OTG cables come in Micro-USB types to cater to more Android devices such as the Firestick that come with standard Micro-USB ports.
OTG Data Transfer Speeds
OTG data transfer speeds uses USB 3.0 and is backwards compatible with USB 2.0. This means that the OTG cable will work whether the speed of the port is USB 2.0 or 3.0.
What Devices are Compatible with an OTG Cable
Not all devices can be connected to OTG cables. Therefore, it helps to verify if your device supports USB OTG through the following:
Refer to the product manual
Check if the device's manual lists the complete product specifications. In some cases, however, the manufacturer may not indicate USB OTG support so you need to check online for updated information.
Check for the USB-IF logo
The USB Implementers Forum (USB-IF) supports the compliance of manufacturers in terms of the Universal Serial Bus. Products have to pass the organization's quality testing so that each product can bear the USB-IF trademark-protected USB logo including the CERTIFIED USB™ ON-THE-GO logo.
NOTE: Some logos contain "HI-SPEED" or "SUPERSPEED" which indicates that the transfer speed can reach from 480 Mbps to 10 Gbps depending on the configuration and OTG cable that you're using.
Use an App to Test Your Device's Host Capabilities
You can download free apps that can help you identify if your device can support USB OTG. A requirement for most apps however is that you should prepare an OTG cable to proceed with the testing.
NOTE: You may have to download the specific driver for your device to access other peripherals connected via OTG cable.
IMPORTANT: When adding apps to your device, it is important to install a VPN for Firestick, Fire TV, Fire TV Cube. Amazon App Store restricts unverified apps to be installed so a VPN can do the trick. Click on the link to learn how.
Check the Device's Android Version
Android devices that run on Android Honeycomb 3.1 or later can support USB OTG.
NOTE: You may need to download an app for your device so you can access the contents of a USB drive or SD card when using an OTG cable.
The Many Uses of OTG Cable
You'd be surprised to know that OTG cables have many uses. Here are 20 interesting hacks to extend your device's functionality.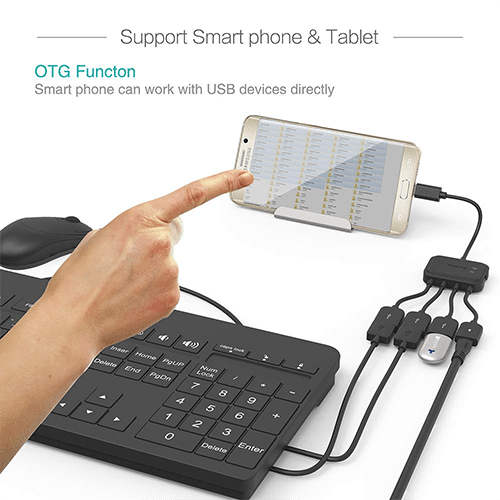 Connect USB devices to Fire TV Stick.
Transfer files from a USB flash drive or portable hard drive to your mobile device.
Plug in a mouse to navigate on your mobile device.
Plug in a smartphone to a printer to print files and images.
Transfer photos from a digital camera to a mobile phone.
Create back-up files from your mobile device to a USB flash drive.
Play music from your USB flash drive to your mobile device.
Compose long emails and messages on your mobile device through a plugged-in keyboard.
Play games on your mobile device using a game controller or a joystick.
Connect your mobile device through ethernet connection.
Share your tablet's power to another device by turning it into a power bank.
Use your mobile phone as an extension of your DSLR controls to create better shots.
Plug in a USB microphone to your mobile device for better sound quality.
Connect a portable USB LED to your mobile device.
Connect a USB fan to your mobile device.
Connect a LAN-to-USB controller to your mobile device.
Connect your Android device to a compatible musical instrument (using Grand Piano Pro app as an example).
Transfer contacts and files easily between mobile phones.
Mirror your mobile phone screen with the compatible TV for a larger screen when watching videos.
Connect a portable optical drive to your mobile phone.
Tell us in the comments section below what you use your OTG Cable for?
This page includes affiliate links where TROYPOINT may receive a commission at no extra cost to you. Many times, you will receive a discount due to the special arrangements made for our visitors. I will never promote something that I personally don't use or recommend. Purchasing through my links directly supports TROYPOINT which keeps the content and tools coming. Thank you!
Register as a TROYPOINT Insider and discuss this article with thousands of other cord-cutters.